The Kaibara sisters: Keeping it in the family
April 13, 2022 by Liam Archer, Arizona State University
---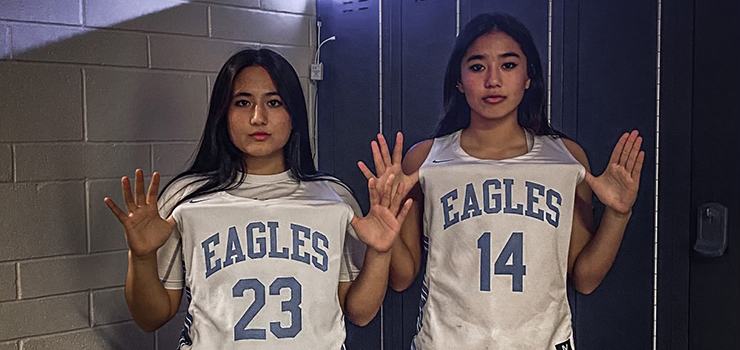 When watching the Phoenix Country Day girls basketball team practice, one thing was increasingly clear: the Kaibara sisters never left each other's side.
This past season, Nara Kaibara, a junior at Phoenix Country Day and her younger sister Aila, a freshman, led the Eagles to a 15-2 record and the No. 5 seed in the 2A tournament.
The two sisters were at or near the top of the team in almost every statistical category by season's end. What didn't show up in the stat sheet, however, was the chemistry with which the Kaibara sisters play.
"To see them play together — they almost know where each other is on the floor at any time," Taro Kaibara, Nara and Aila's father said.
Taro, who played ice hockey at McGill University in Montreal, recognizes the advantage of playing alongside a sibling.
"I played [hockey] with two brothers and passes seemed to happen without them even thinking," said Taro, "and I can really see that with our daughters on the court."
According to Nara, that type of connectivity comes naturally.
"We are with each other all the time, and we know what the other's next move is," Nara said. "It's not something really anyone else has."
Aila agreed.
"I know where she is all the time since we're just constantly around each other," Aila said. "I know it sounds kind of corny, but it's like having a second half."
Head coach Sean Newland had a front row seat to watch the two interact on the court as they ran drill after drill.
"They've got this unique way of working with each other, that just comes from being around each other for so long, that a lot of other players don't have," Newland said. "It's a blessing, really."
As close as their relationship is, basketball does bring out their competitiveness.
"Whenever we do our shooting drills, they're always asking each other 'What'd you get? What'd you get?,' Newland joked. "It's quite the scene if I have them on separate teams and they're battling each other, because I know that's going home."
According to their mother, Preethy, that ferocity tends to stay on the court.
"They keep basketball very separate," Preethy said. "Sometimes Nara does pull out the 'I'm the captain you have to listen to me,' but they've always respected each other."
In fact, both Preethy and Taro indicated that their daughters' constant support for each other is rather amazing.
"When I think that they're fighting, I realize that they're really just trying to help each other," Taro said. "They just really, really love each other."
The two have a mutual understanding that they are there for one another whenever they need advice, a pick me up or even the honest truth.
"We're the only ones who can give each other the truth without it being too sensitive," Aila said.
That kind of trust, Taro thinks, is irreplaceable.
"It's so nice to see, and you just wish that everyone had that opportunity, that relationship with someone on a team," Taro said. "Especially as you get to higher levels of a club or into the playoffs, you're so alone and you may not have anyone around you."
Aila knows that Nara has her best interests at heart.
"I know that if she tells me something it's for my own good," Aila said.
By taking one glance at the stat sheet, it would be a good idea to listen, as Nara led the team with 19 points per game. She also finished with 100 3-pointers made, averaging four makes per game and leading 2A in the category.
Nara, who was one of three juniors on a team with no seniors, stepped up as a leader for the Eagles this year. Newland expressed just how big of a step she took both leading by her play, but also as a vocal leader. According to Preethy, the transformation was huge.
"She grew into that leadership role," Preethy said. "I think she had to take that moment to decide that, 'Yes, I love this sport. I'm committed to it, and I do want to one day play in college."
According to Taro, a big part of Nara's growth can be attributed to Newland's willingness to listen.
"She really tried to be a voice for the players," Taro said. "Coach Newland should be given kudos, because he really took a lot of what she said to heart, and I think they really developed a special bond this year, which you don't always see in high school between a player and coach."
Newland also credited Aila for her ability to lead by example as well as her unselfishness and willingness to defer to her teammates.
Aila, who was in her first season of high school ball, put together a productive year of her own. She averaged over nine points and just shy of four assists and six rebounds per game, good for third, first and second on the team, respectively.
Taro believes that Aila has already shown natural leadership tendencies.
"I think even as a freshman she has the abilities to be in a leadership role like Nara," Taro said. "But she's a very understanding human. She knows that Nara is her older sister and the team captain, and she would never do anything to disrespect that."
Both Aila and Nara have been playing basketball since they were in early elementary school after their eldest sister Mira started playing. Preethy and Taro tried to expose their daughters to as many sports as possible, but basketball was the one that stuck.
"Thank god they went into basketball!" Taro joked. "All the other sports were outdoors in the sun and the Arizona heat."
Aside from being in an air-conditioned gymnasium, Nara thinks the reason basketball clicked is the opportunity to accomplish a goal as a group.
"I think it's the teamwork," Nara said. "It's so rewarding to get a basket after everyone touches the ball. Every aspect of the game is fun, and it's rewarding to everyone as a team, not just individually."
Like her older sister, Aila also loves the team aspect, but she also grew hooked on seeing improvement.
"I think once you hit that breaking point of going to the next level, it's just so satisfying to see your hard work pay off," Aila said. "It makes you want to get to the next level."
Both Nara, who will be entering her senior year next season, and Aila, who is going to be just a sophomore, communicated a desire to continue their playing career at the next level.
"I'm really supportive of it," Taro said. "I think collegiate athletics is something that stays with you for life. And whether you play DIII or community college or DI, you'll never lose those bonds."
Regardless of whether or not Nara and Aila play in college, both their parents emphasized that they are proud regardless.
"We know they'll be successful no matter what they pursue," Taro said.