Fundraising and networking: How Carl Hayden sports bring in revenue to support their teams
April 14, 2022 by Sabrina Jiles, Arizona State University
---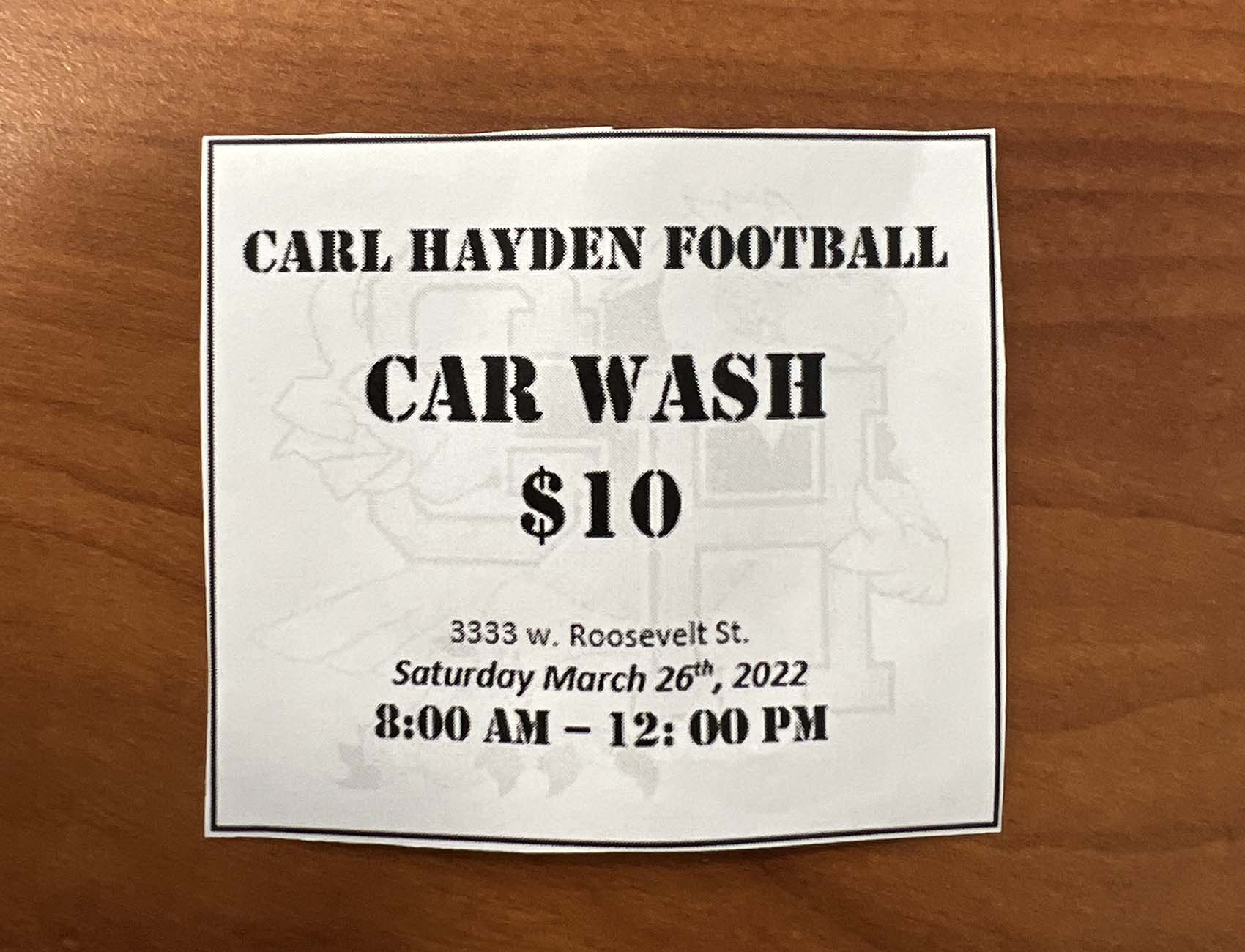 Sabrina Jiles is an ASU Cronkite School of Journalism student assigned to cover Carl Hayden for AZPreps365.com
Jerseys, shoes, equipment and so much more are needed to help a team have a successful season. For some schools, there are funds easily accessible to pay for the team's different necessities, but for the Carl Hayden Falcons athletic department that is not the case.
For Carl Hayden athletics, there is not an endless amount of money to fund the sports teams at the school. Unlike other high school athletic departments, Carl Hayden has no established booster club and doesn't always get large quantities of money donated from lots of resources.
As described by Carl Hayden Athletic Director Sara Matthews, the Phoenix Union High School District provides a budget that helps the athletic department pay for the team's basic necessities.
"The good thing about our district is we get a uniform budget every two years, so we have money to get good uniforms every two years … We have money to get equipment generally speaking every two years," Matthews said.
Even with the money provided by the district, Matthews has to strategically budget the funds and distribute them equally to the different sports teams at Carl Hayden. Where that fund covers things like uniforms and basic equipment, it does not cover other items like shoes.
This is where the coaches and teams come into play in helping to build funds for their programs. Matthews described that she encourages the coaches and teams to do other activities like fundraising, especially in the summer, to help bring money into the programs.
"What we asked of the programs this year again is to really think about vision in the summer … What I would really love is for every sports program to host some kind of tournament. Tournaments and big time events are where you're going to make the most bank for your buck," Matthews said.
Matthews highlights that it isn't really about what a team has, but rather the experience the athletes get from being a part of the team. To better that experience, the team's work to get other necessities they may need that aren't fulfilled by the budget.
For some teams at Carl Hayden, they have been rebuilding the program for years and for others, the process of rebuilding is new. Falcons football coach Steven Arenas expressed what the early challenges of rebuilding the football program were without having the proper funds.
"I think financially, one of the biggest challenges was trying to find a way we could fundraise and raise funds for our program, but do so in a way that doesn't put financial burden on our own kids," Arenas said.
The football team has done fundraising activities like car washes to raise money and have been successful in that route. However, doing things like car washes aren't the only avenue that Arenas has done to bring in funds. Arenas has been networking, connecting with other businesses and alumni to bring in funds.
"One thing I have tried to do on my own is really navigate the process of finding alumni and community supporters," Arenas said.
Carl Hayden football isn't the only team using the method of networking to help generate revenue. Boys basketball is expanding their reach to the community and gaining support.
Even with the success that boys basketball is now having with building the program. Falcons boys basketball coach Rodney Brown described how, after taking over the program last year, the coaching staff were paying for lots of things out of pocket to provide for the team.
"When I first got here, we had nothing, we had zero dollars. So it was all summertime last year, that was me and my other coaches on staff coming out of pocket for everything. As far as t-shirts that all the kids had on as far as the tournaments we were in, that was all out of pocket," Brown said.
For Brown, he worked on using the connections he had in the basketball world to help gain financial support for the team. However, the breakthrough moment of support for the Carl Hayden boys basketball team was when they received a donation of shoes from University of Kentucky guard Tyrone "TyTy" Washington.
"One of the biggest things that really helped us out was my younger cousin TyTy Washington … he was basically the main one who started it all. He donated shoes to our program and once that happened, people started hearing more about us and different people started donating money towards us," Brown said.
For some athletes, having nice gear might be an important part of being on a team and Brown acknowledges that having those resources can help a team be successful.
"Where I am from and how I grew up, just knowing if you look good you play good. I just know that is the same for the players," Brown said.
Falcons football and boys basketball are just a few of the teams at Carl Hayden that are working to create a fund for their teams. Even with there being a lack of funds to provide for these teams, the coaches and players are working hard together to raise money.
As described by Matthews, the process of fundraising pride amongst the atheltes.
"It gives them a sense of pride. It gives them a sense of ownership, a sense of responsibility and accountability into the program they are participating in."