Jerek Aguon throws a complete game shutout in Desert Heights 12-0 victory over Highland Prep
April 14, 2022 by Stos Zafiropoulos, Arizona State University
---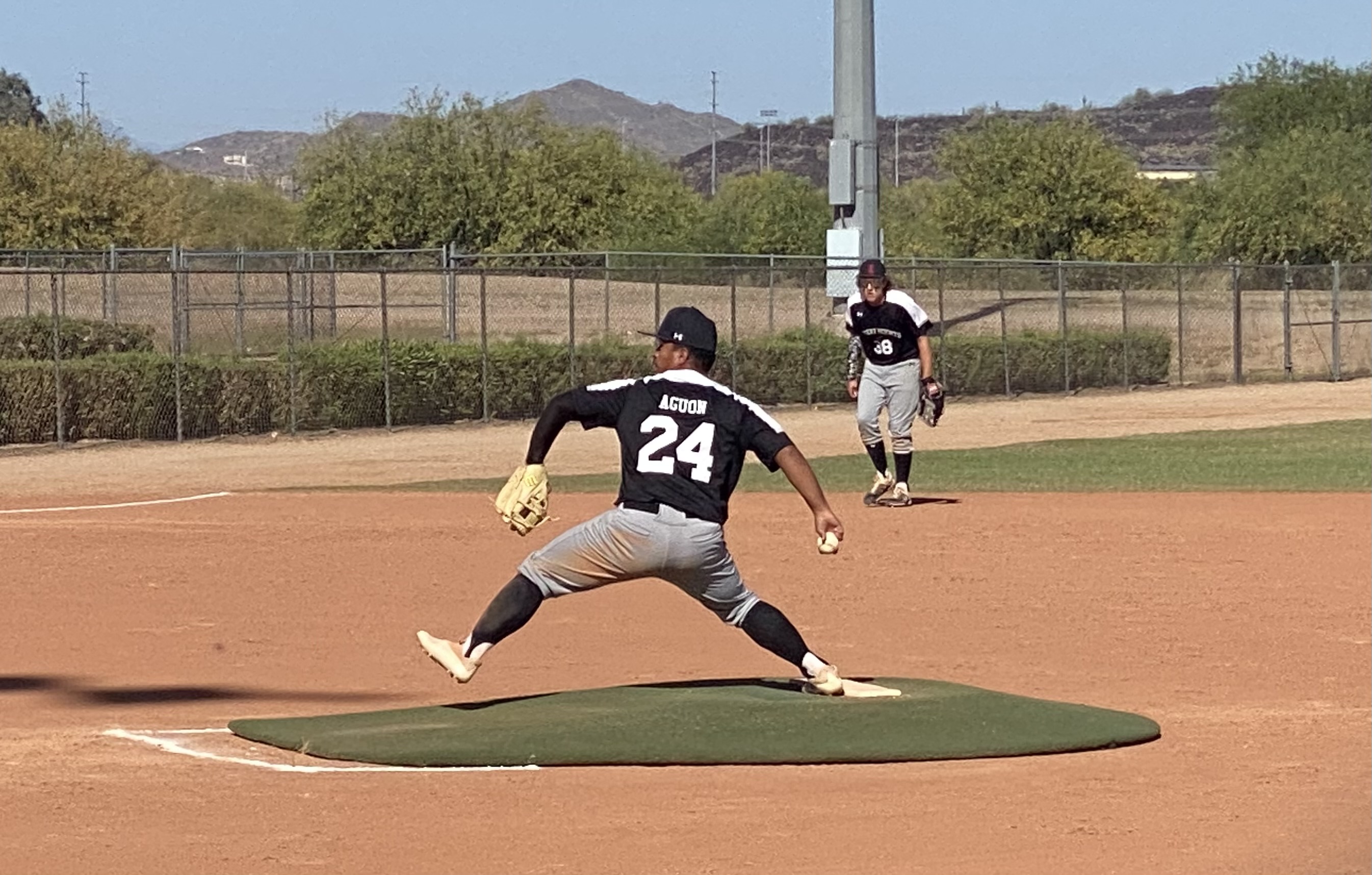 Stos Zafiropoulos is an ASU Cronkite School of Journalism student assigned to cover Desert Heights High School for AZpreps365.com.
On a sunny and windy Wednesday afternoon at the Victory Lane Sports Park, the Desert Heights Coyotes defeated the Highland Prep Honey Badgers 12-0. In the first inning Kyson Kobbe batted in a run giving an early 1-0 lead, and the Coyotes never looked back.
The defense for Desert Heights was incredible as their starting pitcher Jerek Aguon dominated from start to finish.
"Defense is playing really good behind pitchers," head coach Kevin Chappell said. "We are on a roll right now. I think right now what we have learned or what we are doing as a team is just really gelling."
Despite Aguon not recording his first strikeout until the middle of the second inning, he still managed to finish with 16 strikeouts. He only gave up five hits and threw a complete game shutout. Throughout the contest, Aguon's teammates and coaches continued to rally behind him.
"My team, man, we were out here. They kept me motivated to keep going on the mound," Aguon said.
Chappell praised his senior pitcher.
"When you have an outing like Jerek had today, you can't ask for anything more than that as coach," Chappell said. "That was a phenomenal pitching performance."
Pitching wasn't the only bright spot for Desert Heights. The Coyotes' bats erupted for six runs in the fifth inning. Shortstop Tyler Taitano kept the inning rolling with an RBI double to left field. Taitano's double was momentum changing, and aggressive baserunning was certainly part of the game plan for Desert Heights.
"It was a fastball right down the middle," Taitano said. "It was a little high, which got it up over the left fielder. I saw him throwing home, so I went to three."
The Coyotes stole 15 total bases.
"Baserunning is huge. We practice it a lot," Chappell said. "We run until we get thrown out essentially. That's what we are looking for."
Out of the 12 runs produced by Desert Heights, 11 were scored in the fifth inning or later. Once the Coyotes were able to adjust to the off-speed pitching, the game started to shift in their direction.
"Finally, after a few times through, we kind of caught up and we knew what was coming," Chappell said. "It took one guy getting a base hit and driving a run in and that's kind of how we go."
Desert Heights is on a hot streak as of late, winning its last four games by a run differential of 63. In those four games the Coyotes have scored a whopping 74 runs, while only giving up 11.
"I don't think it was any different today. When we have it going, we have it going. So that's just how it is for us," Taitano said.