O'Connor SB early offense KOs Red Mtn.
April 15, 2022 by Les Willsey, AZPreps365
---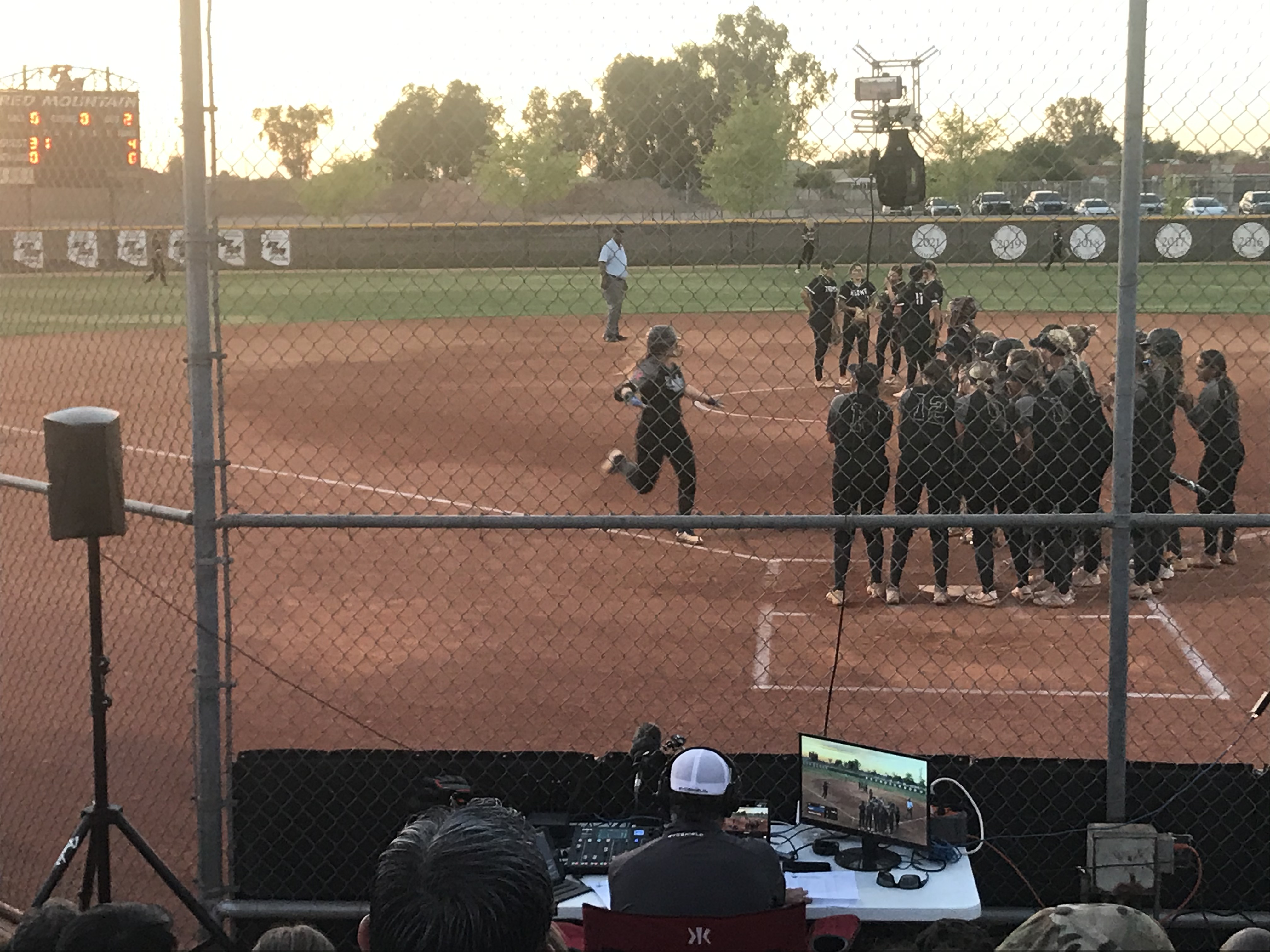 Working through the first four hitters in Sandra Day O'Connor's softball lineup was a task #9 Red Mountain wasn't able to solve with much success on Friday night.
The quartet of Jocelyn Erickson, Raegan Holtorf, Riley Valentine and Harper Sullivan combined for nine hits and six RBI as the #14 Eagles made the long drive from the West Valley worthwhile in an 8-3 triumph.
O'Connor won for the sixth time in its last seven games and improved to 18-8 overall and 10-5 in power-ranking contests. Red Mountain is 17-7, 9-4. O'Connor outhit Red Mountain, 12-8.
Erickson, a left-handed hitter who catches and batted leadoff, finished 3 for 4. Her evening consisted of two doubles, home run and an intentional walk with the bases empty late in the game. Erickson hit the ball where it was pitched doubling to left and left-center and blasting a towering round-tripper to right.
Holtorf singled twice and scored twice, going 2 for 4 and a walk. Valentine finished 2 for 3 with a first-inning two-run triple and walked twice. Sullivan was 2 for 3 with 3 RBI - via sacrifice fly in the first and singles in the second- and sixth-innings.
O'Connor pitcher Riley Lauffer had ample support by the time she gave up runs. The Eagles were up 5-0 when Red Mountain scored in the third, 7-1 in the fifth when the Mountain Lions scored again and 8-2 in the seventh before surrendering the final run. She helped her cause belting an opposite-field homer to right in the fifth inning. Lauffer allowed seven hits, walked three and struck out eight in picking up her eighth win of the season.
Red Mountain starter Taylor Trowbridge worked five innings. She gave up 10 hits, seven runs, walked two and fanned six. The Mountain Lions had three players with multiple hits - Echo Mattiello (2 for 3), Victoria Montenegro (2 for 3) and Kennedy Burns (2 for 3). Six of the Eagles hits were for extra bases while the Mountain Lions were all singles.