Gilbert BVB sweeps Higley
April 20, 2022 by Les Willsey, AZPreps365
---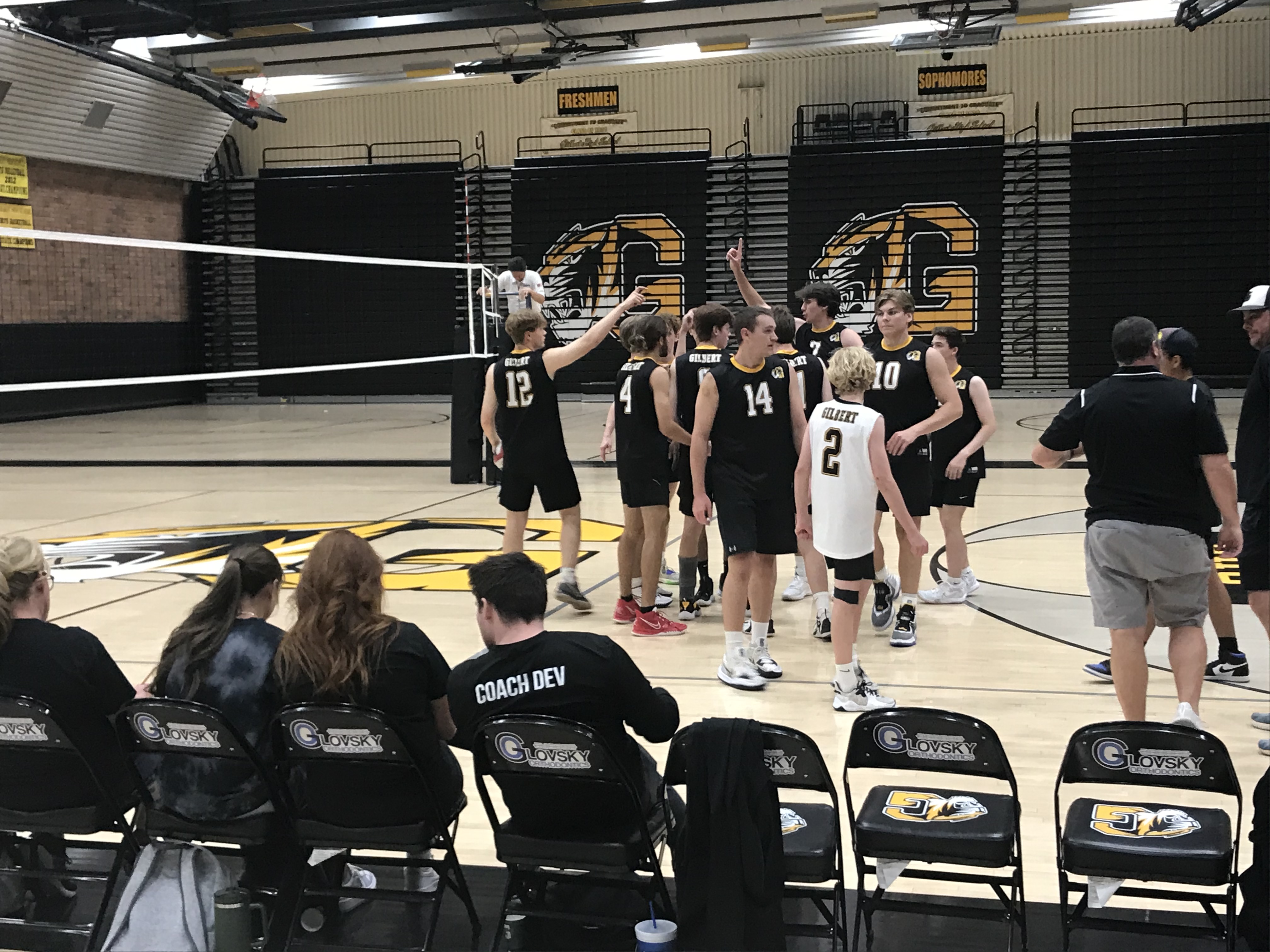 Gilbert's boys volleyball team reached the midpoint Wednesday of four power-ranking matches in as many days. The results thus far have been good with back-to-back wins.
The host and #2-ranked Tigers broke a second-place tie with #6 Higley in the 5A San Tan Region with a sweep of Knights - 25-16, 25-17, 25-20.
Wednesday's victory ties Gilbert (21-4 overall) for first in the region with Casteel at 5-1. Those teams have already played their two region matches and split. Each has four region matches remaining. Higley dropped to 12-6 overall, 4-2 in region. The Knights' other region loss is to Casteel.
Gilbert was once again paced by 6-foot-7 outside hitter Trent Moser. The senior, bound for the University of Alabama in the fall, collected team-highs in kills (23), digs (6) and had three blocks. Augmenting the Tigers' attack were Troy Moser (5 kills) and Harrison Tinker and Reed Shuey with four kills apiece. Tinker led in blocks with five and setter Beau Whatcott checked in with 33 assists. Kill leaders unofficially for Higley were Tyler Melia (13) and Franchi (10).
Moser tallied nine kills in the first set. Gilbert never trailed in the set and maintained a seven- to nine-point lead after opening a 12-5 advantage. Trent Moser had nine kills in the set.
#4 Higley took the early lead in the second set - 3-0. Two of the points were aces from Talmage Garrett. Gilbert bounced back for an 8-5 lead and seemed on its way to a 2-0 edge. The Knights pecked away, not leading but within a point several times. The last one-point deficit was 16-15. Gilbert closed with a 9-2 run. Three attack errors and service error aided the demise. Trent Moser finished with the set with back-to-back kills.
The third set was the tightest with single-point differences through to Gilbert's 11-10 lead. Three consecutive kills by Trent Moser helped open up a five-point lead at 18-13. Higley pulled as close as 21-18 after consecutive kills from Lorenzo Franchi. Reed Shuey finished the match via kill.
Gilbert's next match is a true road encounter Thursday as the Tigers travel to Catalina Foothills. Higley also remains busy. The Knights play Thursday hosting Campo Verde then host a 12-team invitational on Friday.