Mesquite belts 3 HRs in rout
April 21, 2022 by Les Willsey, AZPreps365
---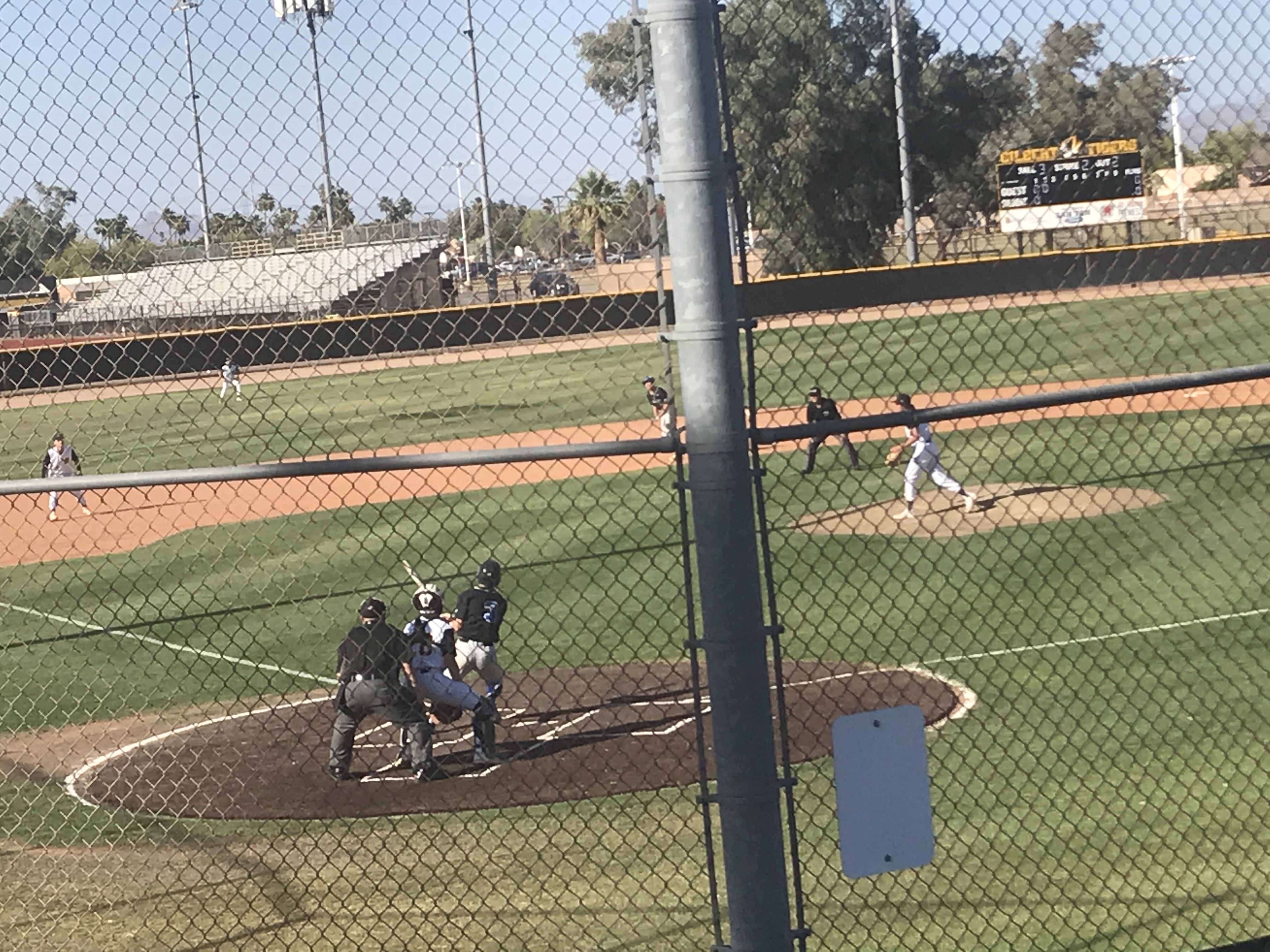 Defending 4A state champion Mesquite appears to be warming up to defend its title. The Wildcats reeled off their eighth victory in a row Thursday afternoon by pounding city rival Gilbert, 10-1 at Gilbert High.
Mesquite cranked out 11 hits, including three home runs and scored all its runs with two outs. The Wildcats improved to 18-8-1 while Gilbert dipped to 16-11. Mesquite is comfortably in postseason position in 4A entering the day ranked #5 in the conference. Gilbert is trying to hang on among the top 24 teams in 5A. The Tigers are presently #20.
The game got away quickly from Gilbert. Mesquite plated five runs in the second inning, all with two outs and noone on. Gilbert starter Copper Foster surrendered a walk and single with two outs. Then two of the Wildcats three home runs followed.
Mesquite shortstop and leadoff hitter Thomas Vogiatzis launched a 3-2 pitch to left-center to make it 3-0. A walk to Keeton Bell was next. The Wildcats Tariq Freeny ripped a sinking linedrive to deep left that Gilbert leftfielder Josh Simanton dove for, but came up empty. Simanton was shaken up by the attempt. By the time the ball was retrieved, Freeny had circled the bases to make it 5-0.
Vogiatzis added his fourth RBI in the third to via a bases-loaded walk to bump the lead to 6-0. Gilbert scored its lone run in the fourth to pull within 6-1. Luke Dotson picked up the RBI on a bases-loaded walk issued by Mesquite starter and winning pitcher Sebastian Granillo.
Granillo worked five innings with walks (eight) the downside to his outing. He struck out four and gave up one hit - a single by Gilbert's AJ Fernandez in the fifth that ended a no-hit bid. Gilbert finished with three hits.
Mesquite's third home run of the game, a two-run shot, was off the bat of outfielder DJ Barrett in the sixth. The Wildcats final two RBI were courtesy of Bell's two-run double in the seventh.
Mesquite's next game - it has two left - are Friday and Monday both against Marcos de Niza to complete region play. The Wildcats are currently tied for the Desert Valley Region lead with Saguaro at 5-1. They split games with Saguaro earlier. Gilbert concludes its regular season facing Casteel on Monday.