Title IX: First state championship could cap milestone career for Flagstaff's Nez
April 23, 2022 by George Werner, AZPreps365
---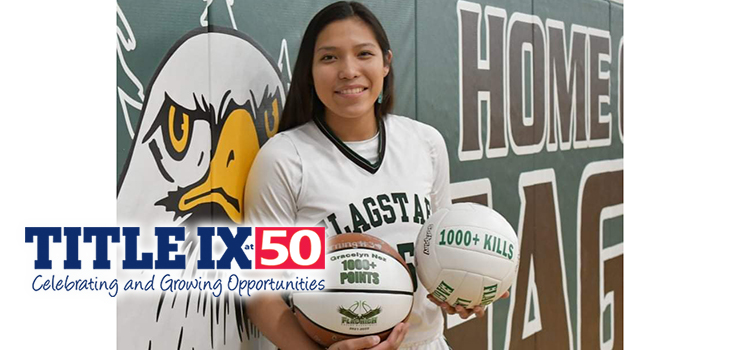 Trailblazing legislation known as Title IX was passed on June 23, 1972, which prohibits discrimination based on sex in educational programs or activities that receive federal financial assistance. It was the catalyst for bringing girls athletics in high schools to the forefront. As we celebrate the 50th anniversary of this momentous occasion, the AIA will produce a feature on the 23rd of every month on a female that paved the way for girls athletics in Arizona.
"Trust in the Lord with all your heart, and lean not on your own understanding; in all your ways acknowledge Him, and He will make your paths straight."
The fifth and sixth biblical verses from the third book of Proverbs have been sustenance through the continuing journey of Flagstaff High School senior Gracelyn Nez, the first Arizona athlete in history to score 1,000 points in girls basketball and record 1,000 kills in volleyball.
"We've had a lot of girls come through the program, but this is a first," said her head basketball coach, Tyrone Johnson. "That's definitely something we want to celebrate, because there's not often times, especially nowadays, a person makes history like that. She is just awesome, works hard in both sports, and we definitely want to honor that."
The milestone was actually accomplished during a 68-36 win Jan. 11 at Lee Williams High School, but Johnson kept it a secret from Nez until two days later, the morning of her home game against Cortez, at which she would be honored by him and her head volleyball coach, Beth Haglin, at halftime.
"I actually didn't know it at all," the laser-focused Nez said of her historical accomplishment. "I just woke up, went to school, then looked at my social media and saw it all over and was like, 'Whoa, that's cool.'"
This unprecedented accomplishment for both Johnson and head girls and beach volleyball coach Beth Haglin has yet to yield one elusive honor, however: a state championship.
Despite recording a double-double, scoring 22 of her team's 48 points against Salpointe Catholic, Nez's deepest postseason run fell short Feb. 28 in the 4A girls hoops title game to the second-seeded Lancers in Phoenix.
She is not done yet, however. Since joining Haglin's second-ranked beach volleyball team for their second match March 2, Nez and fellow senior Bridget Bond have not only been the undefeated top pair in an undefeated season, to date, for the Eagles, they have lost just a single set--by four, the opener of a comeback tiebreaker win at eighth-ranked Deer Valley--on their way to the Division II semifinals Monday, April 25.
With a win in Gilbert over third-ranked Valley Christian, the Eagles would advance to the Division II beach volleyball title match, and a chance to take home Nez's first state championship trophy, Wednesday, April 27, at Casteel High School.
This spring sports title would be the capper to a career which saw Nez record 1,279 career kills and score more than 1,300 career points over four fall and winter seasons.
"The first thing you see is her athleticism," Johnson said. "When she came in, she had a skill set on her that not a lot of people have. Even though she hadn't been playing basketball a lot, you could just see that she understood the flow of the game.
"She understood how to move the ball [and] find the open person; she could rebound out of position–she could go get [the ball]. Then, she had [the] ability to score."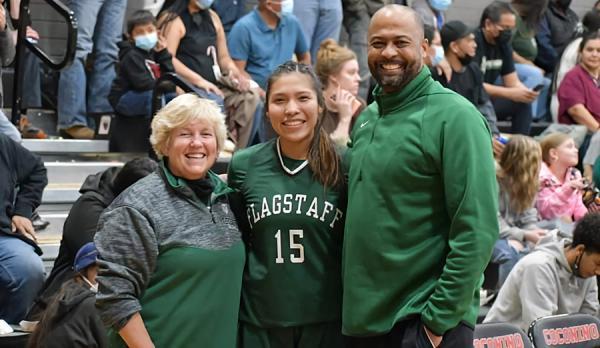 Flagstaff senior Gracelyn Nez poses with her two long-time head coaches at the high school, Beth Haglin in volleyball, left, and girls basketball head coach Tyrone Johnson. Nez's 1,000 career points and 1,000 career kills powered the Eagles to top five rankings in both sports. (Photo courtesy Farin-Lexine Nez)After being instrumental in drives to the 4A semifinals with Haglin each of her first three years as a volleyball player, Flagstaff squeaked out a 15-11 tiebreaker Nov. 4 at home over American Leadership Academy - Queen Creek in the first round of the 4A volleyball tournament, only to be swept out of the postseason in three straight quarterfinal sets at Estrella Foothills.
From the age of nine, Nez would play club volleyball for Haglin.
"She took me in; she taught me everything…everything," Nez said. "Then from there, I found out she's coaching at Flag[staff] High, she's head of this, director of this, and she's a great coach."
But Nez was just getting started. After an opening four-point setback at 4A semifinalist Seton Catholic Prep in Chandler, she led Flagstaff to wins in its next 19 straight games, including the championship of the Eagles' holiday tournament by an average of nearly 25 points. They would finish with a 29-3 overall record and a top-five ranking.
"The goal was always to try and finish in the top four," Johnson said. "We'll let movement dictate what's going to be open. We encourage girls, especially when you first catch the ball, to look for [who's] open, look for drives, [and] get them to be disciplined enough to kick [out of] coverage.
"To me she is more of a guard. As different college coaches asked that question, I told them that, because of our roster, there's times she has to go in and post up or guard the post."
Nez also finished as one of the conference's Top 10 three-point shooters, hitting 46 percent of her shots from beyond the arc for 47 total while playing both post and guard, depending on who she would match up against from game to game.
"She puts the ball on the floor well enough to where we want her to get out and face up on the perimeter," Johnson added. "She's actually the best shooter that we had, in terms of the three-point line. As she moves on into college, the ability to play on the perimeter is really going to benefit her."
Flagstaff finished its fourth straight undefeated run through the Grand Canyon Region and fourth season in Nez's four years under Johnson with at least 16 wins.
Not bad for just her fifth year playing the sport.
"I didn't really play that much basketball" before eighth grade, Nez said. "I grew up with basketball, but I didn't really have any interest in it when I was younger."
That was thanks to Nez's grandmother, a former college volleyball player who coached Nez throughout her childhood at home in Bird Springs, a small Navajo town a 30-minute drive east of the closest school–Star Charter School just off the Rez in Leupp, where Nez went on to carve out a name for herself from the second grade on as an outside hitter for the school team.
That all changed after she started playing pickup basketball games with her friends.
"I wasn't that good," she said. "But then I came into high school, and he improved my game, big time."
She was referring to Johnson, who happened to be persuaded by the mother of another senior, Breonna Curtis, to watch Nez in a Mesa summer tournament he was coaching in right after she graduated from the eighth grade.
"I don't go out to middle school games: whoever walks in the door, walks in the door," Johnson said. "But she told me, 'Come on, you want to come see who's coming to Flagstaff next season?'"
The next thing he knew, he was a player short, and Nez was available.
"She was like, 'Hey, you need somebody, just to hang out for this game right now?'"
But Johnson let her play, and was so excited by the talent he saw, he didn't wait for Nez to request the invite to try out for varsity that the program requires of incoming freshmen, even sophomores. He invited Nez to try out for varsity himself.
"After that, I was like, 'Ah, yeah!'" he said. "I don't even think we won the game. But we played better than [how] we had played.
"I told [Assistant] Coach [Danny] Neal, 'We don't have to win a game the rest of the summer. She's coming to Flag High? We're gonna be all right."
Although she played club volleyball in the summer and offseason her first three years of high school, she played club basketball exclusively in Phoenix last summer.
"When she's in volleyball, she ALL volleyball," Johnson laughed. "Then when she's in basketball, she's like, 'I can do this.'"
With no offseason time for commitment to club basketball her first three years, Johnson never quite knew for sure, his first three Novembers with her, if Nez was coming back after her season with Haglin was over.
"I always respected the fact she really wanted to [play] volleyball," Johnson said. "Volleyball would finish, and then it wasn't, like, 'Hey, volleyball's over, get over here.'
"It's 'Hey, take your time, recover from that, then come on out.'
"Once she played basketball, I told her, 'I'm not going to try to force you to play in the summer.'
"But each year, it was like, 'OK: Is Grace going to come out this year?'
"I'd say, 'When I see her out on the court, I'll believe it.' But THIS year, as much offseason basketball as she played, I knew we'd be all right."
An inch taller than Haglin's ace and assist leader this past fall, the 5-foot, 8-inch Bond and Nez have formed an unbreakable top pair of five on Flagstaff's beach volleyball team. They await seeding for the first round of the beach volleyball pairs tournament, which will also take place at Casteel High School, Monday through Thursday, May 2 through 5.
That tournament will mark the competitive end of what Nez says has felt more like a mother-daughter relationship between she and Haglin, for whom she recorded 799 career digs, 136 aces and 135 blocks in her four girls volleyball seasons. The teacher to Nez of her guiding Proverbs quote, it was Haglin whom Nez lived with as a sophomore before the rest of her family found a place in Flagstaff to move in 2020.
"I did actually live with her the whole sophomore year because we used to live out of town on the Rez," Nez recalled. "Then we moved into town, and everything went online. Then this year, I drove to school."
After recording career nights of 27 kills in three separate wins as a sophomore and junior–including two 3-1 wins over Prescott–Nez not only was the state's only athlete to be named first-team All-4A in both girls basketball and volleyball as a senior but was the only first-team All-Grand Canyon Region player each of the last four years in both girls basketball and volleyball.
Small wonder that Nez is keeping colleges waiting on her commitment.
"Me, I kind of like the more organized basketball better than doing my own thing," she said.
Nez wants a school that will let her play both sports.
"A player like her, I always wish it was one more year," Johnson smiled. "We're going to freeze time, and she's going to stay this age.
"Grace is one of the best that's ever came through" the program, he added. "She's got to rank up there in the top five. There's really no other way to look at it."
Previous Features: