Eagles fly on the course
April 22, 2022 by Liam Archer, Arizona State University
---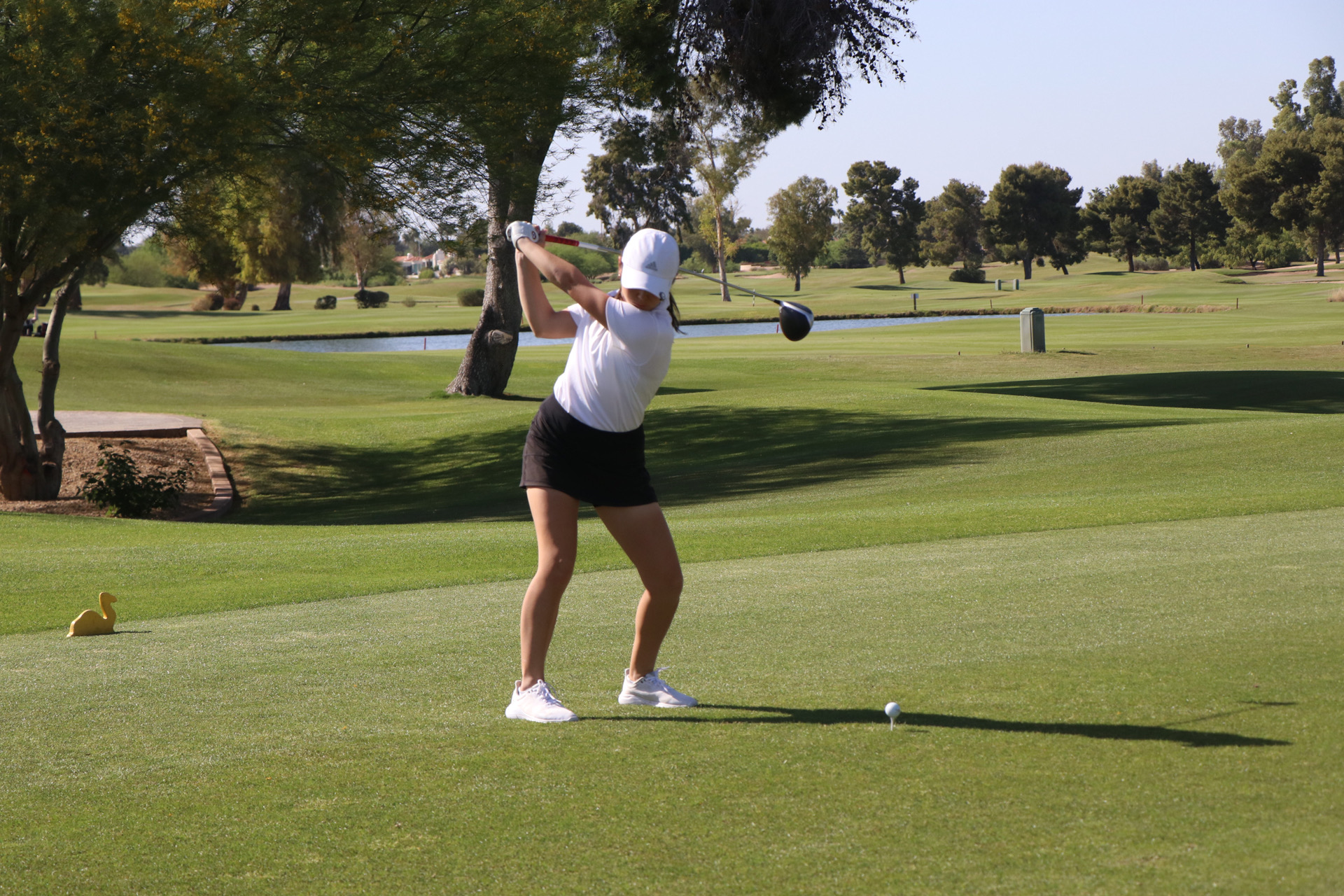 Liam Archer is an ASU Cronkite School of Journalism Master's student assigned to cover Phoenix Country Day School for AZPreps365.com
SCOTTSDALE – The No. 2 ranked Phoenix Country Day golf team posted a 166 combined score on Wednesday, securing a victory over Phoenix Christian, Cicero Prep and Benjamin Franklin at Camelback Golf Club.
Entering the match, Phoenix Country Day was fresh off a win the previous day at Cave Creek Golf Course, where it shot a team score of 152.
The Eagles were without their No. 1 golfer, Devan Amin, on Wednesday. His absence, combined with back-to-back matches, meant a tough test for head coach Ben Sullivan's group.
"Sometimes you wonder if they'll be fatigued mentally, physically, but I thought they played strong," Sullivan said. "I was hoping they wouldn't look beyond today, and they didn't."
Stepping into the first group in place of Amin was the lone senior on the team, Sammy Marks. According to Marks, he and Amin have split duties as the No. 1 all season long. "It's nice being able to flip-flop on any given day," Marks said. "It really pushes us to play well."
Marks finished the afternoon scoring a 43 on nine holes, good for 7-over par. Despite finishing with one of the better scores of the afternoon, Marks was disappointed in his performance.
"It wasn't my best round at all," Marks said. "If I'm being honest, it was not very good."
Marks, however, was one of only three golfers to birdie a hole. He chipped out of a fairway bunker on the fourth hole, giving him a 10-foot putt, which he converted.
The best score for Phoenix Country Day belonged to junior Jacob Sunenshine, the Eagles' No. 2 golfer, as he shot a 4-over par 40.
"He's really, really steady," Sullivan said, "he makes very few big numbers."
Sunenshine parred five of the first six holes. Later in the round, Sunenshine was on the receiving end of a tough roll as his 5-iron shot on the eighth hole rolled backward into the water. Overall, Sunenshine was thrilled with his performance.
"It was big time for me," Sunenshine said. "We didn't have Devan, so it was my time to shine out there."
Phoenix Country Day's golfers finished with five of the seven lowest scores on the afternoon.
During the spring golf season, competition between girls and boys is combined. On Wednesday, 19 golfers competed. Only three of those golfers were girls, and two of them belonged to Phoenix Country Day: juniors Annabelle Winssinger and Mia Valente.
"Their golf speaks for themselves," Sullivan said. "They have tremendous golf swings, they score really well, and I think they garner respect just in terms of how they carry themselves."
Marks indicated that though not every school has girls on their team, it doesn't hold Winssinger and Valente back when it comes to their competitiveness.
"It's difficult when there aren't many girls playing in our division," Marks said, "but being able to go out there and destroy all the competition, regardless, is very impressive."
According to Winssinger, the co-ed golf season is a great opportunity to measure her skills.
"It's exciting to see from other schools there are a lot of good girl golfers," Winssinger said. "It's cool to see how we compare to the boys, and we're definitely playing competitively."
Winssinger was one of the Eagles' top performers on Wednesday. She finished 5-over par, with a final score of 41, good for second-best on the team and third overall.
"She's building confidence," Sullivan said. "She went a little sideways a few weeks ago, but she played well yesterday, shot a 39, and she's in a good position to make a late season move."
The junior sees the confidence build, herself.
"I think I was a little bit more confident than I was at the start of the season," Winssinger said. "It was still a little bit sloppy, but I think the confidence is there."
Winssinger started the afternoon with three consecutive bogeys, but finished strong, earning par on four of the remaining six holes.
"I think what I feel good about in my game is the ability to come back and perservere," Winssinger said. "That's something that I'm proud of, and it definitely helps with confidence."
Valente also put together an impressive round. Entering the final hole, Valente was at 4-over par for the round. She would finish 6-over for a score of 42, the fourth best score of the day.
Despite feeling pressure on the last hole, Valente was proud of the round she put together, and knows she has what it takes.
"I was playing quite well," Valente said. "I was making up and downs, but there was some pressure [on the last hole], and it's something I really want to work on."
Despite struggling on the final hole, Sullivan knows Valente's talent is exceptional.
"She's playing really well," Sullivan said. "She just had one hole that gave her trouble. It's hard; golf is a hard sport, but she's got to see the positives."
Sullivan believes that both Winssinger and Valente's individual games are benefitting by facing both girls and boys competition.
"They're both building a lot of self-confidence, not only in their scores, but also competing against boys, and being in situations that, for a lot of people, would be uncomfortable," Sullivan said. "They just continue to roll with it and play really well."
Rounding out the Eagles' performance was sophomore Andrew Horlick, who made his first appearance this season. With Amin not playing in the match, Horlick moved into the fifth group, where he shot the seventh-best score among all golfers at 8-over par.
"To come out in his first match all season, and shoot in the low 40s is really impressive," Sullivan said.
Horlick was the only other Eagle to make a birdie on the afternoon.
Phoenix Country Day next travels to Antelope Hills Golf Club for the High Desert Invitational on Friday.