The benefits of being a multi-sport athlete
April 27, 2022 by Matthew Matthies, Arizona State University
---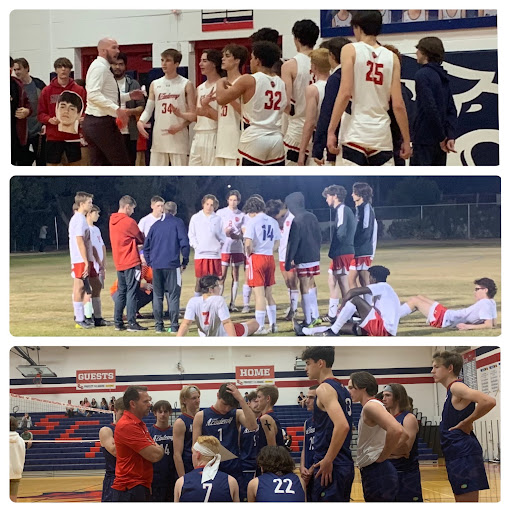 Matthew Matthies is an ASU Cronkite School of Journalism student assigned to cover Scottsdale Christian for AZPreps365.com
The dynamic of having a player that's well-rounded can be beneficial to coaches and teammates. Having an athlete on your team like Scottsdale Christian senior Kyle White, creates an advantage against an opponent. White is a multi-sport athlete who stays active year-round. Throughout his senior year, White participated in football, soccer, and volleyball.
"It's a great way to work on your athletic abilities," White said. "Even if you're playing a sport like soccer and volleyball, you can still have all the fun with teammates and get better as a player."
Over 80% of students at Scottsdale Christian play a sport. The Eagles have 39 2A state championships, won mostly by multi-sport athletes.
"Playing multiple sports helps you not just mentally but physically," Eagles boys volleyball coach David Dickerson said. " If you're playing one sport all the time, it's pretty easy to lose interest. You only have certain goals you can achieve."
Scottsdale Christian is a K-12 private school that has built a reputation of having a strong athletics program. The Eagles have a tight-knit bunch and great support from the community.
"We get team moms, team dads, bus drivers, and other families getting involved. That builds comradery and a strong community within the team," Dickerson said.
Eagles senior and 2A State Player of the Year Garrison Sherman is another multi-sport athlete, playing basketball and volleyball. During his time at Scottsdale Christian, Sherman has contributed to three state championships in basketball. His success as an athlete has led him to receive multiple offers at the collegiate level. On March 29, Sherman announced his commitment to play at Biola University, a division II private school in Southern California.
Sherman currently plays volleyball for the Eagles. He credited Dickerson after their win against Madison Highland Prep.
"(Dickerson) has taught me about how to balance the ebbs and flows," Sherman said. "He talks with the team about keeping mental toughness throughout the game."
Scottsdale Christian continues to provide resources which contribute to the overall success of their athletes, ultimately leading some to play at the collegiate level. Multi-sport athlete Ntal Richards has played three sports this year with the Eagles: soccer, volleyball, and tennis. In 2021, Richards signed with Grand Canyon University to play tennis.
Scottsdale Christian's years of success comes, in part, from consistent and year-rounded athletes who play multiple sports.