O'Connor and Salpointe win Beach Volleyball championships
April 28, 2022 by Andy Morales, AZPreps365
---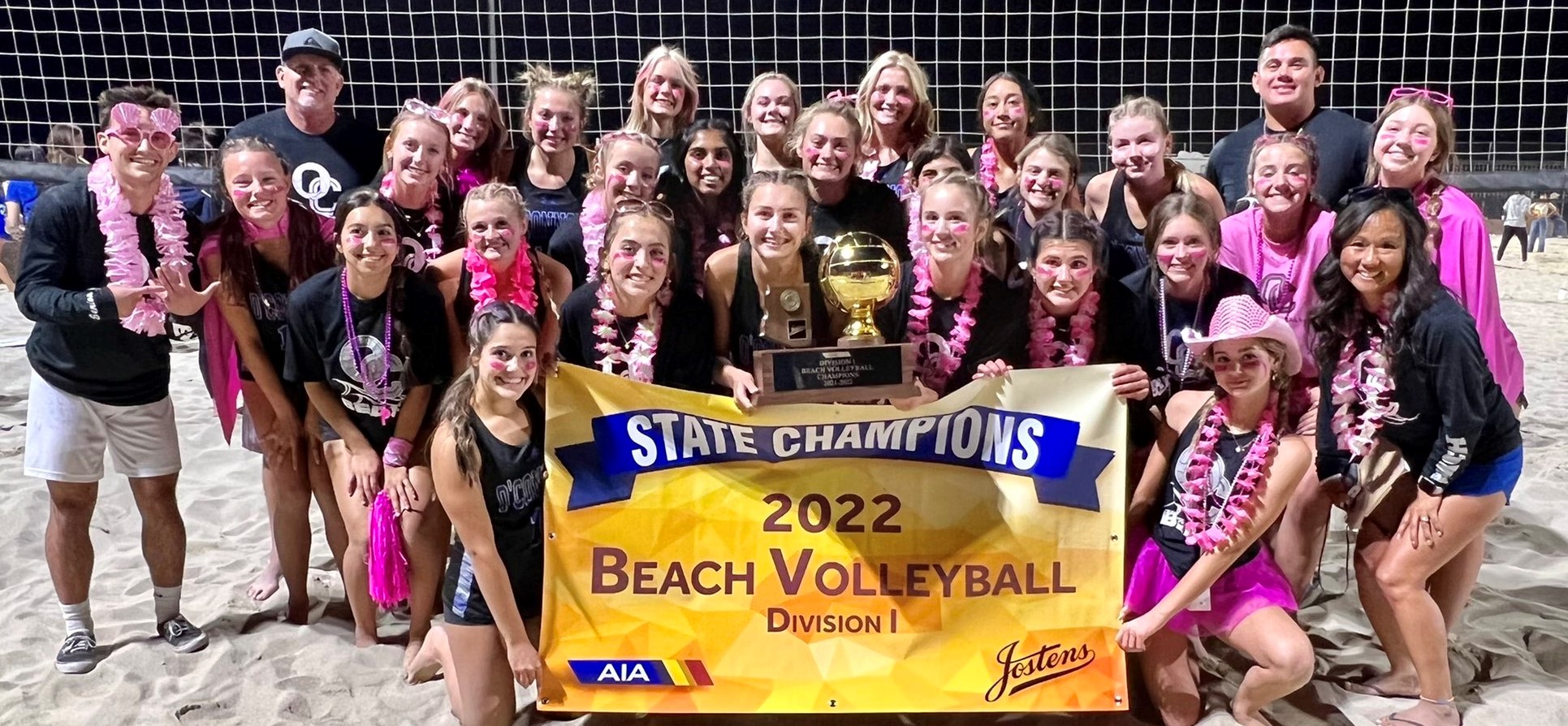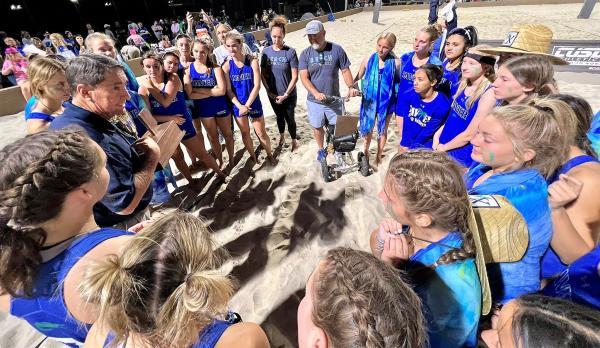 Xavier Prep (Andy Morales/AZPreps365)
Arizona was the first state in the country to offer beach volleyball as a high school sport and Xavier Prep was the first team in Arizona to claim a state championship. The Gators turned that inaugural 2012 championship into a dynasty that produced seven more trophies, including a 4-1 victory over O'Connor last year, but the Eagles created some history of their own Wednesday night at Casteel High School by beating Xavier Prep 4-1 to claim the Division I state championship.
"I think the difference this year was trying to build a culture of supporting one another and trusting each other," O'Connor head coach Jamey Spartz explained on making it back to the championship final this spring against Xavier. "We are building team chemistry that we were missing."
O'Connor started the season out with five straight victories but a 3-2 setback at Millennium turned out to be somewhat of a wakeup call and the program went on to defeat Xavier Prep 5-0 in the regular season a week later. It was the first loss for the Gators since 2018, breaking a streak of 41 straight victories, but the victory wasn't as easy as the final score indicated.
"It was sweet but it was not as sweet. I mean, it was not easy," Spartz added. "The two, three and fours were very, very close so seeing what we needed to change, you know, certain seeds up and down, and we just felt like if we can maybe try adjusting based on what their ability was and that's what we tried to focus on and I think it really helped us maintain."
The championship final didn't play out as close as the earlier match between the two power-programs with Reese Holtorf and Ashlyn Rough beating Lauren Vanderwey and Maddie MacDonald 21-14, 21-15 and Liana Huesca and Sarah Lewis beating Alexa Shiner and Tiffany Tellez 21-11, 21-13 to take a 2-0 lead. Olivia Le Blanc and Piper Rama gave clinched the state championship in the third flight after beating Noel Peterson and Mei Tsou 21-11, 21-13.
The rest of the Eagles rushed the sand to celebrate the victory but all five flights are completed in beach volleyball and the celebration was tempered a bit with Xavier standouts Trinity Tran and Katie Anthony beating Tristin Smith and Sophia Myers 23-21, 21-15 to make it 3-1 O'Connor. O'Connor seniors Margo Smith and Sydnee Broadway beat Landree Coats and Summer McCann 21-14, 21-15 for the 4-1 final.
Salpointe Catholic joined the beach volleyball ranks in 2016 and head coach Heather Moore-Martin took the Lancers to the state finals in her first year with the program but that team went up against Xavier Prep that year and the Gators won that championship 5-0. Moore-Martin regrouped and the AIA created two divisions as the number of participating teams started to grow. That growth, along with a more competitive division, opened the door for the Lancers to win the Division II state championship last year and the Lancers beat Flagstaff 5-0 to win it all again Wednesday night.
"Once we got into our own division it made it a lot more competitive," Moore-Martin explained. "The playing field was much more even and we were able to put to work what we know about beach volleyball"
Jordan Faircloth and Alyssa Robles beat Berlynn Fowler and Ava Jenkins 21-11, 21-11 and Gabriella Monge and Scarlett Isaacson beat Sophia Krassner and Gabi Sena 21-5, 21-17 to give the Lancers a 2-0 lead. The team victory came with Rylen Bourguet and Megan Muehlebach beating Elise Galland and Alida Perry 21-14, 21-13.
The state championship was secured and Sophia Hernandez and Francesca Pieroni went on to defeat Macie Moseng and Haylee Gilleland 21-14, 21-10 to make it 4-0. The final match between Salpointe seniors Emma Hugeback and Jalynn Ransom and Flagstaff seniors Bridget Bond and Gracelyn Nez proved to be most competitive of the night.
Hugeback and Ransom took the first set 22-20 but Bond and Nez tied the match up with a 21-13 win the second set. Bond and Nez went up 8-6 in the deciding set but Hugeback and Ransom recovered for a 15-10 victory.
Hugeback and Ransom are seeded No. 7 in Pairs competition and Bond and Nez are No. 2 which means a rematch is possible in the quarterfinal round on May 3. Former Lancers Alex Parkhurst and Abby Russell won a state pairs championship in 2019 and the duo helped the University of Arizona defeat Cal 3-2 in the Pac-12 championships on Wednesday.
Moore-Martin will lose Hugeback and Ransom to graduation but she's been here before.
"You know, this is a great little group but you know a year is a long way away, a lot of things can happen," Moore-Martin explained. "I would love to see some more freshmen get out there. I have two on varsity this year and they were great and they're going to be really good for us next year, but we really need the influx to kind of propel us forward."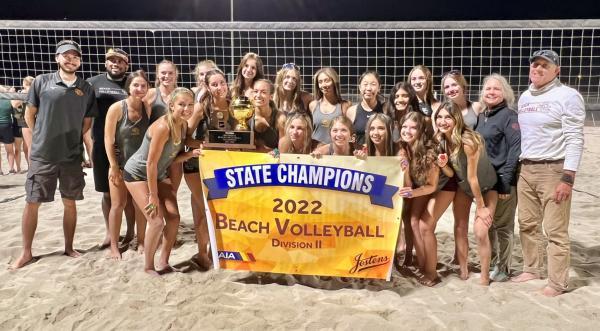 Salpointe. (Andy Morales/AZPreps365)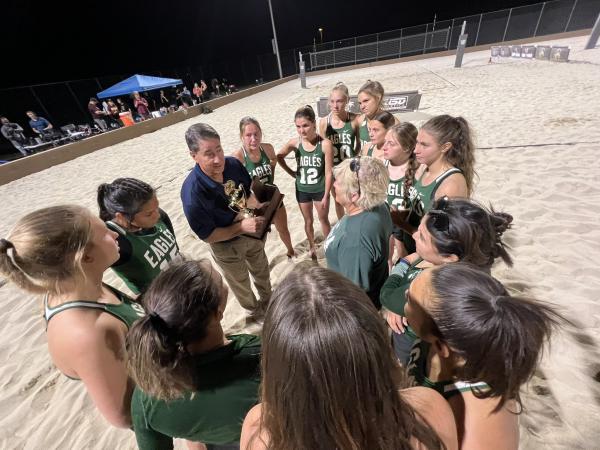 Flagstaff. (Andy Morales/AZPreps365)