Faherty twins fueled by passion, hard work and baseball
April 28, 2022 by Lucas Metzner, Arizona State University
---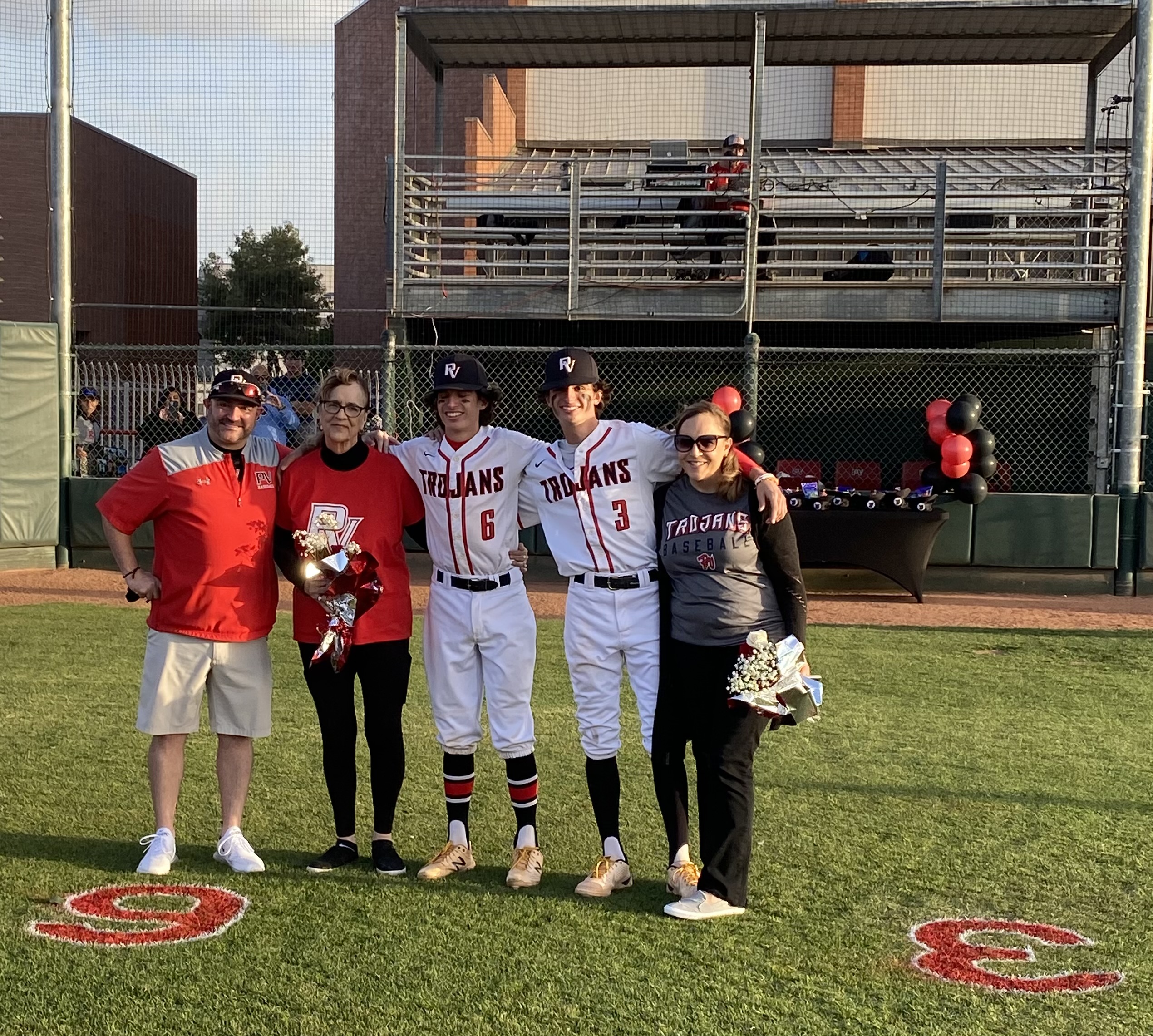 Lucas Metzner is an ASU Cronkite School of Journalism student assigned to cover Paradise Valley for AZPreps365.com
Joe Faherty coached his identical twin boys from T-ball all the way through their freshman year at Paradise Valley High School. Through their shared love of baseball, they only got closer over the years.
"It actually had nothing to do with anything between the lines or even in the dugout," Joe said as he fought back tears on senior night. "For me, the most rewarding thing was just being able to spend amazing quality time with my boys."
"After a game, he's the first guy I'll go see. He understands me. Take baseball aside, he understands me in a way that no one else does. And that's what's really cool," said Andrew Faherty.
Chris Faherty gave credit to Joe for providing the guidance necessary to do what he needed to do.
"I wouldn't be the human I am, and I wouldn't be the baseball player I am without him giving me that plan. And he gave me that structure, and he built my work ethic 100 percent," said Chris.
"We have a special bond, where they respond well to me," said Joe. "And they have never once been like, you know, forget it Dad. They didn't throw their gloves. We always had a really great relationship. Baseball brought us together,"
Joe explained how full of life his boys were at all times. The excitement they had was always there. Even to the point where they never slept on the way to baseball games. Joe used the word zeal to describe their enthusiasm and passion for the game. And their current head coach at Paradise Valley, Ira Jeffers, agrees the boys have a lot of devotion to the sport.
"They just love the game. I think there are a lot of kids that play baseball, but don't truly love baseball," said Jeffers. "And these boys love the game of baseball. They love to compete. And that's what gets me excited as a coach. Because I never have to sell them on anything."
Jeffers was very excited when talking about Andrew and Chris. He's known them and Joe for about five years now. And he says they haven't changed.
"They always work extremely hard. They're always excited. They're very passionate about the game. And it makes it easier as a coach when you have players like that," Jeffers said. "Because they work so hard at their craft and they get it and they truly have a passion for the game. It just kind of bleeds out into the rest of the group. Because it inspires the rest of the group to work as hard as they do."
The boys' mother, Stacey Faherty, said her boys are not just brothers but best friends.
"The uniqueness of the bond that they share, every step of it was so fun," Stacey said. It's just they always had that fast friendship. They definitely have that twin bond."
The twins are almost always pretty upbeat. They are also kind.
"What I'm most proud of is just how they engage with people. And how caring, truly caring they are about other people," said Stacey. "How genuinely they engage and have conversations with random people. That's something I've always been very proud of, their character development and their rapport with people."
The twins interact well with others, but they are even better with each other.
"He's my biggest supporter, but he's also my biggest critic. And it's an awesome thing to have," said Chris. "Because I know some guys have friends only saying the nice stuff, only stuff that you want to hear. But you never get that kind of mental check about what's going on with you."
"We really understand each other as players," Andrew said. "I know how to get to him. I know how to connect to him, if I really need to talk to him."
The twins have played different sports throughout their careers, but it's baseball that has remained constant.
Baseball has always been their heart," said Stacey. "My favorite part, I would say, is the acceleration of their skill development. They're just naturally athletic. And they literally have been naturally athletic in any sport, to be honest."
And with baseball at the forefront for their senior season, the boys have been able to push one another to be the best they can be.
"I want it for Andrew as much as he wants it for me," said Chris. "We both want each other to go as far as we can. And so that's a big part of it, we just want so much out of each other. We want to squeeze all the potential we can get, so we're hard on each other," said Chris.
While Paradise Valley is competing in the playoffs, the story won't end here for the boys, as they are both committed to playing baseball at Plymouth State University in New Hampshire.
"There's nowhere else in this country that I'd rather my two young men go and play at than somewhere where the head coach has the experience and understands them," said Joe. "Twins are not just two boys. Twins are different. They have a different level of communicating with one another."
Joe, Andrew and Chris are all excited about the future. The boys explained that they are thrilled to be playing at Plymouth State because of the head coach. Clay Jenkins has had three sets of twins play for him in the last four years.
"So the challenging part is really making that individualized time because even though they are technically identical twins, they are very different. And they have different personalities, (and) needs," Stacey said.
"These boys of mine, they truly are good young men," said Joe. "And I don't even think that it has very much to do with anything that I did or their mom did. I think that we were just blessed with two amazing souls."