Notes from the North: Appraising April - and postseason prospects aplenty
May 3, 2022 by George Werner, AZPreps365
---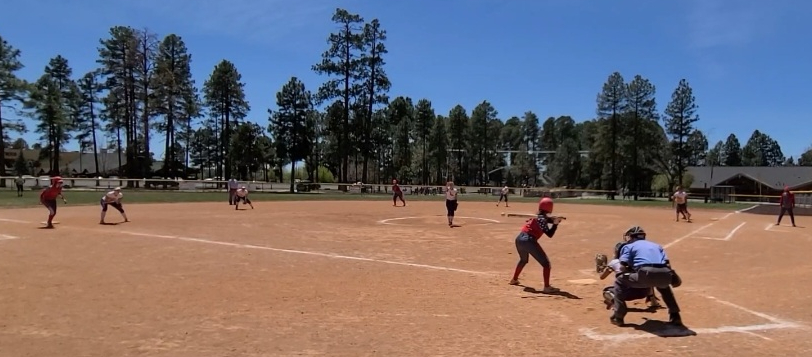 Welcome to May, patient readers: Once again, it's playoff time.
Time for this writer to learn to walk again! The end of spring sports play-in games Saturday, April 30, meant it was time for me to get that spring back in my step–or at least stand up, like I have just started being able to do again, after breaking both ankles in February.
To all of you who have supported me during my unexpected convalescence, thank you–from the bottom of my heart. You are the reason I devote so much time to check every fact and include every Northern Arizona athlete possible in my work.
If you are just now hearing about my mad March, it's not too late to help before the 2A and 3A baseball tournaments hit Goodyear beginning Friday, May 6–with my return to Peoria's Rose Mofford Sports Complex for the latter 4A softball rounds the next day also still a possibility. Click here to find out more.
Speaking of these tournaments, as mentioned, the field was set April 30–and the 4A and 5A play-in games–as well as their subsequent "Round 1A," as the baseball and softball brackets are labeled–have already concluded.
Let's get the bad news out of the way first in those conferences with baseball, which was a brutal bloodbath for Northern Arizona's teams on otherwise breezy Wednesday and Saturday afternoons. To put it even more bluntly: There were no survivors.
Despite being literally the North's last team into the 4A tournament at the No. 23 ranking, fifth-year Mingus Union High School head coach Erick Quesada and his Marauders get a doff of the tricorne for a valiant rally April 30 at top seed Poston Butte that fell a run short, 8-7. In their 10-9 play-in win at Vista Grande, senior Zachary Harrison batted in three runs, including a triple, while fellow upperclassman Jan Alvarez held the 10th-seeded Spartans to a run over the final two-and-two-thirds of an inning on the mound for the upset.
In another play-in upset on the road, 21st-seeded Prescott pitcher Tyson Potts struck out seven in a 10-4 complete game at 12th-seeded Estrella Foothills. Another upperclassman, Lee Williams pitcher Anthony Lucero, struck out nine and allowed a single earned run over the first five-and-two-thirds as the No. 16 Volunteers edged No. 17 Peoria, 5-4…
From there, though, the North went south. No. 18 Lake Havasu at least played to its 5A postseason power ranking differential at No. 15 Williams Field, losing its Wednesday, April 27, play-in, 4-1.
After cannibalizing Grand Canyon Region runner-up Coconino, 11-6, in its play-in road game, for the privilege, No. 20 Flagstaff once again provided postseason fodder for No. 3 Salpointe Catholic in Tucson. Similar fates were suffered there, and in less than seven innings, by Prescott and Lee Williams, against Nos. 2 and 4 seeds Walden Grove and Canyon del Oro, respectively. Even No. 8 region champ Bradshaw Mountain, which earned a play-in bye and 11 a.m. revenge game in Prescott Valley, could not avenge a 7-0 shutout suffered April 8 to ninth-seeded Saguaro, losing 8-2…
Safe to say, softball needed to save the weekend on several Northern Arizona diamonds. Enter their female counterparts for Bradshaw, Havasu, the Marauders and No. 5 seed Coconino, all of whom not only did just that in their three opening games, but did so coming off play-in byes in their final home games of the spring.
In fact, in the Knights' 12 games since beginning Desert West Region play after sweeping undefeated through Kingman's Coca-Cola Invitational, they have lost just twice–both to region champ and 5A second seed Canyon View, and both by less than three runs, combined. Backed up in the bullpen by junior Alexis Martin and her 0.75 earned-run average, senior 16-game winner Alysen Rieth will again stay home to pitch against 14th-seeded Cinderella team Casteel after slaying 13th-seeded Higley, 6-3.
Junior first-team all-region infielders Brianna Baca and Ashley Lisiecki and seniors like catcher Brina Lankford and outfielder Kyla McDermott continue to overwhelm Bradshaw's opponents, winning their last four games by a combined 27-2 score. After boosting junior pitcher Yasmin Bernal's ERA below 1.67 with a 9-0 shutout of ninth seed Poston Butte, the Bears will go on the road Tuesday, May 3, to attempt to advance to the 4A quarterfinals by taking out top seed Salpointe.
That game's winner could face Coconino, who is one win away from advancing to that quarterfinal after handling 12th-seeded Pueblo, 6-1. Junior center fielder KodyLynn Watson's grand slam highlighted a five-run third inning against the Warriors, and freshman pitcher Kaitlyn Tso had a solo shot of her own, striking out 10 to win her 20th game and stay second in 4A in both categories.
But first, the Panthers have to win at fourth-seeded Paradise Honors–spoilers of Mingus' championship dreams as a No. 5 seed in last season's quarterfinals. The Marauders, after 3-1 losses at Bradshaw and Coconino, couldn't successfully defend that season's Grand Canyon Region title, but they did play spoiler for 10th-ranked Flagstaff's season after sending the Eagles home from the postseason in five innings, 13-3.
Sophomore Gianna Baca, who had just two-hit No. 23 seed Apache Junction in a 10-0 run-ruling three days before, was no match for senior Alexis Ayersman, who had seven strikeouts of her own throwing a four-hitter to one of the state's best defensive catchers, junior Sydnee Stapleton, April 30.
Providing enough offense to beat the Eagles by herself, the Marauders' RBI leader added four more on two singles and a walk. Outhitting only Ayersman was another senior, shortstop and stolen base queen Marissa Vocca, who slammed two- and three-run homers.
Ayersman is one more such pitching performance at second-seeded Greenway from tying Tso for second in 4A in both wins and strikeouts. The only trouble is, the pitcher leading them–and the state–in both categories is the Demon ace facing Mingus on May 3, junior Player of the Year candidate Kaitlyn Terry, who has no-hit 14 of her 25 opponents…
Of the 24 seeds in the 2A softball tournament, which begins play-in games at higher-seeded teams May 3, more than one-third are Northern Arizona teams. This includes River Valley, a host seed in both baseball and softball after just four losses between the sports all spring.
Of the 32 seeds still standing in the 3A baseball and softball tournaments, six of them are play-in winners from Chino Valley, Snowflake and Winslow, all of which won their baseball and softball playoff openers April 30. (Excluded, unfortunately, is Page baseball, which free-fell from fifth to 25th in the 3A power rankings and out of the postseason altogether after a 1-4 finish with a 13-3 play-in loss at Sabino.)
Top those performances with the fact that more than half the two sports' host seeds in 1A's 16 first-round games May 3 and 4 are Northern Arizona programs–with the road teams in three of those games Mohave Accelerated Learning Center baseball and Fredonia and Mogollon softball–and chances for another title trophy coming north in the next two weeks are quite good. (The latter two teams, if they both won, would in fact play each other in the quarterfinals Friday, May 6 in Heber.)
Just how good is "quite good"? Check the capsules immediately below–then read on for those in 2A and 3A–as Northern Arizona's remaining postseason players in baseball and softball are profiled, with region champions starred and region and overall records in brackets:
1A baseball titans Bagdad, Mogollon build to clash; Williams prepares to defend title
The 1A schools Fredonia and Mogollon are traveling to, as respective 12th and 13th seeds, are fourth seed Bagdad and fifth seed Joseph City. The Mustangs and Wildcats, as final power rankings would have it, have not just already played each other this spring but are North Region rivals, with Joseph City having swept Mogollon in two games by nearly 20 runs. Still, beating a team three times in one season is still a real bugaboo, and Mustangs head coach Taralee Porter would undoubtedly prefer a bus ride of less than two hours to and from a familiar foe than dealing with sophomore center fielder Briah Williams' .703 batting average and conference-leading 10 home runs and 49 runs scored in Bagdad all day. Speaking of Williams, though, the defending state champ remains the title favorite, even as a third seed, as the Vikings not only beat both higher seeds in last season's Final Four, they outlasted second seed Superior at home, 5-4, despite striking out 18 times April 1:
3. Williams [14-3, 8-1 North]*: The Vikings' 7-2 win in their regular-season finale at Bagdad made a huge difference, sliding them past the former third-ranked Sultans, breaking the tie for their region title with Joseph City and capping an April in which they won 9 of 10 games after the upset of Superior. Head coach Raul Hatch has found the high gear Williams played at in its previous postseason, dominating the six 1A tournament teams faced in that run, 75-22–plus an 8-5 win at 2A eighth seed Northland Preparatory Academy. Heading into her first-round game with 14th seed Valley Union, sophomore ace Kai Mortensen now leads 1A with 15 wins, and is one of the conference leaders with a sub-2.00 ERA and 135 strikeouts as well. Her pitching prowess is matched only by her .979 fielding percentage on defense, which means she handles a lot of what opposing batters manage to make contact with. Also error-free nearly 98 percent of her time at first base is junior Jessica Zabala, whose 23 stolen bases check in the 1A top 10 in that category as well. Another junior infielder, Shaelee Echeverria, continues to be one of the conference's top sluggers with 35 RBIs and six home runs.
13. Fredonia [6-5, 4-4 North] at 4. Bagdad [13-2, 11-0 West]*: A 9-8 win March 26 at 12th-ranked Mogollon is the main reason the Lynx have a reckoning with the Sultans the first round instead of staying home, as all other victories have come over non-tournament teams in a feast-or-famine spring for head coach Mike Waters. In that game, daughter Mikelle showed why she is one of the conference's toughest hitters, smacking an RBI double and a two-run home run while her father unleashed sophomore Charlie Anderson on the basepaths. She had three thefts of the Lynx's 12 total, which helped force six Mustang errors, leading to four unearned runs. But even Anderson was one-upped that game by the four steals of junior McKenna Grover, one of the conference's top fielders, who gets on base nearly 69 percent of her plate appearances. But ace junior pitcher Braxton Henderson will face her greatest test at the rebounding West Region champs, who not only bat one of the state's top sluggers in Williams but also fellow sophomore Nuvia Jauregui and juniors Lindi Langston and Jocelyn Rodriguez, who have combined for another 19 home runs and 110 total RBIs. Not to mention a senior 10-game winner, Holly Myers, who has struck out 139, a 2.06 ERA and more no-hitters than any other 1A hurler.
12. Mogollon [6-7, 3-6 North] at 5. Joseph City [11-6, 8-1 North]: After head coach Daniel Hutchens scheduled just about anyone, anywhere this spring–including wins over 4A Lee Williams and Thunderbird in Wickenburg, a home-and-away split with 2A St. Johns and losses at 3A Show Low and at home to Holbrook, Superior and Bagdad–his Wildcats are learning new lessons in irony. While those uneven results likely helped cost them a region title in a tiebreaker, their road to the 1A semifinals is now paved with regional opponents–and the Sultans, 15-3 victors in five innings over them April 16. First, though, sophomore Kayle James must score her 10th win and build on 82 strikeouts by defeating, for the third time this spring, the Mustangs, who counter with senior six-game winner Brooke Valdez in the circle. With an ERA closer to 3.00 than it was to start the spring, she is one of the conference leaders but will be tested by shortstop Kassidy Juarez, who has 10 home runs, scored 41 times and knocked in three more runs than that, combining with left fielder Kadence Armstrong for 78 RBIs. Another junior, Ellie Hancock, leads the Mustangs offensively with six home runs and is also one of the state's top 10 sluggers, but her counterpart at shortstop has more help up the middle in freshman Staisha Murdock, one of the top 1A fielders at second base.
7. St. Michael [10-5, 6-2 North]: The Cardinals' steady, positive progress up the power rankings into a first round host seed was nearly marred by dropouts in three of their final four games: losses at Mogollon and Williams by a combined 33-12. Even more curious was the fact that it started in the latter game of an April 11 doubleheader with the Mustangs–the first game of which they won, 15-13, with a five-run top of the seventh inning. Depth may be an ongoing issue for head coach Karen Tom, whose team left Heber after just four innings of the 16-0 loss to Mogollon, but leadership is not: Second-team all-1A senior Gabriella Simpson is her pitching ace, who has an ERA under 2.00 when she has help. Whether they play infield or outfield, two other second-team all-region seniors lead with power at the plate: Santana Dalgai continues to bat nearly .600, whether she is in the infield or the outfield, while another second-team all-North senior, Kalynn Smith, bats to an even higher average and can get on base more than two-thirds of her plate appearances. But with postseason veteran St. David coming to town Wednesday, May 4, for the first game on their home field virtually all year after hosting games at a softball complex in nearby Gallup, N.M., the rest of Tom's team needs to figure out the problems fast if they want to avoid the first-round upset.
8. Mohave Accelerated Learning Center [12-3, 9-2 West]: While May 4 opponent Hayden is a fair ninth seed as the third-place team from the East Region, the Patriots are better. They just haven't shown it enough outside of the West, looking up at region winner Bagdad after an 11-2 road rout was followed by a 13-0 run-ruling by the Sultans at home. Having more errors than hits, which Mohave Accelerated had, 5-4, in its April 22 rematch with the region champs, is never a sign of progress. This has been enough reason for the Patriots to drop three seeds in a month from a top-five ranking. Which is a shame, because they ended April on a scorching three-game streak, turning games at Salome and San Pasqual Valley into 15-1, 32-3 and 25-1 laughers. Freshman eight-game winner Alyssa Laing is also top 10 in the conference in strikeouts and ERA, at 108 and 4.79, respectively, with junior catcher Sonoma Deal successfully fielding more than 99 percent of everything coming her way. Nancy Keeley remains one of 1A's best hitters, hitting safely two of her every three at-bats. Another junior utility player, Kaylene Burright, gets on-base nearly as often at .679. was shaping up to be one of 1A's top sluggers, batting .600 with a .655 on-base percentage. The early-season support they had, however, needs to resurface against the Lobos…
On April 7, the final of three days in Chandler's Epic Tourneys Baseball Classic, the Connor Watson no-hit watch came to an abrupt end shortly after noon against 3A host seed Benjamin Franklin. After 19 straight hitless innings, the Queen Creek high school got to Watson for a run in the bottom of the first, ultimately dealing him a 7-4 loss–his toughest start since Anthem Prep hammered him for eight runs in three-and-two-thirds innings as a sophomore. But the Chargers were just for fun; the real tournament begins May 3 with a third game against No. 15 seed Mohave Accelerated, as Watson's second-seeded Bagdad squad has jumped Williams to emerge as the primary challenger to undefeated Mogollon for the 1A title. It's just too bad for Bagdad that its April 7 follow-up game in Chandler was also for fun, and didn't count on their postseason resume, because it was an 8-0 shutout of Mogollon. And it would otherwise have stood as the Mustangs' sole conference loss:
1. Mogollon [17-0, 10-0 North]*: Since that game, just four teams have scored on the Mustangs, with three of them each barely mustering a run. Only No. 5 seed Hayden proved to be the measure of the Mustangs' mettle April 16, leading 7-0 heading into the bottom of the sixth inning in Heber. In the next three outs, however, sophomore infielder Kyson Owens–the only player to hit safely April 7 against Bagdad–stoked a stampede with a triple that cleared the bases as part of a five-run rally. He was still needed to walk home a run, however, on his final at-bat. That seventh-inning RBI was his fourth, bringing Mogollon back from the dead for an 8-7 win. Head coach Reed Porter is hoping such home heroics won't be needed again, at least against No. 16 seed Valley Union, then either No. 9 rival Fredonia or No. 8 road warrior Ray in the second round. Their only experience with any of these teams came March 26, a 22-2 run-ruling of the Lynx in which six other players besides Owens batted runs in, with Chancy Worsley equaling his four RBIs and fellow freshman Hadley Porter striking out 10 in a four-hitter. Porter's 2.82 ERA joins twin cousins Cael and Malaki as three of the toughest pitchers in 1A to score more than two runs off. Malaki also forms, with senior cousin Fisher, two of the conference's best sluggers with nine home runs, and is tied with senior Braxton Owens for the team lead in RBIs with 31. Get through the semifinals, and a possible rubber match looms with the Sultans for the 1A title.
15. Mohave Accelerated [6-9, 6-4 West] at 2. Bagdad [14-1, 7-0 West]*: A third matchup with the Mustangs at Tempe Diablo Stadium would be a Sultan fan's dream, but head coach Dalton Mills has three other opponents to get through first. Mohave Accelerated, shut out 20-0 in its home-and-away series with Bagdad, opens things coming off a 12-7 win at Salome that likely saved the Patriots' postseason. They had spent the rest of April in free-fall, losing six drubbings in a row by a combined 69 runs. Junior ace Tyson Banks put himself back among the conference leaders with 10 strikeouts of the Frogs, hurling a four-hitter before a six-run sixth by the Patriots, and junior Austin Brusso, came on in successful relief. Two other juniors, Tyler Emmons and Reed Moran, are tough to steal against both in the infield and behind the plate, but that won't be enough against a pitching staff that has matured into one of Arizona's best. While Watson one-hit Williams in a 10-0 shutout April 26, sophomore Shane Hooper has finished the season even stronger, no-hitting two opponents his last 10 innings of work. His 1.39 ERA rules the conference, and he is second in 1A in wins and strikeouts, tied with Watson for the team lead in the latter category. Next to Hooper, infielder/outfielder Keiland Lucero is one of the most reliable fielders in the state, while another senior, center fielder Cooper Williams, is fifth in Arizona with 41 stolen bases. Opponents beware, and prepare for a clash of titans atop 1A baseball.
4. Williams [14-4, 9-2 North]: The Vikings are adrift and hoping 13th-seeded opening opponent Desert Christian won't capsize them after they lost their past two games, including Senior Night, 3-1 to Mogollon. Postseason seeds as high as seventh seed Joseph City have been handled by Williams six games over the previous month. But if head coach Ethan Johnson looks to beat better teams this tournament, he'll need more players than North Offensive Player of the Year Tyler Jensen to tee off on pitching. Jensen, with a .985 fielding percentage, .878 slugging percentage, .670 on-base percentage and a .634 batting average, does a lot of everything for the Vikings. But Johnson will need other sophomores like leading run-scorers JP Echeverria and infielder Raymond Gonzalez–the team stolen-base leader with 29, whose third-inning double drove home Jensen before Viking bats fell silent. He will also need his upperclassmen to step up, like second-team all-region outfielder Preston Ford, second on the Vikings defensively to Jensen and tied with him for the team RBI lead with 33. It is time to put bat to ball in Williams.
7. Joseph City [11-7, 7-4 North]: The tournament seed for the Wildcats, despite beating 2A play-in seed St. Johns, Red Mesa and Mayer twice over their last four, has drifted downward a couple of spots. A doubleheader loss April 9 at No. 5 seed Hayden is the likely culprit, as Joseph City stranded 12 runners over the 12 innings of its road twin, ultimately being outscored by a 15-2 total. Subsequent, similarly punchless home routs the next week against Bagdad and Mogollon did not help matters. Catcher Owen Beatty and fellow junior Blake Palmer are still two of the best fielders in 1A, and senior outfielder Mason Hancock has a .640 on-base percentage. But he needs push at the plate from many more of his teammates to support the 2.36 ERA of pitcher Karter Lampsa and fellow juniors Brody Penrod and Bannon Johnstun against 10th seed Tempe Prep.
9. Fredonia [8-4, 6-3 North]: For Fredonia, seeded ninth is just another word for nothing left to lose. Especially since the Lynx are undertaking a 14-hour bus ride to Kearny, southeast of Phoenix, and back to make a rare 1A tournament appearance against eighth seeded Ray. Although a 14-1 run-ruling at Williams held the Lynx back from moving up to a home seed, before that, they had won seven games in a row to solidify their chances of being a playoff player. Sophomore Tra'Shawn Ford, when he is not a threat to hit for extra bases, has the back of senior starting pitcher Jo Blaylock, who needed just 70 pitches for a five-inning, 12-1 win over St. Michael in Gallup, N.M. Ford and brother Braden, along with senior RBI king Treyston Jones and sophomore home-run hitter Tyler Cutchen, are the big bats for Fredonia, while senior Wyatt Grover provides the speed on the basepaths. But they may also need the skill of second starter Wyatt Anderson on the mound to pull out the win at Ray.
14. Mayer [4-9, 4-7 North]: Were they not fifth place in the toughest region in 1A, the Wildcats would not still be playing. They come into a first round matchup at third seed St. David on a four-game losing streak–and most of Mayer's losses this season have been one-sided, double-digit train wrecks. Their last win was their only one away from home all season, a 14-7 doubling up of the Spartans of Ash Fork/Seligman. The game before, junior pitcher Charlie Belfort came through with a complete-game, 11-strikeout win over the Spartans in which he allowed just one earned run through the five-inning run-ruling at home. So Belfort, one of the top three defensive fielders in the conference, may be Mayer's best bet to keep the score close on St. David's mound. More offense will also be expected from conference home run leader Josh Manning as well as his right hand on the left side of the Wildcat infield, junior shortstop Wyatt Eyler. Eyler bats .722 with a .756 on-base percentage, while Manning, a senior third baseman, is 1A's second-best slugger with a .553 batting average…
River Valley baseball, softball teams join Elks, Tigers & Spartans hosting play-in winners
It is truly fitting that when the dust finally settled from the 2A Conference regular seasons, only the Dust Devils of River Valley would be left standing in both Northern Arizona baseball and softball. A tournament shutout to 3A host seed Snowflake and two other early-season losses in and out of tournaments to 5A fifth seed Lake Havasu remain the only setbacks on the tournament resume of the 12-1 defending state champions. Friday, May 6, the West Region champions will open their postseason defense when they take on the winner of the May 3 play-in game between 19th seed Ganado and 14th seed Pima. Besides the Hornets, No. 12 seed St. Johns and No. 20 play-in newbie Sedona Red Rock, the rest of Northern Arizona also has a bye until May 6. This includes North Region champion Round Valley, Central Region winner Northland Preparatory Academy and even River Valley's runner-up in its region, Kingman Academy–which never lost in April. Like the Dust Devils, the 13-3 Tigers' only other loss came in the final week of February at Lake Havasu. Northland Prep hasn't lost since April 12, at home to–look back one more team–Round Valley, whose only losses remain March 14 to Benson and 10 days earlier, 10-9 to Kingman's 4A team, Lee Williams, to open the Wrangler Softball Classic in Wickenburg. They are all seeded behind 15-1 Benson, which fell to a late River Valley rally in May's 2A state softball championship, the Dust Devils' first in any sport:
2. Round Valley [16-1, 6-0 North]*: For half an inning, Northland Prep had the second-winningest 2A pitcher in some trouble. A seven-run rally in the bottom of the fifth knocked 15-game winner Allyson Muth out of the circle and left Round Valley down, 8-5, in Flagstaff. Senior leadership rescued the junior, however: Kyrie Walker, as she has in so many relief situations, got out of the inning and blanked the opposition the rest of the way, as the Elks took the lead back with five runs their very next at-bat. Walker has won 10 games herself, including a no-hitter, hurled in back-to-back games the previous week with Muth, who has struck out nearly 100 batters and run an ERA below 2.90 while teaming up with another senior Walker, Taelynn, to hit 11 home runs. Older sister Emily Muth and fellow senior Shiloh McCall are two of 2A's top five run scorers as well, having plated 49 times each. It's that kind of versatile depth that shuts down the eighth-ranked Central Region champs on their field and gives head coach Darin Emerald such confidence in the 2A title ambitions of his Elks, particularly when his hurlers are always throwing to Arizona's best defensive catcher in sophomore Liliana Arreola. The second-best 2A slugger with 54 RBIs, including 11 home runs, and a .635 batting average, Arreola's fielding remains flawless, and she has only allowed three runners all season to steal a base on her. In fact, the only reason Arreola's .885 pickoff percentage doesn't lead America is because she needs three more runners unknowing enough to try to steal on her before she can qualify. Perhaps she'll get her wish against 18th-seeded Miami or 15th-seeded Phoenix Christian. Layer six such devastating players on top of junior slugger Kayla Logan, who has a batting average of nearly .600 and an on-base percentage of almost .700, and the Elks' first softball championship game appearance in nearly 35 years, since the 1988 title loss to 3A Winslow looks to lie within their grasp.
3. River Valley [12-1, 10-0 West]*: It remains to be seen whether the Dust Devils' and Kingman Academy's postseason performances will prove that the West Region is ultra-competitive…or will fade under the lights of ASU's Farrington Stadium, if not before. Certainly head coach John Glenn's team was not tested by the Tigers in defeats by a combined 23-2. When a team has to schedule the high school from Needles, Calif.--a program that even split a home-and-away with 1A defending champ Williams–just to keep its scoring down to single digits, there might be a bubble effect happening in the Mohave Valley. Junior catcher Karina Pulu, who caught the final out of the state championship May 15, continues to make her case as the state's best slugger with a .698 batting average and .750 on-base percentage. Support continues to come from the twin .621 averages of senior outfielder Talynn WIlliams and sophomore slugger Aaliyah Rodriguez. With 116 strikeouts and a sub-3.00 ERA, speedy sophomore ace Trinity Williams is poised to enter the elite in Arizona pitching with her 16th win against either Ganado or Pima.
5. Kingman Academy [13-3, 8-2 West]: By striking out 10 Trivium Prep batters on Senior Night, one of its Guests of Honor, Tigers ace Abbie Bean, entered rare territory: the 200-strikeout club. Even an average start, by her standards, May 6 against either 21st seed Desert Heights Prep Academy or 12th seed St. Johns should lock Bean among the state's Top 10 strikeout queens. In the March 29 shutout by River Valley of the Tigers in five innings, Bean was the only player to hit safely against Talynn Williams, while striking out seven more batters than her Dust Devil counterpart. That is how important Bean is to head coach Annette McCord. Her catcher, another April 28 honoree after the 15-7 win over the No. 9 Knights, Ammerisa Benson, is among the conference's Top 10 hitters of RBIs with 44, while sophomore Faythe LaFirenza has scored four more runs than that to rank sixth in 2A. LaFirenza hit a double, had two walks and three RBIs against Trivium and will be counted upon to provide similar power against the play-in winner, along with junior utility players like Aspen Johnson and Anika Larsen–who each added two RBIs against the Knights.
8. Northland Prep [16-4, 8-0 Central]*: Maggie Auza could be the most underrated multi-sport athlete in Northern Arizona. For two years the rock of dependability for the Spartans' volleyball team, the senior shortstop with a .692 on-base percentage just quietly finished a nearly season-long hitting streak April 26, in the latter half of a doubleheader at Glendale Prep. After 22 games in which she hit safely, Auza was pitched around and ultimately walked three times, but still managed to "bat in" two runners, keeping Auza in the 2A top 10 with 44 RBIs. Her .627 batting average is fourth in the conference and is inspiring one of its top seven defensive gloves, junior catcher Bella Giurlanda, to ascend to seventh in RBIs as well, taking the team lead with 47. In the circle, taking charge down the stretch have been sister pitchers Kianna and Reannan Butler. Kianna, a freshman, has won nine games, struck out 111 batters and maintained a 2.46 ERA, while Reannan, a junior, has won eight more with a 1.74 ERA and had 90 strikeouts of her own. This depth will come in handy against likely play-in winner Trivium Prep, which, as the No. 9 seed, plays the last team in, Phoenix Country Day School, at Desert Edge High School.
12. St. Johns [9-9, 5-1 North]: The young Redskins played up a classification and made a game effort against tougher competition this spring, earning runner-up status and a high play-in seed for their efforts despite three losses to 1A schools–including two to Mogollon. In March wins over Parker and Alchesay, freshman Mya Tsinijinnie emerged as the new ace of the pitching staff after a sparkling 14-strikeout debut March 2, defeating Joseph City, 5-4. While freshman pitcher Grace Ellsworth's 2.33 ERA hasn't hurt, Tsinijinnie's emergence as a pitching power and dependable power hitter, as well, has allowed senior Ashtyn Crosby to focus, from her new full-time position at third base, on leadership of a team so young, it only has one other senior: first-team all-region shortstop Shantel Perry. The results have borne late-season fruit, as the Redskins have had three important wins in their final five games: Knocking former play-in seed Piñon out of the postseason by 20 runs, outscoring larger local rival Blue Ridge and edging Ganado to secure second place in the East behind Round Valley. "It is my opinion that we have one of the toughest schedules in all of 2A," head coach Christopher Ervin said. "We have 11 games against 10 3A opponents, not to mention we play the number 1 team in 3A, Page." Ervin named junior catcher Brooke Bastress the player of the game in the 9-1 loss. Sophomore base-stealing queen Marissa Villagomez will also be key to the Redskins advancing over No. 21 Desert Heights Prep Academy, the last Central Region team in which has not beaten a playoff team this spring.
19. Ganado [10-5, 4-2 North]: Head coach Sylvia Edgewater engineered a surprisingly strong finish for the Hornets, who overcame their 9-8 loss April 26 at St. Johns by winning four of their other five final games by a combined 83-14. Junior catcher Callista Shepherd's .444 batting average leads the time, while senior outfielder Marissa Smith and junior utility player Kiyarra Curtis get on base the most. They are all threats to knock in another senior, infielder Lauren Curtis, at any time. But they will also have their hands full with streaky 14th-seeded Pima, which has won at 3A play-in seed Thatcher and split their home-and-away with No. 16 Bisbee. Especially since the Hornets have no wins over playoff seeds and have lost at a 1A playoff competitor, St. Michael.
20. Sedona Red Rock [5-7, 4-4 Central]: A rematch with Laveen's Heritage Academy is in the offing for the Scorpions, who can not only avenge the one that got away–a 12-8 loss April 25 to the Heroes–they would get free practices before a bonus game May 6 at South Region champ Santa Cruz Valley for the first round. In the first game, the Scorpions opened up leads of 3-0 in the first inning and 6-4 in the third, with a 6-5 edge head coach Pedro Ortega's team was still clinging to by the end of the fourth inning. But a four-run seventh by Heritage swept away their chances, with two runs in the bottom of the frame coming too little, too late. Junior shortstop and team captain Annabelle Cook, the Central Region Defensive Player of the Year, continues to be the stinger at the end of the Scorpions' tail. She gets grounders quickly around the horn from junior Anna Hernandez at third base, to sophomore Anna Jennings at second and home to senior Rebecca Pond at first. Sophomore pitcher Alyla Brooks and freshman catcher Hope Calandra are it in the battery. What little bench depth Ortega has is saved for the outfield, where seniors Sedona Sturgeon and Rebecca Cline cover as much ground as they can with junior Jillian Grondin. In their last three games, the Scorpions seem to have throttled down a years-long tendency to lose control of scores in double-digit losses, but only time, and an upset, will tell...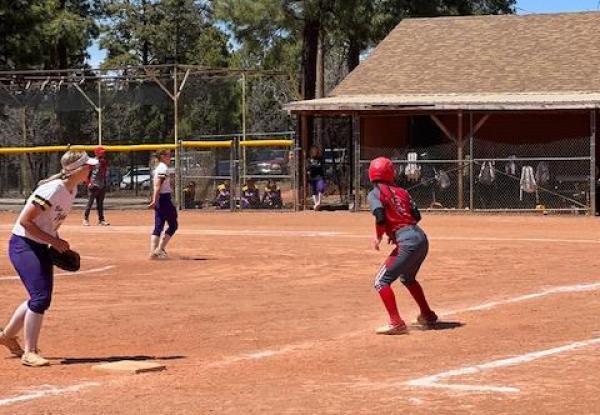 St. Johns sophomore Marissa Villagomez makes a move toward home plate at No. 10 Round Valley. (Photo courtesy Jessica Villagomez)
As for 2A baseball, River Valley knows it's captured an automatic bid, and will, therefore, host, on May 6…one of the winners of the play-in games. They won't know which until after the conclusion of the games Wednesday, May 4, as the top eight teams have not yet been seeded. South Region champion Miami, the only undefeated 2A baseball team remaining, is the likely top seed at 18-0. Two-loss Metro and Central Region winners Scottsdale Christian and Scottsdale Preparatory academies likely figure somewhere in the next four seeds. Morenci and Tombstone, the third- and second-place East Region finishers, figure to drop to between Nos. 6 and 8. The 14-3 West Region champions, with nine region wins against one loss at Trivium Prep, fit in somewhere in between those other projections.
Although sophomore infielder C.J. Hunter and junior center fielder Gavin Hogencamp have combined for seven home runs this spring, where the Dust Devils are most dangerous are raising clouds of the stuff on the basepaths. Hunter is one of three River Valley players among the Top 10 base stealers in the state, as senior outfielders Gage Solano and Zach Hammett each have nine more than Hunter to share the conference lead. Add 29 more thefts to go with 50 runs scored to place third in the state from Hogencamp, with Solano five behind at 45 runs, and head coach William Fregozo's team definitely feels the need for speed.
Fregozo can give the ball to any one of three starting pitchers this postseason: Hogencamp, fellow six-game winner Gabe Graham or fellow senior Hayden Goveia, with sophomore seven-game winner Dreyton Gleason coming out of the bullpen. Goveia has the third-lowest ERA in 2A at 0.63, with Hogencamp a scant 0.12 points behind him. Behind them, unfortunately, is the chink in the team's armor: Defense. Six errors against
Trivium led to three unearned runs, making all the difference April 19 in River Valley's lone regional loss, 7-4…
Such is the balance of power in 2A baseball, however, that no Northern Arizona play-in team could likely exploit that weakness enough to pull the upset of the Dust Devils. On the other hand, River Valley has never played No. 10 seed Round Valley [13-4, 6-0 North]*. Before a 16-0 run-ruling April 26 against Safford, the North Region champs had put those rivals to a rout of their own, outscoring all North teams 106-16. So regional competition has been little test for head coach Troy Merrill's Elks. They have, in fact, beaten all the other play-in competition from the Northland, including opening opponent Ganado [10-4, 6-2 North] on April 15 and No. 21 seed St. Johns [8-8, 5-1 North], twice.
The Hornets, at least, made a game of it, tying it 4-4 behind junior infielder Tanner Guy's timely hitting and baserunning heading into the bottom of the sixth, sending sophomore pitcher Noah Dana to the showers despite 10 strikeouts. Outfielder and top slugger Wyatt James could still have made it a game for fellow sophomore Jermal Slinkey, whose ERA ballooned over 12.00 with the loss, despite the Elks adding two more runs to take a 6-4 lead.
But senior Trey Padilla, in relief of Dana, allowed just two hits in the final four outs–and, in the meanwhile, the Ganado defense fell apart in a nine-run collapse in the bottom of the seventh. Although sophomore outfielder Ryker Marble tripled and had two other hits for three RBIs, and three teammates had RBI doubles, Round Valley's 10 stolen bases helped goad the Hornets into seven total Hornet errors, which led to five unearned runs. Marble himself was one of two Elks who stole two bases, one behind senior team leader Niko Pena…
A week later, however, St. Johns was never in it, down 8-0 after the first two innings. A lone double by senior outfielder Afton Cox amounted to nothing, and a two-RBI single in the fifth inning by junior infielder Jay Wahl provided just token avoidance of a shutout. The 17-2 run-ruling was nothing like the Redskins' first game against the Elks in St. Johns a month earlier, in which sophomore pitcher Clance Wiltbank allowed a lone earned run in four innings, striking out nine before the floodgates opened on a 10-3 loss.
Chino Valley, Snowflake, Winslow only 3A teams still alive in NAZ softball & baseball
The 3A play-in round is not a competition for the faint of heart, nor for the softball teams just happy to be there. Just ask the odd 13th through 21st seeds from Holbrook, Kingman, Payson, Show Low and Window Rock, who were not just eliminated April 30–they were drummed out by margins of five runs or more, mustering just one or two in response in all five of the games. The latter Fighting Scouts fell victim to the lone Northern Arizona softball survivor of this gauntlet, 12th-seeded Chino Valley, 9-2. The Cougars are just a win at No. 6 seed Northwest Christian away from holding steady at 13-13 for the year. They are also the only Northern Arizona team playing its first-round game on the road May 3, as eighth-seeded Wickenburg joined three of the top four seeds in Snowflake, Page and Winslow as host teams with play-in byes. The second-ranked Bulldogs, as described below, have not been perfect but are still the best candidate to knock off top seed Sabino in its quest to win its third straight 3A championship. This seeding was based not only on their title in the toughest region in the conference, the East, but also the rest of their body of work:
2. Winslow [14-2, 9-1 East]*: Winners of 13 of their last 14, the Bulldogs are putting Into practice the cliche that teamwork makes the dream work. After a 4-3 loss in nine innings April 12 at Snowflake, the long week of down time followed by three straight road trips to finish their regular season could have meant the end of Winslow's quest for the East Region title. Instead, head coach Megan Lymer took the time to turn around the team for its biggest wins of the season April 19 and 21, at Holbrook and at Payson. Trouncing the Roadrunners, 19-5, in six innings, was the successful rebound, while edging the Longhorns two days later, 7-5, took back the region lead, as Payson was two days fresh off its signature game of the spring to edge Snowflake, 2-1. Although pitcher and infielder Brynlee Barris continues to lead the team with 44 RBIs, including six home runs, and struck out six while throwing a five-hitter at Holbrook, all the Bulldogs worked together to put Payson away by the third inning, knocking out her junior counterpart, Ivy Woolwine, by the third inning with six runs in the first two frames. Against Holbrook, four other players beside Barris knocked in at least two runs, with three players on top of that also with RBIs. Continue to play as a team like that, starting at home against No. 15 Safford, and the Bulldogs could realize another dream: earning Lymer her first state title, the first for Winslow since 2014.
3. Page [15-1, 10-0 North]*: The North Region champion had not lost a conference game this season before a two-run comeback on the final out, 7-6, at play-in winner Chino Valley. The eighth-inning rally not only dropped the Sand Devils a seed, it put a slight damper on the ERA of ace Grace Jump, who came into the game eighth in Arizona in the category at 0.91. With a potential second-round rematch with the Cougars in the offing, though, Region Coach of the Year Sunni Crank shouldn't need to further motivate the junior 13-game winner to continue to be a triple threat against her first-round opponent, No. 14 seed Tanque Verde. Jump is one of the state's top 10 strikeout queens with 209 while sporting a .618 batting average and .655 on-base percentage–fifth and ninth in the conference, respectively. In the Sand Devils' half of the inning at the plate, for base-stealing and sheer offensive power, there is no more dominant a group of 3A hitters than in Page. Joining Jump among the top five 3A batting averages are junior infielder Calena Miller and sophomore catcher Miakoda Whitehorse, one of the conference's top three sluggers batting .660. One of 3A's top fielders behind the plate as well, Whitehorse gets on-base the second-most in the conference–nearly 70 percent of the time. Miller is right behind her, however, with a .994 fielding percentage, a .622 batting average and a .649 on-base percentage. That is where Miller turns into a dual threat, as she is one of three Sand Devils who have combined for 91 stolen bases. Junior infielder Tessa Cummings is second in the conference in the category, with sophomore utility player Kylee Sam contributing 25 thefts of her own.
4. Snowflake [16-2, 8-2 East]: After all the excitement had died down from the Lobos' 4-3 ninth-inning home edging of Winslow, Snowflake did what many young, emotional teams often do in their next game: They had a letdown. Two days after going the distance against the Bulldogs, striking out eight and hitting a solo home run herself, junior pitcher Maren Berger lost a 1-0 lead and, ultimately, the region title at Payson, despite striking out 15 Longhorns. However, Berger's got a bigger fish to fry. Four years ago, she could only sit in Arizona State University's stands and watch older sister Anna get jumped on by Sabino for six runs in the first two innings en route to their 2019 state championship. This postseason, beginning with 13th-seeded Valley Christian in the first round at home, Berger can not only pitch her Lobos back to ASU, she can potentially do it while ending Sabino's quest to three-peat in the 3A semifinals. Berger not only has tied Sabercat senior Riley Nielson's win total for second in the conference, she has hurled nearly 100 more strikeouts, and her ERA is more than a half-run better–a flat 1.00. A top-four slugger in the conference, Berger also is its second-leading home-run hitter with 10, augmenting a .574 batting average with 42 RBIs. Just one RBI and three homers behind Berger is junior catcher Lillieann Hollom, who has thrown out 18 of the 28 baserunners who have attempted to steal a base on her this spring. Combine that battery with clutch-hitting utility players like sophomores Livi Schneider and Kloah Ulberg–both of whom also went yard against Winslow–and the Lobos have Sabino, and State, dead set in their sights.
8. Wickenburg [14-4, 7-3 North Central]: Perhaps no sophomore softball player in Arizona has made as big a jump as Wrangler pitcher Daisy Smith. Owning a top-five ERA in the conference, at 1.59, is accomplishment enough at her age. But in one month of play, Smith has rocketed from a 100-strikeout, 10-game winner for head coach Keith Peterson to the conference leader in wins and third in the state in strikeouts. With another strong first-round outing against visiting ninth seed American Leadership Academy - Gilbert North, Smith can win her 20th game, joining Arizona's top five high school softball hurlers. With a strong subsequent tournament, Smith can become the state's third pitcher to 300 strikeouts this season. Helping to keep her grounded will be the task of her senior battery mate, Clare Peterson, who is not only one of the state's best defensive catchers but also one of 3A's top sluggers. Peterson gets on base two-thirds of the time and has a .575 batting average to go with 44 RBIs. But they cannot be a two-person team, as even the box scores of their last three wins tend to suggest. Now that the Wranglers have locked in a host seed, Maddalyn Peterson and Shayna Wimberly have some offense to pick up after their job in the infield is done, as do fellow juniors Molly Johnson and Leighney Culp from the outfield. Sophomore center fielder Emma Wayas has begun to show the way in key situations, but Wickenburg can still be pitched around and needs more clutch hitting late.
12. Chino Valley [10-9, 4-6 North Central]: Never underestimate the Cougars' tenacity. Seventh-year head coach Matt Dunn's season continues, capitalizing on opponent's errors like they did at Page, with six of their seven runs unearned. Winning by committee and without any star players who fill up the scorebook too much, the young Cougars look to Alyssa Hamm for day-to-day senior leadership at the plate and in the field, where she and most of her teammates, besides the pitching tag team of sophomore Bre Petty and junior Marae Hooper, can play most any position. It was on one of Hooper's days off April 5 when the rest of her 2023 cohort stepped up to score in four different innings and deliver a 10-8 triumph at Bourgade. Audrey Hoey smacked two homers, driving in four runs, and catcher Hanna Sears added a two-RBI triple, scoring twice herself. Even Talia Stuller drove in a run and Taya Kildoo scored, a wide distribution Dunn hopes can continue at Northwest Christian...
For all Northern Arizona baseball teams but the Cougars, Winslow and Snowflake–double-digit seeds, all–their season is over. And, as in 3A softball, decisively: Page was out in six innings at Sabino, Blue Ridge also lost by 10 runs at Snowflake, Window Rock barely had time to warm up before a 16-0 shut out at Thatcher in five innings ended its season, and both Wickenburg and Show Low were doubled up by their first-round opponents. The end came especially unexpected for the former fifth-ranked Sand Devils of Page and the last team in, the 24th-seeded Fighting Scouts from Fort Defiance. After an 8-0 start and knocking on the door of a host seed, things fell apart in April, leading to a 4-7 finish. For the East Region champ Lobos and the two other spring stalwarts remaining, any extension of their season past Tuesday, May 3, would have to be considered a wild success:
14. Snowflake [12-6, 8-2 East]*: A week before having the good fortune to draw regional rival Blue Ridge in its play-in game, head coach Joe Matthews' team had been rather owned by the third-place Yellowjackets, 15-8. Senior starter Jace LeSueur, 3A's top slugger with nine homers and 49 runs scored, had given up nine of those runs, but just two were earned: The Lobos committed seven errors April 22. Only a 15-6 win at Holbrook, and the fact that they had beaten Show Low twice, kept the East trophy in Snowflake, via tiebreaker. For this baseball sin, and the equally egregious one of stranding 10 runners, the Lobos atoned for in what was essentially a do-over April 30, winning the season series over Blue Ridge with a 6-3 victory at home. Continued penance, learning from their mistakes, will be required, though, if the Lobos are to score the upset and advance over fourth seed Valley Christian, an opponent in seemingly every Snowflake postseason since the fall. Trojan juniors Hunter Heeringa and Ryan Kao combined for eight RBIs in a regular-season upset of ALA - Gilbert North, but it is freshman Caleb Danzeisen, with 35 RBIs and six home runs, senior Caden Cantrell and staff must be the most careful pitching to.
18. Chino Valley [12-7, 6-4 North Central]: Still here, and trending upward, actually, are head coach Jason Olson's Cougars. Coming off their sixth straight win, a solid, steady 4-1 triumph at American Leadership Academy - Ironwood, the improvement of Chino's pitching and defense has been nothing short of remarkable. The Cougars have, during this streak, given up just two-and-a-half runs per game, on average–and just three, total, in three out of their last four contests. Stepping up to control games are other junior pitchers besides ace Riley Roskoff, who four-hit No. 22 Wickenburg, 9-1, April 25, striking out nine for his fifth win. Richey Jax combined with one of 3A's best-fielding pitchers, senior Dakota Mcmains, to strike out 10 Bourgade batters in a one-hit, 12-1 rout of the Golden Eagles in five innings. Michael Velasco struck out seven and also combined with Jax to allow just six Page hits to send the Sand Devils packing on their Senior Night in five innings, 15-4. Of course, allowing one run at ALA's Ironwood campus in Queen Creek is not to be expected at its satellite campus further north, in Gilbert. That team, the Metro Region champs, not only has five-game winner Dawson Morris, a pitcher whose 1.17 earned-run average equals Roskoff's. It has another senior five-game winner, Spencer Nielson, plus a seven-game winner, sophomore Hayden Clegg, ready to go. While the Eagles just lost a doubleheader at Valley Christian, the Trojans are still a fourth seed. The Cougars will need heavy hitters like Mcmains, fellow senior Jayden Smith and junior Hurlburd Hunter to play like a fourth seed, at least, to score the upset.
20. Winslow [11-7, 5-5 East]: Head coach Chris Garrett's Bulldogs started their spring strong with six straight wins, including at playoff teams Safford, Thatcher and Kingman as well as a 4-2 home win over Blue Ridge. It's been a decidedly mixed bag since then, however, with the good fortune to draw familiar Show Low in the play-in game, which beat Winslow twice in close regular-season slugfests. The subsequent 6-3 triumph was due for the Bulldogs, but they are still searching for the starting pitching that can back up ace A.J. Vargas, fifth in 3A with 74 strikeouts. Even fellow senior Chris Arellano gave up 10 runs to Chino Valley, the first of two straight losses in an April that Winslow struggled to reach .500. If Arellano or Vargas cannot figure out top seed Northwest Christian, who does Garrett have who can, on the road? The Crusaders are the conference's last undefeated team, and with a 21-1 overall record the last two months, outscoring their North Central Region opponents, 128-18, undefeated against all Arizona opponents in which seven of those games were run-rulings, it is easy to see why. Staff ace Andrew Richardson and secondary starter Dale Fry have been in control of games since March 23, when sophomore Gunnar Penzkover's two-RBI single March 23 against second seed ALA - Gilbert North turned a 3-2 extra-inning deficit into a 4-3 walk-off win. He and fellow sophomore Trot Simms can also start–and beat quality opponents. Even on the Field of Dreams, it would be tough to ask Winslow to achieve anything more in its first-round game than Rocky Balboa's nascent aspiration: Go the distance.
Next Time
The spring sports season is wrapped up and Players of the Year are considered across all sports, in all seasons. I update my status–by that time, hopefully walking and able to report back some 3A championship action. Here's a chance for your real feedback: What Northern Arizona athletes would you nominate for Player of the Year honors? Again, it doesn't matter which sport, or which criteria. Just send me your nominations, including why, to me on Facebook, on Twitter at @ProfGWerner, or via email at gwerner@azpreps365.com.