Xavier's McCann-Coats win battle of wills to pull off upset in D-I beach pairs title match
May 5, 2022 by Jose Garcia, AZPreps365
---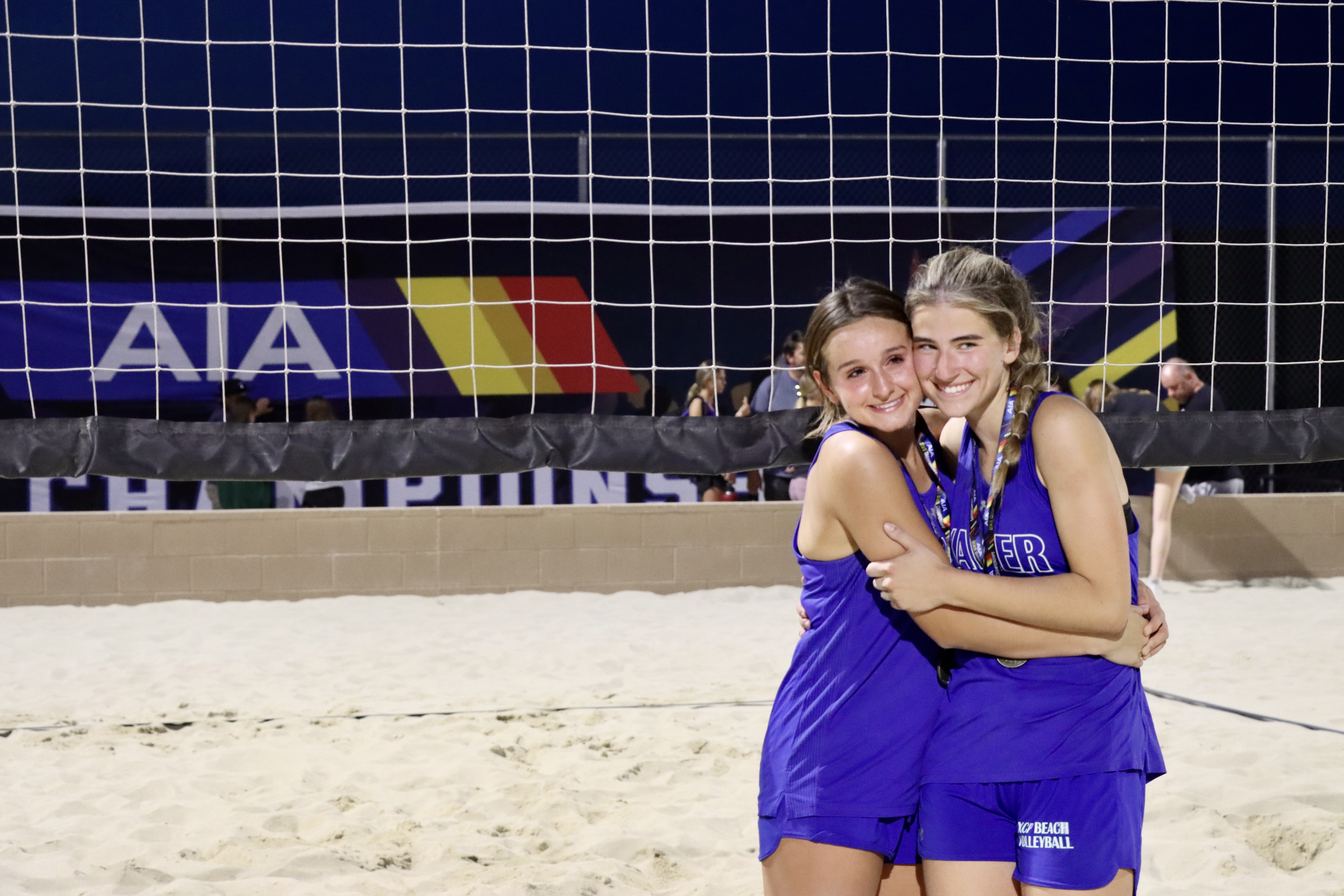 A herculean effort was needed to defeat Sandra Day O'Connor's undefeated No. 1 duo, and that's just what Xavier's No. 1's gave.
Xavier's Summer McCann and Landree Coats were competing in the fourth Division I state beach volleyball pairs championship ever held by the Arizona Interscholastic Association, but what they accomplished Thursday won't soon be seen forgotten. They upset the No. 1 seed, Sydnee Broadway and Margo Smith, 26-24, 29-27, during two riveting sets that nobody likely saw coming.
That's because McCann and Coats lost their previous two matches to Broadway and Smith in straight sets, including their meeting during the team championship duel on April 27. O'Connor won the team title, and Broadway and Smith, who were 17-0, came in with all of the momentum to start Thursday's pair final at Casteel's beach volleyball venue.
Each pairs team enjoyed a four-point lead in each set, but that was short lived. What ensued was a battle of wills between four outstanding players.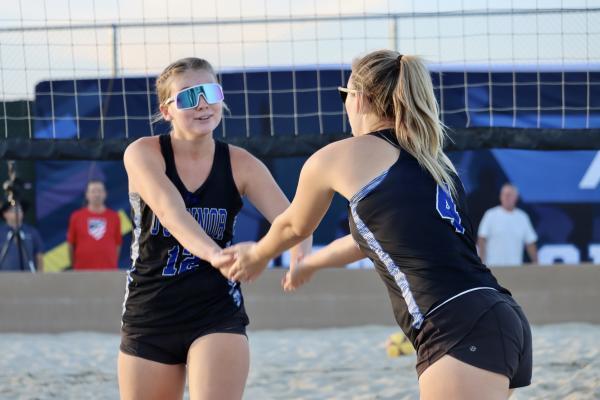 Margo Smith (left) and partner Sydnee Broadway helped Sanrda Day O'Connor win its first team title this season. Jose Garcia/azpreps365.com
O'Connor had game point in Game 1 when it went up 23-22, but back came Xavier, which had four game points of its own in the first game. But O'Conner had an answer every time until Xavier's fifth game point.
An O'Connor hit went out to give Xavier the first game. In the second set, O'Connor fought off three championship points and had four set points of its own.
But another hitting error in the final play of the match handed Xavier point No. 29, the set and the D-I pairs crown. This was the second year in a row that McCann, Xavier's emotional leader and defensive go-getter, won the pairs title.
She won it with Serena Turner last year and finished 14-2 with Coats this year.
"Our energy out there was unlike anything I've seen before," McCann said. "It was intense. Every ball we battled for. Every single ball. That is what made the difference I think. We were hyped after every big play and that carried us through momentum wise, and we never said die."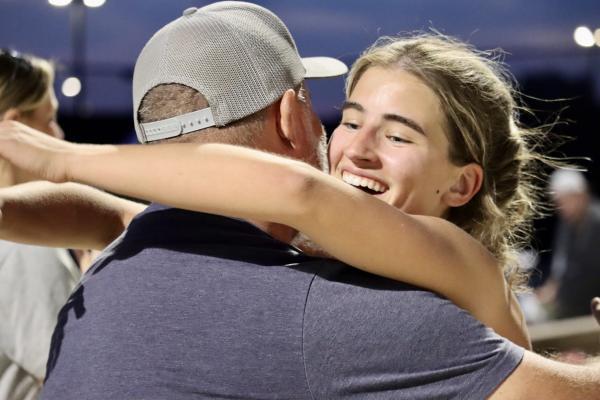 Landree Coats celebrates her pairs title with her coach, Tim McHale, after Thursday's superb final. Jose Garcia/azpreps365.com
Valley Christian triumphs in D-II title match
Kate Phillips (No. 14) and Korah Nordin (No. 15) celebrate with their fans after winning the Division II pairs title. Jose Garcia/azpreps365.com
Valley Christian's Korah Nordin and Kate Phillips, the No. 1 seed in the Division II beach volleyball pair state tournament, defeated No. 2 seed Bridget Bond and Gracelyn Nez of Flagstaff 21-15, 21-16 to take home the D-II pairs title.
Nordin and Phillips dropped only one set this season en route to a 16-0 record.
"We've been best friends since fifth grade, so we know each other really well," said Nordin about her partnership with Phillips. "We both have really good work ethic and get along and are very coachable."
Phillips, a University of Arizona beach volleyball commit, and Nordin will return next season to defend their title.
This was the second time that Valley Christian claimed a pairs title.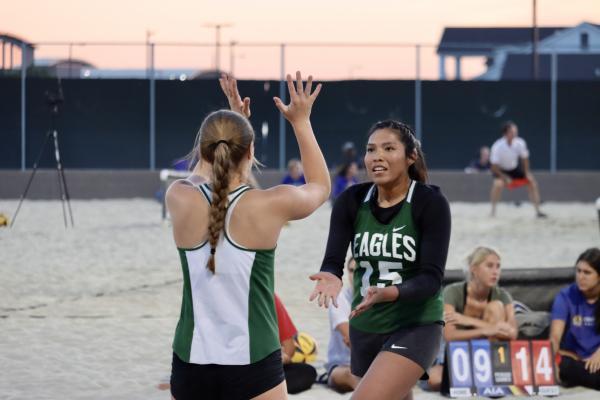 Gracelyn Nez (right) and her partner, Bridget Bond, became the first Flagstaff pairs team to reach a final. Jose Garcia/azpreps365.com