Cienega to face Gilbert in the 5A state championship match
May 12, 2022 by Andy Morales, AZPreps365
---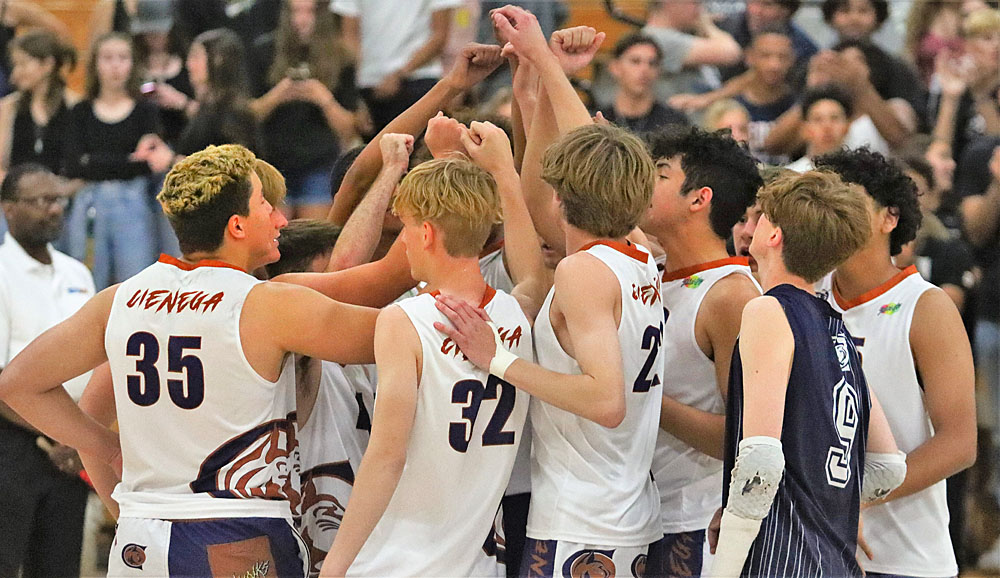 Cienega fell to Casteel in straight sets in the 5A championship match last year to spoil a perfect season and the Bobcats used this season to scratch out a new and improved identity, a path that led the program back to the final night of the year where the top-seeded Bobcats will take on No. 3 Gilbert on Saturday for a chance to win it all.
Cienega (33-4) beat No. 4 Sunrise Mountain 3-0 at home in the semifinal round Thursday night by a score of 25-20, 25-21 and 25-10 and Gilbert (25-8) knocked off No. 2 Casteel on the road in epic fashion by a score of 25-22, 13-25, 25-23, 22-25 and 15-13 to set up the championship match set for Saturday at 4 p.m. at Skyline High School in Mesa.
"These guys are just gamers and I have said this all season," Cienega head coach Heather Mott explained. "I constantly tell myself don't over coach, to sit back and just kind of like open the gate and let it go and when they are all on and when they feel challenged, we get their best."
The Bobcats took care of business in the first game of the season by beating Casteel 3-2. There will be no rematch with the Colts in the playoffs thanks to the minor upset by Gilbert Thursday night so that win will stay in the books as the first challenge met by the Bobcats. The Bobcats had four losses during invitational play this season and those losses had no bearing on what would become a No. 1 seed in the 5A Conference and an ultimate meeting against Sunrise Mountain (28-5) in the semifinal round.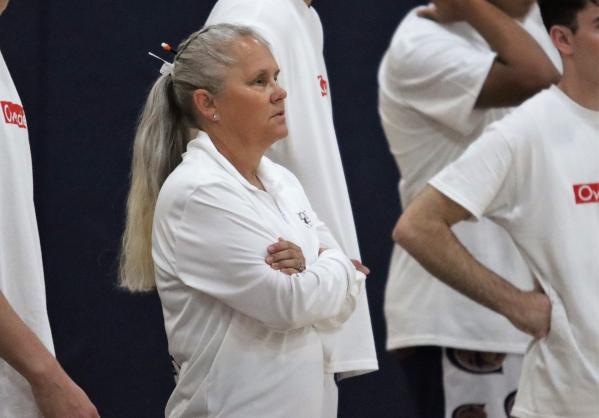 Heather Mott. (Andy Morales/AZPreps365)
The Mustangs, under longtime head coach Tony Gale, went from a play-in loss in 2019 to a quarterfinal finish in 2021 and a semifinal appearance this spring. It's a program that is obviously on the rise but the team will lose five seniors to graduation including senior setter Kyle Berger and his 2,200 career assists.
"I told the kids at our banquet that we don't rebuild, we reload," Gale said. "So hopefully we'll be able to continue that tradition of reloading and being good again next year. We've got the pieces but we are obviously we're losing our setter and that's a key part of our offense, but we've got guys in place that I think they can elevate their game."
Gale lost Berger earlier than he planned when the senior standout had to leave the match due to an injury in the second set where the Mustangs put up their biggest fight of the night.
"It's hard to scramble in the middle of a match and go into your backup set even though he's had reps," Gale added. "It just catches you off guard."
Berger collected four assists before he was replaced by junior setter Bryston Hines and Hines finished with 14 on the night but it would have been difficult to overcome the play of Cienega regardless with Cienega senior Jaden Bramhall distributing the ball all over the net for his 28 assists.
The Bobcats led the first set 24-15 and the Mustangs went on a run to cut the lead down but a service error made it 25-20 Cienega. The second set was much closer with the Mustangs taking a 12-9 lead but a 6-1 run by Cienega turned the tide and the Bobcats went on to build a 23-17 lead. The Mustangs made another late run to make it 24-21 but Bramhall hit junior Aiden Keen and the Bobcats took the second set 25-21.
"It's been a struggle to get this team here because they get a little complacent," Mott added. "When the challenge is there I learned to just let him play and that's what I've learned about them. Sometimes it's okay. They can be down a little, they can be down a lot and nobody changes anything."
True to her word, Mott's Bobcats played the third set like there were no struggles in the previous sets and the team raced out to a 25-10 clinching victory.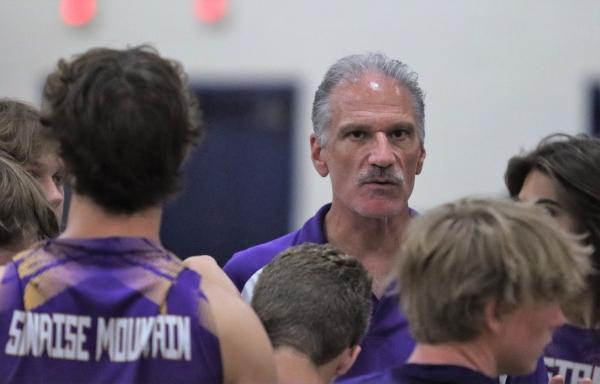 Tony Gale. (Andy Morales/AZPreps365)
"I think another year maturity helped us this year and the kids working hard in the off season playing club," Gale added. "I think this team was probably a little bit more confident in their ability and team chemistry was pretty good. It just seemed like this one was just a little bit tighter."
Gale will be missing pieces but he has a culture of success and a return to the top of the rankings next year would not be much of a surprise. For Cienega, the chance for Mott to solidify herself as one of the top volleyball coaches from Southern Arizona with two state championships to her name is there once again.
The Bobcats beat Gilbert 3-1 in the semifinal round last year so the Tigers will have some thoughts of revenge coming in. The program did lose to Casteel in late April before taking the Colts out of the running on Thursday so both squads are used to rematches.