Sandra Day O'Connor, Cienega, ALA-Queen Creek are champs
May 14, 2022 by Les Willsey, AZPreps365
---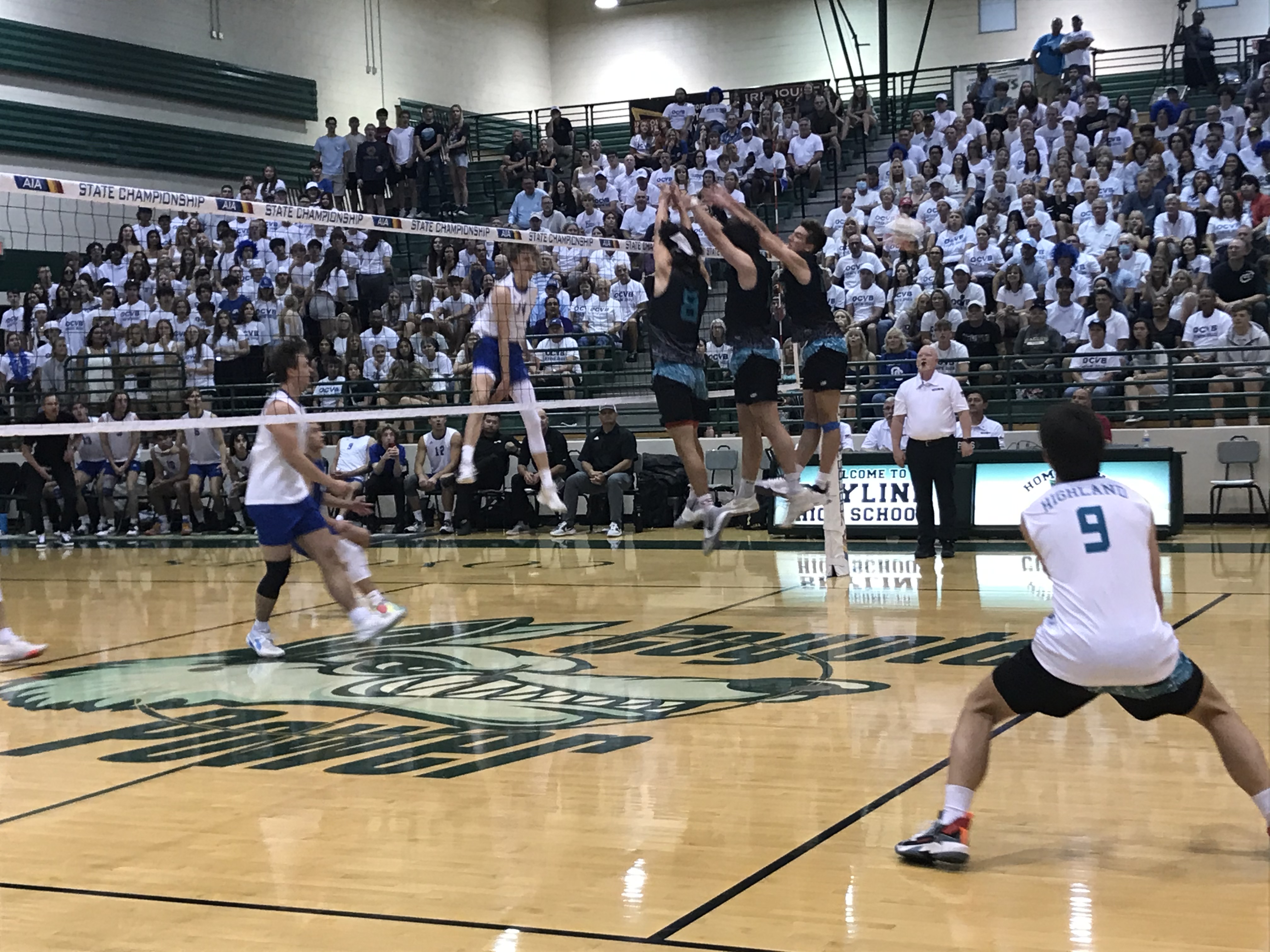 The 6A, 5A and 4A conferences contested the boys volleyball title matches on Saturday and the results were a first-time champion in 6A (Sandra Day O'Connor), a runner-up from 2021 turned champion in 2022 in 5A (Cienega) and repeat champ in 4A (American Leadership Academy-Queen Creek).
In 6A top-seed O'Connor capped a perfect 44-0 season with a 25-20, 25-19, 25-19 victory over #2 Highland. #1 seed Cienega topped #3 Gilbert, 25-19, 25-19, 28-26 for the 5A title. ALA-QC took down neighbor school ALA-Gilbert North, 25-21, 25-20, 25-27 and 25-17. All three finals were played at Skyline High School in front of large crowds.
A capsule look at each title match:
6A
O'Connor, to no one's surprise in completing its unblemished campaign, was led by UCLA-bound Zach Rama. The 6-foot-7 Rama unofficially collected 24 kills, with 12 in the final set. Highland never led in the first two sets and fashioned small leads (two and three points) halfway through the third set. The Hawks' final lead was 18-17. Rama tallied four of the Eagles final seven points and Tate Miller came up with consecutive blocks in the closing 8-1 run of the third. Jaxon Herr notched the title-clinching point with an ace. O'Connor was 6A runner-up last year and playing in its third title game in Dueling's tenure at SDO. The championship was the third for Dueling with the others when he mentored Boulder Creek (2014 and 2016).
Highland was led on attack unofficially by Jack Zaharis (9 kills), Jaren Brown (6 kills) and Jase Adams (4 kills). O'Connor was 6A runner-up last year and playing in its third title game in Dueling's tenure there.
5A
Cienega put the pressure on Gilbert in every set on its way to a sweep. Senior outside hitter Taylor Allen and senior outside-middle Derrick Vargas used the solid passing of teammates to produce 15 kills and 10 kills, Vargas with a kill and ace, Allen with a kill and block and Jaden Bramhall with a closing block to the Bobcats off to 1-0 lead. Cienega never trailed in the second set, leading by as many as 11. Gilbert battled hard in the third set, erasing a four-point deficit and gaining a three-point advantage (20-17) late. There were five ties down the stretch and Gilbert had match point three times. Aiden Keen's kill and a Cienega block broke the 26-all tie. Gilbert's standout outside hitter Trent Moser kept the Tigers breathing with 27 kills.
Cienega's Derrick Vargas (maroon jersey) attack's Gilbert in the 5A title game. (Azpreps365 photo)
4A
Fourth-seeded ALA-Queen Creek had a tougher time nailing down back-to-back titles, needing four sets to deny third-seeded ALA-Gilbert North. The Eagles shrugged off a sweep with a two-point win in the third set. ALA-Queen Creek forgot the loss quickly with a strong start and finish in the fourth to clinch the title.
The Patriots bolted to a 7-0 lead in the fourth, getting three aces in the burst from Easton Willis. ALA-Gilbert North gradually made up the deficit, rallying to tie at 14. ALA-Queen Creek close the set and match with an 11-3 run. A near split of kills and blocks among those 11 points earned the championship banner and trophy for the Patriots.
ALA-Queen Creek used a varied attack that was effective. Brady Steele and Jett Hall rang up 12 kills apiece and Brock Huber and Connor Call added seven kills apiece. Three players spurred ALA-Gilbert North on offense - Micah Ao (8 kills) and Nick Seiter and Sam Brown seven kills each.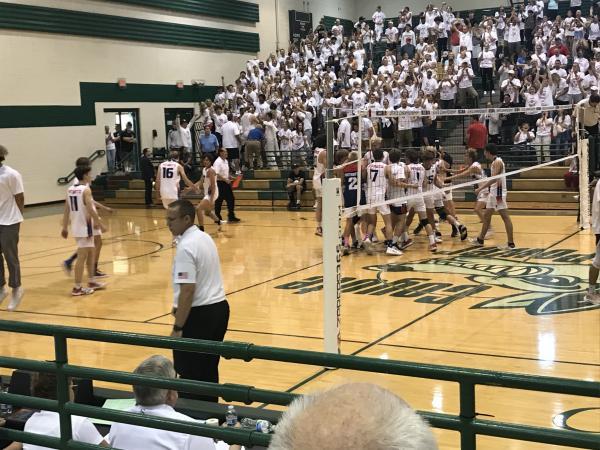 ALA Queen Creek players rejoice after their four-set, 4A title win over ALA Gilbert North. (Azpreps365 photo)