Willow Canyon walked away with 5A title
May 15, 2022 by Jose Garcia, AZPreps365
---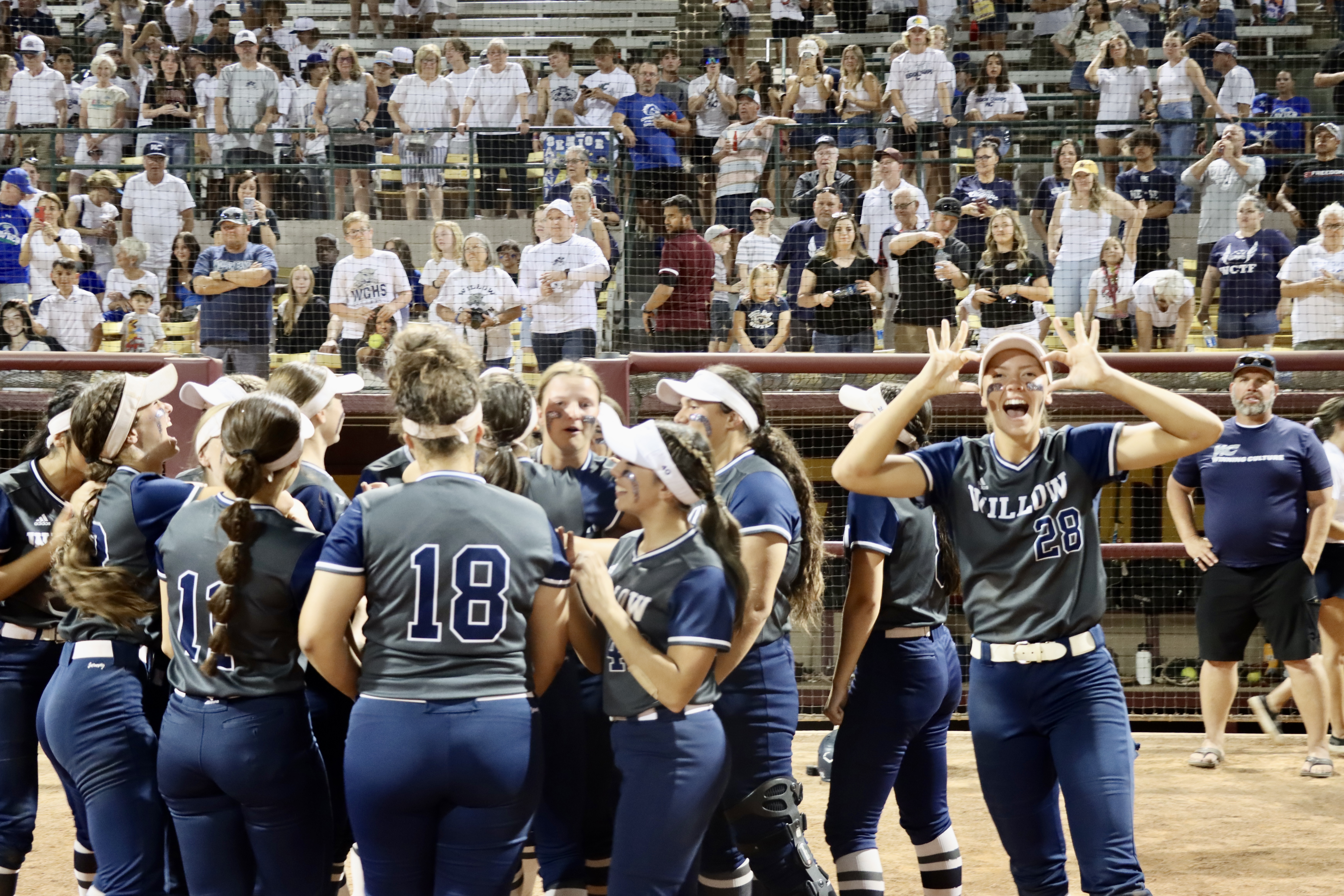 Can the Canyons converge again?
Watching the Willow Canyon and Canyon View 5A softball championship classic was fun. The programs, the favorites in 5A this season, were destined to see each other again after last year's title game meeting.
There was just too much talent returning for both teams. Each team deserved the title Saturday.
But after eight innings of superb play by both squads, Willow Canyon walked away victorious, 2-1, at Arizona State's Farrington Stadium.
Canyon View gutted out a couple of potential Willow Canyon run-scoring situations until the bottom of the final frame. Canyon View appeared ready to escape its fourth loaded bases scenario when Willow Canyon sophomore Rylee Turlington was down 0-2 in the count against reliever Taylor Jacobs.
But Turlington kept her wits during her at-bat, eventually earning a walk to bring home her sister and Willow Canyon's second title in a row. Captain Tristen Turlington scored the game-winning run in her final game of her high school career.
Willow Canyon defended its 5A softball title after a 2-1 win in eight innings at ASU. Game winning run scored after a bases full walk w/ one out: pic.twitter.com/aOpGgYffVT

— Jose E. Garcia (@AZPreps365Jose) May 15, 2022
Rylee scored Willow Canyon's first run after hitting a solo shot in the second inning. Tristen was walked five times in the game.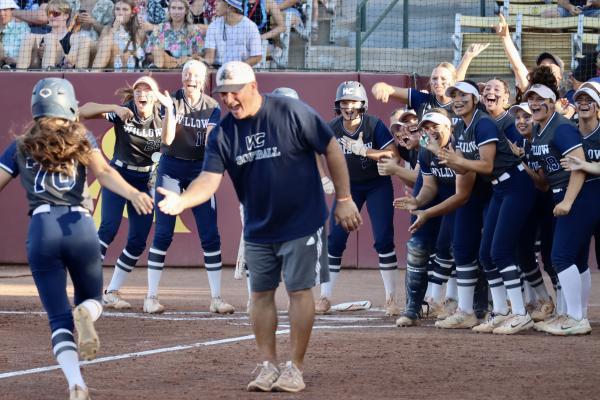 While her teammates wait at home, Willow Canyon coach Donnie Tizanno congratulates Rylee Turlington after her second inning home run. Jose Garcia/azpreps365.com
"That home run felt amazing," Rylee said. "But I just knew whether it was a hit, walk, or hit by pitch, I just had to get that run in (in the 8th) somehow and that's what ended up happening, and it felt amazing."
It sure looked like it.
Rylee happily threw her bat down after the final pitch, watched her sister cross home plate and the two then embraced after helping Willow Canyon clinch its second consecutive title. But there were plenty of more standouts in this game, beginning with, who else, Willow Canyon's ace Marissa McCann.
She struck out 15 and won her 26th game in a row, dating back to last season. McCann allowed only five earned runs in 120.1 innings this season.
"We have all been working so hard for this moment all season long and prepping and making sure that we set our minds correctly for this moment," McCann said. "So the feeling couldn't be better."
McCann's pitching counterpart, senior Lauren Ervin, was also outstanding.
The senior struck out nine and was a big reason—along with batterymate Madison Tarrant and Canon View's defense—why Willow Canyon stranded 15 runners.
"I think Lauren is probably one of the best pitchers in the state," Willow Canyon coach Donnie Tizzano said. "I don't understand how she can do it over and over and over. She falls behind with the bases loaded and throws three great pitches to get out of innings, and that's such an impressive kid over there."
What also was impressive was Canyon View and Willow Canyon's defense.
Willow Canyon's Olivia DeFord made a sliding catch in shallow centerfield with a runner on base in the fourth inning. Canyon View's Savannah Groshong made a running, two-out catch with runners on first and third in the fifth inning.
In the sixth inning, Groshong led off with a single and eventually scored after a great at-bat by Jacobs with two outs. The left-handed hitting Jacobs, the daughter of Canyon View coach John Jacobs, deposited a McCann screwball just inside the third base line for an RBI double.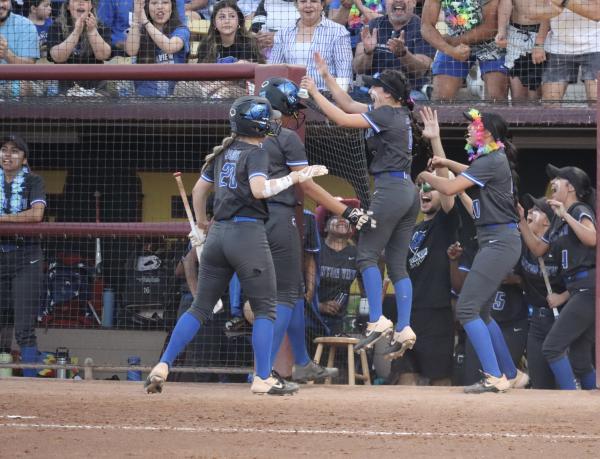 Canyon View players greet Taylor Jacobs with smiles and hugs in the dugout after her sixth inning RBI double. Jacobs was replaced by a courtesy runner after her double. Jose Garcia/azpreps365.com
"Yes, 100 percent," said McCann about the improvement of a fairly new program, Canyon View. "They have gotten so much better. They are such a good hitting team, and I love facing them. It only makes me better because I'm facing the best of the best."
In the sixth inning, Canyon View (28-6) right fielder Anise Romo also made an excellent catch while backpedaling.
Canyon View (28-6) and Willow Canyon (32-3) won't play again this season to give their fans more great moments. But there might be more in store in the future.
"I believe so," answered Tizzano when asked if his team found a rival in the northeast Valley. "And I have the utmost respect for them (Canyon View)."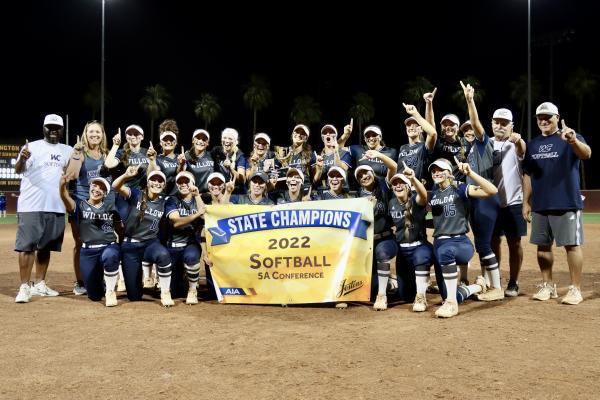 Willow Canyon's softball program defended its 5A crown Saturday at Arizona State. Jose Garcia/azpreps365.com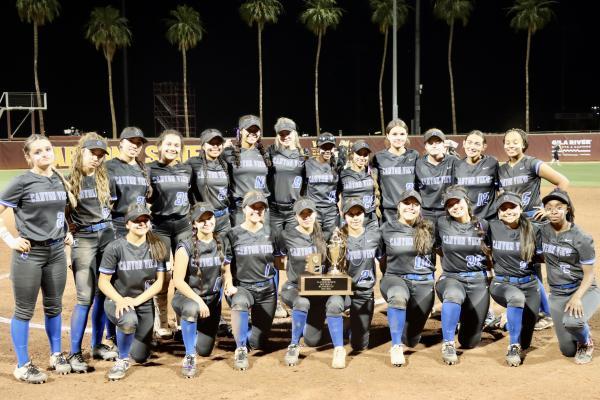 Canyon View has reached the 5A title game twice in its first three seasons as a varsity softball program. Jose Garcia/azpreps365.com