The bats came alive in a 10-7 win for Salpointe over CDO
May 16, 2022 by Andy Morales, AZPreps365
---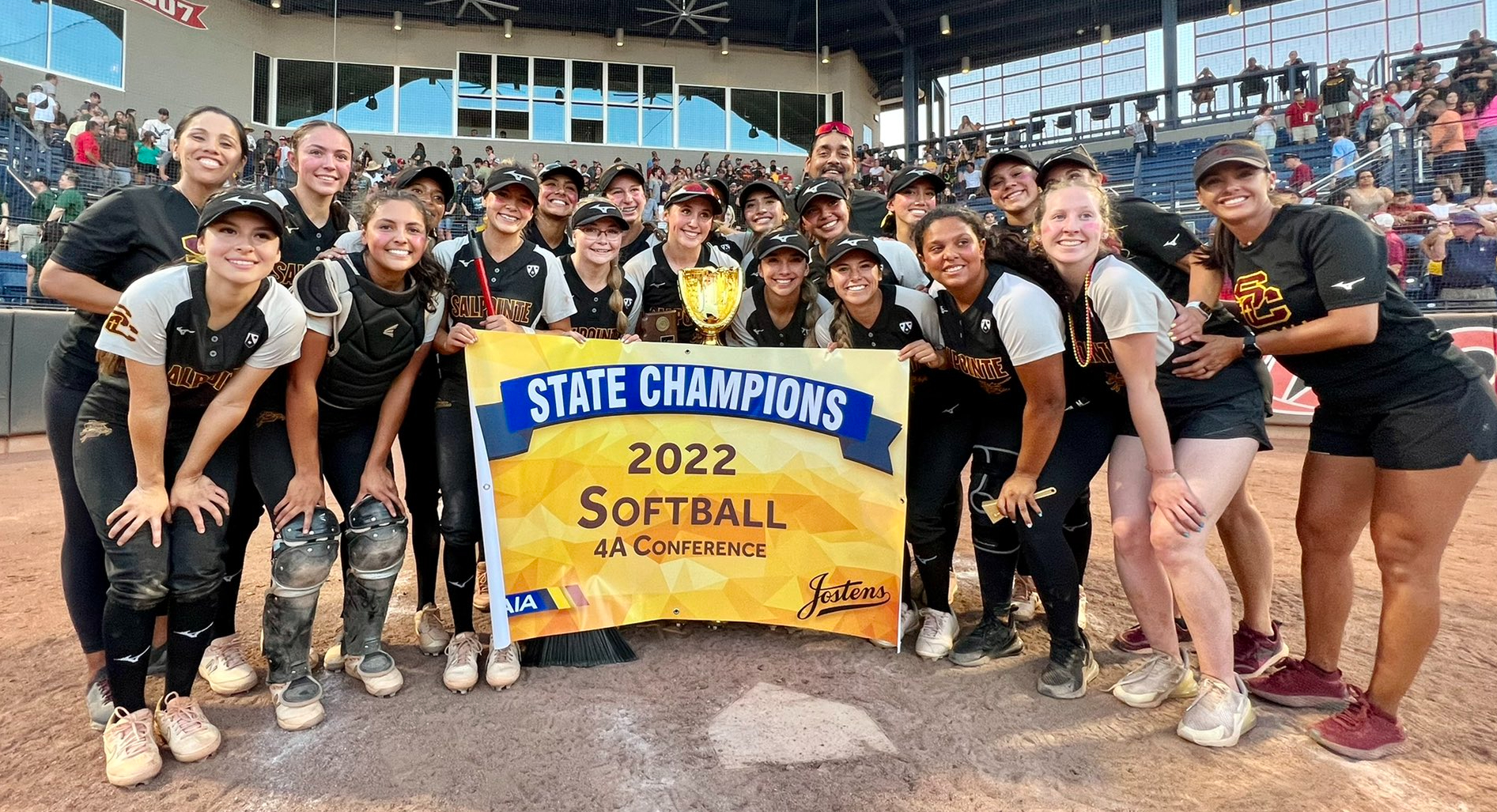 The top-seeded Salpointe Lancers rode out to a 8-0 lead over No. 3 Canyon del Oro Monday night at Hillenbrand Stadium, on the University of Arizona campus, but the Dorados made things close. In the end, Salpointe (32-2) held on for a 10-7 victory in the 4A state championship game.
Canyon del Oro (33-4) and Salpointe met three times in the last five weeks and the Lancers won all three in the series so there is no question these two were the top two teams in the state with the Lancers bringing home their fourth straight championship, with no playoffs taking place in 2020 due to COVID restrictions.
This is the first dynasty of this kind since Red Mountain won five in a row from 2010 to 2014 and the latest win came under first-year head coach Tricia Sztan. Sztan was part of Salpointe's 1993 state championship as a player and the difference between playing one and coaching one is huge.
"This is a lot more work," Sztan smiled while pointing at her players. It's so fulfilling as a coach and, you know, seeing a sport that I love so much and being able to give back and being able to instill that love of Lancer pride in them where they're playing for each other and they're playing for Salpointe. It's fulfilling and very different days."
Sztan picked up her first state championship and Dorado head coach Kelly Fowler was going for her fourth, but Fowler came into the night with the Lancers with an obviously different perspective. Fowler's daughter, Mattie Burkhardt, delivered a baby boy to the legendary playing and coaching family and Fowler flew back in to Tucson Sunday night to be with her softball "daughters."
"I'll tell you my emotions," Folwer explained with the familiar grandmother/coach tears in her eyes. "This is why we bring them into the world. Right. Then, when they do something like this, it's amazing and you get to celebrate it and then you do it again, you know, life is such a huge big cycle."
Down 9-4, the Dorados looked like teams of old with a comeback in the top of the sixth fueled by Naya Campos reaching for the third time on the night via hit-by-pitch. Campos took first base with three outs and Zaedi Tagalog followed with a single to put two on. Megan Clark walked to load the bases and Lauren Newlin came through with a 2-RBI hit to make it 9-6. Julia Holt bounced a ball through the left side to make it 9-7 but Gianna Mares held firm with a ground out to end the threat.
Mares hit a leadoff homer in the bottom of the seventh to get one run back and that's how the game ended, 10-7.
The Lancers did most of their damage in the bottom of the second with seven runs with two of those coming with bases-loaded walks. An error in the inning on a dropped foul ball added to the pressure.
Mares went the distance with 7 strikeouts and she had her home run with 2 RBI. Yannixa Acuna went 3 for 3 with a triple and an RBI, Jaelyn Castillo went 3-3 with a double and Krista Martinez had a double and 2 RBI.
Destanee Nez and Amelia Strueber saw action in the circle for the Dorados with Nez collecting 6 strikeouts. Tagalog went 2-4 with a double, Faith Valenzuela went 2-4 with a double and Newlin went 2-4 with a double and 4 RBI.
"CDO did a really good job of putting pressure on us all game long and my compliments to them and Kelly, they they're always formidable opponents even since I've played back in the nineties up until now," Stan added. "They always bring such an increased atmosphere and you know you're going to get 110 percent from them."
Folwer picked up career win number 301 in the semifinals and it's a safe bet Sztan will get there before she is finished.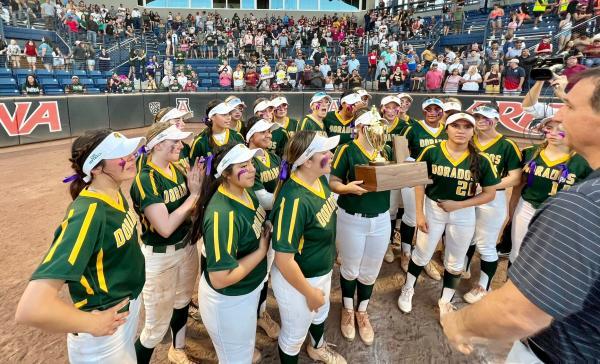 CDO with the runner-up trophy. (Andy Morales/AZPreps365)