AIA board meeting: Promising Open Division basketball proposal presented
May 17, 2022 by Jose Garcia, AZPreps365
---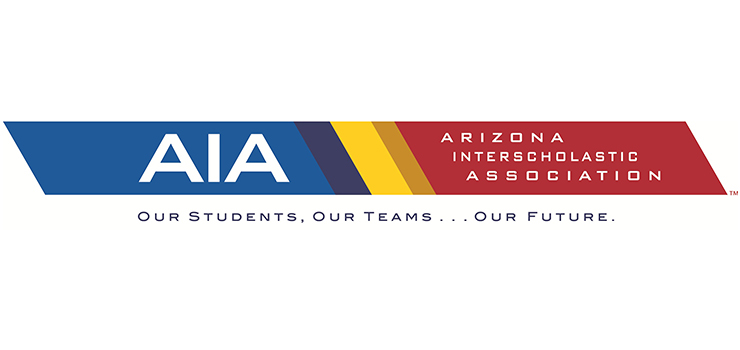 Expect February Frenzy's basketball championships to ratchet up if a new proposal is approved.
On Monday, David Hines, the Arizona Interscholastic Association's executive director, presented a plan some AIA coaches and the Arizona Basketball Coaches Association devised to determine which eight teams will reach the Open Division tournaments. The Open Division tournaments for boys and girls and shot clock will be introduced during the next AIA school year.
The plan calls for the eight highest power rated teams in each of the 4, 5 and 6A Conferences and eight at-large teams to be placed in a 32-team bracket after the regular season. After the first two rounds, the remaining eight teams will be re-seeded according to their power ratings and play for the Open title.
But the teams that lose in the first two rounds aren't done. Those teams will then move on to play in their respective conference state tournaments.
Hines and incoming AIA executive board president, Dr. Jim Dean, stated that the Open Division and the 32-team bracket are excellent ways to promote AIA basketball.
"I think it's brilliant," said incoming AIA board vice president Jennifer Burks, who met with the basketball coaches. "They (high school coaches) looked through everything and had an answer for everything.
"The one thing I did want to put out there is that this just doesn't benefit the top schools. They made a good point to help out schools that aren't destination schools to have a shot at getting into the Open and winning a championship."
There are still some logistical matters that need to be sorted, but it appears that the AIA's board will vote on the 32-team bracket concept in August.
The teams that reach the Open tournament will get a chance to practice at Arizona Veterans Memorial Coliseum and participate in a Media Day event similar to what the NCAA does for its Division I Final Four teams, Hines said.
But the potential new qualification process for Open Division basketball teams wasn't the only important topic the AIA's board addressed Monday during its final meeting of this school year.
New football recommendations approved
The board approved a couple of recommendations aimed at enhancing competitive balance in the AIA's football conferences.
The first one will add a multiplier to help select the Open Division football teams. After the regular season the AIA's final power ratings for each big school team will be multiplied by an assigned number (10 for 6A teams, 9 for 5A, 8 for 4A).
The AIA board's procedural approval will allow the multiplier to be used during the 2022-23 season. If the multiplier was used last season, 4A American Leadership Academy Queen Creek wouldn't have qualified for the Open but 4A Cactus would have as the fourth seed.
That's because Cactus, the 8th seed in the 2021 Open, beat two 5A teams that were ranked in the top-10 during the last regular season. The other football recommendation that was approved will allow teams to move back down a conference depending on where they finish in their new conference.
If a team winds up finishing in the bottom third of its new conference, that team will be allowed to move back down the following season. After being moved up, a team can also move back down if it finishes in the bottom 40 and 50 percent of its new conference in consecutive seasons.
NIL meeting update
Hines along with AIA attorney Mark Mignella recently attended a National Federation of State High School Association's legal meeting in which Name, Image and Likeness issues were discussed.
The NCAA Division I vice president attended the meeting and said that the NCAA currently has its hands full with NIL and the transfer portal, Hines said. What the NCAA is finding is that some student athletes are getting in trouble with the IRS with some of their NIL deals, Hines added.
"The best thing for us (AIA) is at the high school level is that we have a rule that addresses NIL," Hines said. "We have a rule on amateurism that (states) you can't have anything that produces over $1,000 based on athletic participation. That education is the best thing you can do at the high school level."
The AIA talked to a local university sports administrator to get more feedback on NIL.
"He (university administrator) said don't get involved in it," Hines said. "It's the biggest fiasco. Nobody knows anything about it. Kids are getting into contracts that are getting them into legal issues."
One way student athletes are getting in trouble with the IRS are with the products they receive with NIL deals.
"That is taxable income that needs to be reported," Hines said.
Is flag football next AIA sport?
The AIA is putting together a committee to see if it can add flag football for girls as an emerging sport, Hines said.
That step can lead to the AIA sanctioning flag football as an AIA sport. The sport is gaining popularity nationally and locally.
The Chandler Unified School District held a flag football season this spring.
"It was very competitive and organized," Hines said. "It was very well done. The kids had a great experience."
The Tempe and Gilbert Districts also hosted Girls Flag Football Jamborees, and the Mesa District is preparing to also run a league during the next school year.
If there is enough interest, the AIA would incorporate flag football as an emerging sport during the fall season of the 2023-24 school year, Hines said.
Notes
Current board members Dr. Jim Dean and Jennifer Burks were selected as the next AIA board president and vice president, respectively, during the meeting. Matt Belden, Glendale Unified's assistant superintendent, attended Monday's meeting and will be the board's new 4A Conference representative, replacing Jeannine Brandel of Flagstaff High.
It was announced during Monday's meeting also that one of the state's track and field caretakers, AIA tournament coordinator Dave Shapiro, is retiring. Shapiro ran the AIA's state track and field meet for 25 years and the prestigious Chandler Rotary for 40 years.
Shapiro started coaching track and cross country in 1979 and was the athletic director for Chandler High for 16 years. He joined the AIA in 2013 and also ran the soccer state tournaments and cross country state meets.
Agenda items approved
The following are some of the agenda items that were approved Monday:
4, 5 and 6A football players will be allowed to play five quarters instead of four each week during the regular season. This will allow schools to develop their lower levels.
The minimum number of games teams must play to qualify for playoff consideration. For basketball, baseball, softball, and boys and girls volleyball the minimum is 12 games. For football, badminton, soccer, beach volleyball team, and tennis it's eight games. For 1A football, it's six games.
Wording that clarifies the bylaw roles of cheer and dance coaches and adds concussion protocols.
Six AIA lifetime passes.
AIA director of finance Denise Doser's monthly financial report.
Coronado's varsity beach volleyball and boys volleyball program cancellation request for the 2022-23 season.
Additional game requests from Perry, Sunnyside, Sunnyslope, and Tuba City.
School violations
The following are rule violations schools self-reported and punishments each school received.
An advisement is a word of caution.
A warning places a school in jeopardy of being placed on probation if another violation of any rule or regulation is committed. A school will not be eligible for the Overall Excellence Award during the warning period.
Advisement for:
Canyon del Oro girls tennis. The coach resigned after being asked to drive his team to a match in Lake Havasu. The coach declined to do so for safety reason, according to the school's report.
Eastmark softball. A transfer student played in a preseason tournament before sitting out 50 percent of the season.
Madison Highland Prep baseball. A baseball game was called after MHP was leading by 29 runs after 3.1 innings. A game can't end before the 4.1 inning mark.
Duncan activities program. A student didn't complete the AIA's opioid course.
West Point Esports. The team failed to follow gameday guidelines.
North Canyon Esports. The team failed to follow gameday guidelines.
Fourteen schools. The schools didn't attend the annual Athletic Directors meeting on March 14 as well as the make-up session on April 16.
Warning for:
Mountainside spiritline. The coach allowed two students to participate in spring tryouts without their physical examination paperwork on file.
Basis Phoenix boys volleyball. The head coach was unable to make a match and asked a parent to fill in thinking the parent's finger print card was all the parent needed. The contest was forfeited.
Baboquivari baseball. The team didn't rest a senior pitcher for two days after the pitcher tossed 49 pitches in a game. Its forfeiture appeal was denied by the board.