Notes from the North: Round Valley, Mogollon rule Arizona's small school diamonds
May 26, 2022 by George Werner, AZPreps365
---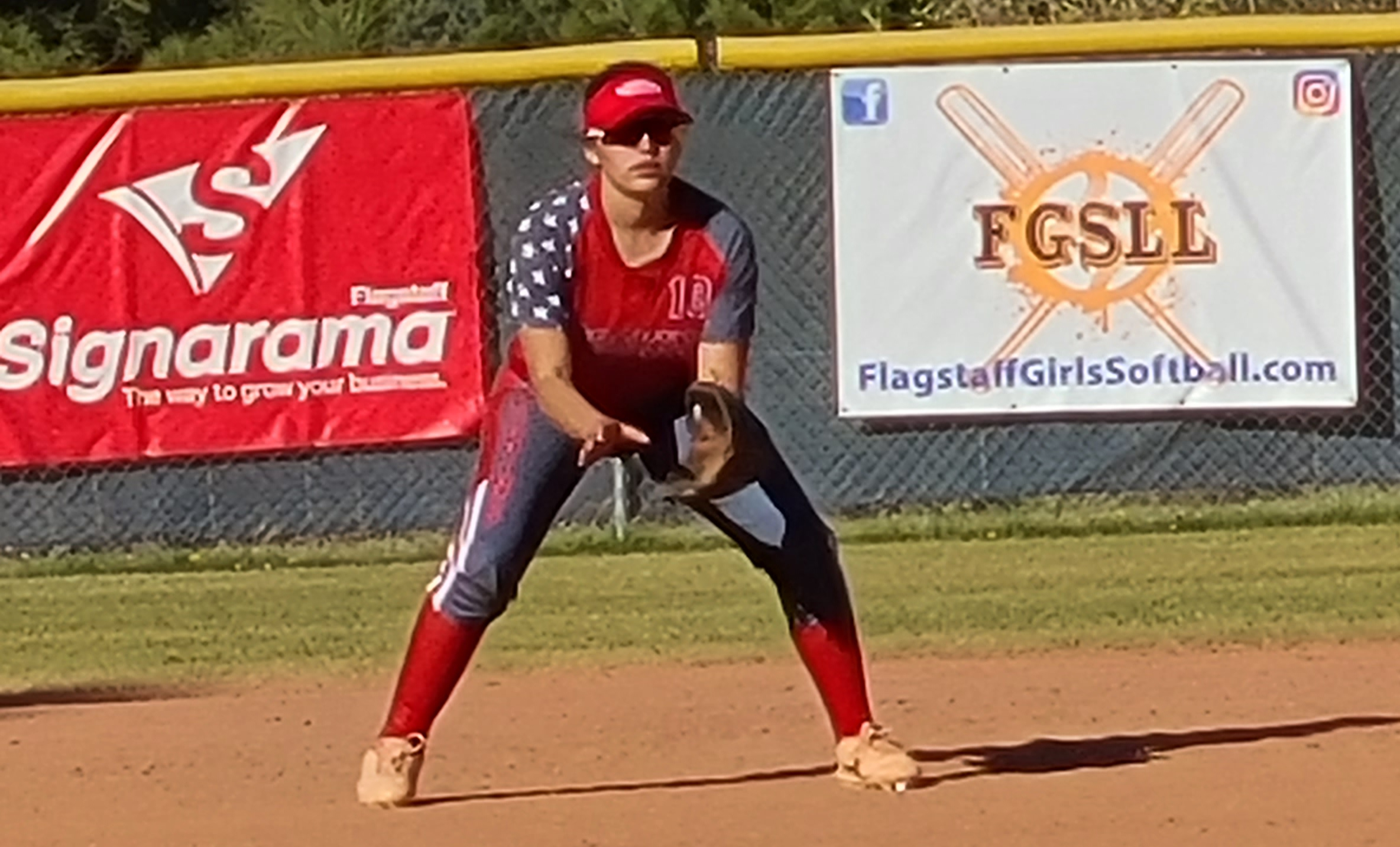 From Eagar to Heber, what a ride the 2022 state high school playoffs have been on the diamond.
Their legs fully under them, the Elks of Round Valley and the Mustangs of Mogollon charged through the postseason en route to titles in the 2A and 1A conferences.
For the first time in more than 30 years, May 13 was Round Valley's time to take home the big hardware in softball.
The second-seeded Elks last went all the way in 3A under head coach Willis Haws back in 1991, but had never taken home a 2A softball trophy. That would take just six innings to change, thanks in part to five unearned runs allowed by Kingman Academy at Arizona State University.
The 12-2 final–a margin equal to an atypical 10 errors committed by the fifth-seeded Tigers–was not the typical game decided early by Arizona Interscholastic Association mercy rule. Kingman Academy got on the scoreboard first and was a sacrifice fly away from scoring junior Aspen Johnson and heading into the bottom of the first inning up 2-0 on the Elks.
While Round Valley needed runs in each of its final two innings to edge sixth-seeded Willcox, 5-4, in its semifinal at Rose Mofford Sports Complex, the Tigers were coming off their best performance of the season in Peoria, shutting out top seed Benson, 3-0, behind a two-hitter and a two-run home run from 2A Defensive Player of the Year Abbie Bean.
It was the first shutout in seven years suffered by the Bobcats, 2A runners-up the previous two seasons and state champions each of the two seasons before that. After striking out seven and allowing just one Bobcat runner, her opposing pitcher, to advance past first base, Bean looked invincible that evening, heading into her first shot at a state softball title the following evening.
But Round Valley used Farrington Stadium's clay field to its advantage, forcing a walk, a fielding error and two passed balls from the Tigers to quickly retake a 2-1 lead in the bottom of the first before the floodgates opened for five more runs the next inning.
First-team all-conference pitcher Kyrie Walker settled down in the final five frames, allowing just one more run and four total hits in her final game to secure the run-ruling of the Tigers, who by that point had been broken by an inside-the-park home run by junior Kayla Logan that plated three more runs to go up, 10-1. Logan would also go on to be named first-team all-2A shortstop.
After that, it was all over but the trophy ceremony for head coach Darin Emerald, who was also named 2A Coach of the Year after leading the Elks to his first state title and a 29-4 overall mark. His future is secure in 2A Player of the Year Liliana Arreola, who led the Elks on offense over the Tigers with five runs batted in on two doubles and a sacrifice fly.
Arreola, a sophomore catcher and conference leader in both home runs and RBIs, locked down any Kingman Academy comeback behind the plate, nailing all base stealing attempts to maintain her supreme .889 percentage behind the plate.
The only reason why Arreola isn't officially America's best high school catcher at throwing out base stealers is because just three more than the 24 she has nailed have even dared to try. Another 11 would have had to dare to attempt the theft to qualify her in the category…
Mogollon head coach Reed Porter's run to his second state baseball title similarly saved all of its suspense for the semifinals.
While Round Valley was celebrating its 2A title, just seven miles to the southwest at Tempe Diablo Stadium, Mogollon was struggling just to get on the scoreboard in its 1A semifinal against No. 5 seed Hayden High School.
After needing just 11 total innings to run-rule their first two postseason opponents, Valley Union and Ray, the Mustangs saw their only two hits through the first four innings, doubles by junior Payton Reidhead and senior Braxton Owens, go to waste against Hayden first-team all-conference sophomore pitcher Deondre Collier.
Hayden's only extra-base hit off Conference Player of the Year Malaki Porter, a double in the top of the fifth by Damian Smith that knocked in fellow junior infielder Alejandro Lorona, left the Mustangs with less than 10 outs to change a 1-0 deficit.
That was like the bat signal to Porter's cousin and fellow senior Cael, the 1A Offensive Player of the Year who would go on to own second seed Bagdad on the mound, 8-2, in the championship game.
Drawing a walk off Collier, then advancing into scoring position after another walk to freshman Chancy Worsley, Cael Porter set the stage for Mogollon's unsung hero of the tournament, sophomore shortstop Adrian Suarez.
Suarez, tied with Malaki Porter for fourth in the conference in runs scored, would drive home Porter's twin and send Collier packing with a clutch two-out single. Then, in the bottom of the seventh, Suarez would bring Cael home again on Mogollon's only RBI of the game, a walk-off double to edge the Lobos and advance to face Bagdad, 2-1.
The much-anticipated rubber match of the three tournament games between the Sultans and Mustangs was also a chance at a first championship for senior Connor Watson, the 1A Defensive Player of the Year after hurling his state-leading fifth no-hitter in his previous start, a 12-0 first-round shutout of Mohave Accelerated Learning Center.
But Watson, despite ultimately hurling eight strikeouts, was once again denied title in his second-toughest start of the season, as Mogollon's aggressive hitters jumped on Watson for five runs in the first two innings. Although Watson and mound counterpart Shane Hooper got two of those runs back with RBIs in the bottom of the third, the second and third runs batted in by Braxton Owens ensured that Bagdad would again be 1A bridesmaid for the second time since run-ruling Superior for the 2018 title.
Perry's leadership in St. Johns earns Player of Year award
The nominations are in, readers, and the results were unanimous–the Notes' Player of the Year award goes to… (drumroll optional)
…Shantel Perry, from St. Johns High School!
Along with co-captain and infield right hand Ashtyn Crosby, Perry provided the only postseason leadership for an otherwise young 12th-seeded St. Johns softball team, whose head coach, Chris Ervin, retired just before the 2A Conference tournament.
Perry, "an exceptional athlete and student" in girls basketball and volleyball as well who "works hard in everything she does" by more than one of your estimations, dear readers, has played sports "since a very young age," you added.
In support of freshman ace Mya Tsinijinnie, the 2A North Defensive Player of the Year who was also one of the conference's top sluggers this season with 13 home runs, Perry
made the all-region first team at shortstop before falling in the first round to eventual 2A state runner-up Kingman Academy.
"She is a hard worker, sweetheart, excellent in all sports and schoolwork and deserves" Player of the Year honors, other fans said about Perry. "She is well respected by her coaches, teammates, teachers, coworkers and friends."
When not leading the Redskins to third place in the region and a five-inning postseason play-in romp over Desert Heights Preparatory Academy, 10-0, Perry finished her high school coursework to become a certified nursing assistant.
At the same time, she managed to find time for a part-time job and be a community volunteer for the St. Johns Senior Citizens Food Bank.
"Shantel is not only a talented student athlete, but a caring and kind individual," food bank director Charlie Gann said. "Our organization would like to highly recommend and nominate Shantel."
Congratulations to the Notes from the North's 2021-22 Player of the Year, Shantel Perry!
Next Time
Hope to see you back here in August, readers, for the 2022-23 fall sports preview across the northland! How will Flagstaff replace Gracelyn Nez after she and senior teammate Bridget Bond fell to Valley Christian in the Division II beach volleyball finals? Is Mingus Union High School, after a 4A semifinal appearance May 12 in softball, ready to re-enter prime time in football behind senior quarterback Brasen Durkalec, who captured the Division III bronze medal in the long jump with a personal best at the state championships? Moreover, how will Snowflake football handle its first fall on its own at the 4A level? Keep me posted throughout what will hopefully be not too long or hot a summer on Facebook, on Twitter at @ProfGWerner, or via email at gwerner@azpreps365.com.