CDO held on against a surging Salpointe squad to win the 4A state championship; A look back at the Dorado program
May 29, 2022 by Andy Morales, AZPreps365
---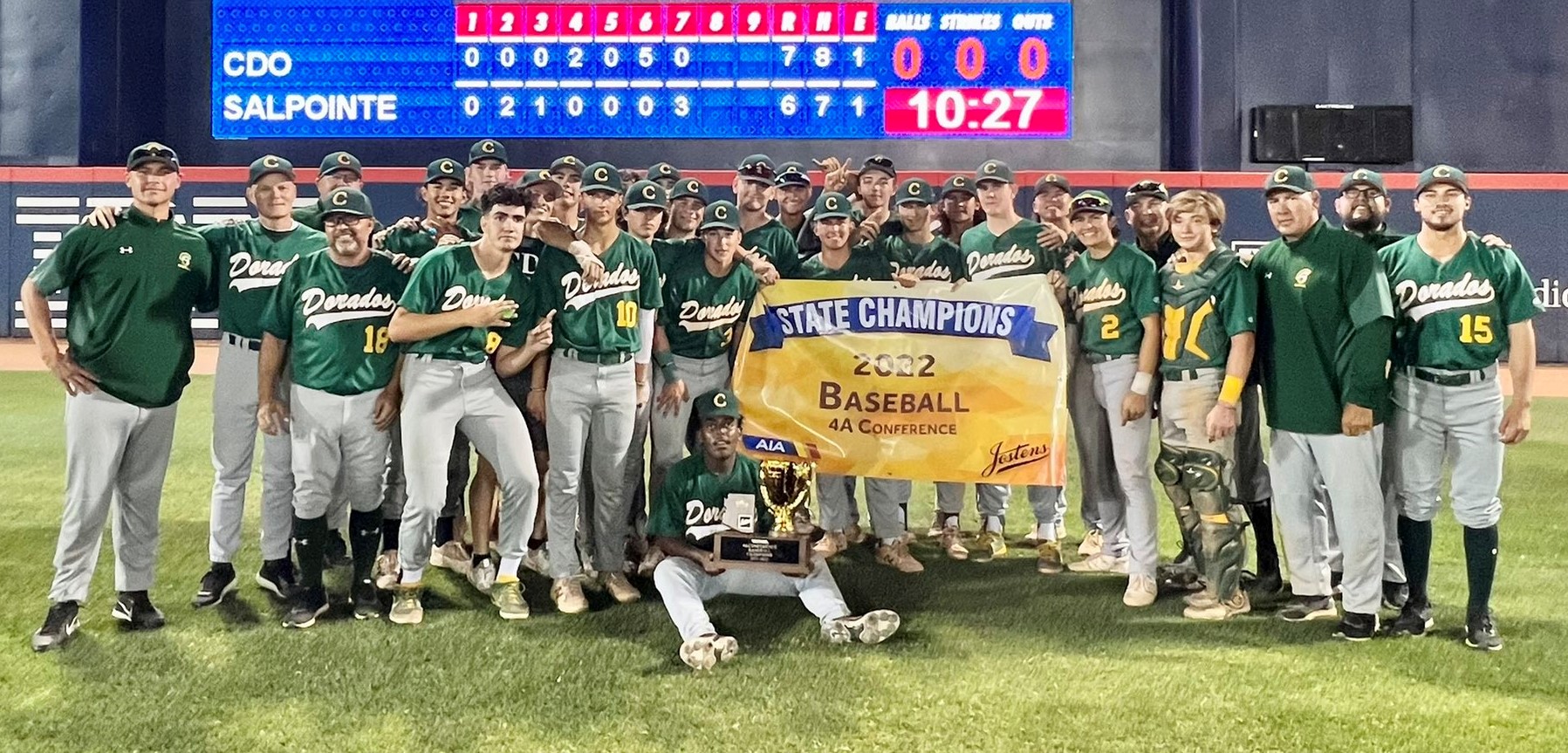 Canyon del Oro held on to beat Salpointe 7-6 to claim the 4A state championship and the victory moved the Dorados to nine. state championships. From Southern Arizona, Nogales has 11, St. David ahs 18 and Tucson High has almost unattainable 29 state titles dating back to 1912.
The program has produced seven MLB standouts: Colin Porter (1994), Jason Stanford (1995), Shelley Duncan (1998), Chris Duncan (1999), Scott Hairston (1999), Ian Kinsler (2000) and Brian Anderson (2000).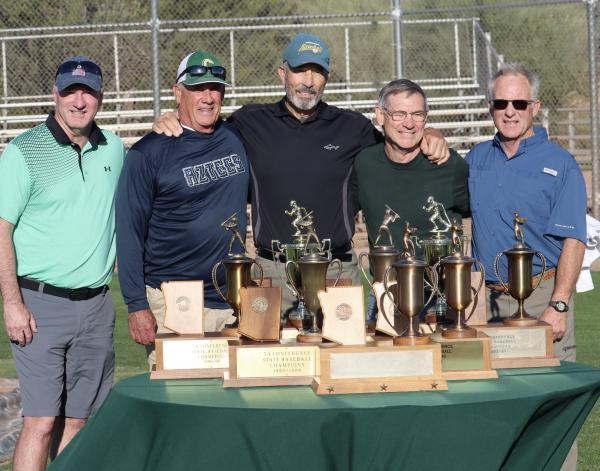 Former championship head coaches Phil Wright, Keith Francis, Len Anderson, Roger Werbylo and Kent Winslow posed with their trophies before the season started to help set the tone for the lastest championship season. (CDO Photo)
Let's take a look at the championship runs from canyon del Oro from 1976 to 2022:
1976: Legendary coach and referee Dean Metz led the Dorados to a runner-up finish to Nogales by a score of 3-2.
1978: Metz led the Dorados to a runner-up finish to Douglas by a score of 7-5.
1979: CDO 5, DOUGLAS 4 (Hohokam Stadium)
First-year head coach Roger Werbylo picked up the first state championship in Dorado history and future head coach Phil Wright came up with an RBI double and current Walden Grove head coach Murray Hicks collected three stolen bases. Left fielder Tom Murphy threw out Douglas pinch runner Tony Berumen at the plate on a two-out single from Mark Payan. Mike Gould provided the tag at home to preserve the 5-4 victory in the top of the seventh inning.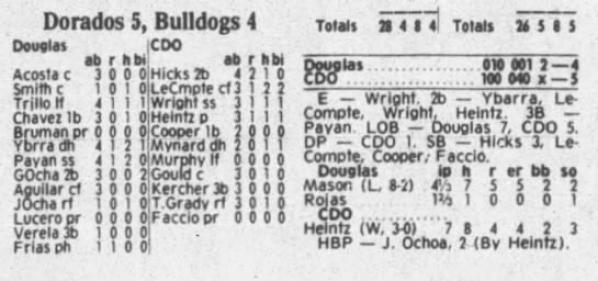 1980: Werbylo led the Dorados to a runner-up finish to Gilbert by a score of 5-1.
1984: CDO 6, SAHUARO 5 (DIABLO STADIUM)
Werbylo rode the arm of Barry Ledbetter who finished 12-1 on the year. Ledbetter preserved a 6-5 victory with a bases-loaded strikeout and fielder's choice in the bottom of the seventh. Second baseman Curt Shaffer tossed the final out to shortstop David Rolls. John Waslefsky scored the winning run on an RBI from Phil Brown in the top of the seventh.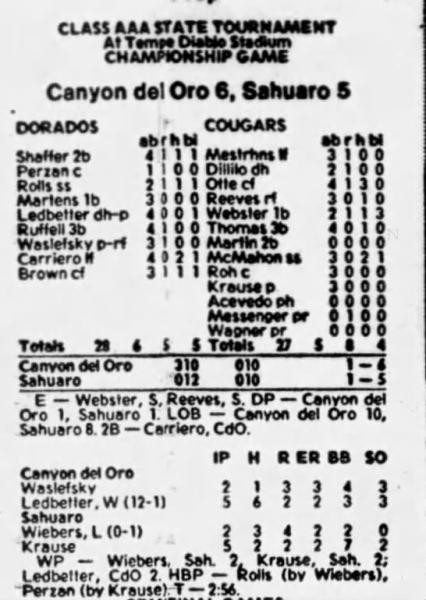 1994: CDO 11, DEER VALLEY 5 (DIABLO STADIUM)
Former CDO standout Phil Wright was the coach. Mike Marvel collected a two-run triple and two-run inside-the-park home run in the victory. Brad Wilford only allowed two hist in the final five innings of work. Pima and New Mexico State pitcher Jay Gospodarek was drafted by the Marlins Future MLB player Colin Porter scored two runs in the game. Porter was an assistant coach for the Dorado softball team this year. Former University of Arizona standout Andy Juday was also part of the program. Future Cleveland Indians pitcher Jason Stanford was also on the team. Juday is now an assistant with Mica Mountain.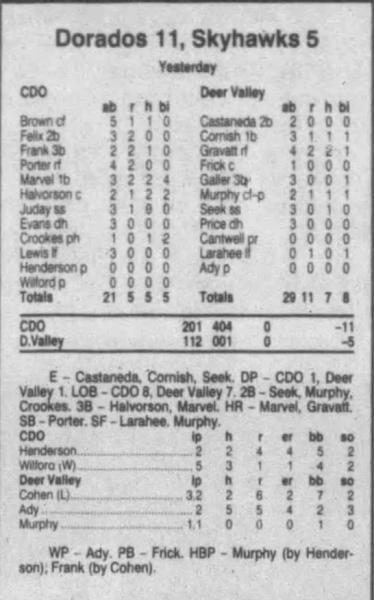 1997: CDO 12, Salpointe 11 (SANCET FIELD)
Phil Wright led the Dorados to another state title. Wright also coached Cristina Baena to a state championship in golf in 1997. Shelley Duncan hit a two-run home run in the win and he picked up the save with a strikeout with a runner at second. The team beat future Dorado head coach Kent Winslow.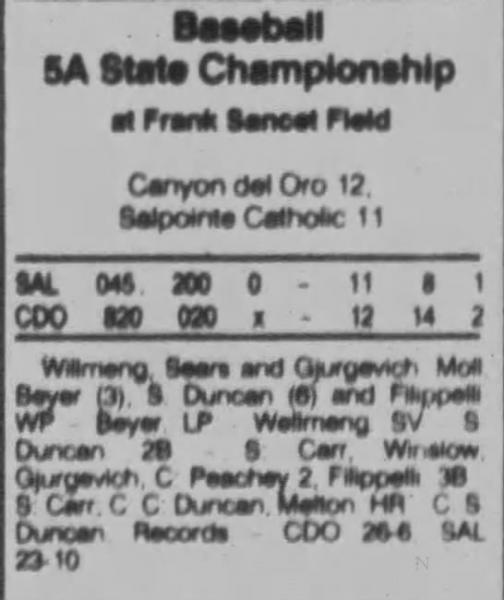 2000: CDO 6, DESERT VISTA 5 (DIABLO STADIUM)
Nate Hastings retired all 13 batters he faced to help the Dorados erase a 5-1 margin. Future Arizona and Chicago White Sox standout Brian Anderson was on the roster as was future MLB standout Ian Kinsler.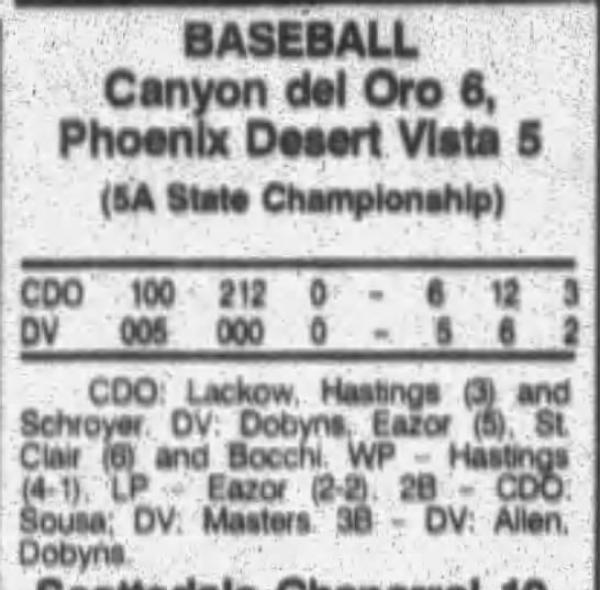 2002: CDO 8, TUCSON 6 (DIABLO STADIUM)
Keith Francis coached the Dorados to his first state title in his second year. Ryan Lilly hit a home run in the sixth. Francis became the fifth straight CDO head coach to reach a state final. Seth Lackow picked up his ninth win of the year from the mound.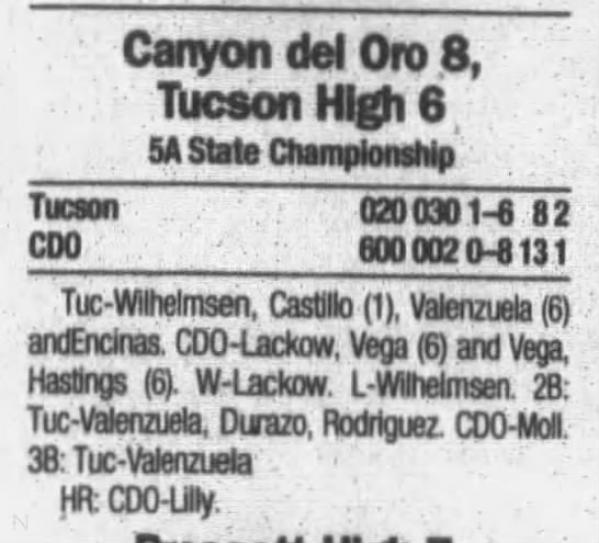 2009: CDO 15, Cactus 5 (DIABLO STADIUM)
Len Anderson was an assistant coach under Werbylo at Pima and he picked up a state title for the Dorados. The Dorados collected 19 hits in the win with Doug Steele going 3 for 5 with 6 RBI. Ryan Retz joined his father, Bobby Retz, as state champions with CDO. Bubba Metz got the win. Hayden Cota-Robles had two doubles.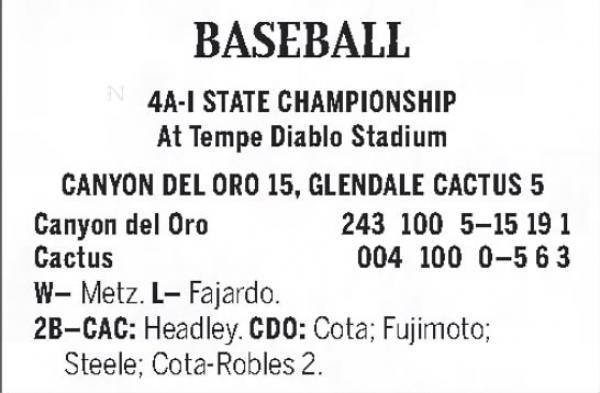 2015: CDO 3, TUCSON 1 (DIABLO STADIUM)
Francis returned to coach the Dorados to his second title. All nine seniors went on to play at the next level. Nick Ames, Gabe Benavides, Anthony Felix, Austin France, Adam Hoyos, Hayden May, Erick Migueles, Max Smith and Nate Soriano.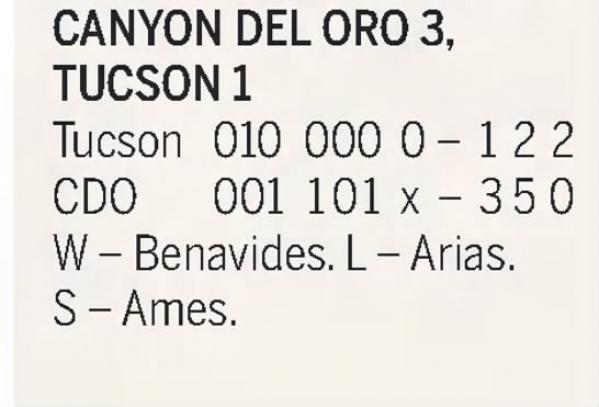 2022: CDO 7, Salpointe 6 (HI CORBETT)
Head coach Jason Hisey led Catalina Foothills to three runner-up finishes (2002, 2004 and 2005) and the former University of Arizona standout brought the Dorados the ninth championship in program history.