6A South baseball outslugs North, 9-6
May 29, 2022 by Les Willsey, AZPreps365
---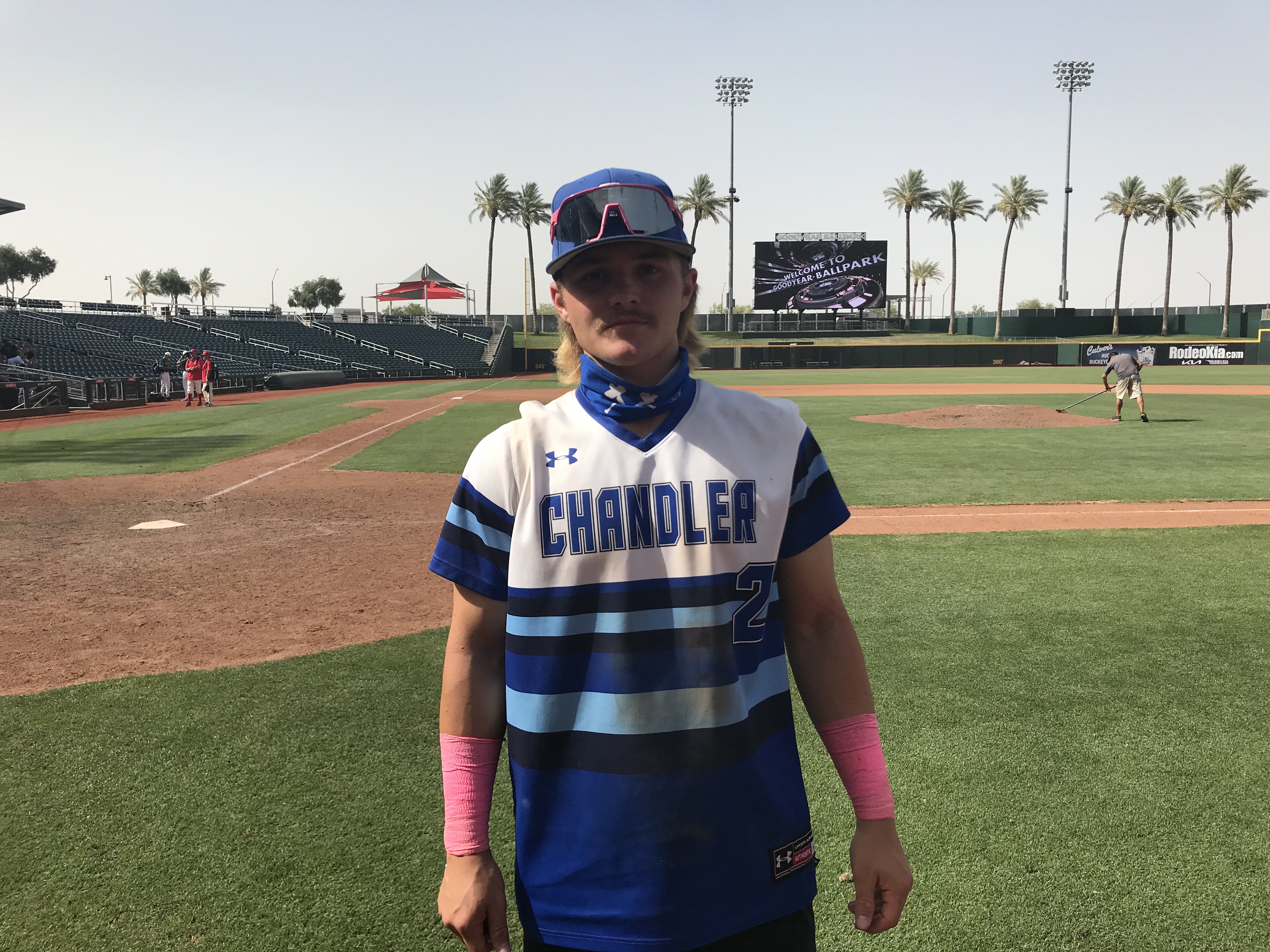 The 6A South baseball team produced the best crooked number on Sunday afternoon. A four-run rally - highlighted by game most valuable player Brody Sexton's two-run double - that brought the South from behind and eventually to a 9-6 triumph over the North in the annual AZBCA all-star game at Goodyear BallPark.
Sexton, a versatile player defensively for Chandler High, caught in the game. Sexton drove in runs two and three of the fourth-inning outburst that erased a 3-1 deficit. The North would rally to tie 5-5 after four frames, but the South didn't play from behind the rest of the game. The South took the lead for good in the sixth thanks to a two-out, two-run single by Mesa Mountain View's Sam Christiansen.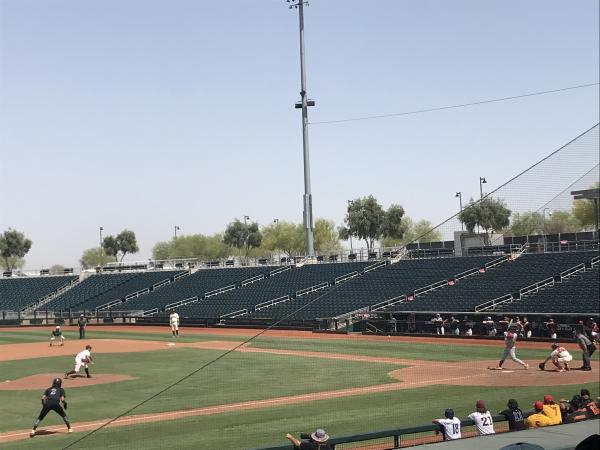 Mesa Mountain View's Sam Christiansen delivers two of his three RBI with this 6th-inning single. (Azpreps365 photo)
Christiansen made a strong case for MVP honors as well. He added a third RBI in his other at-bat in the eighth inning with a ground out. Chandler's Daniel Hutchison delivered an RBI single in front of Christiansen to push the South's lead from 7-6 to the final of 9-6.
The South outhit the North, 11-9, with its downside offensively a team total of 16 strikeouts. North High's Eduardo Torres was the winning pitcher. Torres threw two scoreless innings, allowing a hit, walk and fanning one. Torres picked off the only batter to reach via hit against him. Five South pitchers - San Luis's Eduardo Villarreal, Hutchison, Torres, Mesa's David Cullimore and Brophy's Henry Chabot - combined to fan 10 with each securing at least one K.
The bottom of the South's batting order picked up the top. The first four spots in the order were a combined 1 for 17. The bottom five were 10 for 20. Pacing the South with two hits each along with Sexton were Chandler teammate Tate Scott and Red Mountain's Landry Spitler. Chandler's three representatives - Sexton, Scott and Hutchison - were a combined 5 for 7 at the plate.
The North opted to use nine pitchers working an inning apiece. Three were lights out. Two from Shadow Ridge - Dillon Orr, who struck out the side looking in the first and Ayden Sauerbi, who dispatched his hitters swinging in the seventh. Mountain Ridge lefty Josh Wakefield fanned the side swinging in the fifth. Tolleson's Isaac Lizarraga was the losing pitcher allowing two tie-breaking runs in the sixth. Lizarraga was perfect at the plate with a single, walk and run scored.
The North offense was led by Liberty's Koby Felix (1 for 3) - a first-inning, two-run double. The game's only home run was a shot to right by Sandra Day O'Connor's Preston Lucas in the third.