Title IX: Prescott coaches bookend badminton excellence across 47 seasons
June 2, 2022 by George Werner, AZPreps365
---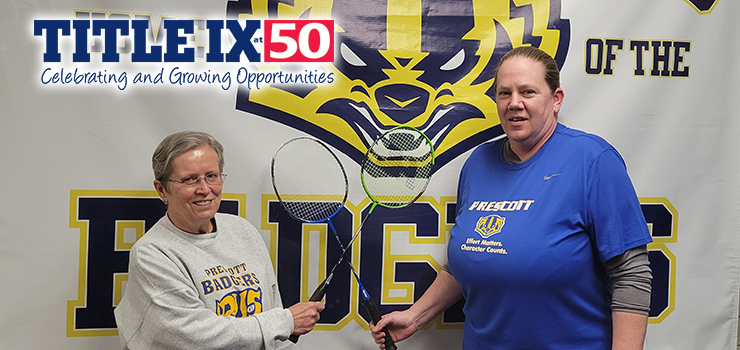 Trailblazing legislation known as Title IX was passed on June 23, 1972, which prohibits discrimination based on sex in educational programs or activities that receive federal financial assistance. It was the catalyst for bringing girls athletics in high schools to the forefront. As we celebrate the 50th anniversary of this momentous occasion, the AIA will produce a feature on the 23rd of every month on a female that paved the way for girls athletics in Arizona.
Close to a half-century ago, in the summer of 1974, Diane Ryan arrived at Prescott High School to teach biology.
A year later, the former Arizona State University and Coronado High School badminton player would be hired as the first head coach of a Badger program that not only remains the only one still standing in Northern Arizona, it has become one of the most powerful programs across the entire state.
"When I came up here, they wanted to expand girls athletics," said Ryan, still an earth and marine science instructor at the high school 48 years later. "At that point, all they had was volleyball and tennis."
But the administrations at all of Prescott's Skyline Region rivals in the mid-1970s–Cortez, Glendale, Independence, Sunnyslope and Washington–already had started badminton programs.
"So at that time, it made a whole lot of sense," she said. "They interviewed me and liked [that] I had the badminton background. So they said, 'Well, we'd like to start that.'"
Entering her eighth year as the Badgers' current head coach, Bobbi Yoder has built the badminton program far beyond the humble beginnings of Ryan's four foundational years–and, most recently, into the 2021 Division II runner-up.
"It took Diane a couple seasons, but then they had winning seasons too," said Yoder, who, in January and February 2022 alone, raised nearly $8,500 to fund her varsity and junior varsity teams' upcoming fall seasons. "I'm willing to do it for the girls, because they work hard. I feel like it's important to give these kids the recognition that they worked hard for."
She also posts, during the season, results and brief recaps of virtually every Badger match on the fundraising website as well as the Prescott athletics Facebook page.
"I would get roasted if I didn't," chuckled Yoder, assistant to longtime athletic director Missy Townsend. "These kids have a following, and people want to know about them."
In between, the Badgers have experienced the lows of losing seasons just seven times, and sustained success for 40 other years, including the high of a Class 3A state championship under Ryan's then-husband, head coach Rick Bothell, in 1985.
Prescott Badminton: A Timeline
Milestones in the 47-year history of Northern Arizona's only high school badminton program
June 1975: Prescott High School varsity and junior varsity badminton teams founded, placed in Class 3A's Skyline Division for fall 1975-76 sports season; second-year biology teacher Diane Ryan named first head coach.
August 1979: Suzanne Feeney replaces Ryan as head coach, guides Badger varsity to 12-11 record over two seasons.
October 1981: Math teacher Rick Bothell takes 11-1 Badgers to second place in Skyline in first season as head coach, finishing seventh in 3A team tournament his first two seasons. Bothell would go on to guide the Badgers for half of the program's history, the longest tenure of any head coach at 23 seasons.
Oct. 29, 1983: Badgers win first division team title, topping the Skyline the first of three times led by Laura Fuchs, who finished in the Top 16 of the 3A singles tournament.
November 1984: All-Division singles player Stephanie Hiatt takes first division tourney title as individual, finishing fourth in 3A under Bothell, named Division Coach of the Year also for his work with top 12 doubles team of Jill St. Pierre and Jennifer Kingston.
Nov. 2, 1985: 12-0 Badgers take first state title as Robin Phares joins St. Pierre on all-division doubles team; Stefanie Collins joins Hiatt on all-division singles.
Nov. 4, 1989: Skyline champ Badgers finish 12-0 again in their first season in Class 4A, as Kris Mayes and Sara Solvay become the region's first doubles winners, leading Prescott to fifth-place finish in combined 4A/5A state team tournament.
Oct. 26, 1990: Skyline Region tournament singles champion Barbara Phillips leads 13-0 Badgers to a tie for their second straight regional title.
Nov. 5, 1994: Prescott's all-Skyline doubles team of Tara Thomas and Beth Davis take program's first state doubles title, topping 4A/5A tourney over teammates Marisa Rice and Kelly Janssen, also all-region as runners-up in Skyline doubles tourney.
Nov. 3, 2001: Krysta Martinez wins 4A singles title for 11-0 Badgers in Bothell's last of eight unbeaten regular seasons–his team's first year in the West Valley Region, taking the regional title behind singles champ Martinez in singles and doubles champs Julie Laipple and Jamie Tatum.
June 1, 2004: Bothell retires, replaced by social studies teacher Bob McCready, who coaches the varsity to 58-52 record over eight seasons.
Oct. 30, 2004: Junior Monica Rivera defeats teammate Shannon Bean in the West Valley singles tourney to win McCready's lone regional title. Bean would end her high school badminton career fourth in the 4A state playoffs.
July 1, 2010: Program reclassified as Division I. The Badgers would continue to play Arizona's largest schools here for the next six seasons.
Aug. 1, 2012: Teacher Carolyn Peters succeeds McCready after his most successful season at 11-1 behind 2009 first-team all-region singles player Kaelin Packer. Although Peters would coach just three seasons in Prescott, her varsity and JV teams would win 70 matches combined during her tenure, going 35-8 and 35-11, respectively .
July 15, 2015: Current head coach Bobbi Yoder steps in for Peters after she moves to Idaho, inheriting Section I Player of the Year in Division I singles, Lauren Mazzella. That first season, Yoder would go on to coach two other seniors, Andie Gonzales and Morgan Feingold, to the same honor in doubles.
June 30, 2016: Prescott is realigned down to Division II, playing in the Northwest Section.
Oct. 21, 2017: Badgers win first of four Northwest championships to date behind senior Abby Nelson, who finishes fourth in Division II singles.
Oct. 11, 2018: Led by seniors Mackenzie Schultz and Zoey Frazier, first team all-section doubles players, Prescott finishes the regular season undefeated and ranked No. 1 for the first time.
Nov. 11, 2020: Badgers make their deepest postseason run to attain their best record ever: 16-1, falling in the Final Four to Division II champion Ironwood.
Oct. 28, 2021: Prescott is Division II runner-up to Ironwood with all-time best finish of 17-1, as Badgers sweep the Northwest's coach and players of the year honors. Junior Megan Townsend finishes fourth in the state singles tournament, while senior Nicole Raiss and sophomore Riley Crockett are named section doubles team of the year.
"I guess the reason that we were able to sustain it was because I've been here throughout, when necessary, as a resource," Ryan said. "Quite honestly, we've had some really enthusiastic parents and volunteer coaches."
Like Chuck Hiatt, whose daughter, Stephanie, was also the 3A singles champ on that state team title winner 37 years ago. He and Ryan used to play badminton between his daughter's matches.
Or like one of Yoder's current assistant coaches, Steven Nguyen, who works with some of her former players to help run practices for her two teams.
"How many schools did we go to where we were like, 'Oh, my God! They can get 40 kids out there'?" Yoder said. "I had 13 the first year I took over, and one year I had nine varsity kids. I think 23's the max[imum] I've had."
Although families like the siblings of sophomore Riley Crockett, part of last season's Northwest Section doubles Team of the Year, have ensured depth is no longer a concern for Yoder, court space is.
"So you have to get creative, so that you don't have kids sitting," she said. "Because that's when you're going to lose kids, if they're not constantly busy. I would keep more if I had more courts."
In fact, the program is still confined to the same number of courts–four–Ryan's initial teams were when they had to split the Badgerdome with volleyball in the mid- to late 1970s.
"When I first started here, we had to tape the [court] lines down, and we had to [roll] in these standards"--old, very tall badminton nets on poles supported by wheels, she explained. "They didn't want me to ruin the basketball court."
Four additional holes to anchor the badminton nets would've had to have been drilled into the floor of the Badgerdome, Yoder explained, between the larger capped holes that accommodated the volleyball nets.
"You literally have to re-do one of your gyms and have it painted for badminton lines," she said.
"Basketball would NEVER let us put holes in the floor," Ryan added. "I didn't push a whole lot, at the time: a little bit here, a little bit there, and over a period of time, you get what you want."
But until the high school's smaller Back Gym was built near the end of the decade, Ryan had to push both boys basketball and her administration for court time just so her teams could practice.
"Even though it wasn't their season," Ryan recalled. "The volleyball coach, we were friends. But basketball? No, no.
"Basketball was king. [Its] players had every court, and even when they were off-season, we had to wait for them to get off before we could practice."
That was because of an after-school physical education program called Double-A P.E., she explained, that would present direct conflicts for indoor facilities with multiple girls sports protected under Title IX legislation.
"That was for all the boys' sports, but not for girls," she said. "Of course, then, volleyball and badminton were sharing half the gym. So that gets kind of chaotic, but that was what existed at the time."
Especially in light of Title IX, the priorities didn't make sense to Ryan, but as a young teacher, she chose to pick her battles with the front office rather than go over her administrators' heads to the school board or to parent-teacher associations.
"So I went through the athletic director and the administrators and said, 'You know, this is really not fair,'" she recalled. "'How come we don't have this and the boys do? How come we have to wait for them to get off the court before we can even set up?'"
But once Badger badminton went to Back Gym, Ryan and the program never looked back.
"You have to think about the day and the age: The men had always been in charge of athletics," said Ryan, who would relinquish control of badminton in 1979 to take over the volleyball program. "I think they were thinking at that time, 'Ehh, we don't want to cause any problems. Let's give her this. That'll work for a year or two.'
"It was always this way before. So they had to learn. They saw that there were a lot of kids involved, so that was appealing. They liked it. They wanted to do it. It just took time."
Four decades later, badminton dominates Back Gym.
"You put athletes out there, and they pick it up quick," Yoder said. "I made it mandatory, where I gave them a couple months off; but now, it's gotten to the point where, literally two months after the season's over, we're opening the gym up for them a couple of days a week.
"Basketball lines are the ones that break."
And, although Yoder said she extended an invitation to Prescott's six Grand Canyon Region rivals in 4A sports to start badminton teams, the adoption of boys volleyball–not to mention cost, in an age of minimal district funding for athletics–has left her 22 girls alone as Northern Arizona's sole competitor in high school badminton.
"We run into a few schools that have a few boys," she said. "None of them have a full varsity, or JV or anything. But they're definitely up-and-coming, and eventually it'll be for the boys just like it is with the girls.
"If we had our boys come out now, we'd totally do it–the girls love playing, because it's just better competition for them–but they're more talk than anything. None of them actually do it."
Mounting costs form a greater deterrent–one that intimidated even Yoder, after a decade coaching girls basketball and softball at Prescott High School, from interviewing for the badminton coaching position in the summer of 2015, despite Townsend and other colleagues pushing her to do so.
"They originally said something at the end of the school year, and I was like, 'No way. Like, really?'" she recalled. "Then they just kept asking all summer, and eventually, a month and a half before the season, they still don't have a coach. And I'm like, 'I can help.'
"I think maybe three or four [people] had actually applied. As soon as I said that, they stopped looking.
"I interviewed, and they just gave it to me. I walked out of that thinking, 'Oh, my God. What the hell did I get myself into here?'"
Annual participation fees, most recently $130 per Prescott High School athlete, that they pay to play every sport in a school year, are supposed to be sufficient to fund not only every sport, but the athletic department as well.
"Right now, as it is, there's no budget for athletics," Yoder said. "The budget for badminton is a lot lower than it would be for basketball or football."
From the beginning of Ryan's tenure, the Prescott Unified School District had a budget to completely fund every Badger sport.
"We didn't have to do any fundraising at all," she said. "We used to get money, we had a voucher, to feed the kids on the way home. If I had to fundraise, I wouldn't be coaching anymore."
Anymore, all the district funds is the cost and means of transportation, on its school busses, to and from regular-season matches, Yoder said.
"If I did anything out of season, over the summer, I'd have to pay for that," she said. "Now, the yellow bus is all we take. The only time we take anything smaller is in a tournament, when that's all we can take."
So, even though Badger badminton raised more than double its $3,000 goal on its website through the end of February, the program requires even more: not only participation fees, but also tax credits and any other donations the program specifically receives from the community, to fully defray the costs of Yoder's rackets, birdies, uniforms, in-season tournaments, and end-of-season banquet.
"What you see operates the athletic department is strictly what [Townsend] makes off of the [sports] gate, tax-credit donations, and [other] donations from the community," she added. "And I've been here 17 years now. We've had participation fees the whole time.
"I've done lots of things. I fundraise every single year: Originally, Papa Murphy's gave us these pizza cards to sell, and that helped.
"Yeah, we just all want to be down there coaching. But it's just the reality of it."
Although defending state champion Ironwood has blocked her Badgers, for three out of their last four seasons, from taking home the Division II title trophy, Yoder's fire for badminton is stoked every time the Class 3A title trophy from 1985 catches her eye in its case.
"We've won it before, [so] I feel like I can say this, even though I wasn't at the beginning," Yoder disclaimed. "From the very beginning, you have just a great group of kids, and they have fun with it, and then they have a little bit of success, and then it's word of mouth: outreach from church, schools and the community.
That feeds itself."
Previous Features: