200-plus teams, 500-plus college coaches set to convert State Farm Stadium into hoop heaven for Section 7
June 15, 2022 by Jose Garcia, AZPreps365
---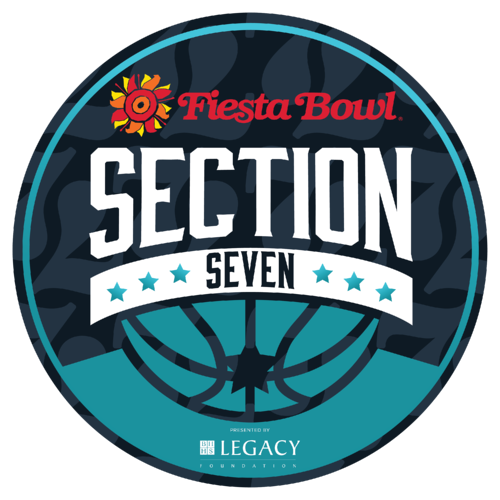 Section 7 is back. Bigger and better.
More than 240 teams, including more than 80 from Arizona, are set to swarm State Farm Stadium for what's become the premier offseason basketball event for high school teams. Watching them intently will be more than 500 college coaches during a live NCAA recruiting period for men's basketball coaches.
For the first time, fans can attend the four-day event free of charge.
"Section 7 exists to amplify the value of high school basketball and the continued benefits of scholastic athletics," said Arizona Basketball Coaches Association executive director Matt King in a press release. "Rising door fees in youth basketball are a major problem and our goal has always been to build a sustainable model, alongside a team of community stakeholders that alleviates financial burden on families. Making general admission free will allow thousands more friends, families, and basketball fans the opportunity to get out of heat, have some fun, and watch the best high school teams on the West Coast in front of hundreds of college coaches."
The Fiesta Bowl Section 7 Basketball Team Camp presented by Legacy Fountain hit the local Valley high school courts first in 2019.
With its sponsors, ABCA's vision and backing of the Arizona Interscholastic Association, the camp's popularity exploded. It made its debut at State Farm, the home of the Arizona Cardinals, last year with almost 200 teams and close to 400 college coaches.
State Farm's floor was transformed into a high school basketball mecca with 12 courts.
Some of the best young talent in the nation will be in town participating in 14 brackets.
Among the stars to see will be Florida Christopher Columbus High School's Cameron Boozer, considered the No. 1 player in the 2025 class, California San Ysidro's Mikey Williams, St. John Bosco's Elzie Harrington and Nevada Bishop Gorman's Jason Richardson. Perry's Koa Peat, another top-3 talent in the 2025 class, won't be at State Farm this week, as he was invited to USA Basketball's U-17 training camp.
But Perry's talented guard Cody Williams, who picked up a Seton Hall offer this week, will be in town.
"Cody is a very competitive kid, and Section 7 will be a chance for him to show that he is an elite guard and one of the best guards in the West Coast," Perry coach Sam Duane Jr. said.
Section 7 tips off Thursday at 4:30 p.m. at State Farm and concludes Sunday with the bracket finals.
Raymond S. Kellis in Glendale also will host some games. Download the free Arizona Basketball Coaches Association app to view the entire schedule, list of teams and colleges attending.
Section 7 is named after one of the eight geographic sections representing the National Federation of State High School Associations. The AIA is in Section 7.
"Section 7 is the best summer high school basketball event in the country," said AIA executive director David Hines in the release. "We cannot be more thrilled to welcome the Fiesta Bowl as the title sponsor as well as welcome back the Legacy Foundation. We look forward to a great event this summer as well as the many opportunities for student athletes that will come because of it."