D-I and D-II Girls Golf Preview
August 7, 2022 by Andy Morales, AZPreps365
---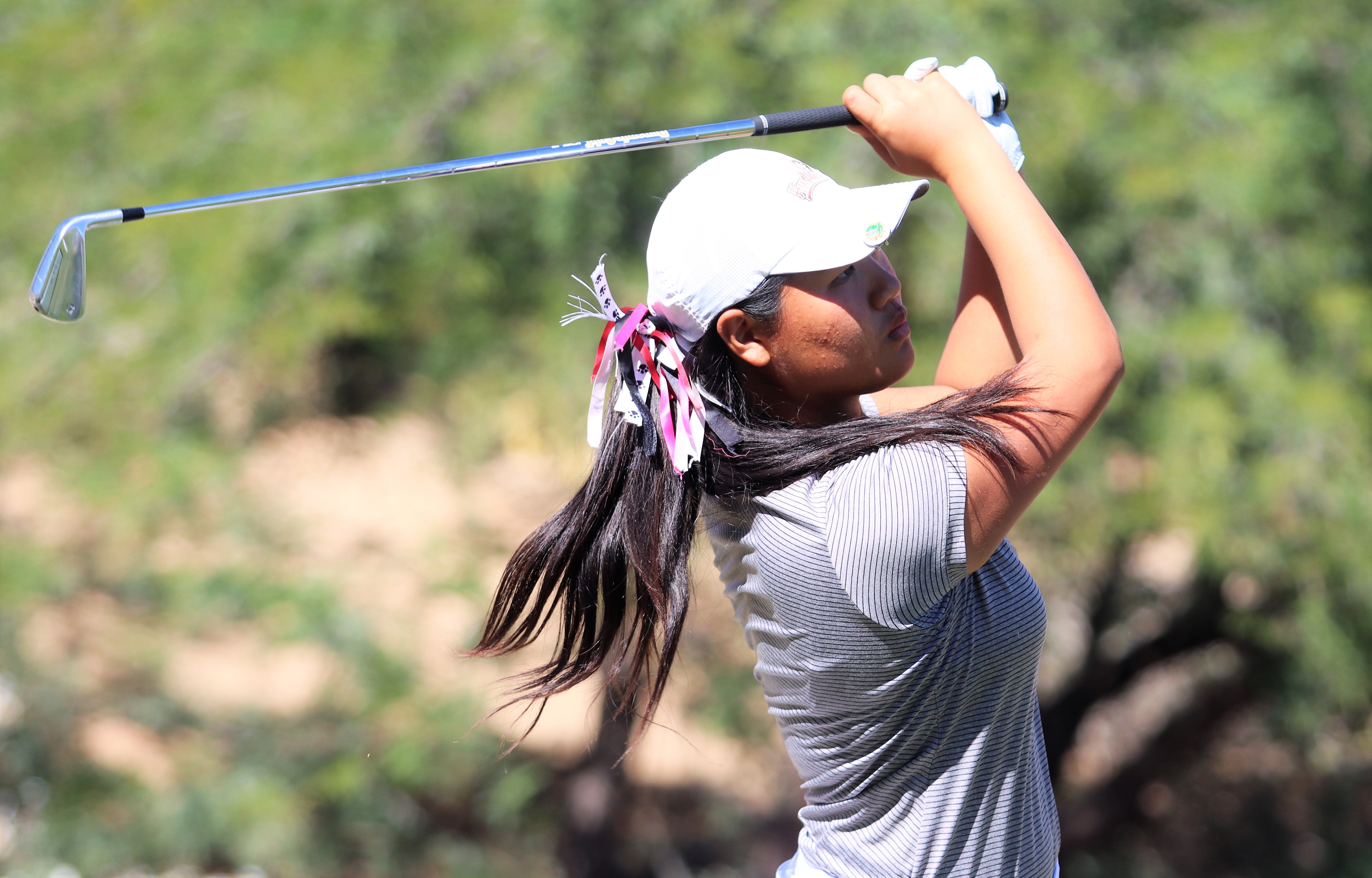 DIVISION I GIRLS
Hamilton senior Jennifer Seo won the Division I state championship last year and she went on to win the national championship over the summer at the Pinehurst Resort in North Carolina. Seo came into the state championship as the top-ranked golfer in the state and she led from the first tee to the tent.
Liberty standout Mattie Frick is playing for Illinois now. Frick took second last year but she beat Seo in 2020 after a one-hole playoff. Frick also took second at the national invitational. Pinnacle senior Carolyn Fuller returns along with several medalists from last year so Seo will need to work hard once again to repeat.
As a team, Liberty held off Xavier to win the state championship last year but expect Xavier to comeback even stronger.
TOP 20 RETURNERS
Jennifer Seo, Sr. Hamilton (State Champion/Top Ranked)
Carolyn Fuller, Sr. Pinnacle (State Third Place)
Samantha Olson, Jr. Pinnacle (State Fourth Place)
Annie Dawson, Sr. Xavier (State Fifth Place)
Brooke McGlasson, Sr. Liberty (State Eighth Place)
Angela Chen, So. Hamilton (State Eighth Place)
Ella Walsh, So. Rincon University (State Eighth Place)
Kate Hauptman, Jr. Xavier
Jayden Jevnick, Jr. Xavier
Lauren Huddleston, Sr. Boulder Creek
Allie Sullivan, Sr. Mountain Ridge
Kyra Allen, Sr. O'Connor
Nikki Bowen, Jr. Valley Vista
Madeleine Nguyen, So. Desert Vista
Delaney Stamp, So. Boulder Creek
Kate Connolly, Sr. Boulder Creek
Lena Durette, Jr. Xavier
Flora Tao, Jr. Hamilton
Raegan Etnyre, Jr. Boulder Creek
Zoey Woodward, Jr. Boulder Creek

(Eva Heinz/Andy Morales/AZPreps365)

DIVISION II GIRLS
The top three golfers from last year all graduated including two-time state champion Mackenzie McRee who is now a freshman at Ohio University. The field is wide open here especially with a handful on incoming freshmen sure to change the landscape.
Ironwood Ridge won the last three state titles and Cactus Shadows won three straight right before that. This one could be decided on the last few holes of the state tournament again.
TOP 20 RETURNERS
Eva Heinz, Sr. Desert Edge (State Fourth Place)
Paige Hammarstrom, Sr. Cactus Shadows (State Sixth Place)
Kaitlyn Helm, So. St. John Paul II (State Ninth Place)
Zoe Newell, Sr. Ironwood Ridge (State Ninth Place/Top Ranked)
Rylee Stovall, So. Millennium
Jordin Cowing, So. Casteel
Isabelle Junio, Sr. Millennium
Emilee Swagger, Jr. Canyon View
Parker Welling, So. Cactus Shadows
Madie Hepner, Sr. Desert Mountain
Zaida Wise, So. Sabino
Ellie Shirley, Sr. Desert Mountain
Lily Huether, Jr. Salpointe
Mia Cesarek, Sr. Catalina Foothills
Nicole Feistl, Jr. Cactus Shadows
Anissa Matkin, Sr. Desert Mountain
Sierra Ashbaugh, Sr. Casteel
Mackenzie Bream, Sr. Arcadia
Lucy Newell, So. Ironwood Ridge
Akyra Kay, Sr. Salpointe