Volleyball: Returning region champions in northern Arizona begin quest for repeat
August 9, 2022 by Brian M. Bergner Jr., AZPreps365
---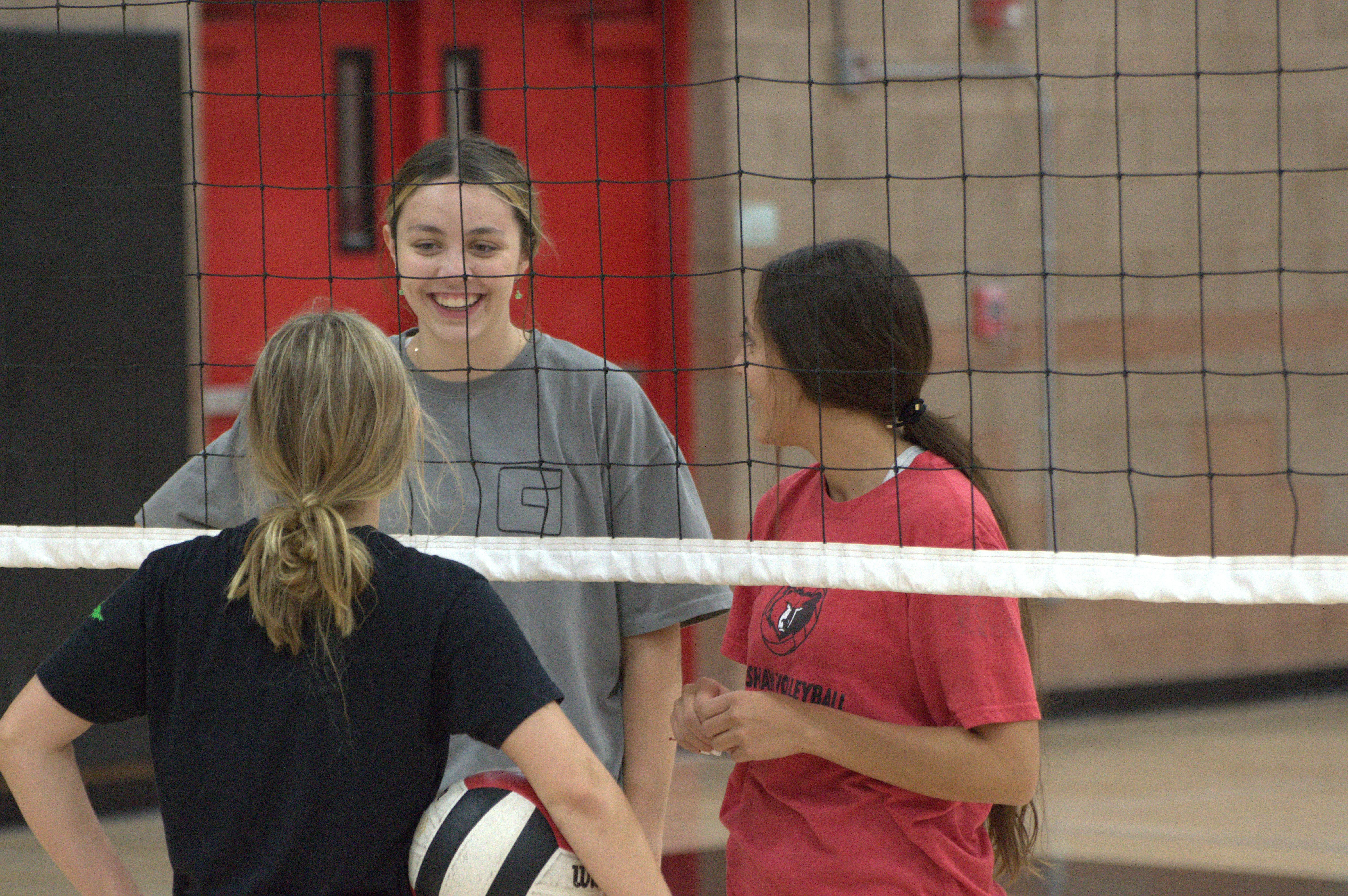 With volleyball practice underway across the state of Arizona, there are several northern Arizona clubs looking to defend their region crowns from a season ago.
We at AzPreps365.com checked in with them this week to see how the offseason went and what their expectations are for the 2022 campaign.
4A GRAND CANYON, BRADSHAW MOUNTAIN
The Bears from Bradshaw Mountain had one of their more successful seasons in program history a year ago, finishing 16-9 overall but going 12-0 in the Grand Canyon region to claim the title.
Bradshaw Mountain was one of three clubs in the 4A conference to win double-digit matches while being undefeated in region play. The other two were Poston Butte (10-0, Black Canyon) and Notre Dame Prep. (10-0, West Valley).
The Bears were able to qualify for the 4A state playoffs as a No. 10 seed, defeating No. 7-ranked Greenway 3-0 before losing to No. 2 Canyon Del Oro in round two, 3-0. Canyon Del Oro lost to No. 1-ranked Notre Dame 3-0 in the finals.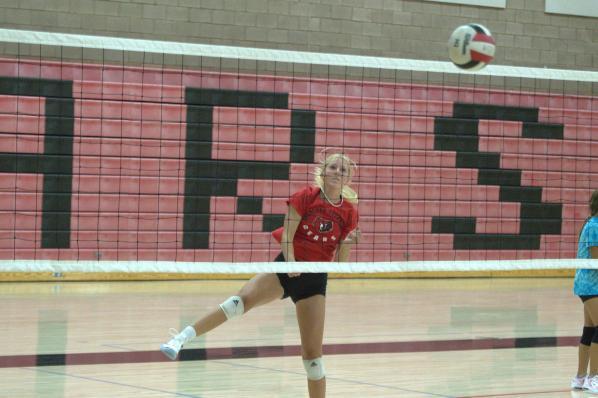 Hannah Platt, a junior for Bradshaw Mountain, works on her attack game Tuesday at practice in Prescott Valley. (Brian M. Bergner Jr./AzPreps365)Despite the Bears graduating five starters from last year's club, head coach Karrie Platt believes she has plenty of "strong players" returning to fill the void.
"We have strong players ready to step in and fill those roles. [We have] girls that know what it takes to compete at a high level," Platt said via email Tuesday, Aug. 9.
The four varsity players returning include senior outside hitter Anna Daines, senior Mikayla Buckwalter and junior Maya Lopez, who will each share time as defensive specialists, and middle blocker Hannah Platt, who returns as the team's best overall player.
Newcomers include middle blocker Kalli Smith and setter Bri Helmerson.
"We think our defense is going to be really strong this season. We will put up our biggest block we've ever had and have fast strong liberos and defenders," Platt said. "Our region is really competitive. It's certainly our goal to win region again, but respectfully know our competition is going to be strong."
Opener: 6 p.m. Monday, Aug. 29, Greenway.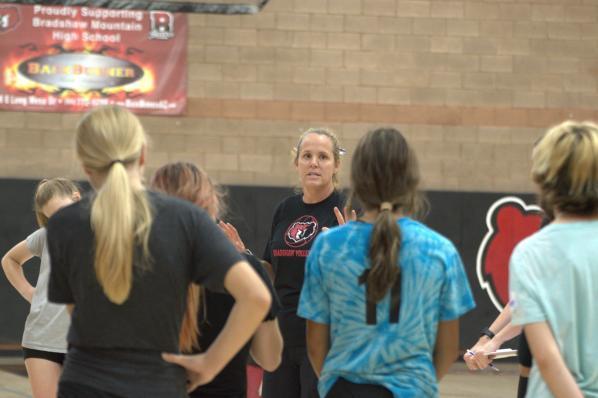 Bradshaw Mountain head coach Karrie Platt talks with her squad during practice Tuesday, Aug. 9, 2022, in Prescott Valley. (Brian M. Bergner Jr./AzPreps365)2A NORTH, ROUND VALLEY
After an early exit from the 2A state playoffs in a 3-1 loss to No. 7 Rancho Solano Prep., Round Valley is poised for another run at a 2A North region title this fall.
"As a coaching staff we have changed quite a few things for our program. We have switched athletes' positions, set up a different defense, and are currently increasing our offensive options," Round Valley head coach Erin Stoffel said via email Aug. 5.
The Elks were 16-7 overall and finished a perfect 9-0 in region play before the early state loss a year ago. Stoffel returns several players from last season, including senior Allyson Muth at libero, junior Lauren Bates at outside hitter, and senior Mary-Kate Hunt at outside hitter.
"We have a deep lineup of returners this year," Stoffel said. "Every single athlete on this varsity squad brings something to the table."
Stoffel said many of her players spent time on both varsity and junior varsity last season due to small numbers in the program, but she feels that will only make them stronger this fall.
"Those extra touches have helped propel [our kids] forward this season," Stoffel said.
Opener: 6 p.m. Tuesday, Aug. 31, Joseph City.
1A NORTH, ROCK POINT
The defending 1A state champion Rock Point Cougars return this season having put in the record books one of Arizona's best prep volleyball campaigns a year ago.
With the majority of the players coming back from the club that beat No. 2-ranked Tempe Prep in the state finals 3-2, only the third time the club was pushed to play a five-game set all season, head coach Kyle Arthur said his team's biggest strength will be experience and motivation.
"These girls have overcome adversity many time over through unity and work ethic," Arthur said via email Aug. 4. "Not only do they want to be better than their opponent this year, they want to be better than themselves last season."
That's going to be difficult.
In 2021, Rock Point recorded 27 straight victories after a 3-0 loss to Winslow in early September, earning the Cougars a title. That included a perfect 10-0 record in the 1A North region where they didn't lose a game, sweeping all 10 opponents 3-0.
Arthur is confident his club will repeat as North champs this fall.
"We are in a great position to accomplish that goal again. We have the experience and determination to pull off another championship," Arthur said. "It's really going to come down to who wants it more. Other teams are not going to hand us the championship this year, so the sooner the girls understand that, the sooner they prepare themselves for the final dance mentally and physically."
Top returners for Rock Point include Arianne Begay, a senior outside hitter; Taylyn Woody, a junior middle blocker; Sasha Chee, a senior defensive specialist and setter; and senior June Yazzie, a defensive specialist and setter.
Opener: 3 p.m. Saturday, Aug. 27, Williams.
1A CENTRAL, MOGOLLON
Reaching the 1A state semifinals and losing to No. 1-ranked Rock Point 3-0, 1A Central (Now 1A Copper) returning champ, the Mogollon Mustangs, can hold their heads high on a great 2021 season.
And the Mustangs hope to do it all over again in 2022.
Head coach Valerie Reynolds said Aug. 4 via email that her club is a "young team" with only three returning seniors, two of which didn't get a lot of playing time last season.
"We worked hard over the summer and the younger girls have a lot of talent so we just have to work hard to get them where they need to be," Reynolds said.
Ellie Hancock, a four-year senior starter, plays setter and outside hitter for the Mustangs, which finished 13-1 in the Central region a season ago to claim the title. They were 22-7 overall.
The other two seniors, Illa Despain and Lily Horn, will likely play opposite each other on the outside.
"I think we could win the region, but this year our region is completely different," Reynolds said. The 1A Copper region includes Dishchii'bikoh, Fort Thomas, Hayden, Joseph City, Superior Jr./Sr. and Mogollon. Joseph City is the only holdover (besides Mogollon) in the region from a year ago.
Opener: 5 p.m. Friday, Aug. 26, at Fort Thomas.
OTHER RETURNING REGION CHAMPS IN NORTHERN ARIZONA
Anthem Prep. moves to the 1A Central this season after winning the 1A West by going a perfect 10-0 in region play last fall.
In 2A, the defending Central region champ, Sedona Red Rock, moves to the Metro region after going 11-1 in region play a season ago. The Scorpions earned a No. 8 seed and beat No. 9 Arizona Lutheran 3-0 in the first round of the state tournament, but suffered a 3-0 sweep to No. 1-ranked Chandler Prep. in round two.
As for the 3A, Monument Valley looks to defend its North title after going a perfect 10-0 in region play (16-1 overall), while the Lobos from Snowflake look to do the same in the East, repeat a 10-0 record from 2021.
Snowflake was the No. 1-seeded team heading into the state playoffs last season, but lost to No. 2 Valley Christian 3-0 in the 3A state finals.
Monument Valley opens the season Sept. 6 against Piedra Vista, while Snowflake opens against Tuba City on Aug. 24. Sedona opens against Kingman Academy on Aug. 25, and Anthem Prep. travels to Lincoln Prep. on Sept. 6.
For more information on these northern Arizona clubs, visit azpreps365.com.
Brian M. Bergner Jr. has covered professional, collegiate and high school sports for more than 20 years. If you have a northern Arizona high school story idea, feel free to contact him at bbergner@azpreps365.com. Follow him on Twitter @AzPreps365Brian.