Xavier wins Nighthawk Invitational
August 27, 2022 by Andy Morales, AZPreps365
---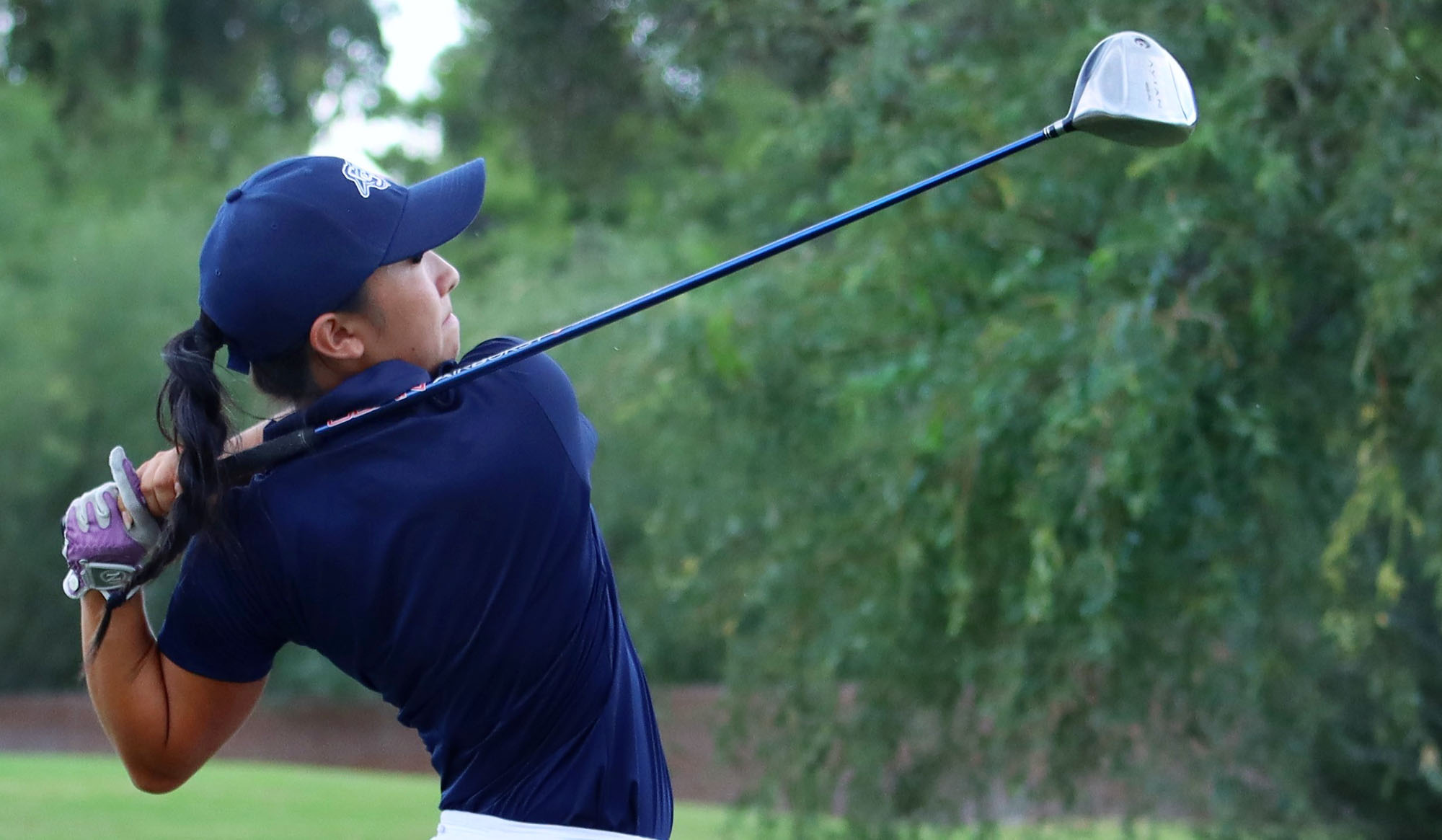 The 2022 AIA Girls Golf Championship is set for the Catalina Course of the Omni Tucson National in late October and some of the best teams in the state from Division I and II took part in the Ironwood Ridge Nighthawk Invitational on Friday and Saturday to take advantage of the opportunity to play on that course in the regular season.
The field played on the Catalina Course (Par 73) on Friday and the Sonoran Course (Par 70) on Saturday. Xavier led the field on both days to come away with the team victory by 11 strokes over Cactus Shadows. Xavier competes in Division I and Cactus Shadows competes in D-II.
Individually, Cactus Shadows senior Nikki Kato shot even on Friday and 3-under-par on Saturday to hold off Hamilton senior Jennifer Seo by one stroke overall. Xavier junior Kyla Layman took third with a 1-under 142 but she claimed a 1-under 72 on Friday along with Liberty senior Brooke McGlasson and Xavier junior Kate Hauptman.
Kato picked up a bridie on the 14th hole to go 3-under and Seo went 4-under on the same hole but a bogey on the 15th dropped her two back. Seo got that stroke back on the 16th but Kato played even the rest of the way to hold Seo off 140 to 141.
Kato took second place at the Class 4A Washington state championships in May and she played at the U.S. Girls Junior Championship in July before transferring over to Cactus Shadows. Kato is currently the top-ranked D-II golfer in Arizona and Ironwood Ridge senior standout Zoe Newell is ranked No. 2.
Hauptman is ranked No. 1 at the D-I level and Seo (ranked No. 5) is the returning D-I state champion and she also claimed the national championship in June. The iWR Rankings change daily. Liberty won the D-I state title last year and Ironwood Ridge won the D-II championship.
NOTE: The Boys Championship will be held on the Sonoran Course this year.
Jennfier Seo. (Andy Morales/AZPreps365)
TEAM RESULTS
1 Xavier (DI) 306-293 599 (+27)
2 Cactus Shadows (DII) 311-299 610
3 Hamilton (DI) 322-297 619
4 Liberty (DI) 324-313 637
5 Millennium (DII) 353-316 669
6 Catalina Foothills (DII) 376-335 711
6 Salpointe (DII) 368-343 711
8 Perry (DI) 369-358 727
9 Horizon (DII) 435-426 861
10 Red Mountain (DI) 439-440 879
INDIVIDUAL RESULTS
1 Nikki Kato (SR) Cactus Shadows 73-67 140 -3
2 Jennifer Seo (SR) Hamilton 75-66 141 -2
3 Kyla Layman (JR) Xavier 72-70 142 -1
4 Brooke McGlasson (SR) Liberty 72-73 145
5 Lily Huether (JR) Salpointe 76-70 146
6 Lucy Newell (SO) Ironwood Ridge 76-71 147
7 Zoe Newell (SR) Ironwood Ridge 74-74 148
8 Kate Hauptman (JR) Xavier 72-77 149
9 Lena Durette (JR) Xavier 78-72 150
9 Madalyn Gubernick (FR) Xavier 76-74 150
11 Mia Cesarek (SR) Catalina Foothills 78-73 151
11 Gabrielle Cone (JR) Perry 76-75 151
13 Isabella Piazza (FR) Xavier 78-74 152
14 Grace Rubelsky (JR) Xavier 82-72 154
14 Nicole Feistl (JR) Cactus Shadows 80-74 154
16 sabelle Junio (SR) Millennium 84-71 155
16 Rylee Stovall (SO) Millennium 83-72 155
16 Angela Chen (SO) Hamilton 77-78 155
16 Jayden Jevnick (JR) Xavier 80-75 155
16 Flora Tao (JR) Hamilton 80-75 155
21 Reimi Bleyl (JR) Xavier 83-75 158
21 Paige Hammarstrom (SR) Cactus Shadows 80-78 158
21 Riley Doherty (JR) Cactus Shadows 78-80 158
24 Lauren Nau (SO) Horizon 86-77 163
24 Kaitlin Anderson (JR) Liberty 84-79 163
24 Teaen Sweet (SR) Liberty 80-83 163
27 Annika Saida (SR) Liberty 88-78 166
28 Kaylee Bowers (SR) Millennium 85-83 168
28 Lizzie Walls (SO) Hamilton 90-78 168
30 Mallory McRee (FR) Salpointe 88-83 171
31 Parker Welling (SO) Cactus Shadows 87-87 174
32 Sofia Pulcini (JR) Cactus Shadows 93-83 176
32 Charlotte Schrecker (JR) Ironwood Ridge 91-85 176
34 Jada Franco (SR) Perry 96-84 180
35 Jayden Nester (FR) Catalina Foothills 100-81 181
36 Greta Johnson (SO) Salpointe 96-87 183
36 Gina Lee (JR) Catalina Foothills 94-89 183
38 Raleigh Lard (JR) Horizon 97-89 186
38 Annika Gutierrez (SR) Liberty 98-88 186
40 Peyton Gibby (JR) Campo Verde 100-88 188
41 Phaedra Lattouf (JR) Millennium 101-90 191
42 Lili Stutz (SR) Perry 97-95 192
43 Gabrielle Matty (SO) Catalina Foothills 104-92 196
43 Paige Gilbert (SR) Red Mountain 102-94 196
45 Sofia Strobel (FR) Catalina Foothills 104-95 199
46 Bella Keselman (SO) Perry 100-104 204
47 Tyler Boldrey (SO) Salpointe 108-104 212
48 Alexandra McNamara (FR) 121-103 Salpointe 224
49 Maeve Lloyd (SO) Campo Verde 118-110 228
50 Claire Tofil (SR) Millennium 125-120 245
50 Piper Provot (SO) Campo Verde 124-121 245