Prescott runs past Carl Hayden 43-0 in season opener
September 2, 2022 by Brian M. Bergner Jr., AZPreps365
---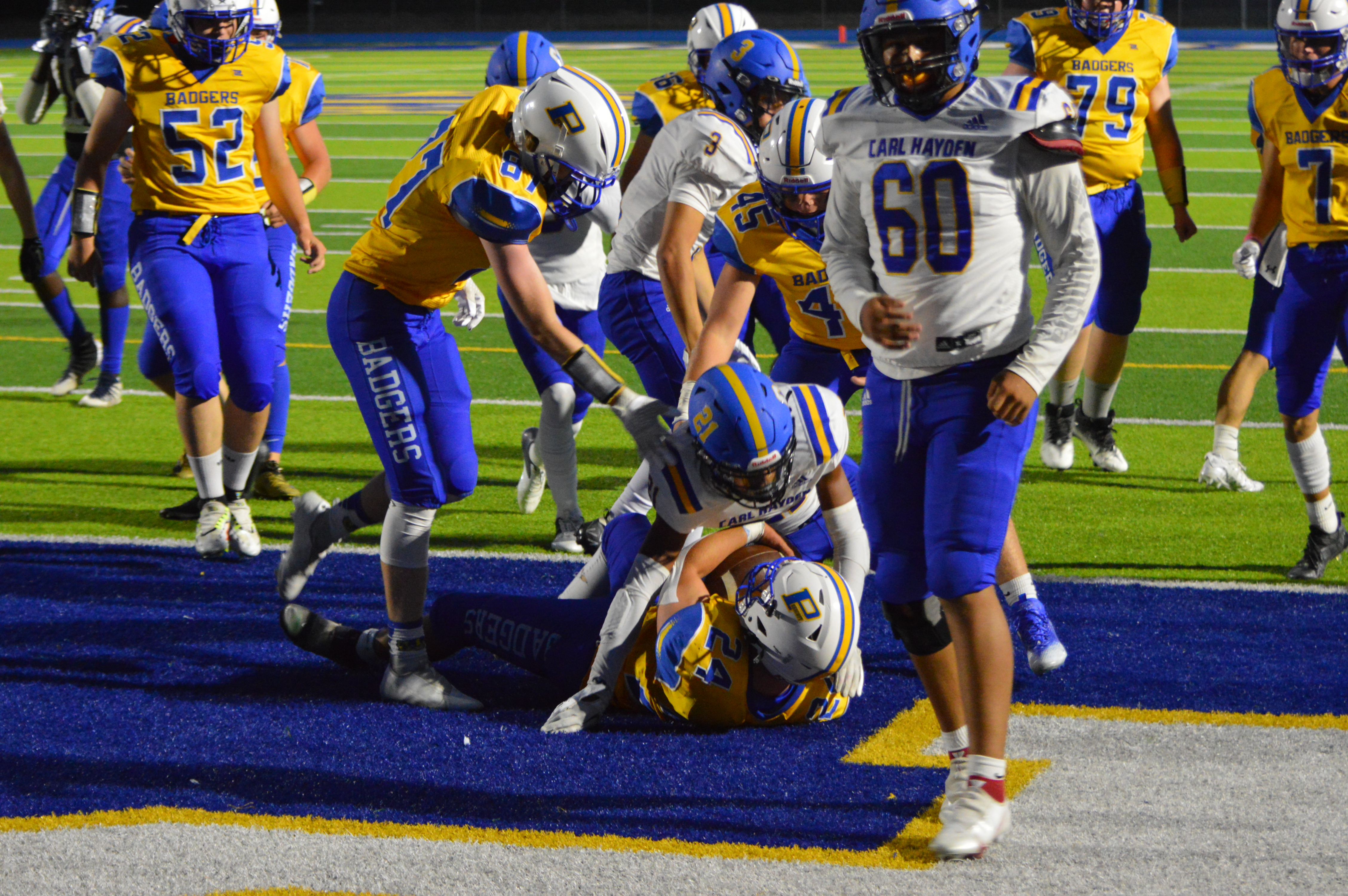 PRESCOTT — Cody Leopold rushed for nearly 100 yards and three touchdowns, Jake Hilton had a 96-yard kickoff return for a score to begin the second half and the Prescott football team earned a 43-0 shutout over visiting Carl Hayden on a stormy Friday night.
Fifty minutes before kickoff, game officials made the announcement for teams to return to the locker room and for fans to head toward the gym as lightning strikes were less than 2 miles out.
Before 7 p.m. kickoff, however, the storm had moved through, allowing warmups to resume. After the game-opening kickoff, it took only 1 hour and 40 minutes to play Friday night's contest as the Badgers (1-0, 0-0 4A Grand Canyon) scored early and often in the rout.
"It was awesome. We've been putting in work for months to prepare for this, and this is just the start for us," Leopold said on the field after the win.
Prescott finished 8-4 a season ago, defeating rival Bradshaw Mountain 14-6 in round one of the 4A state playoffs, but fell to Poston Butte the following week, 49-7.
If the Badgers are to surpass their success of 2021, Leopold said the returning seniors will have to "keep their heads level."
"With returning 24 seniors this year, we have a great chance to be better than last year, but we have to keep our head humble," Leopold said.
Leopold opened the game's scoring with an 12-yard touchdown in the first quarter, then Cian Mckelvey pitched in with a 4-yard score of his own to put the Badgers up 14-0 with 4:39 to play.
After Leopold's 6-yard score to end the first quarter, Maurea Norris' 58-yard touchdown run made it 28-0 with 5:35 to go before halftime.
Leopold's third touchdown came at the 2:19 mark in the second quarter making it 35-0.
"He's always a stalwart at tailback and mike linebacker. He's got an endless motor, tough as nails," Prescott head coach Cody Collett said after the game about Leopold. "Ton of guys did some good things tonight."
Hilton's 96-yard kickoff return for a touchdown to open the second half sealed the deal for Prescott, which plays two of their next three games on the road.
Collett said that Prescott has "a lot of guys who have played a lot of football" and it showed early.
"They were ready to play. Carl Hayden is a good team, they were 6-4 last year. I was really pleased with how we came out. That was encouraging," Collett said. "Still too many penalties, and some things we need to clean up. Really excited to play Glendale next week. Big, big game between two teams that were [in state last year]."
The Falcons (0-1, 0-0 4A Copper Sky) graduated four of the five starting offensive lineman in the offseason, and lost junior standout running back Kendre Pride to transfer.
Pride had 1,090 yards rushing on 99 carries with 16 touchdowns in 2021.
Despite the losses in personnel, Carl Hayden head coach Steven Arenas believes he has the right players in place to make a run at a region title this season.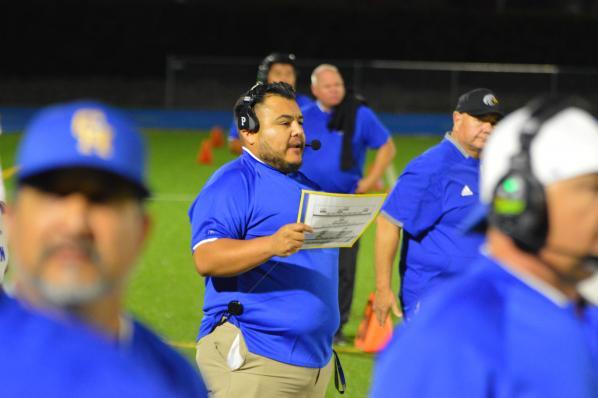 Carl Hayden head coach Steven Arenas calls an offensive play as the Falcons visited Prescott on Friday, Sept. 2, 2022. Prescott won 43-0. (Brian M. Bergner Jr./AzPreps365)
"We feel like we have the right players in the right spots to compete for a region title. That's the next step in continuing to build this program," Arenas said. "We'll build off this, we have Tempe next week, and they have a new coach over there and they're trying to rebuild a program as well so it's going to be a good matchup."
UP NEXT
Prescott travels to Glendale on Friday, Sept. 9, in Week 4 action. The Cardinals (0-1, 0-0 4A West Valley) lost to Apollo on Friday night, 48-42.
Carl Hayden continues their tough road schedule to open the season by visiting Tempe on Thursday, Sept. 8. The Falcons open the season with four straight road games.
Kickoff for both clubs is set for 7 p.m.
Brian M. Bergner Jr. has covered professional, collegiate and high school sports for more than 20 years. Follow him on Twitter @AzPreps365Brian. Have a story idea? Email Brian at bbergner@azpreps365.com.