Marana keeps The Boot with a 37-21 win at Mountain View
September 3, 2022 by Andy Morales, AZPreps365
---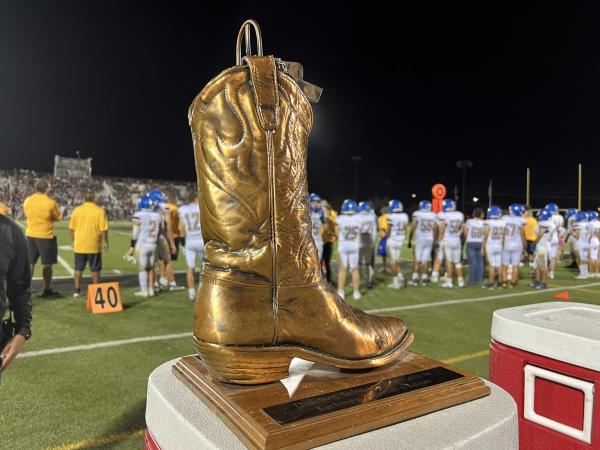 (The Boot/Andy Morales/AZPreps365)
The "Battle of the Boot" isn't one of the state's longest running rivalries but the game between Marana and Mountain View Marana has increased in importance for the first time since it all began in 1988. Marana beat Mountain View 37-21 Friday night on the road for only the fourth time in 17 tries and it was also the first time the Tigers have held onto "The Boot" in back-to-back seasons.
Marana won the first game of the series 1988 when Mountain View opened for business and again a decade later in 1998. A 13-12 victory last year broke a long streak of frustration and Marana finished the year with a 7-3 record but ranked No. 18, which meant losing out on a playoff spot by two slots and Mountain View finished 4-6. It's still hard to predict how this game will play out down the stretch this year for both squads but some questions were answered.
Elijah Joplin completed 194 of 279 passes for 2,658 yards with 30 touchdowns and he also rushed for 11 touchdowns last year and this was to be his senior season with Marana. He has 3,087 career passing yards and the 5,000 mark was in reach. If Joplin reached that personal goal then good things were going to happen for the team as well but that all changed thanks to an injury to his orbital bone while playing in a 7-on-7 game in the summer. Who was ready to fill his shoes that quickly?
"Everybody was asking me about the quarterback situation and things like that," Marana head coach Phillip Steward said. "But everybody here at Marana knew. He went in, he went in there and he did what he had to do. He had a good summer and we were the only ones who knew going into this game how he was gonna play."
Steward was talking about Jr. QB Jason Wood. Wood finished the game with a touchdown throw and a rushing TD. Joplin did throw the first pass in the game on a flea flicker to get the Tigers moving but the first drive ended on downs deep in Mountain View territory. The Mountain Lions were forced to punt on their first drive but a muffed catch set the team up on the Marana 17.
Marana Jr QB Jason Wood answered a lot of questions Friday night at Mountain View. His control of the offense was a testament to his work over the summer with Elijah Joplin recovering from an injury. #azpreps365 pic.twitter.com/8HZHaQG6cy

— Andy Morales (@AZPreps365Andy) September 3, 2022
A penalty and an incompletion forced a long fourth down and a missed field goal from 39 yards out let the Tigers off the hook and a deep pass from Wood to Dezmen Roebuck set up a short scoring run for Jordan Jang with 4:49 left in the first quarter.
Mountain View was forced to punt again but a fumble recovery by Diego Gomez gave the Mountain Lions new life again but the team failed to cash in again and Marana got the ball back on downs which set up a 22-yard scoring pass from Wood to Samuel Brown to make it 14-0 Marana with 11:01 in the first half.
William Howell and Josh Roman Jr. shared QB duties last year but Howell took most of the snaps as he did Friday night. The two missed opportunities early set the game in Marana's favor but head coach Matt Johnson saw a lot of positives from the first challenge of the year.
"They're just young and the have to learn," Johnson explained. "This is new varsity football for a lot of them. When you're starting a freshman, when you're starting two sophomores, there's just some pain and a lot of juniors have never played varsity football."
The Mountain Lions missed on another field goal attempt and Marana followed that up with a 30-yard field goal from Tyson Tschida to go up 17-0 at the half. The Tigers opened up the second half with an onside kick and that play proved to be an important one because the 24-0 lead as a result of a short scoring run from Wood on that drive was instrumental in holding off a run by Mountain View.
Steven Mene-bie put Mountain View on the board with a 6-yard run and then Gomez came up with an interception to set Mene-bie up for a 25-yard touchdown run to cut the lead down to 24-14 with 5:48 left in the third quarter. Gomez had a shot at another interception on Marana's next drive but the ball fell just short off his fingertips. With new life, Marana cashed in on a 27-yard touchdown from Roebuck to go up 31-14 with 4:00 left in the third.
Matthew Jensen put Marana up 37-14 with 51 seconds left in the quarter and the late run from Mountain View appeared to be over. Roman engineered a scoring drive to cut the Marana lead down to 37-21 with 7:53 left in the game but that was it for both teams.
"We scheduled these guys so that we would have a great intense start to the season," Johnson added. "I still believe in them and I will next week so we're going to be fine. We responded, I was proud of the kids."
Mountain View will travel to play Higley next week. The Knights beat Poston Butte 50-43 Friday night. Higley only won two games last year but this win looked to be a statement game because Poston Butte was the 4A state runner-up last year.
Marana will travel to Sierra Vista to Buena next Friday night and the Colts beats Sahuarita 27-9. Buena was 2-7 last year.
"We had to fight, we knew it was gonna be a dog fight," Steward added. "This game was about The Boot rivalry and we are close to each other. We knew it was gonna be tight, but the boys kept fighting. I felt like we got a little tired out there because we run a fast paced offense so we to get in shape."
NOTE: The game was stopped about six times due to players cramping on the field.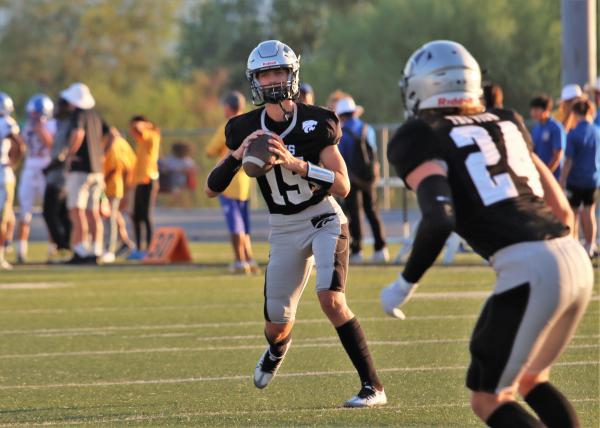 William Howell. (Andy Morales/AZPreps365)