NAU Finale: Big first half leads Camelback past Flagstaff 53-20
September 3, 2022 by Brian M. Bergner Jr., AZPreps365
---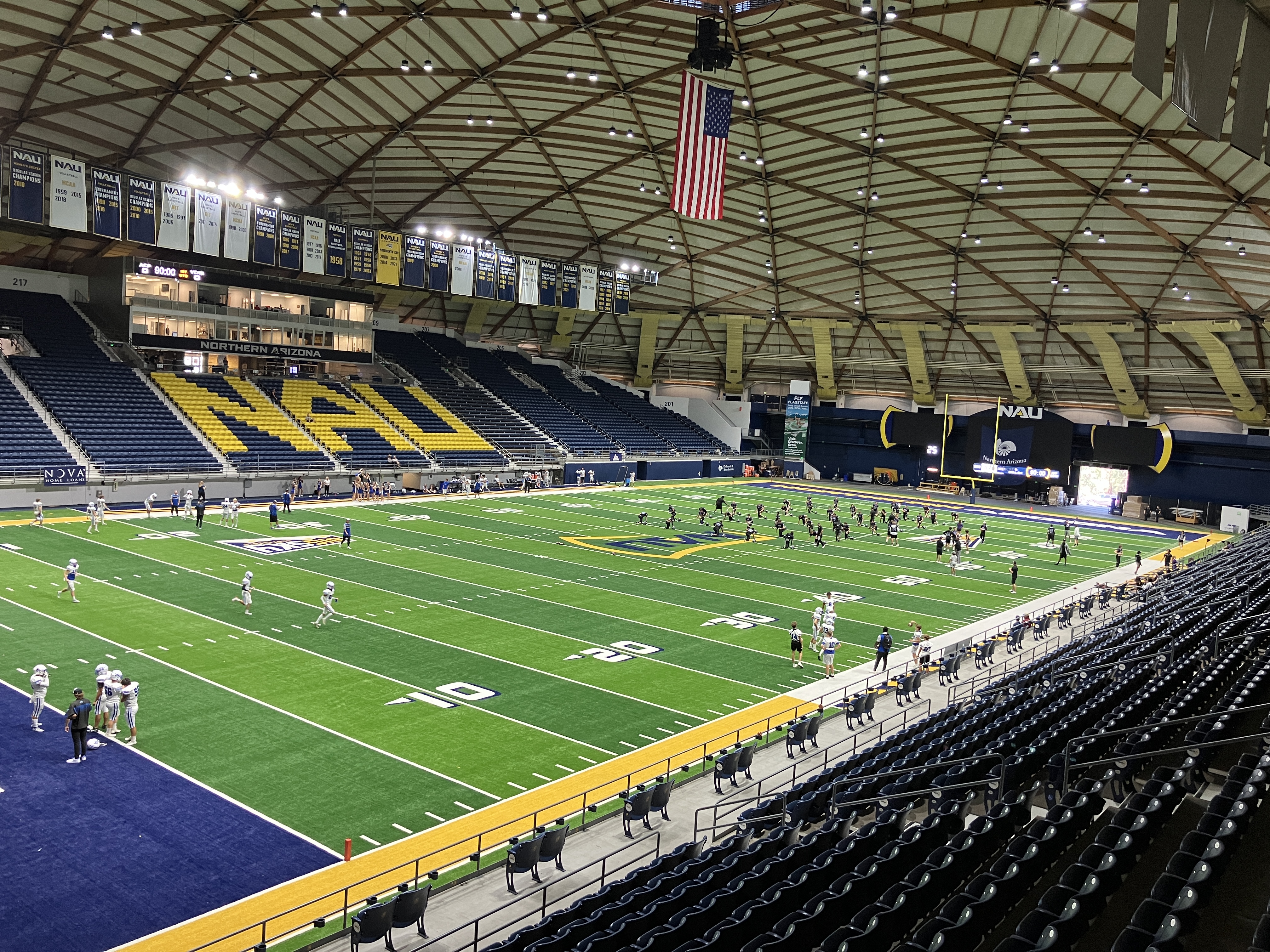 FLAGSTAFF — Quarterback Max Martin had four touchdown passes, Jaylen Gillis scored four times and Camelback shook off the 7,000-foot challenge the pines naturally provide with a 53-20 win over Flagstaff at the Walkup Skydome on Saturday night.
Gillis caught three touchdown passes from Martin, and ran for another in the victory for the Spartans (1-0, 0-0 5A Metro), which were a win shy of not only a region title last season, but a state playoff berth.
Camelback lost 61-38 in the season finale to Apollo, which claimed the Metro championship and went on to the 5A state playoffs before being eliminated by Notre Dame Prep., 56-21.
On the campus of Northern Arizona University on Saturday night, the hometown club started things off with a bang as quarterback Brock Maier found wideout Tanner Reiff wide open downfield on a 70-yard strike on the first play from scrimmage to give the Eagles a 6-0 lead.
The Eagles' lead lasted only a few minutes as Martin found wide receiver Kemahn Knight on a 51-yard touchdown bomb, tying the game 6-6 with 9:52 left in the first quarter.
Amos Kanoyieh Slokan caught a 12-yard pass from Martin to put Camelback up 12-6, then recorded a 24-yard run on the Spartan's next possession to make it 20-6.
Gillis' 66-yard touchdown run with 3:28 to go in the first quarter gave Camelback a 26-6 lead.
Maier would find Emiliano Armijo on a 5-yard touchdown pass for Flagstaff (0-1, 0-0 4A Grand Canyon), which cut the score to 26-12 after one.
But Martin's third touchdown pass came with 4:38 to play in the second quarter and his fourth was a 3-yard strike to Gillis with 26 seconds left before halftime, giving Camelback a 40-12 lead and they never looked back.
Maier had three touchdown passes and two interceptions in the loss for Flagstaff, which finished 4-6 overall a season ago, but interestingly enough, beat this very same Camelback team in Phoenix to open the 2021 campaign, 26-7.
UP NEXT
Flagstaff travels to Winslow in Week 4 action Friday, Sept. 9. The Bulldogs (1-1, 0-0 3A Northeast) opened the season with a 20-16 win over Chinle, but lost to Holbrook 32-6 on Friday night.
Kickoff is set for 7 p.m.
Camelback heads home to face Desert Mountain (1-0, 0-0 5A Northeast Valley) next week. The Wolves opened with a 29-6 win over Cactus on Friday night. Kickoff is scheduled for 7 p.m.
Brian M. Bergner Jr. has covered professional, collegiate and high school sports for more than 20 years. Follow him on Twitter @AzPreps365Brian. Have a story idea? Email Brian at bbergner@azpreps365.com.