Preview: Perry vs Desert Vista
September 8, 2022 by Austin Hepola, Arizona State University
---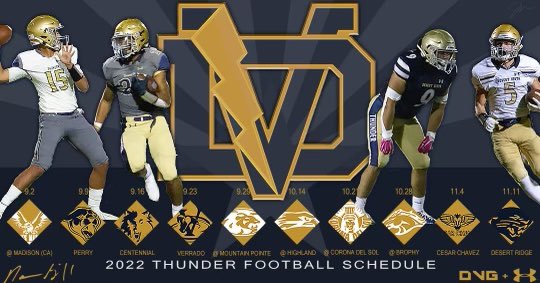 The Perry Pumas take on the Desert Vista Thunder in a varsity football matchup Friday at Desert Vista High School at 7 p.m..
Desert Vista is coming off a 5-5 record in the 2021 season while Perry went 3-7.
The two teams faced each other in a close game last year with Perry coming out on top, 35-28.
This week's matchup should be another great game from two teams looking to make a statement early in the season.
The Thunder started off the season last week in California as they played Madison High School.
Although they lost, 35-0, Desert Vista head coach Nate Gill says his team can still turn that experience into a positive.
"We had moments in that game where we showed we belong," Gill said. "Our inexperience in some places showed when there were opportunities to capitalize. Madison will compete for a state championship in California, so we got to look a high-level team right in the face. That experience will definitely be beneficial down the road."
The Pumas traveled to Las Vegas last week to begin their season.
They came out with the win against Spring Valley High School, 19-14.
Coach Gill recognizes Perry means serious business.
"Perry is very well coached," he said. "Joseph Ortiz can flat out coach football. They play extremely hard and are fundamentally sound."
Coach Gill was brought over to Desert Vista in January of this year. He spent the previous four years as the head coach of Sierra Linda High School.
The Arizona Republic named Gill coach of the year in 2021 after he turned the Sierra Linda program around with an 8-2 record, the best in the school's history.
Desert Vista is hoping that he can get its football program back on track, too.
Heading into this week's game against Perry, Gill explained his coaching philosophy.
"We will push each other to a level of performance that no one thought we could reach," he said. "We will be recognized as first class students, citizens, football players, and men. We will enjoy the process as well as the product. As a family, we will treat each and everyone with the respect that they deserve. We will not be intimidated by anyone, team or individual, but we will respect their efforts and have confidence in our own."
One player to keep an eye on is Thunder starting quarterback Braxton Thomas.
Coach Gill and offensive line coach Jordan Melendo both said Thomas is a very big part of the offense, and that he is looked upon to lead the team going into Friday's game .
Thomas is a 6-foot-3, 210-pound dual-threat quarterback with a big-time arm. He is going to make a lot of highlight reels this season with his natural ability.
According to Melendo, the team is in an overall good mood this week.
"I've preached to my guys all week that we can't get too high when things are going good and we can't get too low when things are tough," he said. "The big thing is learning from mistakes and experiences."
Stacy White, the interim principal of Desert Vista, delivered a strong message to the Thunder ahead of their home opener this week.
"Desert Vista's motto is excellence through performance," he said. "When you try hard and work hard, and everybody is collectively doing that together, big things can happen. You have to trust in each other, you have to trust in what your coaches have been working with you on and you gotta go out there and just give it your all."