Camp Verde QB Buckley throws 5 first-half TDs in rout over Red Mesa 62-0
September 10, 2022 by Brian M. Bergner Jr., AZPreps365
---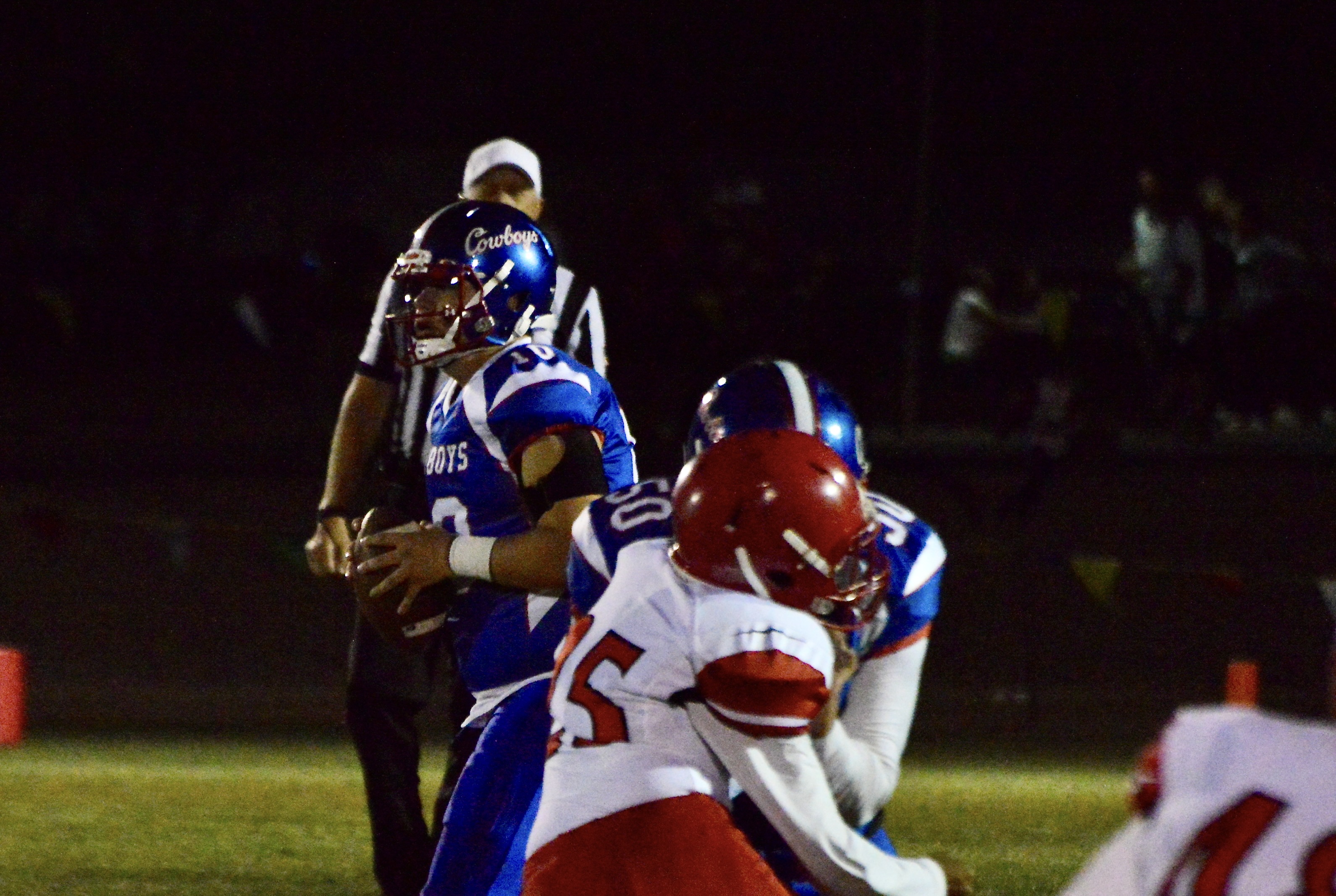 CAMP VERDE — Tyson Buckley threw for five touchdowns, Sam Williams scored three times and the Camp Verde football team stayed undefeated on the young season with a 62-0 rout over visiting Red Mesa on Friday night.
Buckley's five touchdown passes all came in the first half for the Cowboys (3-0, 0-0 2A Agua Fria), which are coming off an 8-3 campaign a season ago that saw them make the state playoffs, but lose 28-0 to St. Johns in round one.
Despite nursing a shoulder injury he suffered during a 48-34 victory over Scottsdale Prep. Academy in Week 3, the 6-foot-3, 240-pound junior quarterback helped Camp Verde take a 48-0 lead by halftime, allowing the team to rest him in the second half.
"He worked hard to get back this week. He took a few hits last week, like I said, Scottsdale Prep. is a real good team. That was a tough physical team," first-year Camp Verde head coach Aaron Gronwald said. "We got him out for the second half, but the kid is tough, he's a baller."
Buckley added that it was a "big win" for the Cowboys.
"We knew coming into this game that we had to play perfect. I think we came out here and played perfect," Buckley said.
Buckley now has 15 touchdown passes on the season and is likely over 1,000 yards passing after just three games. He came into Friday's contest having completed 43 of 62 passes for 739 yards with a QBR of 135.7.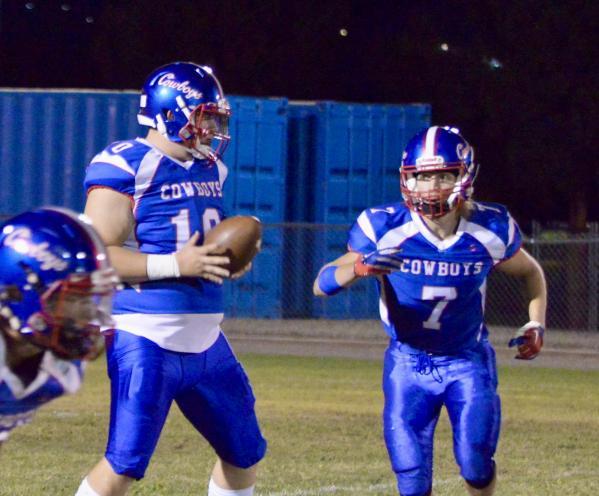 Camp Verde quarterback Tyson Buckley (10) slightly bobbles the snap against Red Mesa on Friday, Sept. 9, 2022, in Camp Verde. Buckley threw five touchdown passes in the first half to lead the Cowboys past the Redskins 62-0. (Brian M. Bergner Jr./AzPreps365)
With state playoff talk already circulating the team, Buckley said the players and coaches aren't worried about the year as a whole, but they are taking a game-by-game approach.
"We are preaching brick-by-brick right now," Buckley said.
Wide receiver teammate Christian Sanabria said Friday's victory was a "team effort."
"We came here ready to play," said Sanabria, who caught four of Buckley's five touchdown passes.
He now has 11 on the season.
Gronwald said he loves what he's seeing early on from his quarterback and receiver tandem.
"Their personalities are huge. The biggest thing for them that I like that they're still both juniors, so there's a little bit of immaturity when it comes to focus at practice, or at games, but that's one thing they're adding bricks to every week," Gronwald said. "That focus, that understanding. They're both leaders."
As for the "brick-by-brick" mantra, Gronwald said it's something they live by as a team.
"Our motto this year is brick-by-brick. And we're just talking about putting another one on. You want to be a championship program, everything you're doing is looking toward the playoffs. And we just added another brick tonight, and that's all a testament to the kids," Gronwald said.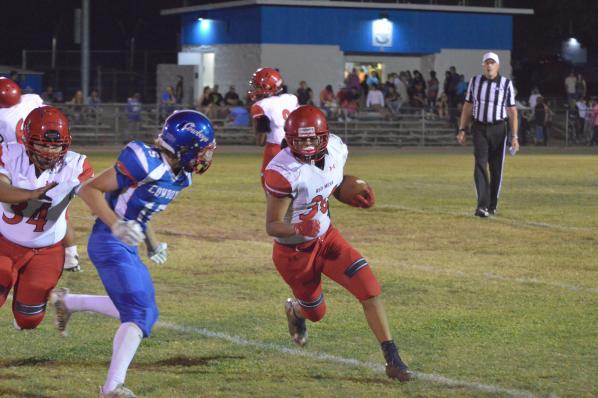 Red Mesa running back Lorin Curley (36) looks for some open space as Camp Verde linebacker Xander Turnbell (15) looks to make a tackle Friday, Sept. 9, 2022, in Camp Verde. The Cowboys won 62-0. (Brian M. Bergner Jr./AzPreps365)
Camp Verde opened the night's scoring with 6:22 left in the first quarter after Buckley found Williams on an 8-yard touchdown throw to take a 7-0 lead.
On Red Mesa's next possession, Cowboys' linebacker Chase Gillespie intercepted a Gage Wolf throw, setting up a Buckley-to-Sanabria 20-yard strike to make it 14-0.
Williams made it 21-0 on a 33-yard touchdown run before later scoring in the second quarter on a 37-yard touchdown scamper to put Camp Verde up 35-0 with 7:06 to play in the first half and they never looked back.
"We asked a lot of our guys, we set some high goals for tonight. A perfect game. Nobody to play perfect as an individual, but a perfect game. Under 125 yards [offense]. Interceptions, positive turnover differential, all of those things. Just trying to clean up our game," Gronwald said.
Camp Verde's defense had four interceptions Friday night, including Tyler Roth's nifty 30-yard touchdown return after he picked off Nijah Charles midway through the third quarter.
Defensively, it is the first shutout for the Cowboys since the 2018 season when they blanked Valley Lutheran 34-0 on Sept. 14 that year.
UP NEXT
The Cowboys are scheduled to travel to Trivium Prep. (2-2, 1-0 2A Hassayampa) on Friday, Sept. 16. The Crimson Knights beat NFL Yet College Prep. 70-16 on Thursday night.
Kickoff is set for 7 p.m.
Red Mesa (0-3, 0-0 2A San Juan) will look to right the ship on the road Sept. 16 against Holbrook, which beat Page 46-28 on Friday night to improve to 3-0 this season.
After Friday's loss to Camp Verde, the Redskins have been outscored 166-14 so far this season.
Kickoff against Holbrook is set for 7 p.m.
Brian M. Bergner Jr. has covered professional, collegiate and high school sports for more than 20 years. Follow him on Twitter @AzPreps365Brian. Have a story idea? Email Brian at bbergner@azpreps365.com.