Cougars claim annual Chino Cup title, beat rival Spartans 2-1
September 12, 2022 by Brian M. Bergner Jr., AZPreps365
---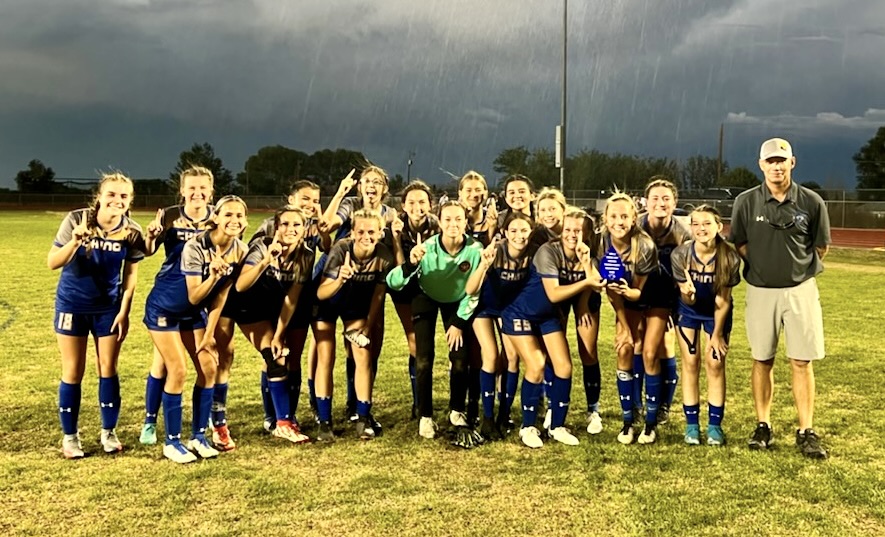 EDITOR'S NOTE: This article was changed to reflect the correct score in the championship match, which was 2-1 Chino Valley.
CHINO VALLEY — Kaitlyn Roskopf and Cheyanne Bannan each had a goal, goalkeeper Lily Kline had two saves and the Chino Valley girls soccer team earned a 2-1 victory over Northland Prep. in the annual Chino Cup title match Saturday night.
It is the 13th straight victory for the Cougars (13-0, 0-0 Fall Central), which are coming off a 2A state championship a season ago where they beat the Spartans 1-0 to claim the title.
Northland Prep. had claimed the previous four straight state championships, defeating the Cougars in three straight title matches from 2017 to 2019.
Roskopf's goal in the Chino Cup championship match Saturday was her 33rd of the season, giving her 74 total points this fall. The next closest Chino Valley scorer is Cheyanne Bannan with 11 goals in eight matches played.
"I'm not putting anybody past us. I think we're going to be hard to beat," first-year Chino Valley head coach D.J. Daniels told AzPreps365.com on Monday in reflection of his club's 13-0 start to the season.
Daniels was an assistant coach under longtime Cougars head coach Allen Foster, who resigned in the offseason.
Senior Hannah Petrucci scored the only goal for Northland Prep. in Saturday's title match.
UP NEXT
Chino Valley heads to cross-town rival Camp Verde (0-2, 0-1 Fall Central) on Thursday, Sept. 15. Official start time is set for 4 p.m.
Northland Prep. (4-1, 0-0 Fall Central) is scheduled to face St. Johns (3-3, 0-0 Fall East) on Tuesday, Sept. 13. Start time is set for 4 p.m.
Brian M. Bergner Jr. has covered professional, collegiate and high school sports for more than 20 years. Follow him on Twitter @AzPreps365Brian. Have a story idea? Email Brian at bbergner@azpreps365.com.
---
Chino Cup Tournament Scores
Friday, Sept. 9
Pool Play
Chino Valley 8, Holbrook 0
Northland Prep 8, Page 0
Round Valley 2, Holbrook 2 T
Snowflake 7, Page 2
Chino Valley 9, Round Valley 0
Northland Prep. 3, Snowflake 0
Saturday, Sept. 10
Semifinals
Chino Valley 6, Snowflake 0
Northland Prep. 5, Holbrook 2
5th Place Match
Page 1, Round Valley 0
3rd Place Match
Snowflake 5, Holbrook 2
Finals
Chino Valley 2, Northland Prep. 1