Xavier College Prep freshman tennis loses to Millennium
September 14, 2022 by Connor Zody, Arizona State University
---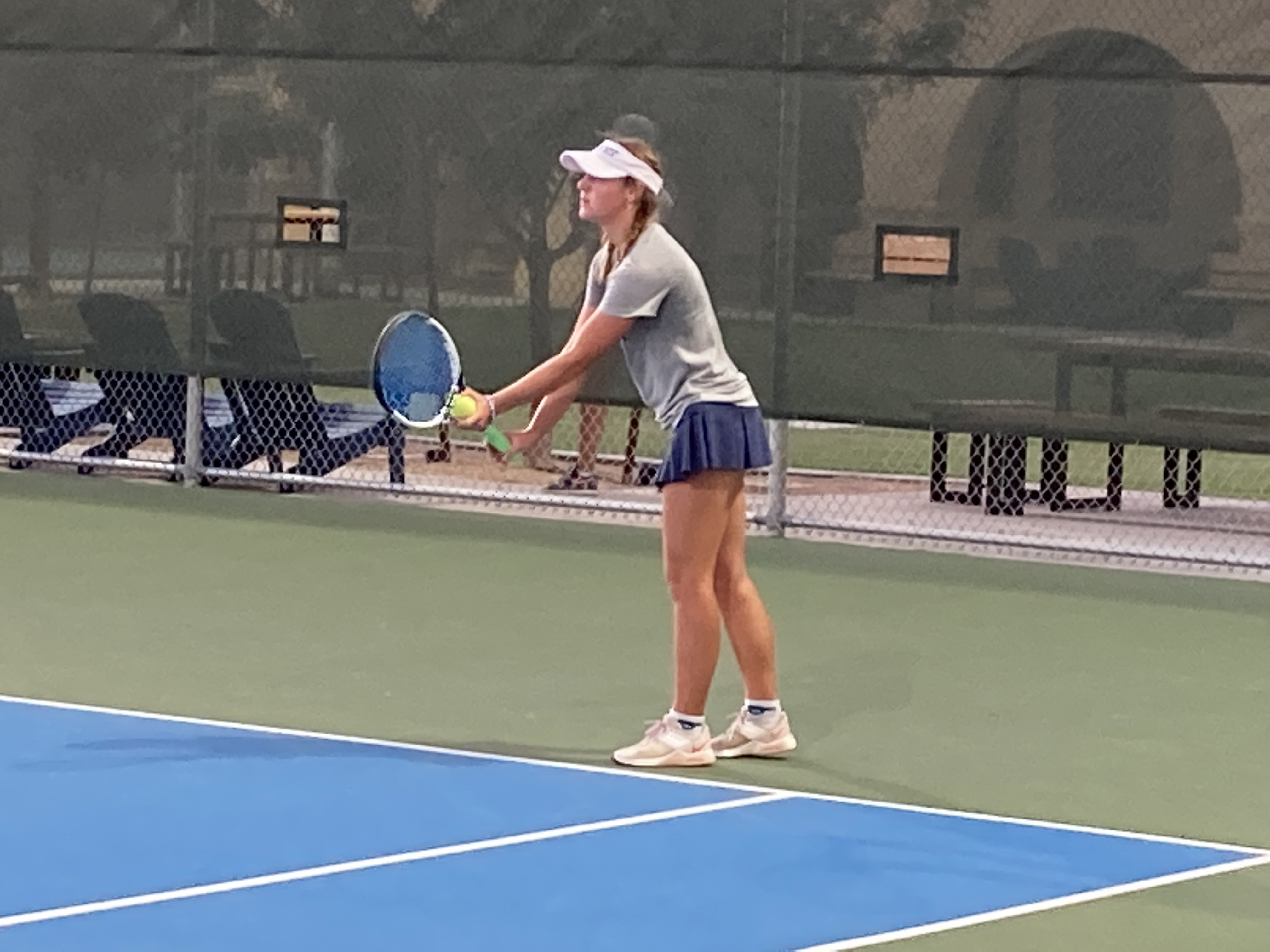 Connor Zody is an ASU Cronkite School of Journalism student assigned to cover Xavier College Preparatory for AZPreps365.com
The Xavier College Preparatory freshman tennis team lost its home opener to the Millennium Tigers on Wednesday night at Xavier Stark Tennis Center by a score of 6-3.
The match was scored on an eight-game, pro-set format.
The Gators (1-1) got off to a slow start. Despite immense determination and a valiant effort, they still came up short. Each individual match played out in a completely different way. The only similarity among most of them was the end result.
Key performers for the Gators included Victoria Head, Claire McCloskey, team captain Layla Vanderhoff and Ava Coover.
Head had no trouble in her match, pulling off the only shutout of the event with an 8-0 score. Her satisfaction with such a feat was clearly evident from the moment she stepped off the court. Confidence is a vital part of her game, and this victory added to it.
"A goal for me is that I would really like to make varsity," Head said. "I hope to get more wins in the season and hopefully get my strength to get to varsity."
McCloskey provided thrilling come-from-behind action. She struggled early but didn't let it get the better of her. Down 6-3, a comeback seemed unlikely. But she overcame that deficit and more, winning five straight games to take the match, 8-6. How did she do it? Her composure was clearly visible.
"When I was going up to serve, I just kept taking deep breaths and thinking, 'Come on Claire; you got this,' and just trying to play the best match I could," McCloskey said. "It was really pushing through .... I really wanted the win, so I just focused and put my mind to it."
Despite an 8-3 loss, Vanderhoff was all smiles. She maintained a strong mindset, not worried about how to overcome falling behind.
"I just think of improving myself, not exactly having to win, but just getting better as an individual player, keeping on your feet and working on my own game," Vanderhoof said. "As captain, I want to set a good example for my teammates, and I want to not exactly push them and be like, 'Do better, do better,' because I clearly could have done better. I want to have fun with my friends on and off the court. One thing I could have done differently is learning how my opponent plays and applying it to how I play by making her weaknesses my strengths. But always be humble."
While she lost 8-5, Coover stood out with her endless energy and fast-paced tempo. From start to finish, her bold play and powerful hitting forced her opponent to work extremely hard. Her constant focus and the excitement of competing kept her in the match.
Co-head coach Karen Fleissner acknowledged the tough evening, but she was nonetheless optimistic about what her team is capable of accomplishing.
"I think it's important that we keep the girls comfortable and confident," Fleissner said. "Most of them are new to playing in matches. We will continue to work on overcoming adversity."
The Gators host the Perry Pumas at at 3:30 p.m. on Tuesday.