Pinnacle senior Aidan Matheson overcomes eye surgeries to shine
September 15, 2022 by Ryan Sykora, Arizona State University
---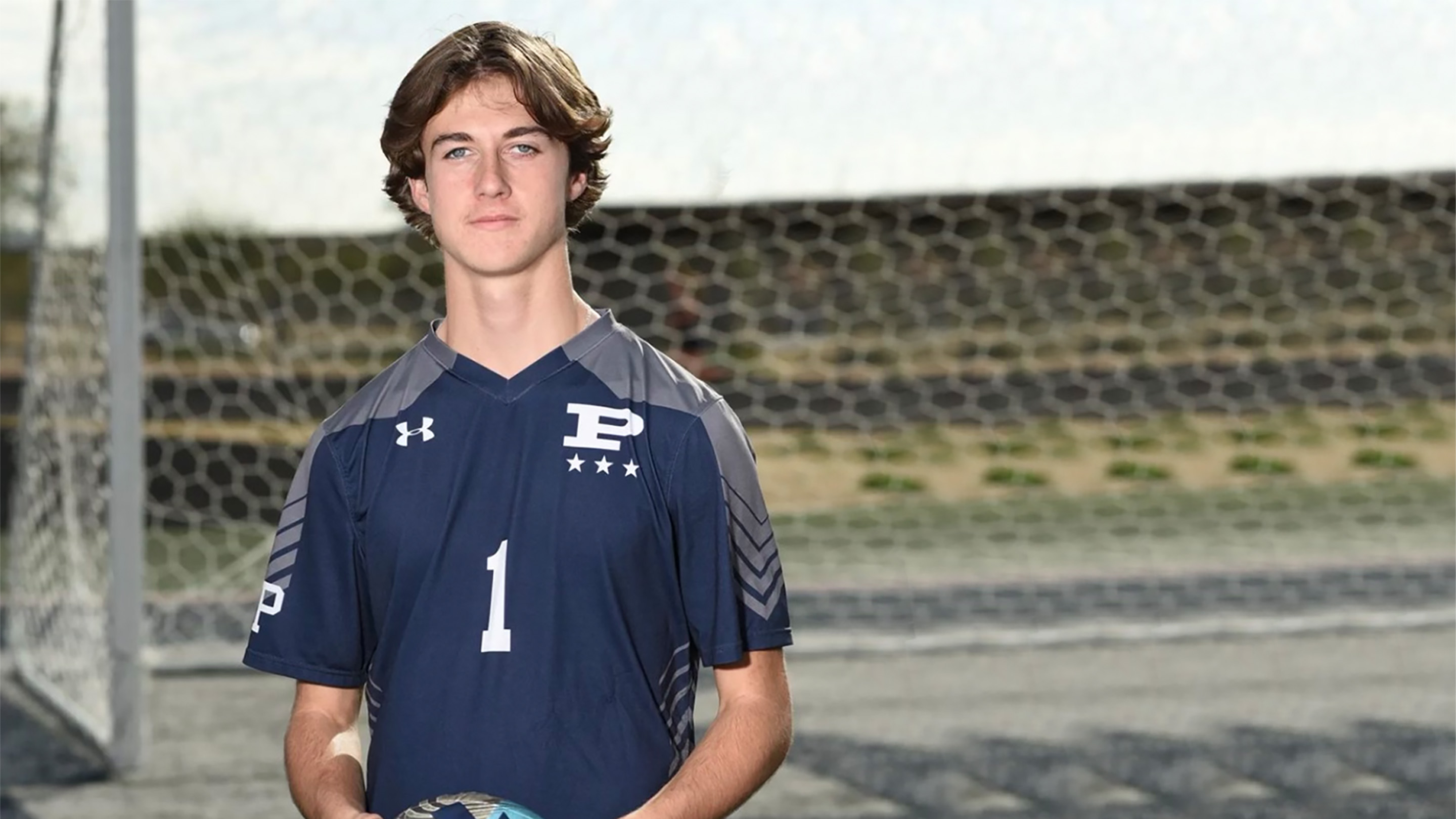 Ryan Sykora is an ASU Cronkite School of Journalism student assigned to cover Pinnacle High School for AZPreps365.com
Head down. Feet forward.
That's the mentality for Aidan Matheson. It's been that way most of his life.
"I've always been putting in the time," said Matheson, a senior at Pinnacle High School. "Just going to training, and training on my own, especially the last few summers. It's all been about putting in the work, I know I'm never guaranteed tomorrow."
That training made 'tomorrow' for Matheson a reality. He's expected to be one of the top players in Arizona at the high school level when winter sports comes around.
Many, including former Pinnacle winger Ethan Lally, will say Matheson is an athletic and quick player with the ball at his feet who possess a unique ability to score at any moment.
"A lot of teams I played on, we don't have that guy that could make something happen and get a goal," said Lally, who currently plays for Division III Washington College. "When you watch him play you don't think he's going to be the guy that makes something happen but then he goes and puts two in."
The forward had 51 points and 22 goals during his junior season, both numbers were top five in the 6A Conference last year.
He's the only player among that top five who is returning to play high school soccer this season, making him one of the favorites to win the conference and region player of the year awards in 6A.
It's not his primary goal.
"I'm not too worried about my individual performance," Matheson said. "It'd be great to win Gatorade [Player of the Year for Arizona] and win Region Player [of the Year] and stuff like that, but the main thing is to win state."
Matheson is constantly posting on social media showing everyone the effort he's putting in on the field. He understands success won't ever come without a grind.
"No one believes I can do this," Matheson said. "I've been through so much and I've put in so much hard work. I post my goals and my workouts because I've put in the work to do this. I wasn't given a gift of talent. I got a gift to be athletic, but I never had a gift of soccer [ability]."
Though the teenager has always had this mentality surrounding hard work, it was amplified when he was forced to stop playing the game after suffering a pair of injuries to his left eye.
"A freak accident happened on the football field, I got a football to the eye and it detached my retina, which pretty much means I went blind," he said.
Surgery followed and then recovery for six months.
Matheson didn't make it very long in post recovery before problems resurfaced.
"After I recovered, I ended up getting sucker punched and it detached my retina again," he said. "I ended up getting glaucoma, which is very rare for a young kid to have, I was around 14. It was about eight months that I had to take off soccer."
Glaucoma is described as a type of eye condition that occurs when there is damage to the optic nerve, which is vital for good vision.
Matheson didn't think he would play competitively again.
"I thought I was just going to quit and have to go the boring route, getting a desk job or something," he said. "I definitely have to thank my parents for keeping me in the game and especially my friends."
After two surgeries, he started to train longer and harder than ever before.
"I've learned a lot," Matheson said. "Adversity is the number one thing to grow as a person and I grew. Look where I am today, everyone thought I should just give up because it was a very long thing. Everyone thought it would never end and it ended. Now I'm just ready to put in the work that I've lost over the years."
That hard work has given Matheson something he has to stop and look at.
He has arrived at a moment in time. The end of one era, and the beginning of another.
Next summer Matheson will accomplish a dream that almost all athletes share. He'll play college soccer at Division II California State Chico, joining former Pinnacle teammate, Jacob Burnison.
"It'll be cool to play with him," Burnison said. "Especially since we've known each other for so long."
Matheson is excited about his future at the collegiate level, ready to play with Burnison and a team that he feels is tight knit.
"With a program like that, you just can't get any better," Matheson said. "Obviously, playing with Jacob [Burnison] is amazing and the guys are really just close there. I just can't wait to get started."
That said, right now, it's about Pinnacle, and taking the work that he has put into overcoming his past and setting up his future, and placing it in the present.
He wants to win as much as he can in his final year.
"I'm going to be putting in maximum effort every game," Matheson said. "This year means more to me than any season I've ever played. I know I have a lot riding on me and I know the stakes that we have. We have the team to [win the state championship]."
Matheson has overcome and has gotten to a point where comfort might've entered his mind.
It hasn't.
He won't stop working until all the jobs are done.
He got through the job of getting to college and overcoming his injuries.
What's next on the agenda?
Win.