Salpointe over Tucson 3-0
September 19, 2022 by Andy Morales, AZPreps365
---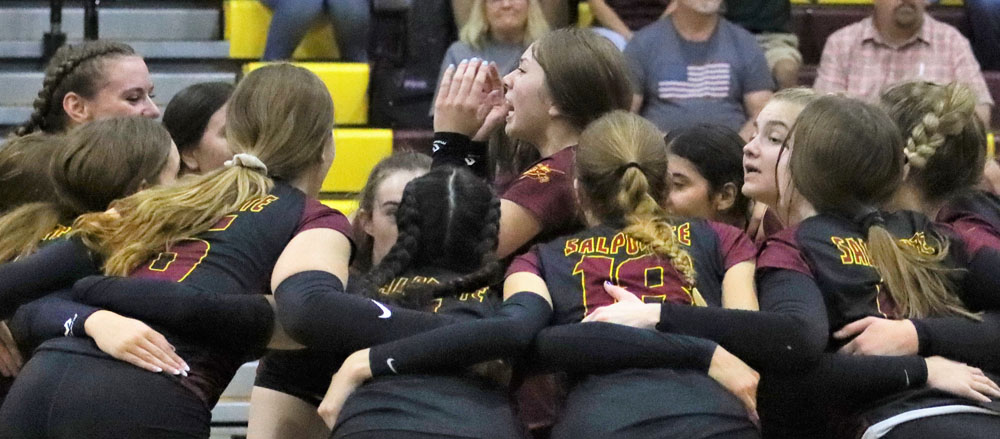 Salpointe improved to 12-2 overall and 7-0 in power-ranking matches after defeating Tucson High 25-17, 25-11 and 25-20 Monday night at home. The Badgers moved to 7-5 overall and 3-3 in ranking matches with the loss.
The Lancers are coming off a semifinal finish after winning the 4A state championship in 2020. It was the sixth semifinal finish for Salpointe since 2015 and that included state championships in 2016 and 2017 to go along with the 2020 title. Six seniors graduated from last year, including Emma Hugeback and Jalynn Ransom, but Frankie Pieroni returns for her senior year at the net and Megan Muehlebach returns to anchor back row play. The Lancers also return a crew of standout setters in junior Sophia Hernandez and senior Sophia Marquez.
Hernandez leads the team with over 200 assists this year but Marquez collected an unofficial 30 assists in the victory over the Badgers. Head coach Heather Moore-Martin is known for moving her pieces around to find a winning combination and that included shifting Pieroni to the middle from the outside Monday night which opened up opportunities for sophomore Lexi Hutchens (15 kills) and freshman Kate Mobley (10 kills). Sophomore Belle Russell and junior Leila Lowther are also in the mix upfront along with senior Jordan Faircloth who moves from the front to the back row when needed.
Pieroni is a strong attacker, blocker and defensive player who also collects aces. Her versatility at the net at this stage of the season will help Moore-Martin down the stretch.
For Tucson, things were difficult last year with an 0-17 record in ranking matches, but first-year head coach Sean Peterson turned that around quickly as noted by the seven victories so far. He also mixed things up a bit by moving senior standout Aquarina Thomas to the outside to help with scoring production and the emergence of sophomore Kiera Hamilton has also factored in the positive change in culture.
Thomas has a goal of winning the 6A South Region this fall and the Badgers have the skill level to compete with junior Ruthie Wnek, seniors Virginia Molina, Lily Wnek and Chloe Grenier rounding out the lineup along with sophomore Sofia Trejo.
Tucson and Salpointe are slated to take part in the Nike Tournament of Champions at the end of the month and Salpointe will host the Lancer Classic a week later.