Epic catch leads to victory for GCHS Knights' football
September 20, 2022 by Laura Fellows, Gilbert Christian High School
---

Laura Fellows is the media advisor for Gilbert Christian's Student SID program that contributes content on behalf of the school to AZPreps365.com. Coach Danny Norris contributed to this article.
On Friday night the Gilbert Christian Knights traveled to ALA-Ironwood to face their final non-region opponent of the season, the Warriors' team. After starting off hot with a 17-0 lead, the Warriors of ALA Ironwood stormed back to take the lead late in the 4th quarter. Sophomores Sam Webb and JP Roche led the Knights back to a victory connecting on a reception touchdown with 45 seconds left to take the lead for the final score of 34-27.
Notable performances include:
Sophomore Sam Webb: 23 carries for 189 yards and 2 TD's. He also caught 3 passes for 82 yards and added another TD
Sophomore QB JP Roche came in for an injured Zach Hohmann and threw for 121 yards and 1 TD
Freshman WR Bennett Juve secured a big time 4th down catch late in the game to keep the drive alive
Tyler Burr returned to the football field and scored his first TD of his career
Caprice Chiuchiolo nailed her first career field goals from distances of 27 yards and 32 yards
Gavin Biesterfeld led the defense with 10 tackles and 2 sacks
Zach Hohmann had an interception on defense as well as a fumble recovery
The Knights will begin Region play on Friday, September 23rd, all the way in Wellton, AZ to face off against the Antelope Union Rams. Go Knights!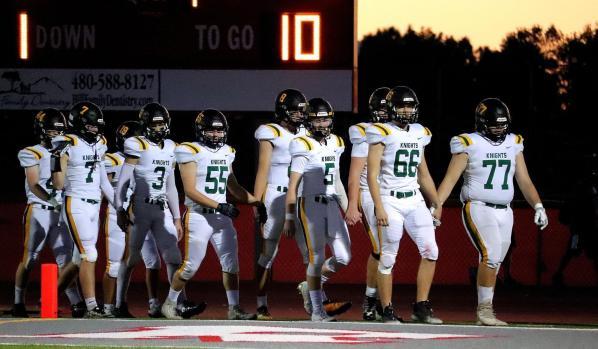 Above, the Knights walk out onto the field. Let's play some football! (Photo Credit: Lisa McWilliams)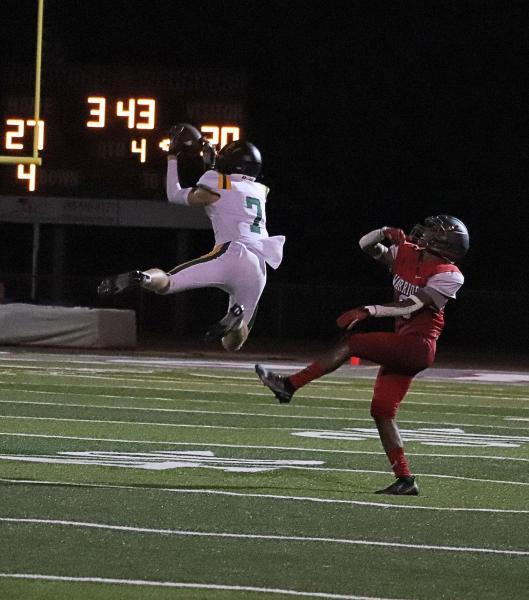 Above, Bennett Juve, FR, with a huge 4th time catch to place the Knights in a good position to make a run for a final touchdown. (Photo Credit: Lisa McWilliams)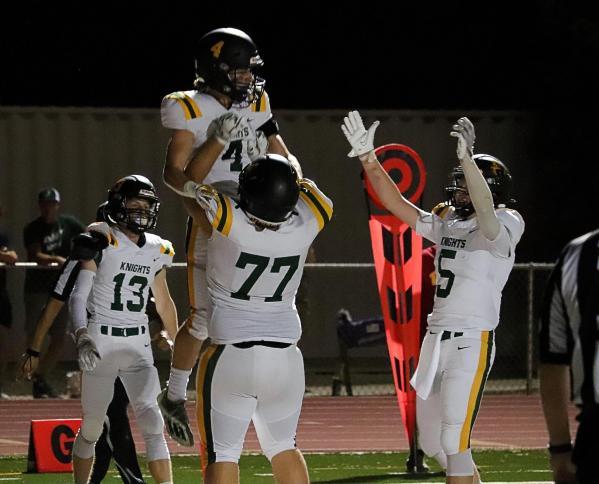 Above, the team celebrates Sam Webb's, SO, game winning catch to clinch the game for the Knights! (Photo Credit: Lisa McWilliams)