Tempe Prep falls to Phoenix Country Day and Scottsdale Christian
September 21, 2022 by Erin Patterson, Arizona State University
---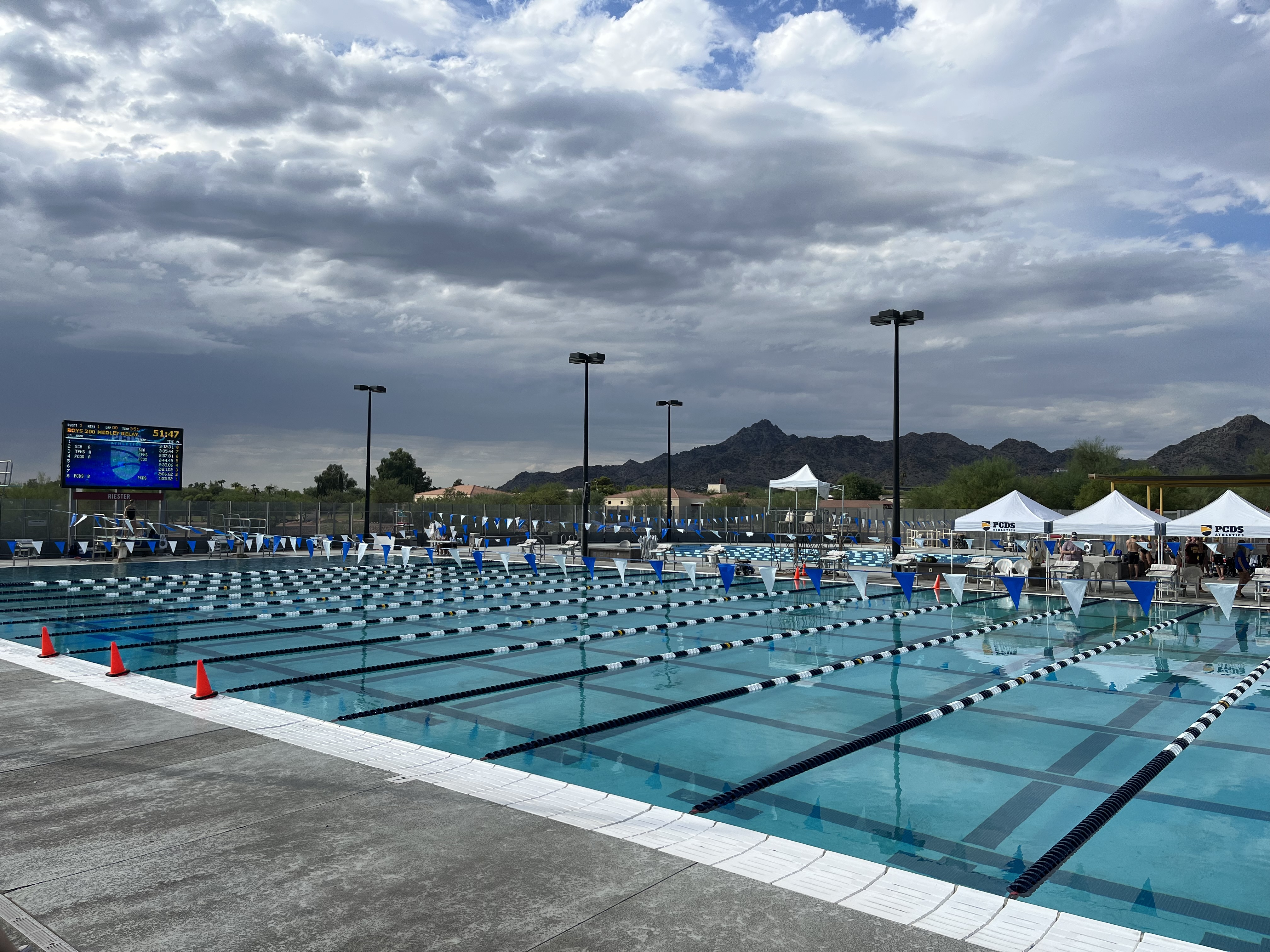 Erin Patterson is an ASU Cronkite School of Journalism student assigned to cover Tempe Preparatory Academy for AZPreps365.com
The Tempe Prep swim team may not have come out on top Tuesday, but their teamwork and dedication shone through.
TPA faced off against Phoenix Country Day School and Scottsdale Christian Academy at Phoenix Country Day. PCDS won the meet with 141 points, SCA placed second with 23 points and TPA was a close third with 20 points.
Sophomore Jaimie Jastrzebski suffered a shoulder injury right before the girls 200 freestyle relay. The 200 relay B team was pulled due to the injury, but Jastrzebski was still supposed to swim for the girls 400 freestyle relay. Instead of also scratching the 400 relay, junior Niamh Waddell stepped up for her team.
"It was so awesome," TPA coach Maria Zello said. "The girls really came together. I'm pretty impressed that they chose to continue with the relay, persevere through that injury and find somebody to sub for her."
Waddell swam in the girls 200 medley relay, the 200 IM, the 100 breaststroke and the 400 freestyle relay. In the 400 relay, Waddell swam alongside senior Naomi Palmer, sophomore Maeve Waddell and sophomore Lillian Henderson. The relay ended up placing fourth with a time of 5:30.17.
"I feel like since I'm an upperclassman I have to jump in more and not just wait for Maria to tell me to get up there," Waddell said. "To volunteer and notice that someone is hurt is something that is really important."
Zello wasn't the only one impressed. Senior captain Sophie Youngs also expressed her thoughts on Waddell's actions.
"Sometimes people are nervous and don't want to be in the relay so it's definitely really great to see somebody step in, especially for an injury," Youngs said, "I'm just really proud of my teammate."
Youngs swam in the girls 200 medley relay, the 50 freestyle, the 100 freestyle and the 200 freestyle relay.
"I had the 50 fly leg in the 200 medley," Youngs said, "I've never swam butterfly but it felt pretty good. In my 50 freestyle and 100 freestyle, they haven't been my best times but I'm only two seconds off my PR from last year so that's pretty good for it being only the beginning of the season."
On top of the teamwork displayed Tuesday, the Knights also had multiple swimmers set new personal records. Freshman Jackson Gulseth dropped four seconds off his PR in boys 200 freestyle finishing with a time of 2:29.40. In the same event, freshman Ethan Rynish dropped two seconds off his PR finishing with a time of 2:53.70.
The other two personal records set were in the girls 200 freestyle relay A team and senior Jonas Santini in the boys 50 freestyle. Santini swam a 29.39, and not only was the time a personal best but was also the first time he went sub-30 this season.
"That was really a big achievement for him this year and was probably our most exciting race of the meet," Zello said.
The girls 200 freestyle relay was swam by sophomore Stella Andersson, sophomore Autumn Evdokimo, senior Naomi Palmer and senior Sofie Youngs. The team finished second overall in the race with a new PR of 2:06.98.
PCDS will host Chandler Preparatory Academy, Gilbert Christian High School and Wickenburg High School at 4 p.m. Tuesday.
SCA will swim against Chandler High School, Notre Dame Preparatory and AZ College Preparatory at Chandler High School at 4 p.m. Oct. 6.
TPA will host Seton Catholic Preparatory and Valley Christian High School at 4 p.m. Oct. 6.