The McClintock Chargers look to 'leave no doubt'
September 21, 2022 by Sam Eddy, Arizona State University
---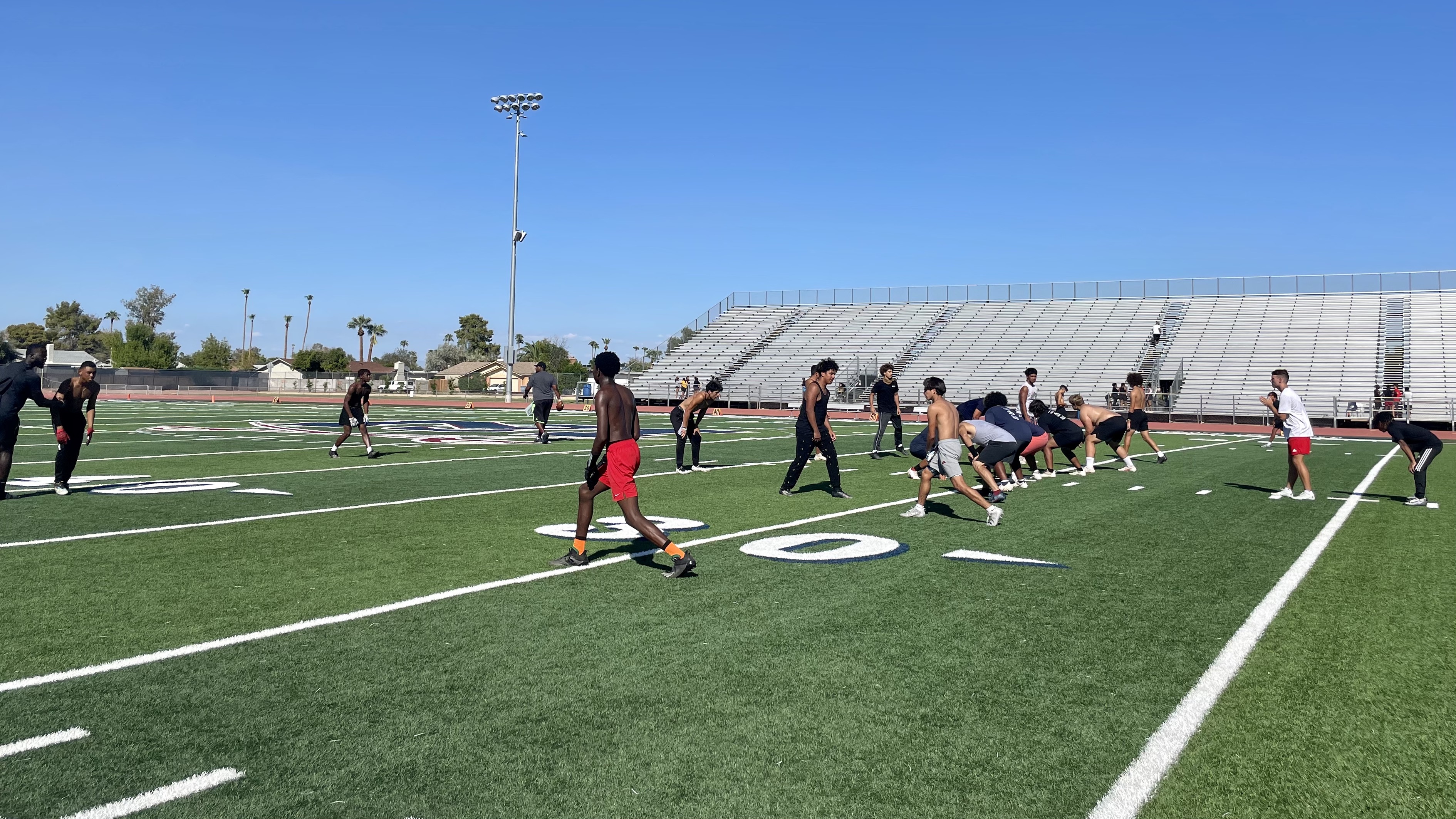 Sam Eddy is an Arizona State University journalism student covering McClintock High this semester.
The McClintock Chargers varsity football team has a new head coach this season and some familiar faces look to bring back winning football to the program. Since 2019, the Chargers have not had a season with a record over .500. That can all change this year for the Chargers if they leave no doubt.
Earlier this year, McClintock hired Mike Fell to become the head coach of the Chargers. According to https://www.mcclintockfootball.com/, Fell is a veteran who has coached for more than 30 years in Ohio and Arizona. Fell comes to McClintock as a member of the Ohio High School Football Hall of Fame and entered this season with a career record of 221-116.
The Chargers have a new coach, but the team will have some players from last season to bring experience. One is senior quarterback Peter Clark, who has been at McClintock during the school's football struggles. Clark said this season has a different feel. The coaches instilled the motto "leave no doubt" to remind players to go out every day and give their all.
"Do everything right, like the little things to make sure we leave no doubt that we are the best team on the field," Clark said.
The new attitude and positivity surrounding McClintock will hopefully turn into more wins for a program that wants to reestablish a winning culture. McClintock students already have noticed that the program has a different and exciting vibe.
"It is a lot different than last year; you can tell the guys are carrying themselves differently in a great way," senior Cloe Bolen said. "Friday mornings, we have our walk around, and a lot of kids show up to that, which puts a good amount of spirit in our school, something we have not had the last few years."
Unfortunately for the Chargers, it is not all positive, as the team has a few key players dealing with injuries. Senior captain Kurtis Hawkins has had a bad leg that has kept him out and his brother Kahmar Hawkins, the starting running back, injured his knee during one of the first games of the season. The team will miss their presence and hopes to have them back soon.
Overcoming adversity will be a test. In Fell's tenure at McClintock so far, he has brought a more positive approach to the program and makes sure his guys work together as a team, no matter the circumstances.
"We want to be a good group of high school football players that work hard and represent their school," Fell said.
The Chargers opened with a 20-13 road win over the Mesquite Wildcats for Fell's first win at McClintock. In week two, McClintock's home opener versus West Point got postponed because of unplayable weather conditions. The game ultimately was played, and the Chargers fell short 17-7. In week three, the Chargers lost 31-14 at Gilbert.
McClintock (1-2) visits Notre Dame Prep (2-1) at 7 p.m. Friday.