How a coaching carousel has affected Desert Vista football
September 22, 2022 by Austin Hepola, Arizona State University
---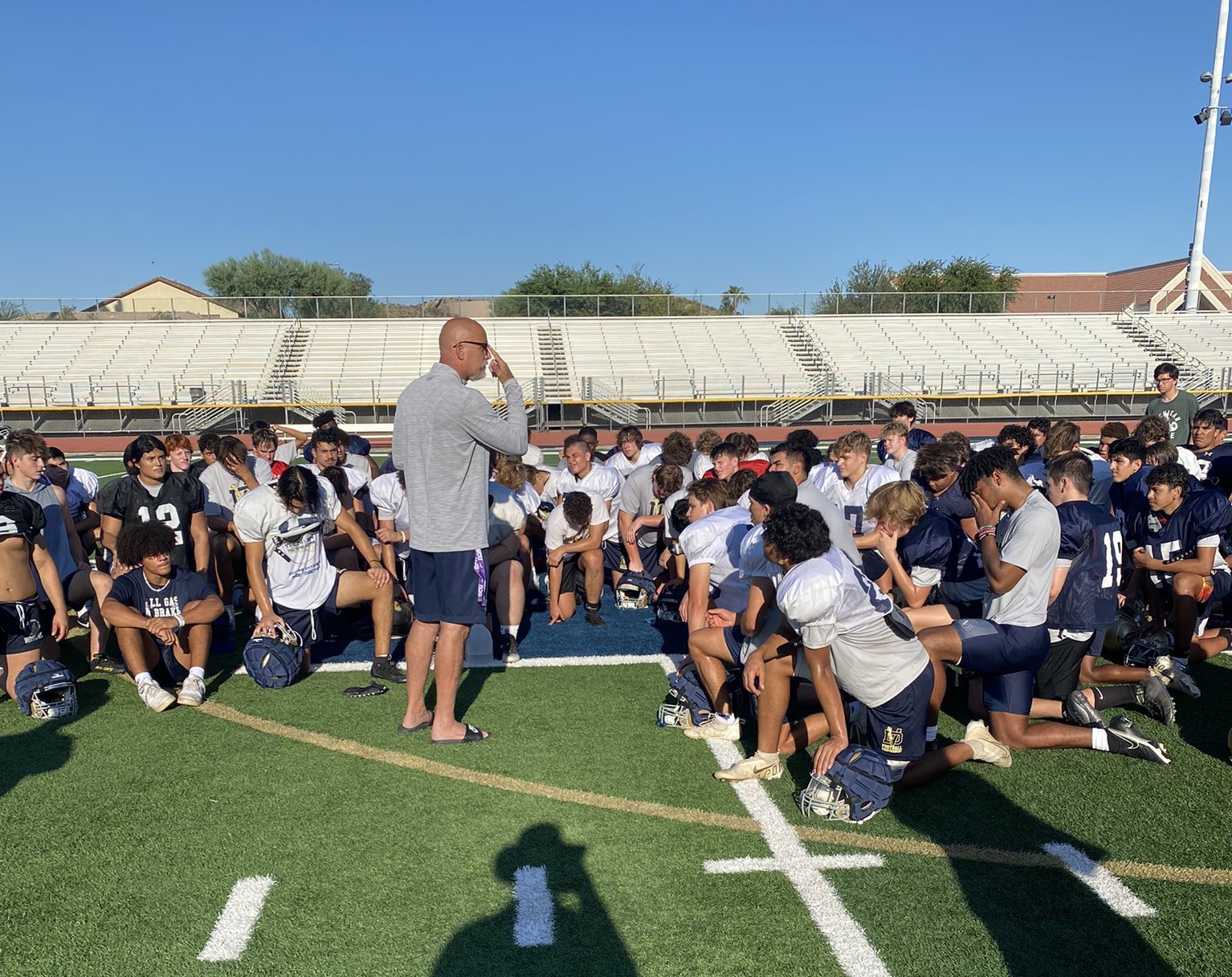 Austin Hepola is an ASU Cronkite School of Journalism student assigned to cover Desert Vista for AZPreps365.com
The Desert Vista football program has seen three coaching changes over the last three years.
While the school was figuring out who the right person was to lead the program, the players were left with a tough task of adapting to change.
It all began when Dan Hinds retired after the 2020 season. He was the head coach of the football program for 19 years, leading the Thunder to a record of 128-84 in that span.
After a difficult season in 2020, the year of the pandemic and a shortened schedule, Hinds decided it was time to step away from coaching.
The Thunder had the duty of searching for a replacement going into the 2021 season. They hired Ty Wisdom in December 2020 to be the next head football coach.
Wisdom coached for Horizon High School for five years and was praised for turning their program around. Desert Vista hoped he would do the same for them after they went 0-6 in the 2020 season.
He led the Thunder to a 5-5 record in the 2021 season. but didn't stick around.
In surprising fashion, Wisdom left the program in January 2022, feeling as if his vision for what he wanted Desert Vista to become was not being supported by those in leadership roles at the school.
Once again, the Thunder were left without a head coach for the football program.
They quickly hired Nate Gill a few weeks after Wisdoim's departure.
Gill previously coached at Sierra Linda High School for four years. He turned that football program around and is looking to do the same with Desert Vista.
Even though the Thunder have started this season 0-3, the pieces are starting to fall in place for the Thunder under Gill.
"Change will certainly be difficult because it brings about some uncertainty in terms of coaching style and what to expect amongst other things." he said. "We came in and wanted to build relationships right away, and I believe the team has started to mesh and gel."
It can be challenging to readjust to change in any situation. Some of the juniors and seniors on the Desert Vista football team had to experience several coaching changes throughout their playing career.
"I think it affects the players slightly negatively," Thunder cornerback Max Grady said. "Teams with the same head coach for all of their years are already familiar with the system going into the season. But I am grateful to have this staff and like all of my coaches."
While it is difficult to constantly go through entirely new circumstances, there can be some positives that come out of it as well.
"I feel like it's honestly been beneficial for us," Thunder linebacker Antonio Delgado said. "In the long run, we're gonna have boss changes or different college coaches depending on what we do in our futures, so these changes at a younger age will prepare us for that. We just come in and we work, no matter which head coach."
The Desert Vista Thunder football team has players that are driven and committed to the process.
More importantly, they have learned to adapt through any situation which is a skill that can take them a long way not only on the field, but off it as well.