'It's personal this year': Pinnacle looks to regain rivalry crown over Horizon
September 22, 2022 by Ryan Sykora, Arizona State University
---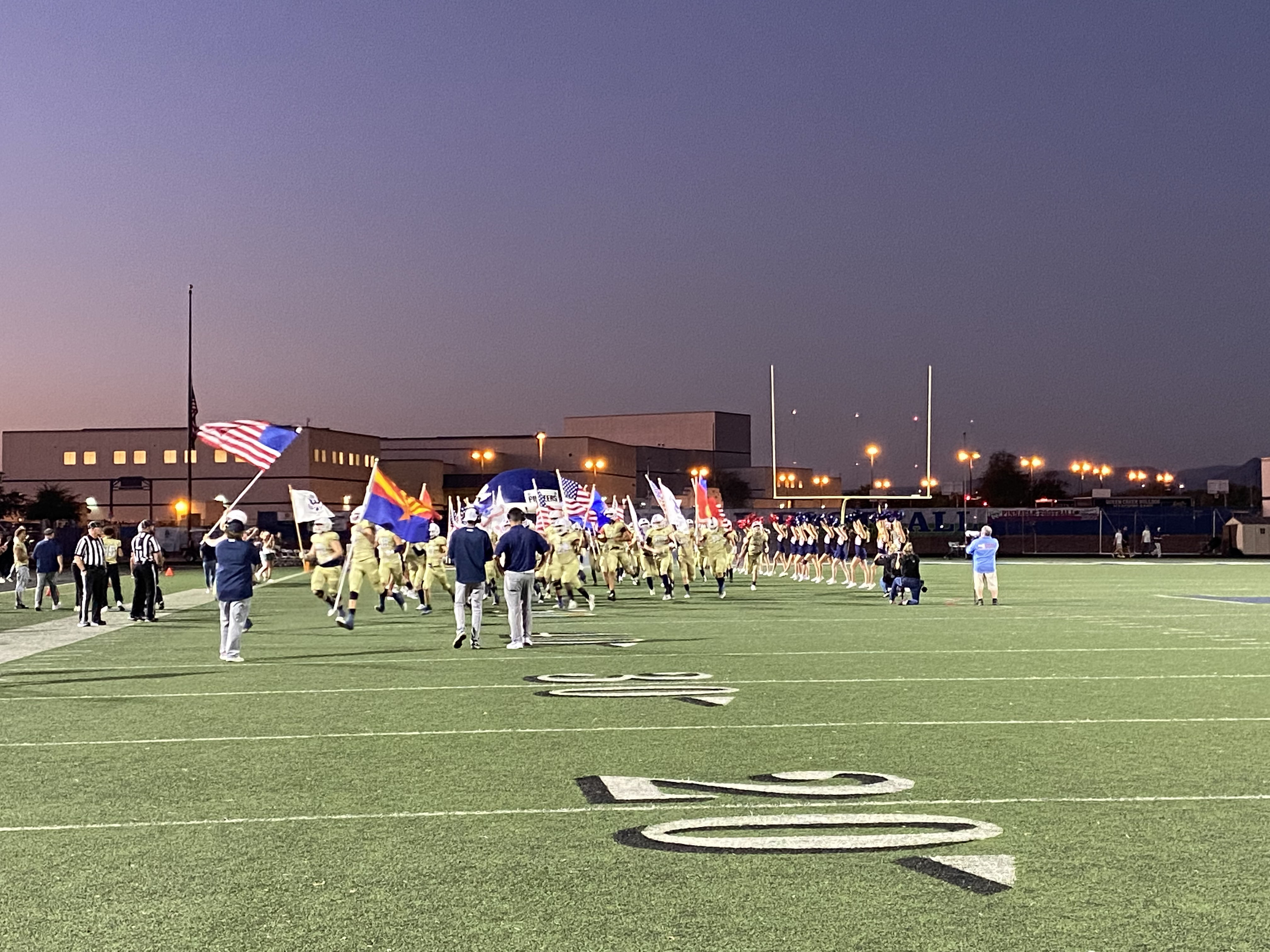 Ryan Sykora is an ASU Cronkite School of Journalism student assigned to cover Pinnacle High School for AZPreps365.com
Skyler Partridge took the snap in a shotgun formation with less than four minutes to go in the fourth quarter.
His Horizon team trailed Pinnacle, 16-10.
The senior quarterback stepped up in the pocket and let one fly from his own 30-yard line.
The football glided in the air down the left boundary, falling into the hands of receiver Cole Linyard at the opponent's 30-yard line, who took it to the house for a touchdown.
The PAT put Horizon up for the first time since late in the first half, but Pinnacle still had 3:01 left in the game to come back from a 17-16 deficit.
"After they scored and we had three minutes left," Pinnacle junior defensive lineman Jack Franklin said. "I believed we had plenty of time to go down and score to make it a game with our offensive weapons. I think the whole team believed in the offense to score."
They wouldn't.
"It was tough after the game to lose in the opening week," Franklin said. "We weren't really thinking about who we lost to at the time, although it was tough losing to Horizon."
Pinnacle entered that night 14-0 all-time against Horizon.
Those Pioneers left the field the first Pinnacle team to ever lose to Horizon.
"After the loss," Franklin said. "I remember [head] coach [Dana] Zupke telling us that if this loss meant we would become a better team, learning from our mistakes in the game, he would take that."
Fast forward a season, Pinnacle has rebounded, they made an AIA 6A State Quarterfinal appearance to close out 2021 despite going 3-7.
The Pioneers have started this season, 2-1.
An early marquee win over a tough Queen Creek team has many thinking Pinnacle could be a sneaky threat in 6A this year.
"This year's team has way more energy than last year's team," Franklin said. "Both sides of the line have improved too and our offense has almost stayed completely the same, only losing a few starters."
On the sidelines, there seems to be a more substantial presence of leadership within the team starting with senior captains Duce Robinson, a five-star tight end, Notre Dame offensive tackle commit Elijah Paige, talented receiver Myles Libman, and defensive tackle Brady Ponce.
"As a captain," Ponce said. "I believe that I have to keep our heads up and come into the game with a purpose. I think we all view this game as a must-win because it's not about how you start, it's about how you finish, it was pretty devastating losing to Horizon last year. I still had faith that we would come back and win."
That Horizon loss hurt, but it's fueled the Pioneers to move forward towards this year's rematch. And for the senior class, it's a game that means more than most Horizon-Pinnacle games will.
"This game is everything for us," Ponce said. "I feel that we all have the same vision for where this team can go. We run a different type of defense [this year]."
That defense has worked so far, holding opponents to a combined 19 points in Pinnacle's two wins this year.
On offense, a new quarterback leads the big blue in 2022.
Sophomore Wyatt Horton has the reigns to an offense that is stacked with talent .
Horton has 10 total touchdowns in three games this year. He was the only freshman to suit up for last year's loss to the Huskies.
Horton put it better than anyone when asked about what this year's Horizon game means to him.
"It's personal this year, it means everything," said Horton after last week's win over Queen Creek.
The Pioneers wont go as far as to say this is a revenge game, but anyone can tell this one is circled.
It probably has been for a while.