Xavier College Prep freshman tennis in good shape early this season
September 22, 2022 by Connor Zody, Arizona State University
---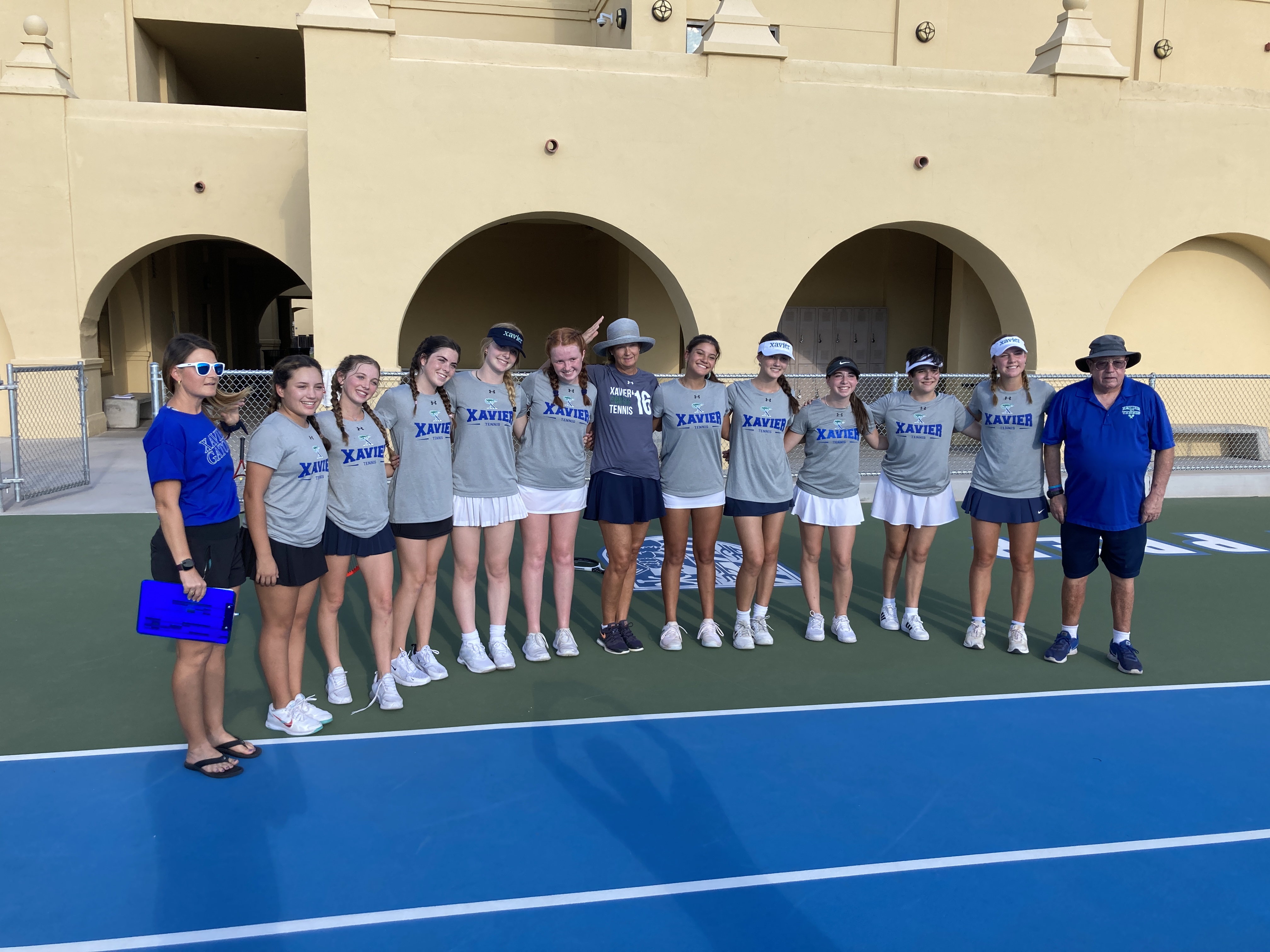 Connor Zody is an ASU Cronkite School of Journalism student assigned to cover Xavier College Prep for AZPreps365.com
The Xavier College Preparatory freshman tennis team is off to a good start, and the team's atmosphere plays a big role in its success.
The Gators are 2-1. They opened with a 9-0 victory over the Corona del Sol Aztecs on Sept. 13, then suffered a 6-3 loss in their home opener to the Millennium Tigers the next day. They then won 6-3 over the Perry Pumas.
Wednesday's match at the Hamilton Huskies was canceled because of rain, reducing the season from 11 matches to 10. Xavier plays both singles and doubles sets in each match, utilizing an eight-game all pro set format with no-ad scoring.
Top performers for the Gators include team captain Layla Vanderhoff, Claire McCloskey and Victoria Head. Head emerged as the unsung hero when Millennium came to town, in which she knocked off her singles opponent with an 8-0 shutout. Her confidence is impalpable, and it was very evident that night. She shares the same goal with several teammates: making the varsity team for its upcoming season in the spring. Such a performance speaks volumes about her determination.
Vanderhoff brings positive energy to the squad. She understands the importance of staying calm and keeping her head up each step of the way, regardless of the results.
"The significance to me is just being a leader, representing not only my team but Xavier in general, and not getting too cocky. We are faith based so we keep humble," Vanderhoff said.
When it comes to positive energy, "I never like a leader who's kind of like they're the boss and they're not very fun," she said. "I like people that are fun, and I like to be around people who are fun and aren't just grumpy, and I just want to have that for my teammates, just to be a fun personality and an example for them. … Everybody makes mistakes and having a leader who's just fun and energetic and understands."
Last year's team went 8-2. However, because this team is at the freshman level, there are no returning players, which is something that assistant coach Amy Gallo loves about coaching it.
"I love freshman tennis because they are so fun,'' Gallo said. "I like meeting new girls all the time. It's very fun to see where they are at the beginning and then where they end up at the end. And it also helps me because I also coach JV, and I can see kind of what players go on to JV and varsity, and I know their names and their games already."
Like Vanderhoff, Gallo said it is important to not put too much pressure on anyone but to play the game they all love. They also cherish the fact that this is a walk-on team; they believe everyone who wants to play tennis should be given a chance. There are 83 players on this year's team.
Gallo, in her eighth year of coaching at Xavier, felt it was time to let someone else prepare to take the wheel. That person is new co-head coach Karen Fleissner. Fleissner has seven years of coaching experience in tennis, and she is eager for the next chapter of her career.
The Gators' next match is at the Casteel Colts at 3:30 p.m. on Tuesday.
Sources:
Layla Vanderhoff: player
Karen Fleissner: co-head coach; email: kfleissner@xcp.org
Amy Gallo: assistant coach; email: agallo@xcp.org