Central shows growth in 3-0 loss to Sierra Linda
September 23, 2022 by Chrystal Stone, Arizona State University
---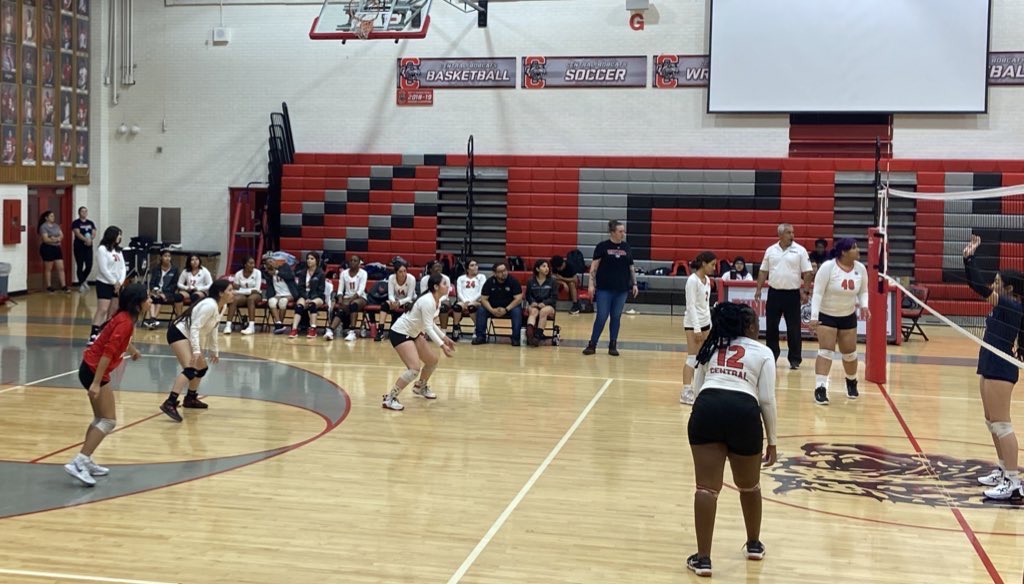 Chrystal Stone is an ASU Cronkite School of Journalism graduate student assigned to cover Central High School for AZPreps365.com
Despite losing in straight sets at home to Sierra Linda on Thursday, the Central Bobcats girls volleyball team took a positive turn with new coach Kristin Harris. After the sudden resignation of coach Laura Phillips earlier this week, Harris, previously the junior varsity coach, stepped in to take over the team.
"Unity. That's number one. We have to work together," Harris said of her focus as the new coach. "I think that was lacking previously. We're moving forward as one."
After dropping the first two sets, 7-25 and 10-25, Central took on a new life in the third set. Harris brought in senior setter JhaNyla James and moved sophomore setter Yvette Sigelnski to outside hitter. It was a shift that kept Central neck-and-neck with Sierra Linda in a close 22-25 loss.
"I feel like I came out there with energy," James said. "I didn't want our team to lose and (I) just turned it up a little bit."
James' presence provided a boost on offense and defense. The Bobcats had just one kill in the first set and none in the second. James' three assists helped Central get five kills in the third, including two from junior Clarice Johnson. James also contributed five digs and a kill of her own.
"I spent most of the time on the bench." James said. "So, I was able to see the spots they weren't seeing. And when I went out there, I tried to tell the rest of the team to attack those spots."
Harris hopes her new approach will take Central to the next level. Switching setters in the third set was an adjustment she felt she had to make.
"If it's not working in the first and second, I've got to adjust," Harris said. "I've got to be flexible. And I think Sunny (James' nickname) really did a good job not only with her energy, but she only had one double, which is really great for her. And I was really proud of how we were really listening. When I called a play, they did their best to execute."
Play-calling was a noticeable addition to Central's game. During every possession, Harris shouted calls from the sideline.
"Definitely trying to be more strategic," Harris said. "I feel like we do have really good skill. But we don't always have the volleyball vision on the court. So, as a coach, I'm trying to definitely change some of our procedures."
While Harris was encouraged by the improvements Central made in the third set, Sierra Linda coach Deanna Fontes was delighted to secure the Bulldogs' first win of the season.
"Feels so great. We've been needing this," Fontes said. "We've been working hard for it. So I'm happy it finally came. I'm happy we finally got that win for sure."
Fontes attributed their dominant performance in the first and second sets to successfully executing plays on offense, which led to 15 kills. They finished with 26 for the night.
"We were calling plays we've been practicing and they were really being implemented during our game," Fontes said. The energy was there overall."
But in the third set, Fontes noted fatigue set in for the Bulldogs. It's something that has plagued them all season.
"We tend to kind of have a little roller coaster during our sets for sure," Fontes said. "So, that's one thing we've been working on. Just trying to attack that roller coaster we've been on and hopefully just stay going up the entire time."
For the Bobcats, the fight they showed in the third set was a much-needed boost to what has been a tumultuous start to the season. They've had significant roster cuts and a change in coaching staff just in the last week.
"I think that overall we're starting to rebuild," Harris said. "We're getting that foundation and kind of building upon it. I know winning is awesome…but it's important that they can work together as young women."
The players are also excited to start a new chapter under Harris.
"I'm kinda happy about it. I feel like we're kind of more of a team now," James said. "Now that we have a coach that actually wants to bring us together, we're kind of getting into a new groove."
Central (0-7, 1-8) will host Copper Canyon (1-5, 1-5) at 6 p.m Monday.