On a wing and a Preyer
September 29, 2022 by Jose Garcia, AZPreps365
---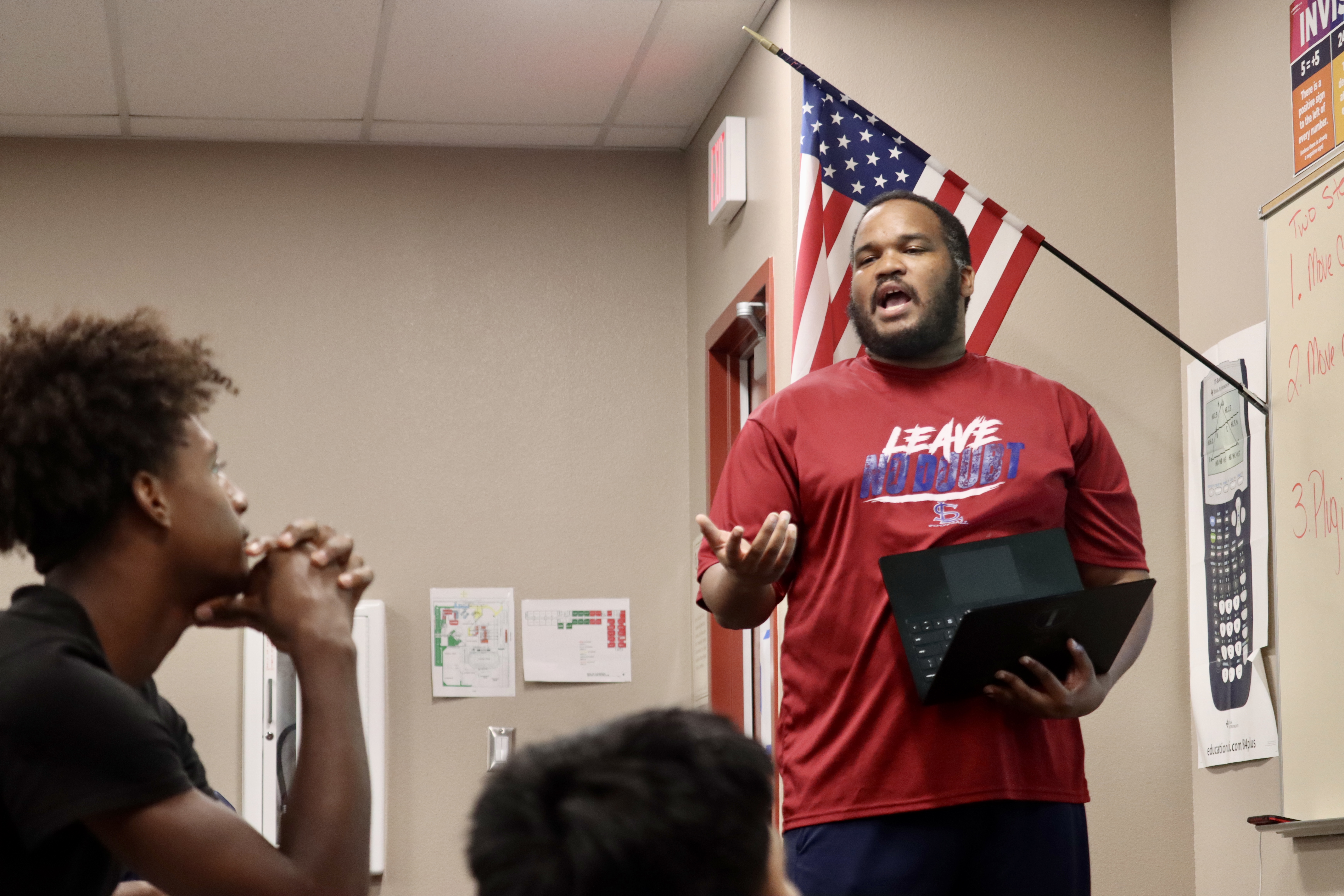 The exhausting days of teaching and coaching.
Dealing with teenagers.
Training in triple digit weather.
Ty Preyer's never been happier at a job.
Once there was order after a fractured upbringing, Preyer devoted himself toward becoming a head football coach. He's in heaven at Sierra Linda, a Tolleson Union District high school that hugs the Tolleson and west Phoenix border.
Preyer's last name is pronounced prayer. A prayer or two—probably more—were answered to help get Preyer to his destination.
He's only 30, but the young man has already overcome plenty. His parents divorced. Poverty. Seizures. And the tragic loss of his endearing grandmother, Lenore Wilson, who died after allegedly being struck intentionally while crossing a street.
Despite the hardships, Preyer soldiered on after a military stint. He also got by with a lot of help from family and friends, including the popular lemonade vendor of the Arizona Diamondbacks, Derrick Moore, and his best friend Francisco Rangel's family.
Before moving to Sierra Linda, Prayer coached alongside Rangel, Trevor Browne's head coach. Trevor Browne is 4-0 for only the second time in the school's 50-year history.
At 3-1, Sierra Linda is off to its best start since the program opened in 2010. The BFFs met when they were playing football at Raymond S. Kellis for coach Jason Golden, the current coach of Peoria, Sierra Linda's Thursday night opponent.
But their brotherhood began when Rangel's mom, Kelly Busalacchi, spotted Prayer walking after practice alone. Busalacchi asked him to get in the car so she can take him home.
But Preyer hesitated.
"I was already dealing with a lot in my life at the time," Preyer said. "I was hesitant from accepting something from somebody. But they were very persistent. They said, 'We got you. Come on.'"
That simple gesture initiated bonds that are strong to this day.
Inside the car also were Raymond S. Kellis teammates Anthony Eberhardt (Trevor Browne's current associate head coach), Nick Garfinckel (Trevor Browne assistant) and Rangel.
"Our families are inseparable now," Preyer said. "That's how monumental that car ride was."
Eberhardt, Garfinckel and Preyer were in Rangel's wedding this summer.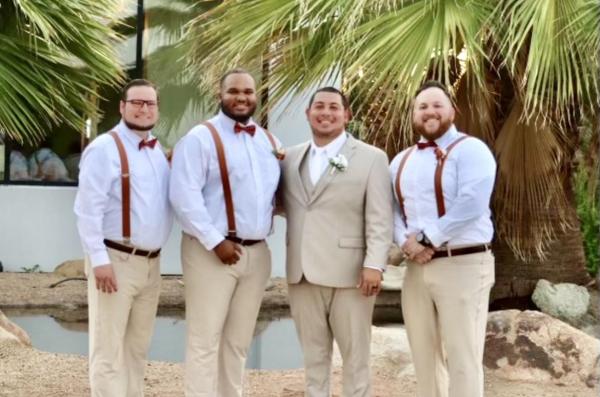 (Brothers for life: Good friends (left-right) Anthony Eberhardt, Ty Preyer, Francisco Rangel, and Nick Garfinkel accomplished their dream: Coaching football together. Photo courtesy of Rangel.) Rangel's wife, Michelle, is a PE teacher at Sierra Linda.
"Two of my favorite people (Michelle and Preyer) are at the same school now," Rangel said. "Nick and Anthony grew up (in the same neighborhood) I did. When our wives see us we laugh and joke around like we are still kids. We are doing life together now like we talked about. That brotherhood is genuine. We care for each other."
Busalacchi is one of the saints along with her husband Steve, Rangel's step dad, who looked after Preyer while he navigated a troubling period.
Preyer moved in with Rangel's family during his senior year.
"I felt safe and accepted," he said.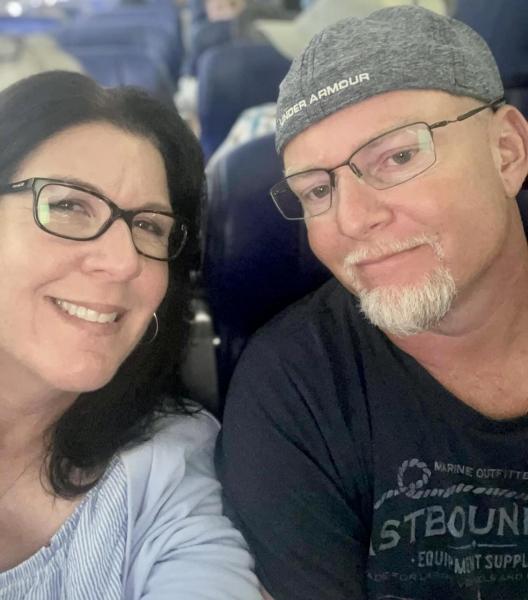 (Kelly and Steve Busalacchi, the parents of Trevor Browne head coach Francisco Rangel, took care of Rangel's best friend during a very difficult period. Photo courtesy of the Busalacchis.)
The divorce of his parents and the loss of his grandmother, Wilson, triggered most of the instability Preyer experienced.
Wilson was on her way home when the accident happened. She had a pacemaker due to heart attacks.
Preyer said he was told by family that a driver ran Wilson over because she was walking too slow while crossing the street near a Dollar Store.
"Comfort," Preyer said. "That's what my grandmother brought to me whenever I was around her. She was the greatest person on earth. We were close. I liked spending time and talking to her. She was very wise."
Preyer got to see his grandmother before she passed away.
Despite being badly injured, Wilson was her jovial self when Preyer visited her in the hospital, joking about getting new teeth.
A day later, the 58-year-old Wilson succumbed to her injuries in 2009. To this day, June, the month Wilson died, is a difficult month for Preyer, he said.
"After she died I struggled with it really bad," said Preyer, who was a senior when Wilson died. "I became really short with people. Closed off everybody."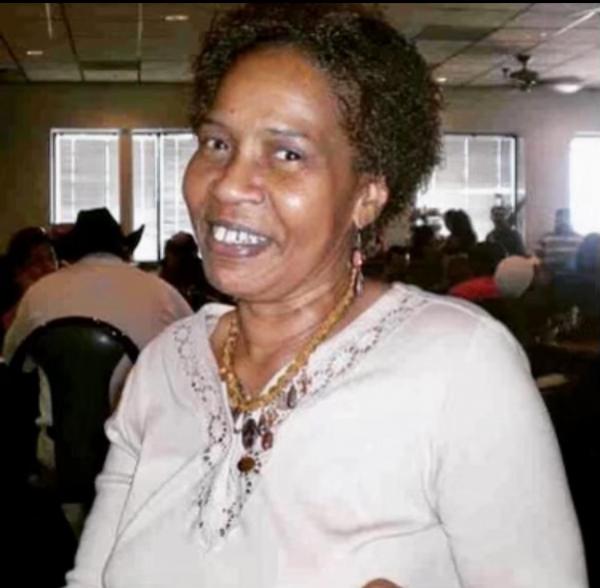 (Lenore Wilson, the grandmother of Sierra Linda football coach Ty Preyer, played in important role in Preyer's life before she passed away. Photo courtesy of Preyer.)
Preyer's mom, Wanda, Wilson's daughter, struggled as well.
At the time, Preyer, two siblings and his mom were living in an abandoned, dilapidated home in Peoria. Preyer was the man of the broken home and family, and the only one working.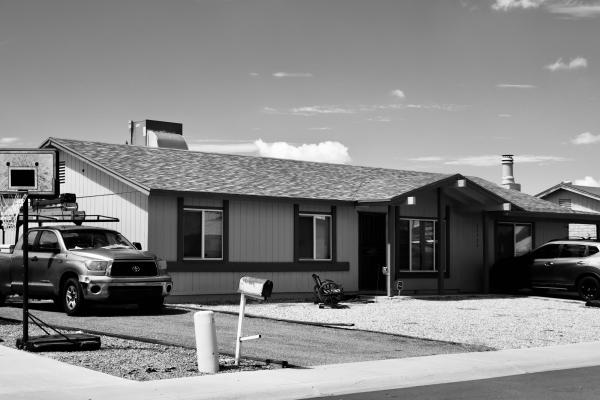 (It's renovated now, but this Peoria house was once abandoned when Sierra Linda football coach Ty Preyer and his family lived there. Photo by Jose Garcia/azpreps365.com)
His parents divorced when Preyer was about 14. Medical conditions and other circumstances kept Wanda from leaving her home much.
Wanda and her son recently started reconnecting. Despite her own obstacles, Wanda always made sure there was food on the table and a roof over her kids' heads, Preyer said.
When he was in high school, Preyer used to wake up really early to work for a couple of hours at a fast food place before heading to school. He scheduled his PE classes in the morning so could shower at school.
After school, he was off to his next job.
After Preyer's grandmother died, Rangel and his parents opened their doors to Preyer. By his count, Preyer attended 23 schools, the same amount of times he probably moved.
"When my mom said, 'Ty is living with us.' I was OK with that," Rangel said. "My mom wanted her kids to be safe, and she felt Ty was her kid."
There was another angel who helped Preyer's family stay afloat, Derrick Moore.
Moore was a fixture at Arizona Diamondbacks games and other sporting events. The vendor is known for his catch phrase, "Lemonade, lemonade, like grandma made," and his warm personality.
There's something else about Moore that makes him special. He's helped families in dire need along the way, including the Preyers.
Moore used to work at a charter school Preyer attended.
Moore said he was praying one day to see who he could help next and Preyer's face popped up. Wanda, according to Moore, had been praying for her son to land a job when Moore called.
Preyer jumped at the chance to travel with Moore.
"I became accustomed to the grind, or you don't eat," Preyer said.
Preyer's affable personality and hustle fit Moore's approach.
"Vending is not for everybody," Moore said. "Some people don't like it, but Ty did very well."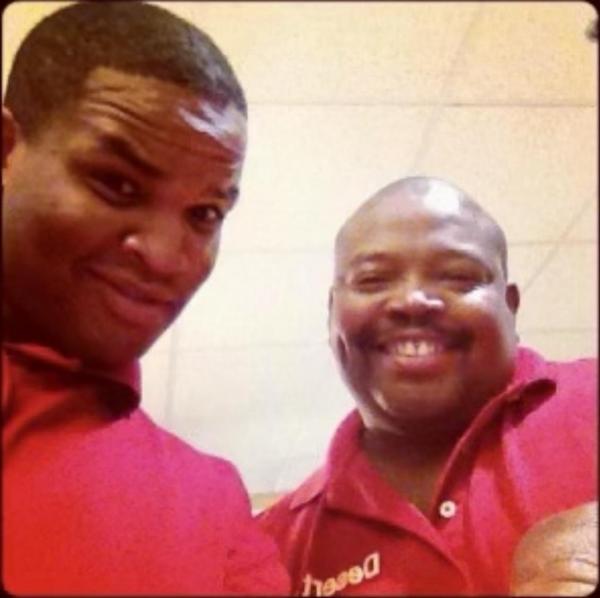 (Beloved Arizona Diamondbacks lemonade vendor Derrick Moore (right) recruited Sierra Linda football Ty Preyer to work with him when Preyer desperatley needed a mentor as a teenager. Photo courtesy of Preyer.) Moore gave his pupil plenty of advice as well as a stipulation: Don't use Moore's catch phrase.
That's when Preyer's creativity and singing kicked in. He put a twist to "My Girl," the popular song of the Temptations.
"What can make you feel this way. My lemonade, my lemonade."
The slogan was a hit.
"The first day Ty used it at Scottsdale Stadium he beat every vendor except me," said Moore while chuckling.
Last year, Preyer returned the favor for everything Moore did for him when doctors discovered a tumor attached to one of Moore's adrenal glands.
The medical scare kept Moore from working, but Preyer started a gofundme account that has raised nearly $140,000 so far. Moore is back on is feet, ready to make a comeback.
"We have to look out for each other," Moore said.
But despite the help Preyer received, he still made some "knucklehead" decisions along the way.
One of them was hanging out with the wrong people.
While with that crew and one of his sisters, a shooting occurred that ultimately forced Preyer to change course. Somebody in the group he was with fired a gun while at Peoria's Rio Vista Community Park, he said.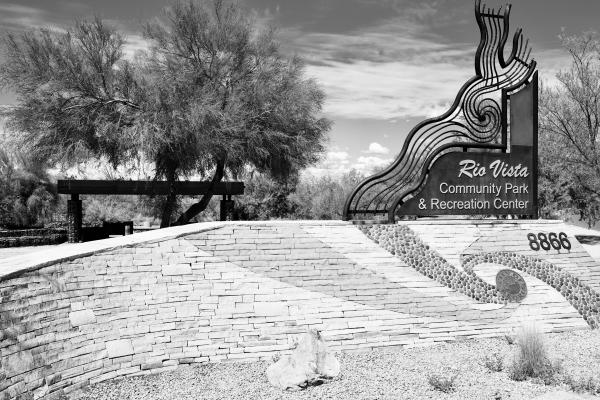 (A turning point in Sierra Linda football coach Ty Preyer's life happened at Peoria's Rio Vista Community Parker. Photo by Jose Garcia/azpreps365.com.)
Not long after, Preyer enlisted in the U.S. Army, serving for four years as a medic. During his tour he also got married to his high school sweatheart, Tyler. The Preyers have four children, two-month old Noah, Remi, 2, Raegan, 7, and Robyn, 8.
"My family is the best part of me," Preyer said. "My wife and I married at 20 and 18 years old and for the last ten years she's been my rock and has blessed me with four of the greatest gifts, my kids. I've been coaching their entire lives, and every Friday night they're the first faces I find in the stands."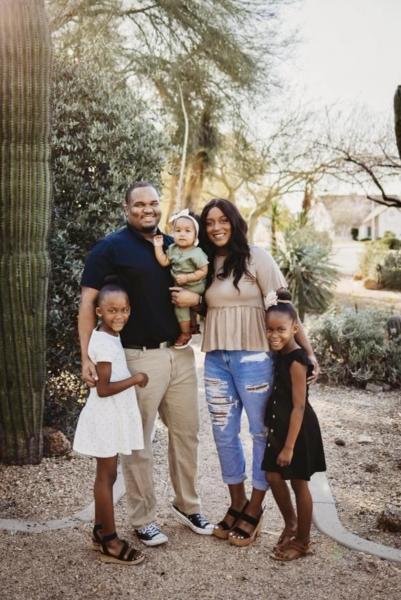 (Ty Preyer, his wife Tyler and their kids have plenty of reasons to smile. Photo courtesy of Preyer family.)But while in the military, he suffered another setback.
While playing in a pickup basketball game, Preyer's head landed on the concrete court after bumping into a player.
That blow led to him having seizures. After completing his military contract, Preyer and his family returned to the Valley.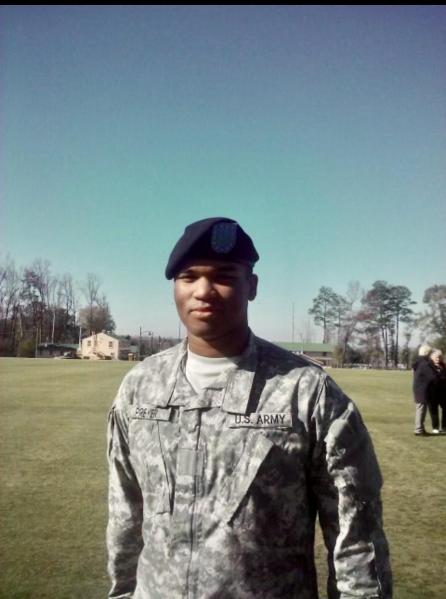 (Ty Preyer matured during his four-year tour in the U.S. Army. Photo courtesy of Preyer.)
But more seizures followed. While working as a lab tech at a hospital, Preyer suffered one of his last seizures.
The medical issue kept him from working at a hospital. It was also a blessing in disguise, though.
Preyer wasn't happy at the hospital.
"Football," he said. "That's what I love."
Preyer found himself back at one of the many schools he attended, Dysart High School, but this time as an assistant coach.
From there he moved to Cactus to study under head coach Joe Ortiz, who is now at Perry.
"Ty was the first coach in and the last one out," Ortiz said. "He took his lumps but was always willing to learn and adapt."
Preyer also looked out for his football family.
When Ortiz was searching for an assistant, Preyer recommended Rangel. The football brothers reunited.
To pay the bills and provide for his family, Preyer worked in real estate and other jobs while also attending Arizona State.
Rangel eventually landed the head coaching gig at Trevor Browne and brought Preyer along to be his offensive coordinator in 2020. During a chance meeting, Tolleson High School's principal, Felipe Mandurraga, saw something in Preyer and wound up hiring him as a teacher a year after they met.
There was one thing left to accomplish. While Preyer was in class teaching in February, Mandurraga directed Preyer to go to Sierra Linda immediately.
Preyer applied for the head coach opening at Sierra Linda but thought he "trashed" the interview. But when he arrived at the school an administrator told him something that once seemed impossible for the young man who overcame so much:
You. Are. Hired.
"I just became overwhelmed emotionally when they told me," Preyer said. "I broke down. When you sit up there and feel like you don't belong and not worthy, and then somebody says, 'I choose you.' It's something. It's something quite different."
Preyer's devotion for football and his players was on full display on Day 1.
During his introduction, he told his players he loved them. Wanting to make sure he hired the right people to be around his football kids at an inner city school, Preyer said he interviewed about 70 assistant coaching candidates.
"I want coaches who want to build relationships, not collect checks," he said.
It didn't take long for the new head coach to win over a program that was coming off its best season in school history.
"I trust him (Preyer)," said Sierra Linda's first Division I bound star, wide receiver Stephon Daily. "He's a very good teacher. He knows what he's doing. Very respectful. He just wants us to win in life and football. He is there for us."
Right before the start of his first game as head coach on Sept. 2, Preyer was overcome by emotion when he spotted his wife and kids in the stands.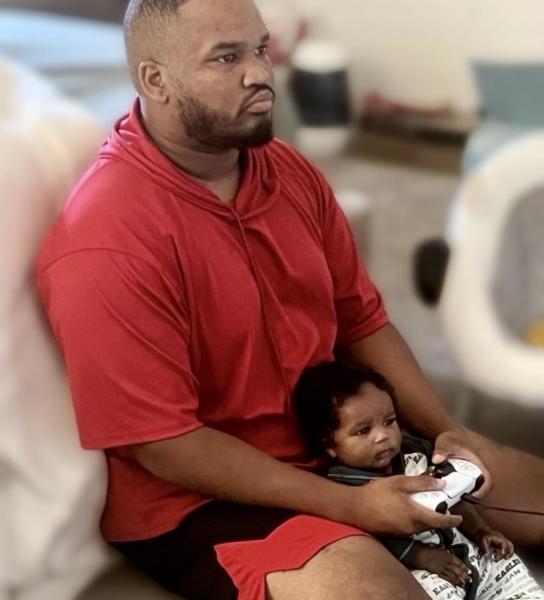 (Two-month-old Noah Preyer and his dad, Ty, share some down time during Ty's busy schedule. Photo courtesy of Preyer.)The Preyers sacrificed a lot to get to this point. They had finally arrived.
After a rain delay, Sierra Linda went on to win its season opener.
Preyer celebrated his first win as a head coach on the field with his players, family and a Gatorade shower from a couple of his players.
"I'm going to be these kids biggest cheerleader," Preyer said. "Nobody is going to outshine me as a cheerleader. I want to watch them flourish and become great. I want them to realize their dreams, because I realized mine."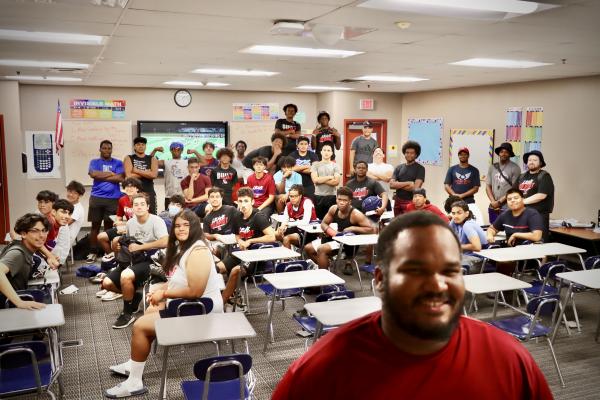 (Lessons in how to persevere are being taught at Sierra Linda courtesy of head coach Ty Preyer. Photo by Jose Garcia azpreps365.com)