Higley grinds out 4-set victory vs. Campo Verde
September 29, 2022 by Kevin Nix, Arizona State University
---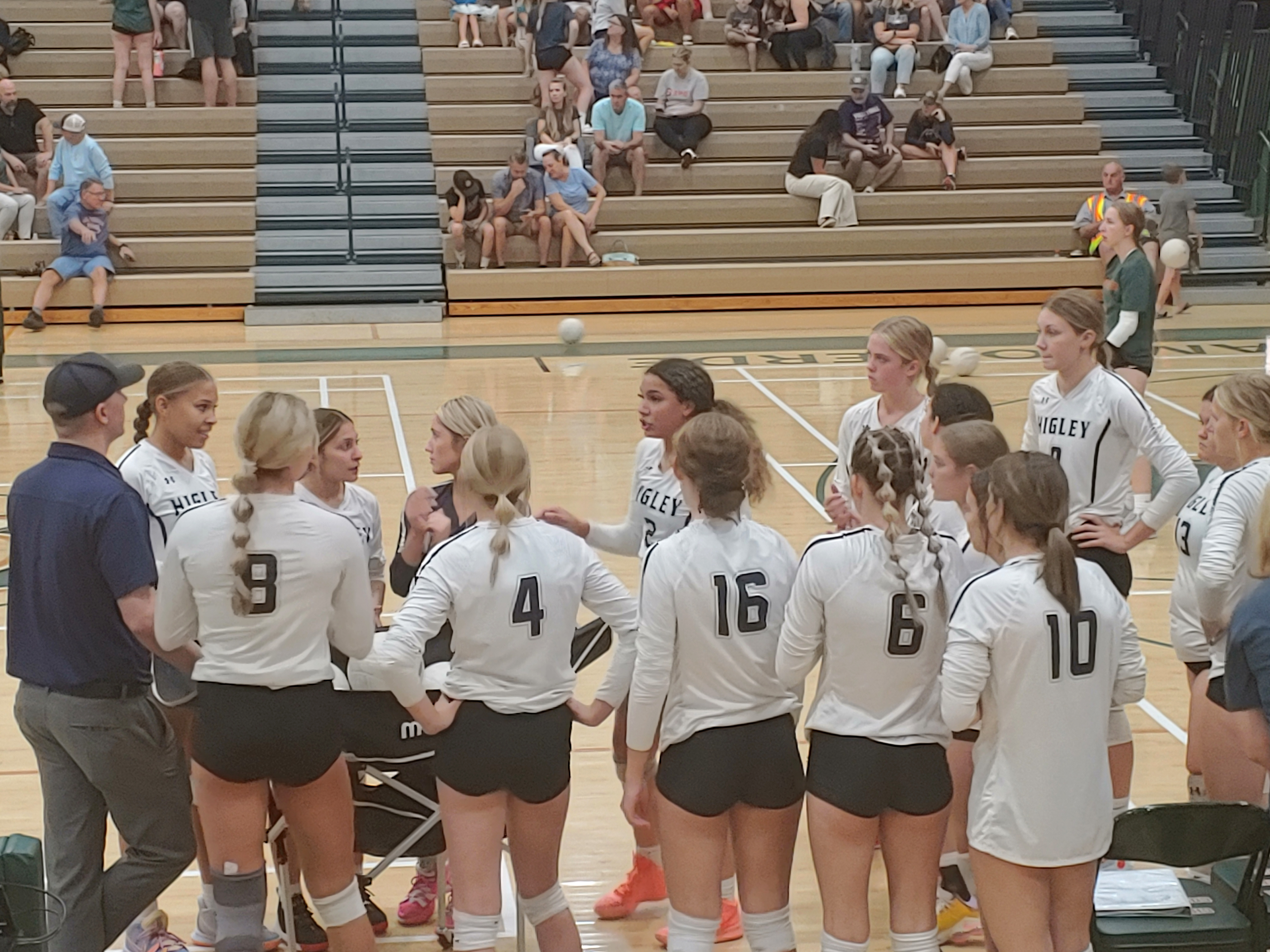 Kevin Nix is an ASU Cronkite School of Journalism student assigned to cover Higley High School for AZPreps365.com
Higley defeated the Campo Verde Coyotes for its second straight four-set victory Wednesday after beating the Mountain Pointe Pride on Monday.
The Knights won, 25-19, 28-26, 16-25, 25-22. Both teams played at similar levels and were evenly matched with small advantages going Higley's way throughout the game.
Higley junior Tanner Robinson had eight kills in the match with several coming at key points. She cited pregame adjustments as contributors to her success.
"Our setter and middle connection has been a little off," Robinson said. "So, when we were doing warmups, I adjusted to her instead of both of us adjusting, so it was way easier."
The first set saw the Knights consistently playing one step above the Coyotes. Higley was playing with cohesion and aggression, which allowed them to get into an early rhythm. After the two teams were tied at 11-11, the Knights rode aggressive kills by Robinson and senior Talli Copple to easily win the set, 25-19.
Campo Verde matched Higley's pacing in the second set, as neither team led the other by more than four points throughout the set. After the Coyotes missed a set point, the Knights evened the score to take the set to sudden death. Both teams traded points, with Robinson notching the clinching kill, ending the set 28-26.
Set number three was Higley's weakest. The Knights missed their spots including multiple net shots. After the Coyotes extended their lead to 14-7, Knights coach Tyler Kraemer called a timeout.
"We lost our energy, we lost our edge," Kraemer said. "And we were back playing timid ball. Every now and then, for whatever reason, they need a reminder that they're actually good at volleyball.
"We're a very emotional team, so when we're struggling you can tell we're very flat, we're not talking and we're just not even cheering each other on. So every now and then we have to call a timeout just to give them a little bit of a spark."
Campo Verde went on an 11-9 run to win the third set, 25-16.
After the third-set timeout, the Knights returned to form in the fourth set. The set score was close on paper but Higley was back to its aggressive, in-your-face style that won them the first two sets. Despite a late comeback attempt by the Coyotes, Talli Copple ended the match 25-22 with her 11th kill, leading all Higley players.
Coyotes coach Nui Rubin highlighted poor fundamentals as a factor in Campo Verde's loss.
"There was a lack of communication, I'd say discipline, effort, it's a mixture of everything," Rubin said. "It's stuff that we need to work on. We know that and we'll be ready next time. The first and second sets, they were behind on that. Third set, they kinda got it together and the fourth set they felt too comfortable where they were. That's where the discipline needs to kick in and we need to just focus more on that."
Kraemer wants this victory to restore confidence in his team.
"Campo's a great team, they're a great program," Kraemer said. "It's gonna be another tough game when we play them again but we have to be comfortable playing these good teams and just know that we can do it. We have to build on this. If we can beat Campo, I feel like we can beat anybody."
Higley (6-3) will host the Casa Grande Cougars (3-5) on Oct. 6 at 6 p.m.
Campo Verde (3-9) will resume play after a two-week break as they visit the Mountain Pointe Pride (2-9) on Oct. 11.