Desert Mountain edges Xavier College Prep in freshman tennis
September 29, 2022 by Connor Zody, Arizona State University
---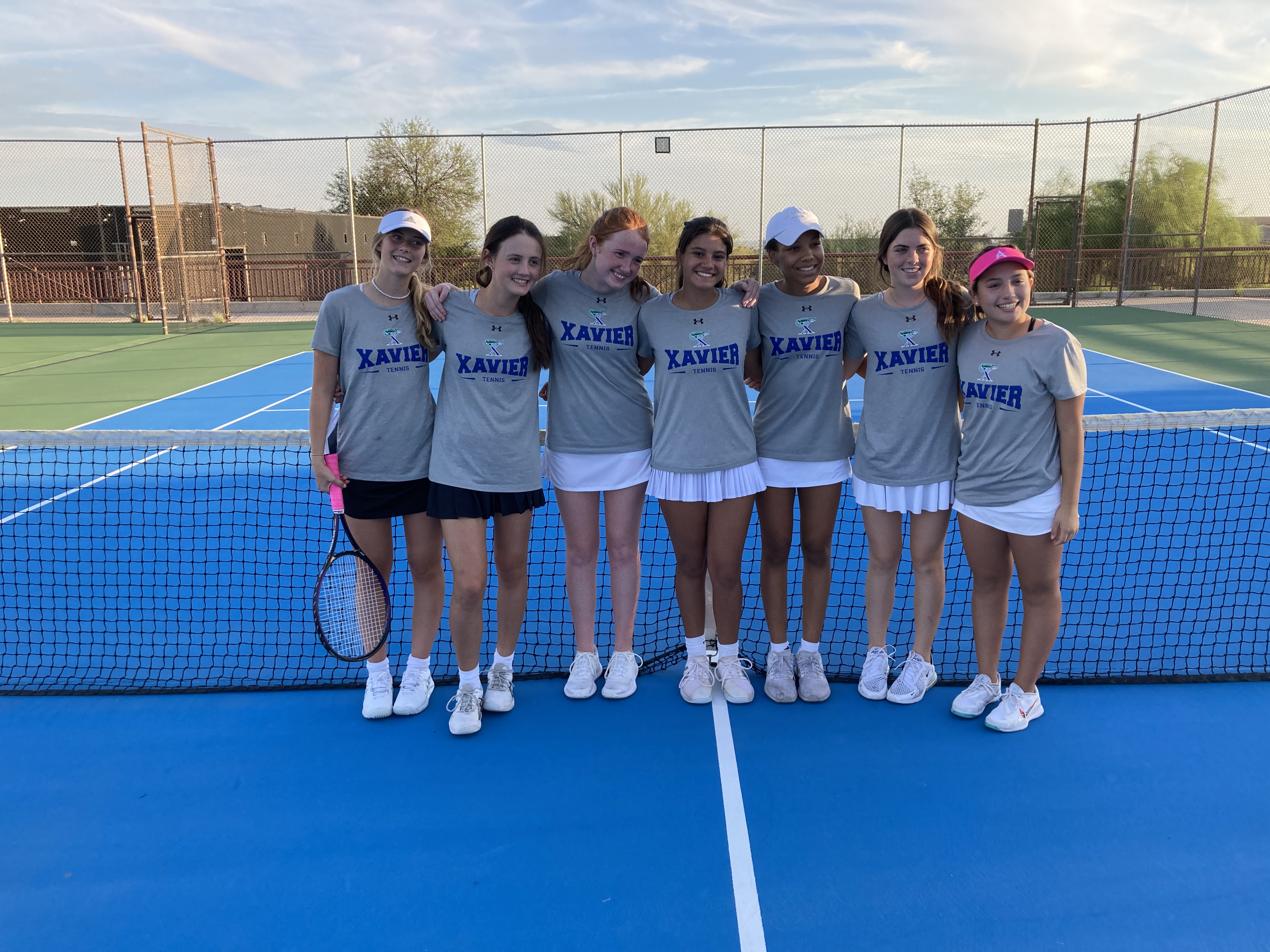 Connor Zody is an ASU Cronkite School of Journalism student assigned to cover Xavier College Preparatory for AZPreps365.com.
The Xavier College Prep freshman tennis squad played at the Desert Mountain Wolves on Thursday. Despite a valiant effort by the Gators, the Wolves captured a 5-4 victory in a highly contested match.
Perseverance was what kept the Gators in contention all the way up to the final doubles match.
The Gators went 2-4 in singles matches and 2-1 in doubles matches. Victoria Head and Lauren Lum Lung won their respective singles matches. Lum Lung was the first to finish, securing an 8-1 win. She utilized her strengths to get the Gators on the board early.
"I kind of just followed through with my stroke a lot more," she said, "which allowed me to get more power to the ball because she [her opponent] just kind of sent them high and over the net, just trying to get it over."
Head won 8-6, making her 6-0 on the season. She also, along with teammate Caitlyn McDowell, overcame a three-game deficit to win in doubles, 9-7. This was the first time Head and McDowell were paired for doubles, but their teamwork made it look like they play together all the time. They took a more conservative approach to securing the final game.
"Honestly, we just played it safe because we didn't want to lose," McDowell said. "It was also being aware of what balls we could get and trusting one another."
"We have pretty good communication skills," Head added. "We both knew we wanted to win and put in the hard work to win."
Coach Karen Fleissner was impressed with the duo, saying that having similar personality traits also helped them to succeed.
Although she lost 8-5, Lucia Sugich most exemplified what perseverance looks like. Her singles match lasted 45 minutes, much longer than the typical match in the eight-game all pro set. She played the entire time in 95-degree heat and even endured an issue with the grip on her racket that caused a five-minute delay in the middle of the match. She never lost focus but rather embraced the challenge.
"I'm a really competitive person," Sugich said. "Especially when I get into stuff, I can go into hyper-focus mode. And to deal with the heat, I drink a lot of water. It just kind of refreshes you and brings you back."
A concern was whether the worn-out grip negatively impacted her performance, which she acknowledged herself.
"Well, honestly, maybe because it was really slippery and then I was getting used to the grip, so that might have affected it a little bit," she said.
Nonetheless, she kept her head up through the difficult day.
Nev Herzog and Barrett Irwin also won their doubles match to score the fourth and final point for the Gators.
The Gators fell to 4-2. They have six matches remaining, as two recently were added to the schedule. They host the McClintock Chargers at 3:30 p.m. Oct. 13 at the Xavier Stark Tennis Center.