67-year-old O'Connor badminton coach values family more than ever
October 3, 2022 by Andrew Lind, Arizona State University
---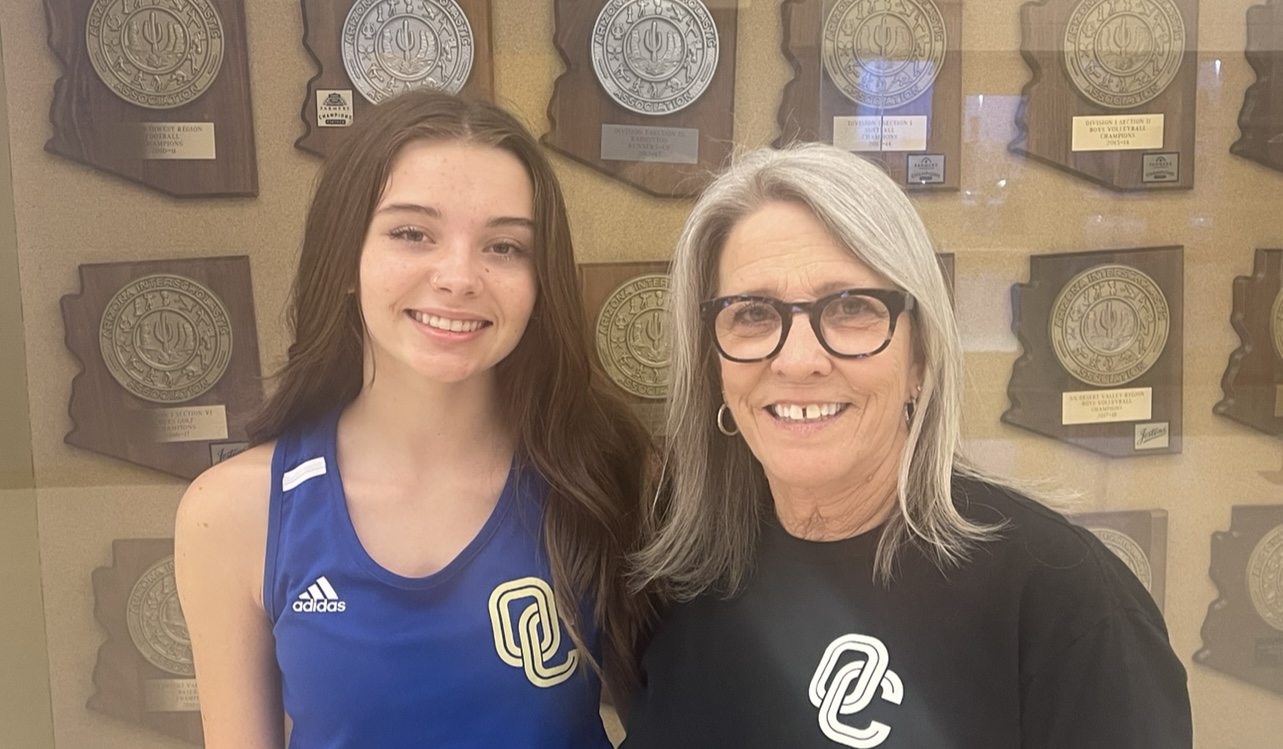 Andrew Lind is an ASU Cronkite School of Journalism student assigned to cover Sandra Day O'Connor High School for AZPreps365.com.
It's 18-14 and Sandra Day O'Connor sophomore Payton McCall and her varsity doubles partner are trailing Pinnacle High in the second game of a best-of-three match.
McCall raises her right arm and signals to Coach Paula Cappelletti, who is making her rounds to all six courts. When Cappelletti reaches McCall, the two chat for several minutes, and when they finish, McCall is left with a smile pinned to her face.
"We knew how special this was going to be and what an opportunity it was to be coached by your grandparent," Tish McCall, Payton's mother said. "But I don't think she really understood that. I think she started with, 'Oh, yeah, that'd be cool,' but I think what she's realized is that nothing makes up for time."
Who knows what was said during that timeout, but whatever it was, it worked. Payton and her partner fought back from four down and won the second game.
For Cappelletti, 67, and McCall,15, these memories will always be treasured. Why? Because the grandmother and granddaughter duo don't get one-on-one time often. So when they do, they make the most of it.
When Payton began eighth grade, her grandma began to talk about her playing badminton when she started high school. Nonetheless, the closer she got to her freshman year, the less of a joke it became.
"She's always been like, 'Oh, I want you to play badminton, I'm waiting until you get here to play,'" Payton said. "It's super fun, but I would say the main reason why I joined was because of my grandma."
If it weren't for badminton, the only time the two would see each other is when their families came together for birthdays, holidays and family dinners. Now, with a three-month season and practice nearly five days a week, they're almost never apart.
Most importantly, it's not the time spent talking about the sport or scouting the next opponent, it's about being able to have conversations that make them feel more connected to each other's lives.
"It's been so enjoyable," Cappelletti said. "I get to see a side of her that I would never get to see. I didn't get to see her interact with her friends, and see how she handles stress or problems. I really feel fortunate that I'm getting to be around her and know that side of her."
Family has always been essential for Cappelletti and its importance has trickled down the generations to her daughter Tish, her husband Shane and now to Payton.
Its significance started in the mid-1980s when Cappelletti, a single mom raising three kids in southwest Oklahoma, moved to Phoenix for a better life. She did whatever was best for her kids.
The adversity is what brought the family of four together. Now Shane, who grew up with a similar story, decided early on as a parent what his priorities for his family were going to be.
"100%, bazillion percent, can I say bazillion?," Shane said about what family means to him. " (Tish and I) have decided that nothing else matters, but family."
And when it comes to supporting Payton at her badminton matches, it's a family affair. Not only is grandma present, but so is Frank, Payton's grandpa, and her parents who know a thing or two about the sport.
Payton says that's what she enjoys most.
"It's really nice and it makes me want to do better," Payton said. "I also like how after matches I have people to talk to and they understand the game. It's not like some people on the team where their parents come and support them, but they know nothing about badminton. Having people that know the sport and understand it is really nice."
When it's all said and done, Payton will graduate from high school, and at some point, Paula will retire, for good, after what has already been a 25-year plus coaching career -- 11 years coaching badminton. The stories of the grandmother coaching her granddaughter will be passed along from one generation to another.
However, Cappelletti's lasting legacy of doing whatever it takes to change the lives of her children, grandchildren and now players, will live on forever.
"She's here because she wants to and that's important to me," Lynn Miller, Sandra Day O'Connor's principal, said. "She's always been competitive, and wants to win, but she's always there for the kids. She's there to develop the girls, too, you know, building good character. That's just huge in this day and age to have someone that is willing to build those relationships with those kids."