Chantal Lopez-Beltran aims to write a new chapter in family's legacy at Central
October 3, 2022 by Chrystal Stone, Arizona State University
---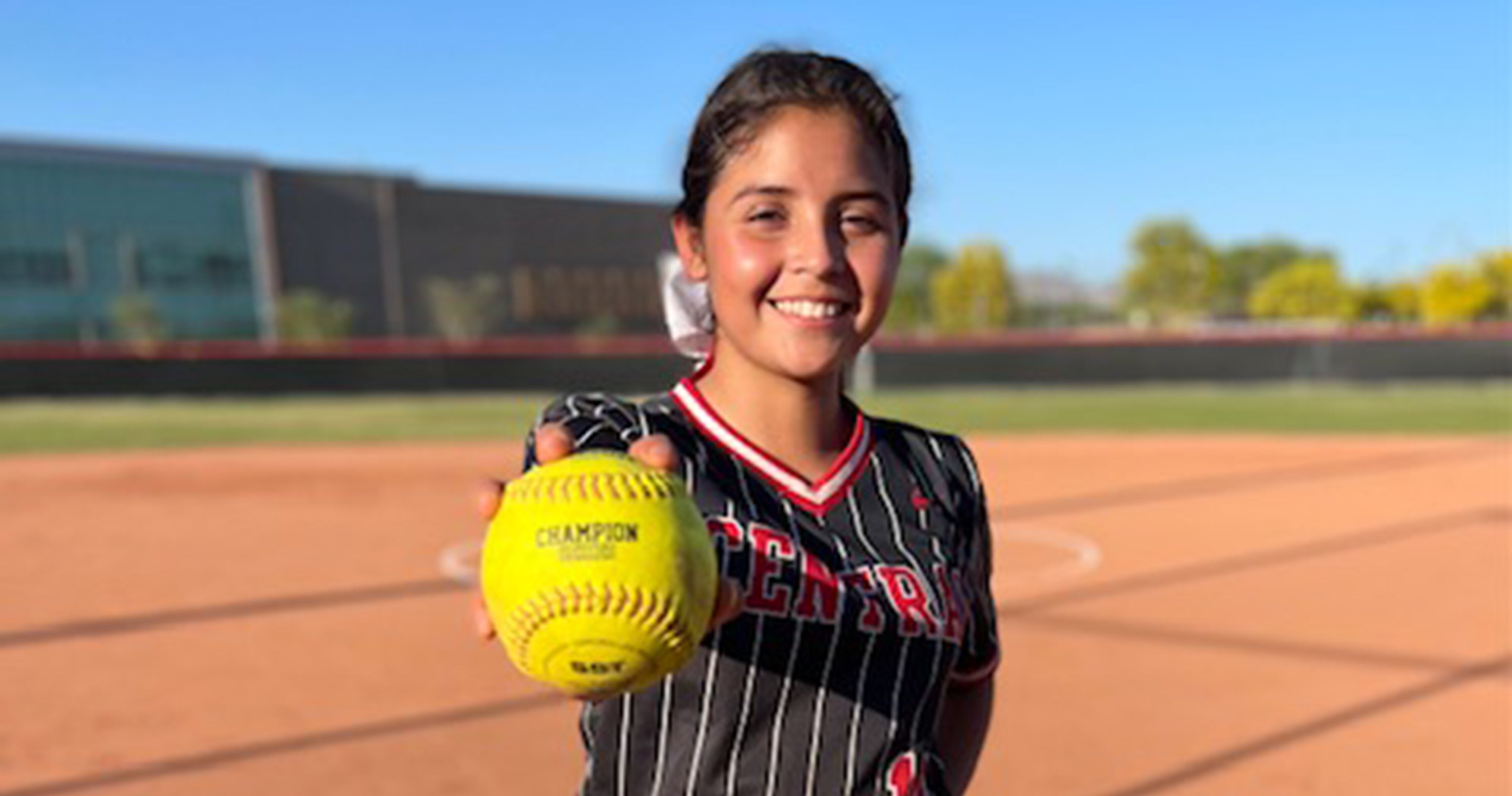 Chrystal Stone is an ASU Cronkite School of Journalism student assigned to cover Central High School for AZPreps365.com
From 1988 to 2001, the Beltran family's eight children all attended Central High School. They were star athletes, homecoming royalty, and scholarship recipients. But only three of them graduated. 
Senior Chantal Lopez-Beltran represents a new generation of the Beltran clan destined to not only graduate from Central but also take the family's love of softball to the next level. 
In the late 1980s, Lopez-Beltran's uncle, Trinidad Beltran, was the first of the Beltran tribe to land at Central. Classmates nicknamed him "Psycho" for his athletic prowess as a wrestler and football player. 
He kicked off a Beltran legacy at Central High School that would continue for the next 34 years. 
"We kind of followed my older brother," Maria Beltran, Lopez-Beltran's mother, said. "He was the first one that started. So from there, well, we just all started. (We) kept coming. We all said, 'Oh, when we have kids, they're going to come to Central, too.'"
The Beltrans represented Central's Bobcats in multiple sports from wrestling, football, and baseball to volleyball, softball, and basketball. 
Lopez-Beltran's uncle, Flavio Beltran, was crowned homecoming king, and her aunt, Martha Beltran, earned a full-ride scholarship to play softball at South Mountain Community College.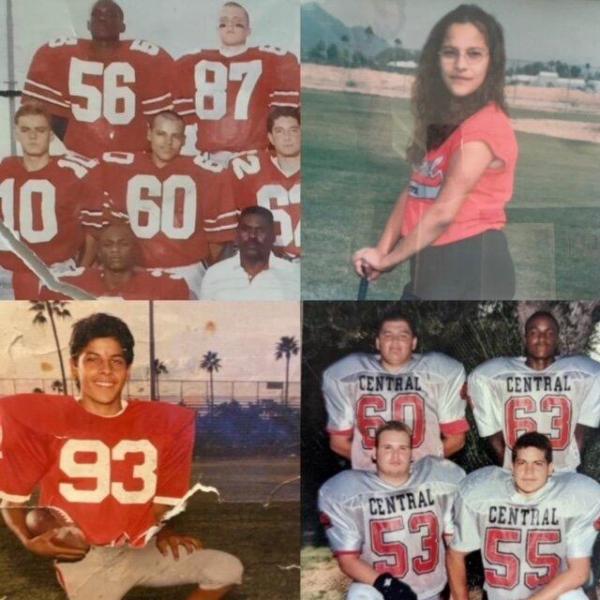 The Beltrans at Central High School. Top left,Trinidad Beltran wearing number 60. Martha Beltran, top right. Tony Beltran, bottom left. Bottom right, Flavio Beltran wearing number 55. (Photo courtesy of Maria Beltran)
Although their presence at Central doesn't loom as large as it did 20 years ago, Lopez-Beltran is often reminded that she now walks through the same halls her mom, aunts, and uncles once did. 
"It's really cool because they talk to me about their high school years," Lopez-Beltran said. "How everything changed. Like, the buildings and all that. It's pretty cool."
Though coming to Central seemed like a natural progression for the Beltran kids, graduation wasn't guaranteed. Lopez-Beltran's uncle, Juan Beltran, and aunt, Candilaria Beltran, both left home without finishing school. 
Maria Beltran left school early after becoming pregnant at the age of 15. Lopez-Beltran's uncles, Jesus Beltran and Tony Beltran, became teenage fathers and also departed Central prematurely. 
Shortly before graduation, with a softball scholarship in hand, Martha Beltran also learned she was pregnant. Although she did receive her diploma, her plans to play softball in college were ultimately derailed.  
Lopez-Beltran's two older siblings, Christina Lopez-Beltran and Jose Lopez-Beltran, didn't finish high school either. Christina Lopez-Beltran did later receive her GED. 
At just 74%, Arizona has the lowest average graduation rate in the country, according to the U.S. News "Best High Schools" rankings.
It's a sobering reality that drives Lopez-Beltran to succeed.
"From seeing my brother and sister halfway making it but they didn't," Lopez-Beltran said. "I want to also make my mom proud, in a way, for actually seeing one of us walk. And then my uncles and them, I just try to make them proud. That I'm actually going to the next level."
One obstacle that potentially stands in Lopez-Beltran's way is her academic performance. 
"Academically, Chantal has struggled just a little bit, but she is definitely diligently trying to get those grades up," said Kristin Harris, who coaches Lopez-Beltran on Central's girls volleyball team. "She's doing everything she can to get her grades where they need to be."
Lopez-Beltran is thankful for the extra help she gets from her teachers, especially from Rodrigo Ruiz. She was in his world history class last year. However, they have established a bond that extends beyond the classroom. 
"We're both good observers. We're both good listeners," Ruiz said of their similarities. "So we're learning a lot. Not necessarily from making our own mistakes, but looking at what other people do. What's good, what's bad. What's right, what's wrong."
One Beltran relative that Lopez-Beltran is observing is her older cousin Natalie Beltran, who is Trinidad Beltran's daughter. She graduated from Central in 2021 and is currently playing softball at Mesa Community College. 
"She just keeps pushing me to do better," Lopez-Beltran said as she smiled. "Because since she's in college now, she's just trying to push me more to get there."
For Lopez-Beltran, to "get there" means graduating high school and playing softball on the collegiate level, just like her cousin. 
Softball has become a centerpiece of the Beltran family over the years. Almost every member of the Beltran family has played softball or baseball.
As the oldest of the Beltran siblings, Trinidad Beltran was the trendsetter. He stepped up as a father figure in the family's single-mother household and encouraged his younger siblings to play softball and baseball.
One by one, he got them all enrolled in the Clarendon Little League program. 
"To us, softball and baseball is like the number one sport for us," Maria Beltran said.
From Little League to club ball, Natalie Beltran said softball was "kind of a bonding thing, like 'family Sundays.'"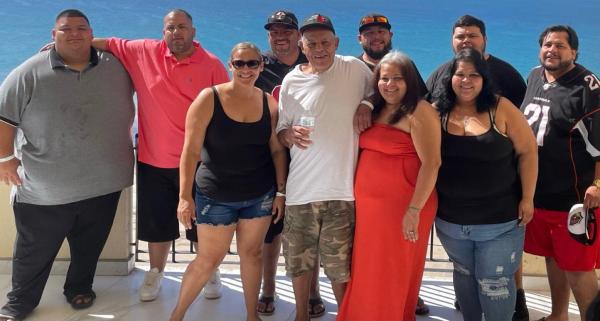 Seven of the eight older Beltrans. Back row from left to right: Jesus Beltran, Trinidad Beltran, Tony Beltran,  and Flavio Beltran. Front row: Martha Beltran, Candilaria Beltran, and Maria Beltran. (Photo courtesy of Maria Beltran)
The next generation of Beltrans went from watching their parents, aunts, and uncles to playing themselves. 
"Well, I think it was more because of my uncle," Lopez-Beltran said. "And like, how I also saw my mom and them playing. It looked fun. So, then it interested me."
Lopez-Beltran is a pitcher and outfielder for the Bobcats softball team where, for a while, she played alongside her cousin, Natalie Beltran, and Trinidad Beltran was the assistant coach.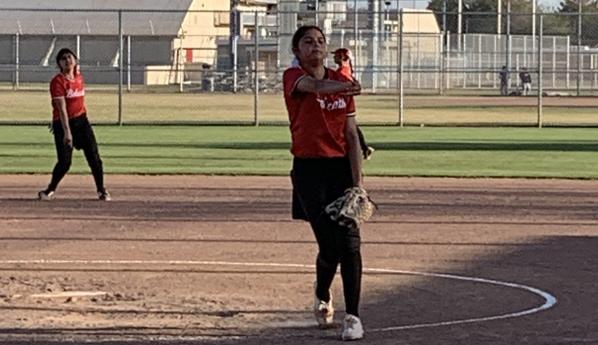 Lopez-Beltran throws a pitch for the Central Bobcats (Photo courtesy of Maria Beltran)
Last season, Lopez-Beltran had 61 strikeouts in 54 innings pitched. She also posted a .386 batting average with 21 runs and 10 RBIs.  
She spends her weekends competing in a club league where she has been seen by college recruiters. 
"She'll come in on a Monday, like, 'Hey, Mister, look at this tournament. Look at this play from this weekend,'" Ruiz said when Lopez-Beltran would show him highlights of her softball games. "She's passionate. You could tell she's driven. She just wants to do it."
Lopez-Beltran wants it so badly that she has come back from multiple injuries to continue playing the game she loves. 
From having to relearn how to pitch after breaking a finger while catching a softball to a freak accident with a soccer ball that left her vision permanently damaged in her left eye, Lopez-Beltran has never given up. 
But she doesn't need 20-20 vision to see she has a bright future ahead. 
​​"She knows what she wants and where she wants to go in life," Maria Beltran said. 
Lopez-Beltran has her eyes set on playing softball at several colleges near home, such as Phoenix College, the University of Arizona, and Arizona State. She also hopes to one day play for the University of Oregon. 
Lopez-Beltran has never been to the state of Oregon before. But that hasn't stopped her from dreaming of new surroundings. 
"Seeing the campus in pictures and all that is, like, so cool." Lopez-Beltran grinned. "It's so beautiful. And then also I love Oregon's uniforms. Like all the uniforms (of) all the sports are so nice."
Lopez-Beltran's family, teammates, and coaches believe she will make an impactful contribution wherever she decides to play. 
"I think that her presence is communicative, positive, and always, always hard-working," Harris said. 
As for Ruiz, he looks forward to the day he can point to Lopez-Beltran as an example of one of his students who made it out despite the odds. 
"I have ESPN playing sometimes, right," Ruiz said. "When the students are working, I would like to put a softball game up there and be like, 'Hey, guys, I taught her. She's one of my best students.'"