Maia Carbajal makes Tempe Prep history as first female football player
October 4, 2022 by Courtney Robinson, Arizona State University
---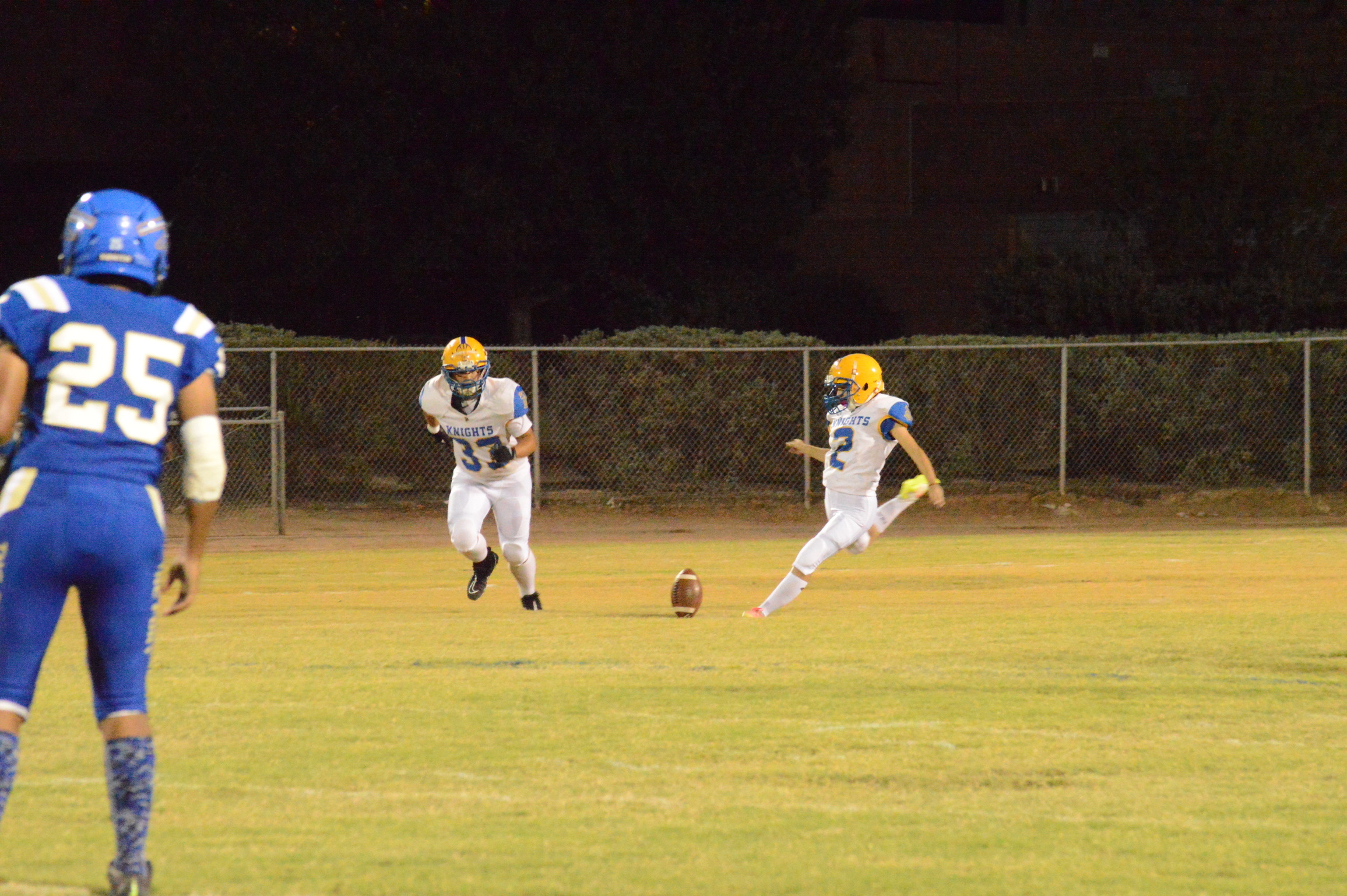 Courtney Robinson is an ASU Cronkite School of Journalism student assigned to cover Tempe Preparatory Academy for AZPreps365.com
After Maia Carbajal watched the Tempe Preparatory Academy football team lose its season opener, 30-0, to the Salome Frogs, she knew it was time for a change. Maia, a senior at Tempe Prep, went home with a craving ambition.
"That was when I realized that I could do what a kicker could do," Maia said.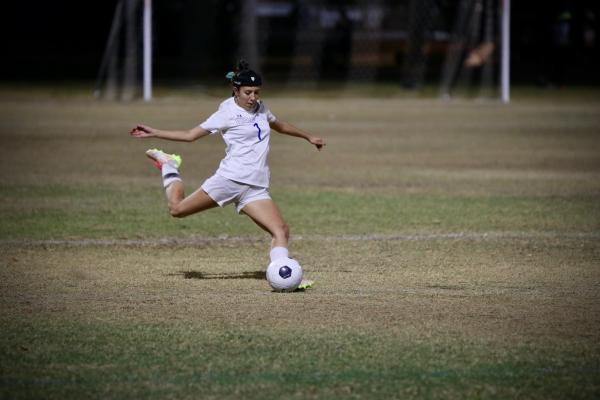 Maia Carbajal shines on the soccer pitch winding up for a kick during a Tempe Prep soccer game. (Photo Courtesy of Leah Carbajal)It was 9:30 p.m. and Leah Carbajal was stunned by her daughter's unwavering eagerness. Leah recalled Maia being unfazed by the motherly hesitations, further urging her to log onto the computer to help schedule her physical exam. Leah highlighted her astonishment when Maia told her that she would need to get a physical and show up to the field on Monday.
"I was like, 'Are you crazy'?" Leah said to her daughter, "All right, we'll see how this goes."
Leah wasn't sure what the next few days would entail, whether Maia was going in for meetings or for tryouts. All of Leah's questions were answered that Monday when Maia came home with a football helmet.
"All right, kid, I guess we are really doing this," Leah said.
Maia Carbajal is really doing it. She has made history this season for Tempe Prep as its first female football player, and the first female to score points in a football game for the Knights.
On Friday versus Fort Thomas, Maia took the field to kick a one-point conversion following a Knights touchdown. She sent the ball soaring through the uprights and etched her name in Tempe Prep history.
Maia's career didn't begin in late July when the rest of high school football training kicked off across the state of Arizona. It wasn't until after the season opener that Maia talked to football coach Jason Jones about joining his team.
Tempe Prep is widely known for being academically rigorous, with a demanding liberal arts curriculum. First-year Athletic Director Keyon Cornejo discussed building an athletic department at a school where every student is heavily involved. Cornejo detailed the prevalence of Tempe Prep students being multi-sport athletes and participating in various extracurricular activities.
Maia Carbajal is no exception. She is involved in the math club, coding club, after-school tutoring, and is a member of the National Honor Society. She also shines as a multi-sport athlete, being a star center back for Tempe Prep varsity soccer team and Phoenix Premier FC.
Since the first game, Maia Carbajal has been 2-for-3 in points after touchdown attempts.
Prior to Maia going out for the team, offensive coordinator Toby Tesch said the Knights always went for two-point conversions.
"We ran a very open offense," Tesch said. "A lot of passing. We like to spread people out. Kind of a high, high-paced offense."
It's been a relief for the Knights' rapid offense to rely on Carbajal rather than going for the two-point conversions, especially in close games.
Jones said that as soon as Maia showed up, she was up for the challenge to earn her kicks. She has become increasingly consistent each week.
"She's really progressed a lot faster than I thought she was going to," Jones said. "She's really coachable, which I love."
Maia had wanted to kick for the football team since freshman year, but a few obstacles held her back.
"I was scared of what people would say," she said. "And by senior year I kind of just was like, you know what, I'm going to do it."
Maia knew there would be ups and downs and that she was going to be tired, but she was determined to follow through with her intention to play.
Last November, Maia suffered a torn tendon in her foot. She played through the injury for five months, then underwent foot surgery, which demanded no walking for over a month.
After the foot surgery, Maia had a different mindset. "I am going to do anything I can to keep active," she said. "I want to be able to do things that I couldn't do before, and so I just keep to that."
The injury was not what initially prohibited Maia from beginning the season with the rest of the team. First, she wanted to make sure she could effectively juggle all of her commitments.
"I wanted to see if I could balance my school load," she said. "With club soccer, and then if I had time to go play football, I also had a job before this."
Maia's parents were concerned with how much their daughter was putting on her plate.
"She is doing more extracurriculars than she has done in her previous years," Leah said. "And this being her senior year, there are a lot more demanding things that she has to perform to graduate."
The Carbajal parents articulated their worries, but are proud of how Maia has persevered to manage it all.
"She's got a busy afternoon," Leah said. "You know, besides doing her homework, and her extracurriculars, with school, she goes to football practice, then comes home for a minute, grabs her soccer stuff for soccer, changes, maybe grabs something to eat, and then she's off until 9:00 or 9:30 p.m."
Fully understanding the ambitious schedule Maia has taken on, they are working closely with her coaches and teachers to ensure the overloaded schedule doesn't become too much.
"She's burning the candle at both ends," Leah said.
Jones said Maia has an unyielding drive.
"I will tell you that her work ethic is up there with any of our football players," Jones said. "If not higher, because she is dedicated to both football and soccer."
Over the past three years, Maia developed a strong relationship with newly named head soccer coach Suzanne Duggan.
"On the field, she's that person that you notice is one of the hardest working players," Duggan said.
Maia has stepped up on the football team beyond her kicking responsibilities. According to Jones, when Maia doesn't have soccer, she is at the entire football practice.
"I don't require kickers to participate in anything other than kicking," Jones said. "But, she's conditioning with us. She is out here blocking and tackling with us."
Jones said Maia has exceeded all of his expectations, and has meshed perfectly as a member of the team.
With a work ethic that precedes her, Maia Carbajal continues to do it all. As for advice to younger generations of female athletes following her path, Carbajal says don't be scared to try anything, just go do it.
"Go after it with full confidence," Carbajal said. "And you'll succeed."