The resilience of an athlete
October 4, 2022 by Erin Patterson, Arizona State University
---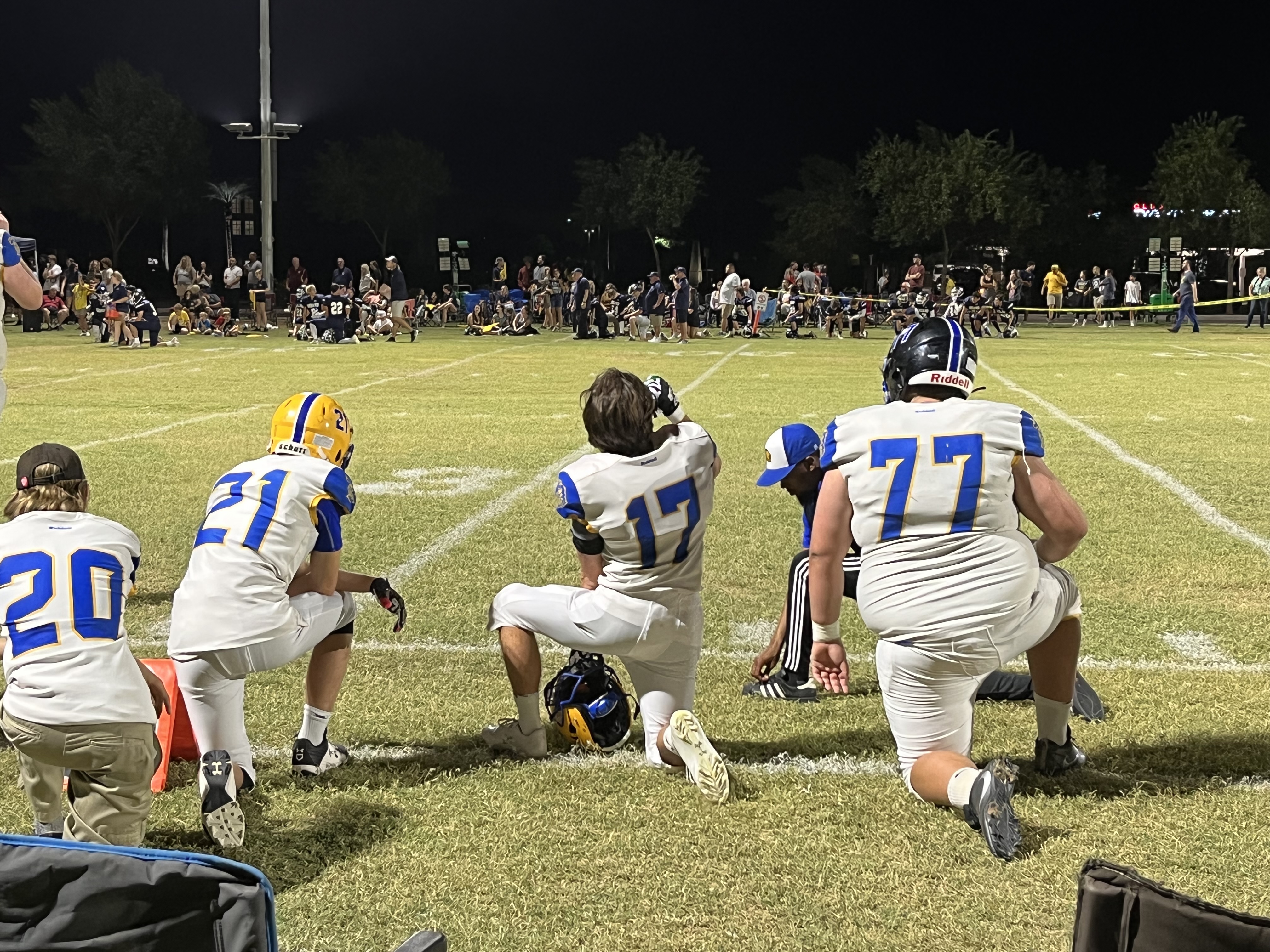 Erin Patterson is an ASU Cronkite School of Journalism student assigned to cover Tempe Preparatory Academy for AZPreps365.com
Gabriel Ross has always gone above and beyond for sports. Being an All-Region football player, state-qualifying wrestler, and starting on varsity baseball as a freshman, Gabe has never let anything stop him from competing.
Last year was his first time playing football. In the second game of the season, Ross went for a tackle and dislocated his shoulder.
"I would dive at people's ankles. That's how I tackled," Ross said. "My shoulder would just go with it and it dislocated. I just kind of popped it back into place on my own and continued playing."
Ross continued on throughout the football season playing through the injury, not fully understanding the extent of it. When wrestling season came around, he injured it again.
It was at this point his labrum had been torn, but that wasn't going to stop him. Ross, again, popped his shoulder back into place on his own. He went through physical therapy with the athletic trainer at Tempe Prep just to try to get healthy enough for his main sport, baseball.
Ross has been playing baseball since the age of 3. He was willing to do anything to get on the field that season.
"Last season I used a Sully brace to play all the season with my torn labrum," Ross said. "If I did not wear that my shoulder would dislocate every time I slid headfirst and with that I was able to have no issues throughout the season."
In June of that year, Ross underwent surgery. He was told the recovery time would be four to six months. At that time, Ross didn't think he would be able to play in his senior football season.
"When he first told me, he was actually really emotional about it," Tempe Prep football coach Jason Jones said. "After his initial mourning period of not being able to play football his senior year, he kind of turned the page as far as determination goes."
During his time off the field, Ross was able to pick up a new skill.
Jones wanted to bring in another student from the school newspaper to take photos of the players during games and practices. Instead, Ross took on that responsibility.
One of Gabe Ross's favorite photos he took. (Photo courtesy of Gabe Ross and Maria Carrillo)
"I just thought that since I couldn't play for a while, I'd do it," Ross said. "My mom had a camera, so I just looked at YouTube videos, talked with my mom on how to use the camera and one thing turned into another and all of the sudden I was taking pictures."
Jones was not expecting this out of Ross but knew it was going to be a good way to keep him involved with the team.
"Of course, I'd rather see him on the field," Jones said. "But I'm really glad he's picked up a different passion that's still really keeping him connected to the team and field."
Despite having a natural eye for sports photography, Ross knew that on the field was where he belonged.
He has been out of surgery for eight and a half weeks and just got out of his sling two weeks ago. As soon as the sling came off, physical therapy and band work became his main priority.
Ross is now three weeks ahead of where he was supposed to be in the recovery process. Something most people, even his doctor, has never seen before.
"At first he accepted he wasn't going to be able to play," Ross's mom, Maria Carrillo, said. "However, he also doesn't take no for an answer very easily. He talked to his coaches and started doing extra PT on the side. The doctor was so impressed with his mobility and how fast he has progressed."
Ross's mental and physical toughness is something that has constantly kept him in the game. Not only has he played through a torn labrum, he has also played through a broken hand and torn ligaments in his elbow.
"I just want to play," Ross said. "I've always thought of pain as a mental state and that it's easy to get over once you get over it. I just want to push myself as hard as my body allows."
Because of this mentality, Ross was able to get back on the field on Friday for the Knights' game against Lincoln Prep.
"It's almost like a sigh of relief seeing him back on the field," Jones said. "He's just such a leader to this team."
Ross's leadership skills are something that have stood out for all the coaches he's played under.
Tempe Prep baseball coach Tony Kerber saw this attribute especially after watching Ross with the younger players.
"We don't have our own practice facilities, so we have to carry gear wherever we go," Kerber said. "Typically, the seniors will take the privilege of having the freshmen carry the balls but Gabe is one of those kids who will help them out and reassure them that they are going to get through this together."
As long as his injury remains under control, Ross will get to continue the rest of the year on the field as a leader for all his teams.
"He would tell you he doesn't like to be a leader, but I know that's not true," Carrillo said. "He steps into everything full force and takes pride in helping others. It's his senior year and I just want him to do everything he can."