From the diamond to the oval: Hamilton forging own path at Red Mountain
October 6, 2022 by Logan Stanley, Arizona State University
---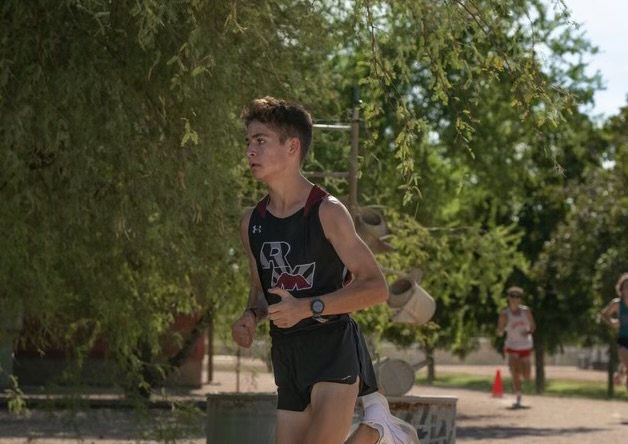 Logan Stanley is an ASU Cronkite School of Journalism student assigned to cover Red Mountain for AZPreps365.com
Growing up as the son of one of the most decorated softball coaches in state history, Red Mountain junior Matthew Hamilton naturally gravitated towards the diamond. But it was another sport, and shape, the oval, that ended up attracting the attention of Hamilton.
Hamilton has morphed himself into one of Arizona's emerging top runners since leaving baseball to focus on track and field and cross-country. He is currently in the midst of a breakout cross-country season that has included three wins, most recently taking the individual title in the Boys Championship race at the illustrious Desert Twilight XC Festival on Sept. 29.
The choice to tell his father, Rich, who has helped lead Red Mountain to five state championships in softball, that he was going to leave baseball wasn't easy.
"It was definitely one of the biggest decisions of my life so far," Hamilton said. "It was really hard. Obviously with my dad being the man that he is, with all the softball wins and coaching background, he definitely had a big influence on my life up until this point.
"I can't discredit baseball because it taught me a lot of life lessons. But when it came to running, that's just where my heart is. And I knew that's what I wanted to do for my high school and coming up to college. Whenever you're putting something aside and picking up something different, it's a hard and a nervous kind of conversation to have."
It wasn't the first time though that Rich had a son who left his favorite sport to pursue running.
Matthew's older brother, Joey, made the same decision when he was in high school.
"It's poetic," Steven Selby, Red Mountain boys cross-country coach, said. "They ended up being better runners than they were baseball players."
Rich described it a bit differently. "I would have to say ironic, with a big smile on my face."
But ultimately, at the end of the day, Rich wanted his kids to make their own decisions. Even if he still thinks they can sling it around the diamond just fine right now.
Joey competed on the cross-country and track and field teams at Red Mountain for all four years, qualifying for the state meet in both sports during his time as a Mountain Lion. He is currently on scholarship for the track and field team at the University of Colorado, Colorado Springs, competing in the javelin, 400 meters, 4x400 meter relay and 800 meters.
The relationship between Joey and Matt is different from your average brotherhood.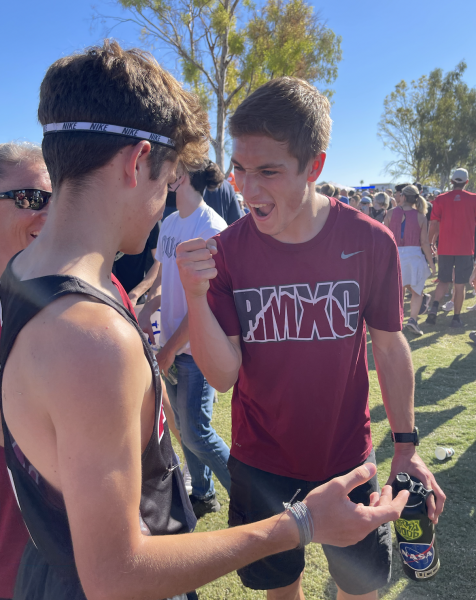 Matt made the varsity team as a freshman for cross-country when Joey was a senior. When Matt beat Joey at the Mesa City Championships in 2020 that year, Matt said sorry.
Joey's response?
"Don't ever say sorry. That's your job."
Now, little brother is forging his own path.
Hamilton has run in four races this season, winning three of them. The other race, The Fountain Hills Invitational, he finished in second. Hamilton's time of 15:50.9 puts him at sixth in the state for Division I. But outside of Hamilton senior Andrew Gibby, Hamilton has already defeated each of the runners ahead of him in the rankings at least once this season.
This comes after a track season in which Hamilton proved to himself that putting the glove down in exchange for a pair of spikes was worth it. That moment came at The 2022 Arizona Interscholastic Association State Track and Field Championships in the 800 meters.
The field was stacked, arguably one of the deepest in Arizona state history.
The race featured South Mountain's Brian Fair Jr., who had just broken the state record in the event two weeks prior. Next to him was Hamilton's teammate, sophomore Tyler Mathews, who had already climbed up to top 20 on the all-time list in state history headed into the meet.
In total, five athletes ran under 1:54 in the finals. Hamilton finished 10th in 1:58.23.
"That race was my kind of gratification that I made the right decision with leaving baseball," Hamilton said. "It opened my mind that I could be the next top guy in the state."
Even with the confidence that he could be one of the top athletes in the state, there was still that cloud of doubt that remained for Hamilton. Once it became clear that he was now in the position as the lead runner for Red Mountain with his star teammate, Tyler Mathews, dealing with an injury, the burden was increased for Hamilton.
One summer run shifted the mindset for Hamilton.
At Red Mountain, coaches usually have their athletes do "on-your-own" runs during the first half of summer training as they ease back in. Hamilton took his scheduled two weeks off after the state track meet in early May and got back into preparing for the fall season.
He put on his black Boa running shorts, slipped on a pair of first-generation black and white Nike Invincibles, strapped up his Garmin Forerunner 245 watch and headed toward the levee near his home in Mesa for an easy four-and-a-half mile run to open up the summer.
Except the run felt far more smoother than it had in the past. Hamilton realized his fitness had leveled up.
"That really put it into perspective that I have to train a little differently this year and step up a little bit," Hamilton said.
Hamilton has certainly stepped up, highlighted by his most recent win in the Boys Championship race at The Desert Twilight XC Festival, which featured 6,000 athletes from 200 schools around the nation. A total of 25 races were run, with the final two, the Championship and Sweepstakes, featuring the meet's elite athletes.
With Hamilton's building resumé, expectations are different.
Now, a state championship is on the table. It is a long shot that he'll win the individual title with five athletes ranked ahead of him.
But he did grow up playing baseball, so he certainly has the arm for a long shot. He just needs to find the legs to do so.